This is a crochet pattern review of the Texture Block Cowl pattern by Belle & Bean Crochet. Review done by A Stitch Shy of Normal for EyeLoveKnots.
This post contains affiliate links for Lion Brand and WeCrochet. If you make a purchase by clicking on them, I make a small commission at no extra cost to you. Thanks for your support!
Find the crochet pattern review below, or click here to purchase the pattern on Ravelry!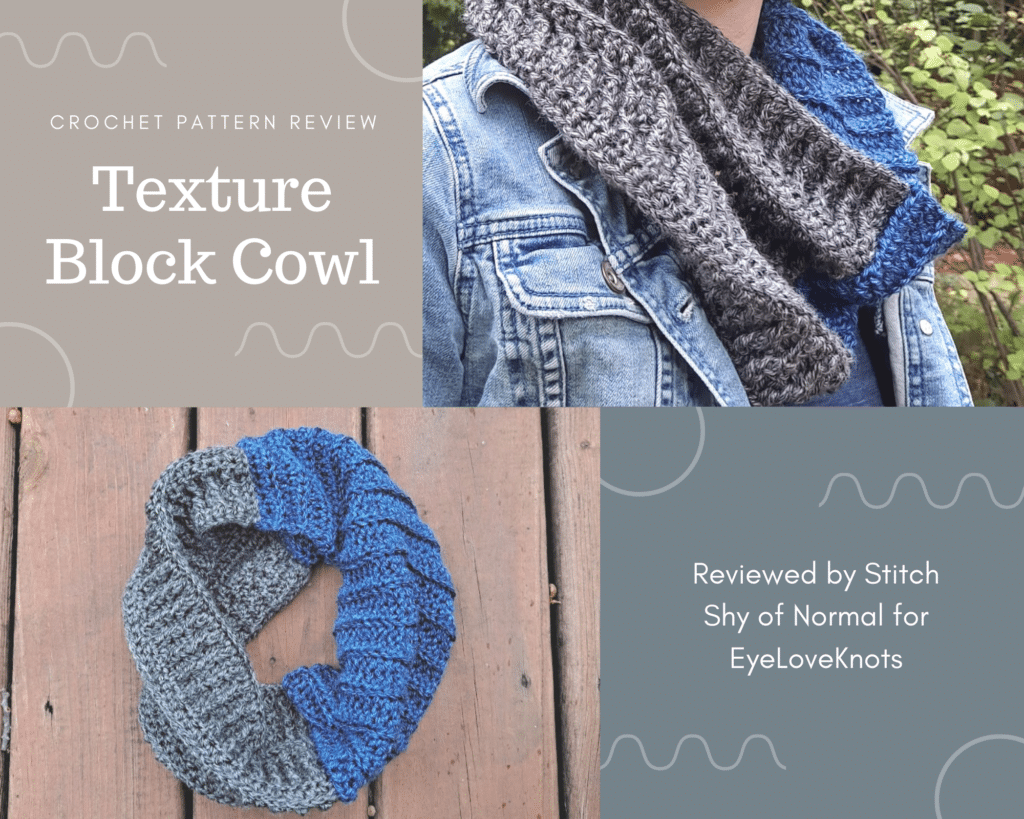 Visit with me on Instagram @astitchshyofnormal for all kinds of awesome crochet makes and inspiration.
I love cowls. It's no secret that they're one of my favorite things to make and design. They are relatively quick and affordable projects that actually come in very handy! I grew up wearing regular scarves in colder weather, transitioned to infinity scarves in my young adult years, but since I started crocheting that's turned into almost entirely cowls. I can't stop making them, and I just love wearing them!
And if you've followed me on Instagram or read my posts here for very long, you also know I adore texture. I don't mind a simple stitch, of course, but there has to be something interesting about a project to really hold my interest. That can be color, texture, or a fun technique. This cowl actually combines all of those, by using a really interesting stitch texture and letting you combine two colors of your choice! I enjoy things like this, when two factors seem like they really shouldn't go together but then they do. In this pattern, you get that in both the texture (two totally different looks and the rows worked in different directions) as well as the color, although you could pick two that coordinate as much as you like.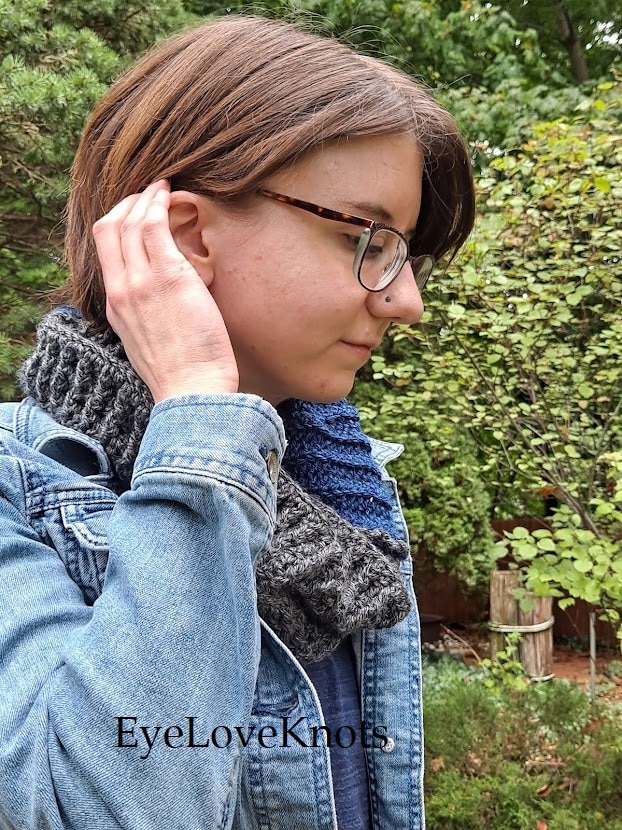 To top off all the things I love about patterns like this, this one is also really simple to make and didn't take me long at all. So to recap, this checks all the boxes to make it a go-to pattern for me: it's affordable, it's full of texture and color, and it's simple to understand and make your own. I can't recommend this pattern strongly enough, I think it would be a perfect holiday gift option or great for market prep!
Materials I Used to Make my Cowl:
Material Notes:
In my original notes for this post (I like to organize my thoughts a day or two before I really get into it), I put "literal perfection, changed nothing". And now that I'm here to write it out for real…I'm not sure how to improve upon that note.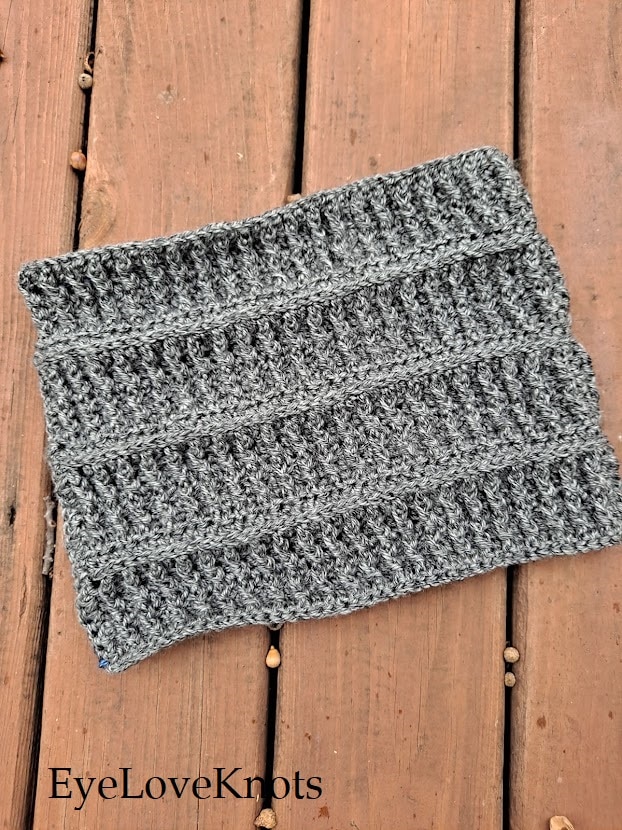 Did the yarn work for this pattern? Absolutely. Their original used Lion Brand Wool-Ease and I've found Heartland to be similar so I chose to use this from my stash. I love Heartland so honestly, I would have found a way to make it work somehow. And it was 90% similar anyway, so it worked fine! The gauge was slightly different, but the designer makes it easy to modify if needed. You basically work the post stitch section to whatever height you want (I kept mine as written), then you work the sideways rows based on that height. So to answer my usual question, would I use it again? In a heartbeat. (Hint–if you ask me if I would use Heartland in literally anything, the answer is always "yes".)
I also did not modify my hook size at all, nor did I change the written row counts. The only modification I made was to the starting single crochet count for the second section, which is addressed in the pattern. You just work it to whatever count fits with your stitches, and doesn't pull or ruffle. That was my only change though. I'm not sure why I had to change that stitch count, as I didn't alter the row count in my first section, but sometimes gauge does weird things. What matters is that I got a cowl that looks great.
Time Spent:
This was fairly quick for a cowl, I believe it only took me a few sessions of "crochet with YouTube/a movie" to get it done. By my notes, it was something around 5-6 total hours, which in my opinion is not bad for a simple little cowl like this.
Gauge:
The pattern gauge says 4 inches should be 12 stitches or 8 rows, in the post stitches section.
My gauge in this part ended up being 13 stitches and 7 rows in my swatch, so pretty close but not quite exact. It makes sense that my slightly thinner yarn gave me more stitches in the same width, but I must have done my stitches taller to end up with fewer rows! If I had been too far out of this range, like more than 14-15 stitches in this width, I might have considered changing my hook or even my yarn if absolutely necessary, but this seemed close enough for me.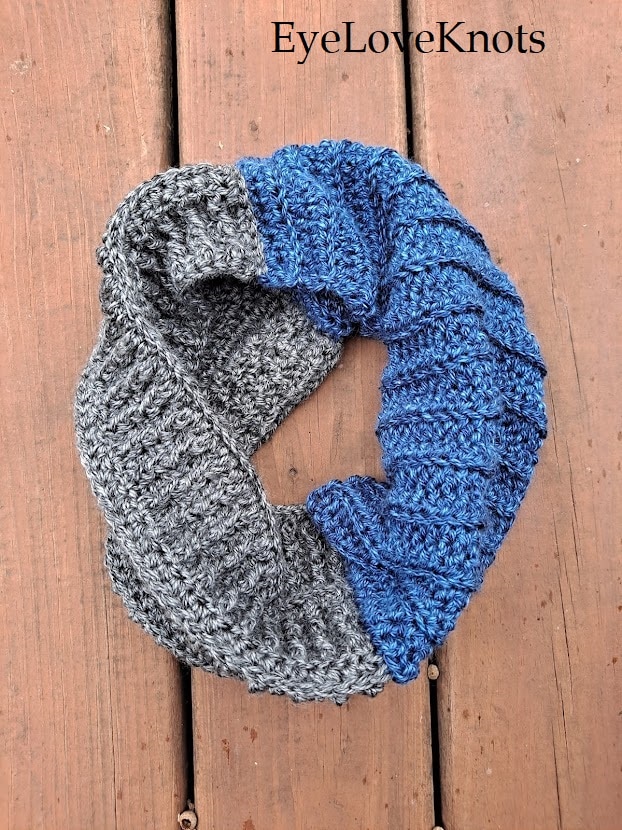 Measurements:
The intended dimensions for this cowl in the adult size is about 30 inches around and 11 inches tall. The designer has you work the first section to the desired height and it should measure about 15 inches wide, and you then work the second section sideways to match the same width. So if your width isn't exactly the same here, it doesn't hurt anything and you just end up working a different row count for the second part. As long as the first part doubled is a large enough circumference to go around your head comfortably, it should fit fine!
My finished cowl measures roughly 10.5″ tall and 28 inches around. You can see here how my slightly thinner yarn ended up shaving off just a tiny bit in both directions, but it's still within a reasonable range that gave me a gorgeous cowl!
Pattern Notes:
I hinted at it earlier, but I have nothing to complain about here. I loved this pattern from start to finish. It was fun, it was easy to understand, and I would recommend it to anyone from beginner and up. The most complicated part is doing post stitches, so if you're not comfortable with those then that's about the only thing that might keep you from it. But on the other hand, it might make a good practice project if you need to work on that technique! Also as I mentioned before, I appreciate that it uses a reasonable yardage that should be very affordable. One skein in each color of most worsted yarns should be perfectly fine if you're comfortable playing with your stitch or row counts, so you can make the pattern work with your yarn rather than having to shop for the right yarn to fit the pattern. So you can shop your stash or get away with spending probably less than ten bucks to make this, depending on what you have around you for yarn shopping!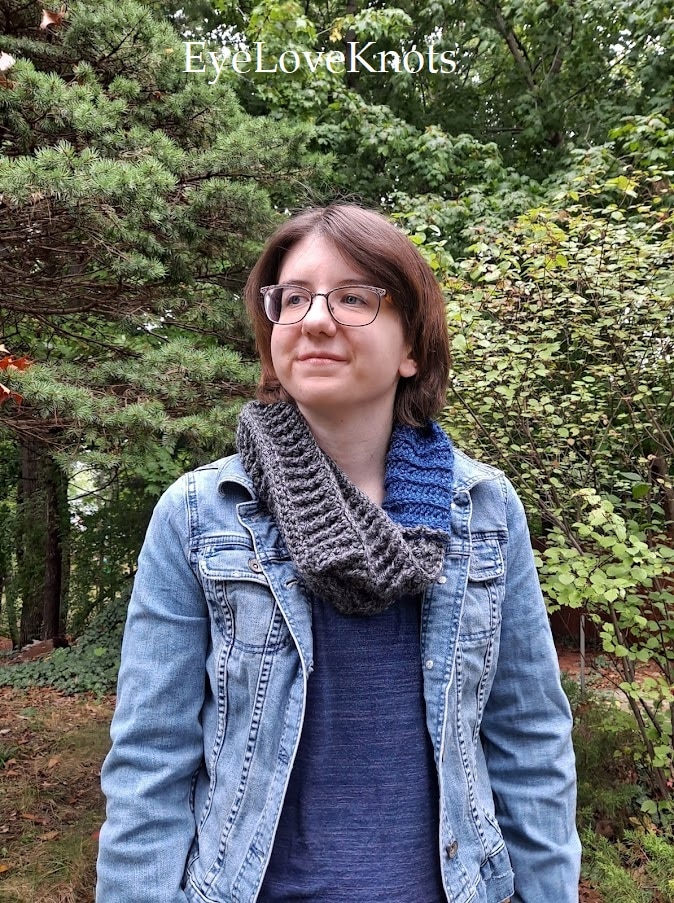 I can't praise the texture enough. I've always been a fan of post stitches, as soon as I got familiar enough with them to like doing it (I used to hate them as a beginner and now I'm doing designs with them!) It gives you such an impressive look with a very approachable technique. That's actually why I clicked on this pattern on Ravelry in the first place, the texture. The designer's color combination was cute, of course, but I'm not drawn in by pink and neutrals. But I could see that it was a fun mashup of textures, and I had to look closer! Once I saw it was worsted yarn and simple stitches, I was already in love.
The designer clearly states how to modify any sizing needed, and how to fix your stitch or row counts throughout if you ended up with a different gauge. I mentioned this already so I won't bore you. I just worked the first section exactly as written in terms of width, and when I reached the end of the written row count I measured my height to see if I had hit the suggested 11 inches. I saw that it was 10-10.5″ (unstretched vs light stretching) and decided that was pretty good. Another repeat of this post section would have given me another few inches, and I didn't really want a cowl approaching 14-15″ tall. I want this one to be great for fall and the transition weather, not really covering my face but just blocking the breeze a little.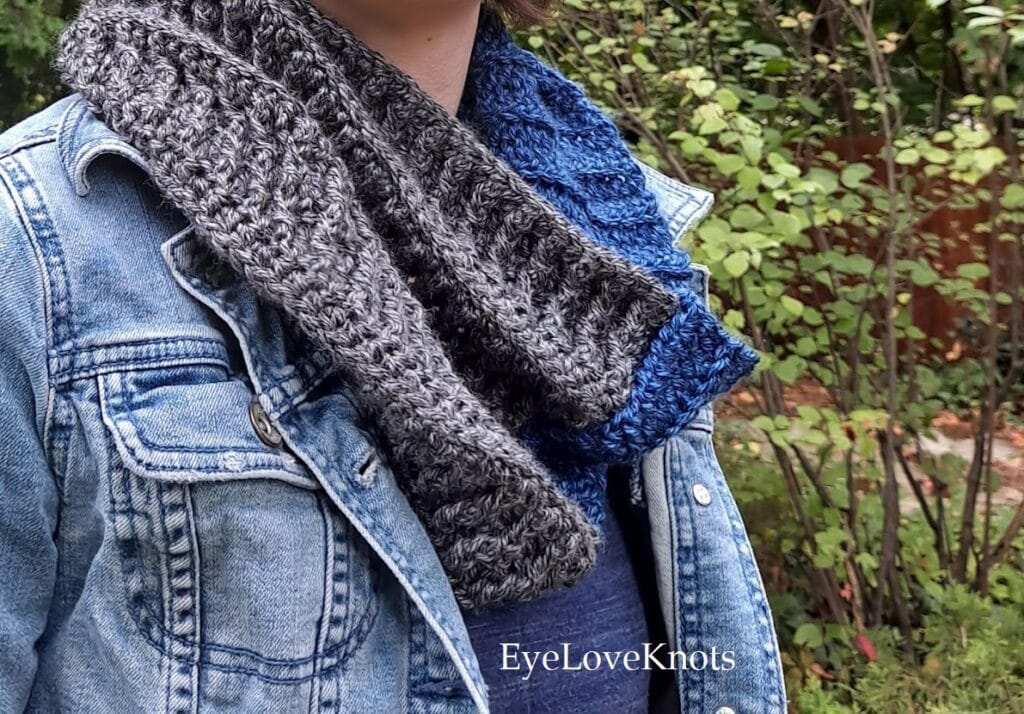 That's what I think this pattern works best for as written. In this stitch pattern it's going to offer some decent warmth but nothing crazy, and it's only one layer of a pretty simple stitch. So it won't be anything super warm and thick for those crazy cold January mornings, but it's not supposed to be! I plan to start wearing it for the weather we're starting to get here in Michigan in October–a little chilly in the morning and at night, but it's sunny in the afternoon so you don't want a giant bulky scarf to carry around. This cowl is the perfect size to stash in a purse when things warm up, and pull back out when the sun goes down. I have a feeling I'll get some requests to make these for friends and coworkers once I start wearing it this upcoming week!
I really do think this would make a great gift idea now that we're getting to that time of year. Yes, we have more than two months until Christmas, but if you're hoping to make handmade gifts you need to at least be thinking about starting! I'd recommend this pattern for sure. It would work great for anyone, it's not explicitly feminine or masculine and it's a size that should fit most adults (plus the pattern does include a child size). If you live anywhere that has a colder season, anyone can use a basic cowl and they would appreciate something warm. And just think about all of the potential color combinations! You could do these in Hogwarts house colors, or combinations to represent their favorite superhero. The sports team combos are endless, or basic neutral pairings to go with any outfit. I have so many ideas buzzing around in my head now!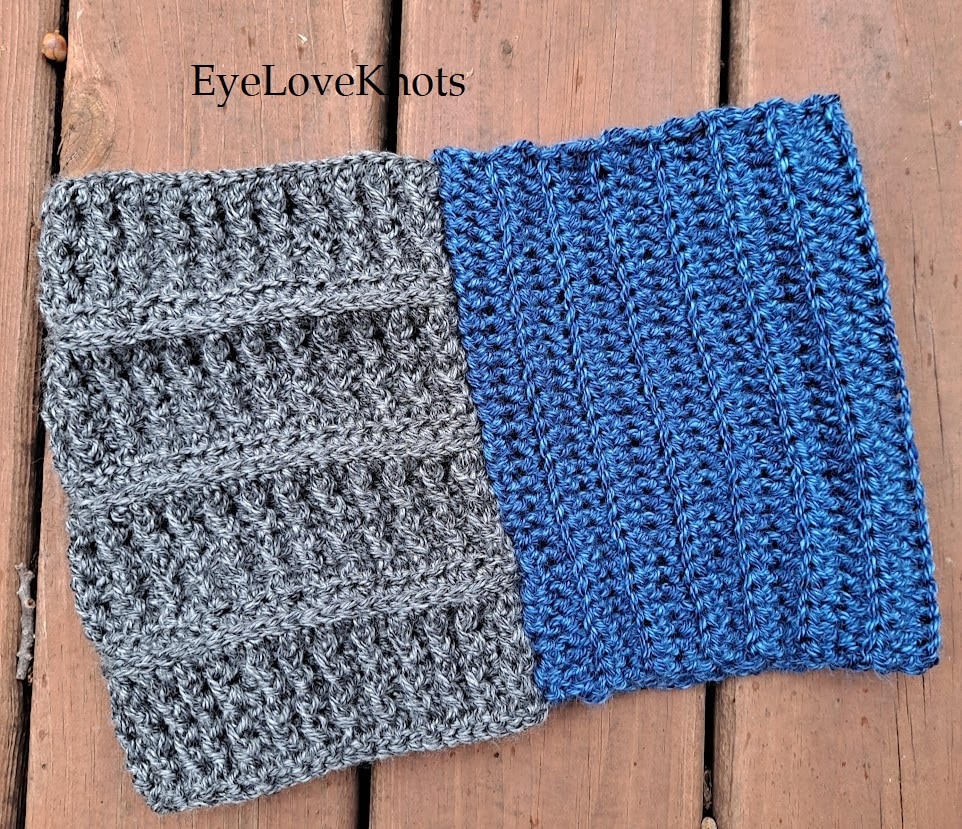 I'm not a math person, but I believe using the available colors shown on Lion Brand's website…just in Heartland alone, there's 561 possible combinations! This isn't taking into account what's actually in stock right now because that's no fun. You could even do just one color in the two textures and you'd be approaching 600 combos! If you mix in different yarn choices, it becomes basically infinite (I told you I'm not a math person, don't question my math-ing here). I know this isn't a feature of the pattern itself, but I just started thinking about this and wanted to open your minds to the possibilities.
What combination would you choose for this? Neutrals to match your outfit, or a fun combination to represent your chosen sports team? Red and blue for a Spider-Man cowl? (Now that I've said that, I think I'll have to do that one next.) I'd love to know!
Don't forget to visit with me on Instagram @astitchshyofnormal for all kinds of awesome crochet makes and inspiration.
Join one of our awesome Facebook groups to share your creations, and see what others are up to!
– EyeLoveKnots Crochet & DIY Community
– DIY Home On Rockwood Lane
– Alexandra Lane Lifestyle
Linked Up To…
Party in Your PJs #382 – The Apple Street Cottage
Weekday Wear Link Up – Away from the Blue
Confident Twosday Linkup – I do deClaire
Turning Heads Linkup – Elegantly Dressed and Stylish
Style with a Smile Link Up – Style Splash
Style on the Daily Linkup – Straight A Style
Style Link Up – Lizzie in Lace
Fancy Friday Linkup – Nancy's Fashion Style
Neverending Style Link-Up – The Grey Brunette
Thursday Fashion Files Link Up #329 – Curly Crafty Mom
Handmade Monday #251 – Sum of their Stories
The Really Crafty Link Party #287 – Keeping it Real
Link Up Potpourri #15 – My Bijou Life
Ginx Woolly Linx Party October – Ginx Craft
Craftastic Monday Link Party – Sew Can Do
You're the Star Blog Hop – Decor Craft Design
Happiness is Homemade Link Party #398 – Decor Craft Design
Craft Schooling Sunday – Creative Jewish Mom
611th Inspire Me Tuesay – A Stroll Thru Life
Fabulous Party 395 – Lou Lou Girls
Linky Ladies Party #217 – The Purple Poncho
Spread the Kindness Link Up #246 – Shelbee on the Edge
{Wow Me} Wednesday #528 – Ginger Snap Crafts
The Loop Scoop #24 – Moogly Blog
The Wednesday Link Party 422 – Oombawka Design Crochet
Team Creative Crafts Linky Party #65 – Artsy-Fartsy Mama
Wonderful Wednesday – Oh My Heartsie Girl
Thursday Favorite Things – An Artful Mom
Grace at Home No. 444 – Imparting Grace
Traffic Jam Weekend Link Party #300 – My Bijou Life
Create, Bake, Grow & Gather Party #492 – Shabby Art Boutique
Encouraging Hearts & Home Blog Hop – Slices of Life
Morning Cup of Joe – The Cottage Market