This is a crochet pattern review of the "You Can Cope" sweater pattern from NotWoolYarn. Review done by A Stitch Shy of Normal for EyeLoveKnots.
This post contains affiliate links for Etsy and WeCrochet. If you make a purchase by clicking on them, I make a small commission at no extra cost to you. Thanks for your support!
Find the crochet pattern review below, or click here to find the Etsy listing from the designer to purchase the pattern.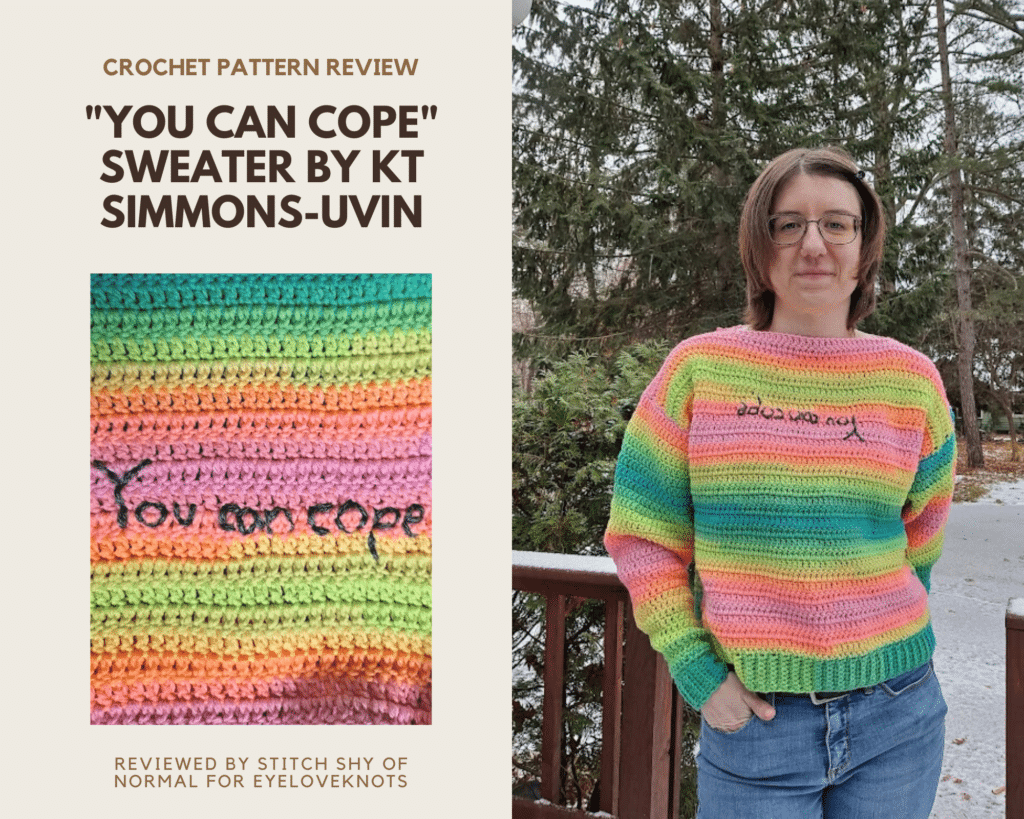 Visit with me on Instagram @astitchshyofnormal for all kinds of awesome crochet makes and inspiration.
I absolutely adore projects that have a deeper meaning behind them. I definitely enjoy quick little hats or cowls when I just feel like stitching, but when I get to crochet something that has a story behind it, it just means that much more. I recently lost my grandmother, and I'm grateful that I was able to take a few days off work to join my family in traveling to the funeral. I knew I would have plenty of time sitting in the back of a car, and I wanted a nice mindless-ish project that I could bring to keep my mind occupied. I was scrolling through Ravelry when a gorgeous colorful sweater caught my eye. I clicked on the thumbnail and discovered that it was not only beautiful, it had a message written on the chest:
"You can cope"
Even better than that, this message is written upside down, meaning it's intended for the wearer to read rather than others. I knew it was the perfect project to make, and I think that was the fastest I ever clicked a purchase link! I hope this review spreads the awareness of this pattern, and others can find this pattern at a suitable time in their lives just like I did.
Materials I Used to Make my Sweater:
Approximately 1000 Yards of Red Heart Super Saver Stripes in "Retro Stripe" – just a little over 4 skeins
Small scrap amount of a different color of yarn (light to medium weight) for embroidery (I chose a dark gray, probably Vanna's Choice if I had to put money on it)
H8/5mm hook – I like Clover Amour Ergonomic Hooks
Scissors and yarn needle for assembly and embroidery
The "You Can Cope Crochet Sweater", Paid Crochet Pattern from NotWoolYarn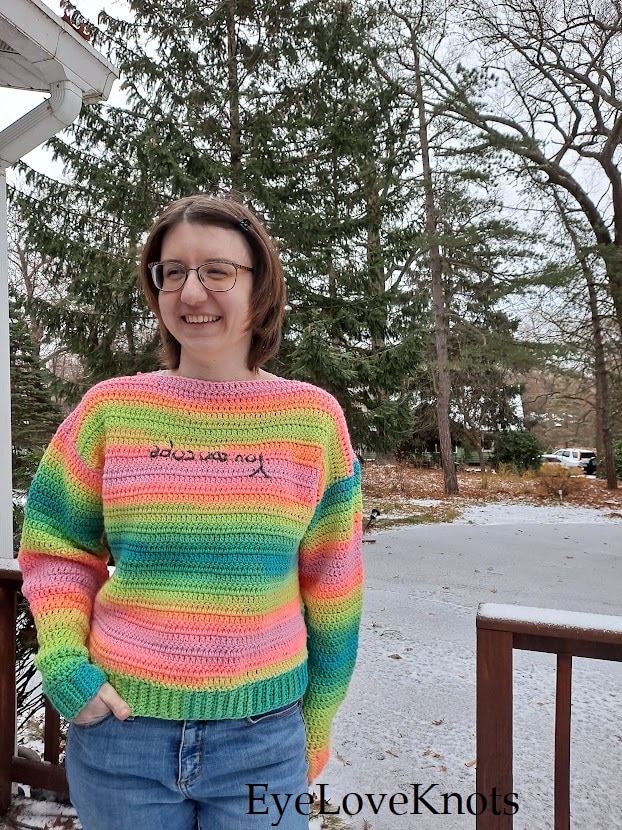 Material Notes:
The pattern actually calls for Red Heart Roll With It Melange, a gorgeously colorful caked yarn. The designer says to get 4 different colorways (and lists the ones they used in the pattern) and when to switch, in order to get the best mashup of colors and visual interest. I did sincerely mean to do this, as I love this yarn!
However, I was on a time crunch when buying yarn for this and was leaving for the trip in only a couple of days, so I only had the chance to visit one yarn store and this yarn was not available. In pretty much any other circumstance I would have ordered it online but didn't have the time. So I thought about why the designer had picked this yarn. Obviously I can't speak for their actual reasoning but my theory was that it was chosen for the bright colors and the striping, so that the finished item is a chaotic and interesting piece that catches the eye and then brings your attention to the message.
So I switched my goals and did some quick math on how many skeins I would need of Red Heart Super Saver Stripes. Why this yarn? It's affordable in a sweater quantity, it's comfy on the skin (I've made several garments with it), and the colors are nice and bright. I considered mixing the colorways like the original plan, but RHSS Stripes actually changes colors quite a bit slower, so it would end up being a lot more obvious where I had switched it up. The original design with Roll With It has much quicker color changes and you can't really see obvious blocks of different colorways.
So knowing that I needed to purchase 5 skeins, I was down to choosing between the colorways that my store had enough of in stock. I considered a few but decided they weren't interesting enough (blue/green, pink/purple) or would be too contrasting (the one that has black striped between bright neons). Then I spotted the classic and wildly popular Retro Stripe–rainbow-ish but in a more semi-pastel way. It was perfect!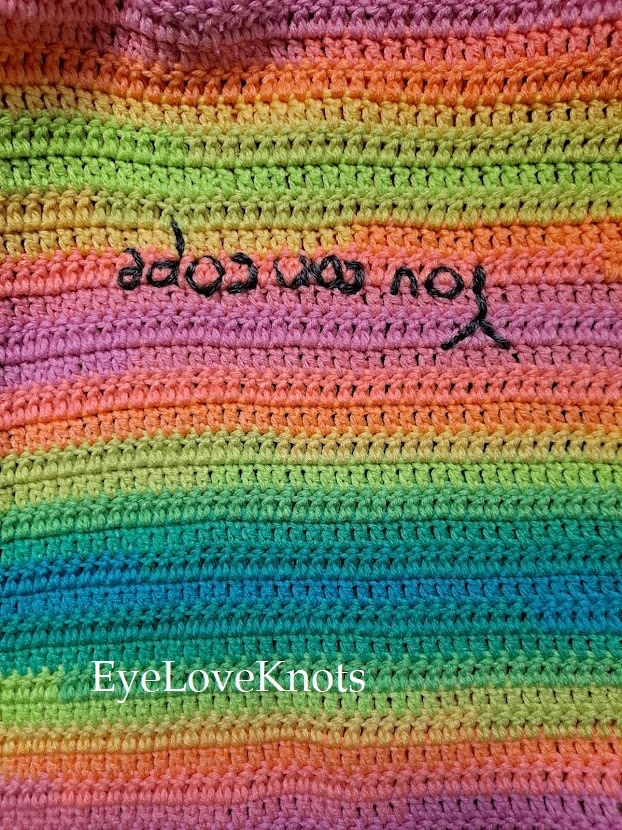 Just so you know, this yarn is noticeably thicker than the Roll With It (see my later notes for the gauge difference). They're both classified as worsted, both 100% acrylic yarns, but this can of course still have a lot of variation. If you end up using anything other than what's suggested you will probably need to modify your stitch and row counts like I did. However, this is really simple to do. It's a pretty basic pattern in terms of structure, which is just what I needed!
Time Spent:
12-13 hours or so, but that's an estimation. This one is harder to time because as I mentioned, it was a backseat-car-crochet project on a long road trip with my family. So for several hours I would pick it up and put it down as I got bored. I would say between 10-15 hours if you want a more open estimate, and remember that this is for my own size (I wear a small in most brands).
Gauge:
This pattern does not have a listed gauge. If you want to compare to my sweater, my gauge is below:
4″ = 7 rows and 13 stitches (in basic DC)
Measurements:
The pattern is written for the specific sweater the designer made for themselves. They state that they wear a size 10-12 in US, and made it to fit their own body. The dimensions of the sweater itself are also listed. I chose to take these numbers and modify this pattern to fit myself, which was very simple to do!
As written, this sweater is 20″ across laying flat, 19″ long (shoulder to bottom), and with 19″ sleeves.
Mine measures about 19.25″ across, a little under 20″ long, and my sleeves are 21″ with the wrist ribbing (19″ without, I'm not sure which one the designer measured).
I usually wear around a 4-6 in US sizing, or a Small in most brands.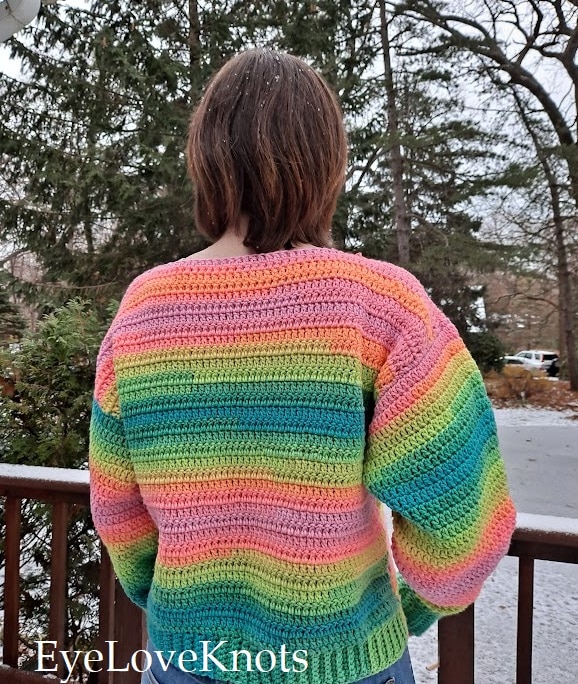 Pattern Notes:
You're used to me saying these things by now but I very much loved this experience. This pattern was so simple, and led to such a gorgeous creation! The colors make it shine and the message is heartwarming every time I spot it. This project ended up being so special for me and I wholeheartedly recommend it to anyone who needs a reminder throughout the day. I didn't think of it at the time but you could choose the embroidery yarn based on how much you want the words to stand out–a similar color to your base sweater would make it a subtle addition that most people would not catch, or a dark contrasting color makes it stand out as a conversation starter!
Although the designer does not state how to modify the pattern, it was quite easy to do. You would only need to measure yourself to find the desired bust size (then divide that in two for the width), the length you want from the bottom to the shoulders, and how long you want your sleeves! The most difficult part of this in my experience was the sleeves, but that could also be because my yarn weight differed so much. Using the suggested yarn, I could have altered my row count without changing my stitches as well. The combination of the two was still quite simple but required a little more math. (I won't go too into detail but I took my starting number of stitches, subtracted the desired ending stitch count, and measured my body panel row count to find about how many rows it would need for the total sleeve. I then spread my decreases out as evenly as possible.)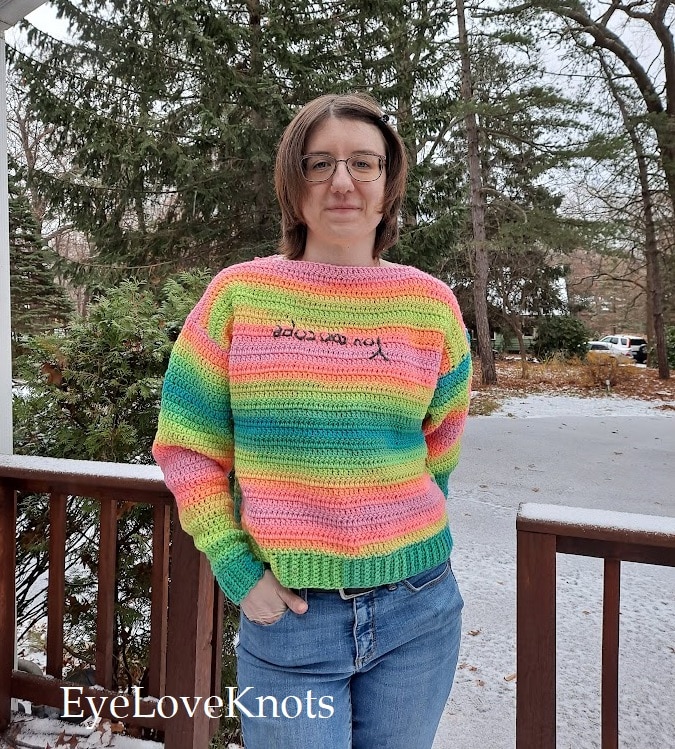 The fit of this sweater, though…can we talk about this? It's flattering, it's incredibly comfy, and it just feels like a hug! It gives off a casual vibe but could easily be dressed up with some nice pants and maybe some boots. Or it's incredibly comfy with leggings and slippers on the couch (my preferred outfit, of course). I love that the bright chaotic colors are an intentional design choice, and my yarn is actually a little milder than the designer's creation! Or of course you could make this in a solid shade. I can see it in a lovely forest green, that would make a beautiful one for fall or winter!
I don't think I need to explain why the phrase is meaningful. That's by far my favorite part. I love that it's becoming trendy to wear sweatshirts or tees with helpful messages about self-esteem or loving yourself. (I want a whole wardrobe of those!) This fits right into that category, and I think it could be a really nice gift for someone going through a hard time.
The assembly was not too hard. It's really easy to do the basic body panels, it just once again requires some math if you modified the size. I do have one important note here, though. The armholes are supposed to start pretty big! I initially seamed up the sides enough to leave only what I would consider my typical armhole size. However, this left very little room to decrease! I would have had sleeves that were largely straight, instead of the big gorgeous ones I ended up with after re-doing the seaming. If you want guidance on this, I ended up only seaming up the sides about 10.5 inches, leaving about 9-9.5 for the armhole (which would mean starting with an arm circumference of about 18-19″, quite large!). This will widely vary based on preference and sizing.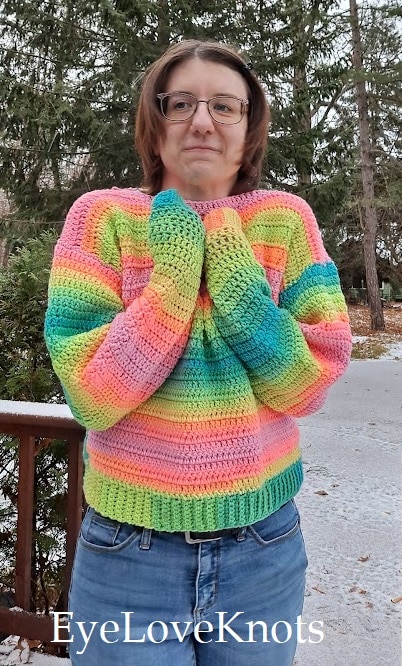 If you're curious about the warmth using this yarn, it was alright. You can see in the above picture that I was chilly! I did wait far too long to take these pictures, though, and naturally it started rain-snow-sleeting outside when I wanted to get started. So I stubbornly forged onward and got them done anyway! It definitely blocks the wind, but it's not particularly thick or cozy. This pattern is just double crochet stitches, which is kind of known as being in the middle when it comes to thickness versus light and airy. It's the best of both worlds and that makes it great for garments! This will be comfy under a coat out in the Midwest winters, but still cozy enough once I'm inside at work.
The embroidery was challenging, honestly. I'm not very good at embroidering at all, let alone freehand. But the designer actually addresses this within the pattern and says even if you don't pick the right color or don't stitch it perfectly, "You'll know what it says and that's what's important"! I love that so much. It's a great message. When you make a sweater like this, especially with this sort of message, what matters is how you feel about it and whether or not YOU like it. If you do, then it literally does not matter how pretty the words are or how your finished piece looks! If you feel good in it, then it's perfect. Check out how mine came out–I'd say it's readable, but you need to look carefully. I know what it says though, and that's all that really matters here.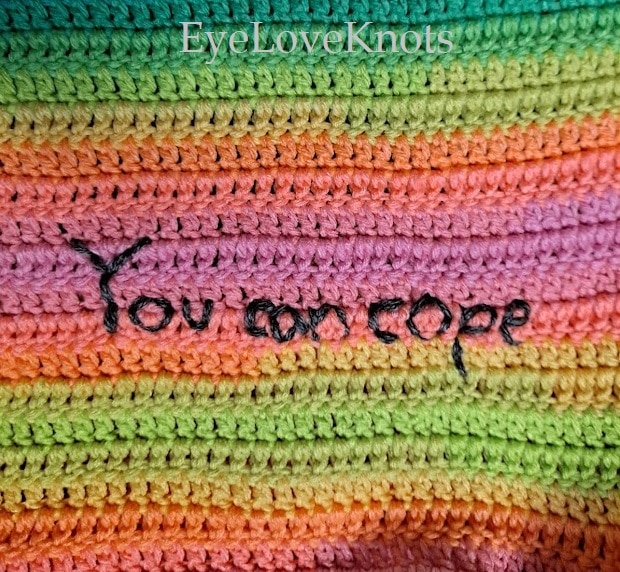 And that's something I need to remember about anything I make. If the colors aren't the best choice, or the sizing ended up imperfect, or my stitching came out lumpy…if I like it, then it turned out beautiful! We need to choose projects for US, not the rest of the world. Make what you want and wear or use it however you like, as long as it doesn't hurt anyone else!
Don't forget to visit with me on Instagram @astitchshyofnormal for all kinds of awesome crochet makes and inspiration.
Join one of our awesome Facebook groups to share your creations, and see what others are up to!
– EyeLoveKnots Crochet & DIY Community
– DIY Home On Rockwood Lane
– Alexandra Lane Lifestyle
Linked Up To – Get the Links Here:
Happiness is Homemade Link Party #405 – Decor Craft Design
Handmade Monday #258 – Sum of their Stories
The Really Crafty Link Party #294 – Keeping it Real
Party in Your PJs #389 – The Apple Street Cottage
Craftastic Monday Link Party – Sew Can Do
{Wow Me} Wednesday #534 – Ginger Snap Crafts
The Wednesday Link Party 429 – Oombawka Design
Creatively Crafty Link Party #306 – Try It – Like It – Create It
Ginx Woolly Linx December – Ginx Craft
Weekday Wear Link Up – Away from the Blue
Style on the Daily Weekly Link Up – Straight A Style
Stylish Monday Link Up – Style Splash
Turning Heads Linkup – Elegantly Dressed and Stylish
Confident Twosday Linkup – I do deClaire
Style with a Smile Link Up – Style Splash
Link Up on the Edge #274 – Shelbee on the Edge
Chic and Stylish Linkup – Mummabstylish
Thursday Fashion Files Link Up #335 – Curly Crafty Mom
Ageless Style – My Slices of Life
Top of the World Style Linkup – High Latitude Style
Neverending Style Link-Up – The Grey Brunette
Style Link Up – Lizzie in Lace
Fancy Friday Linkup – Nancy's Fashion Style
Fabulous Friday – Lucy Bertoldi
Linky Ladies Party #219 – The Purple Poncho
The Loop Scoop #27 – Moogly Blog
Team Creative Crafts Link Party #72 – Artsy-Fartsy Mama
Saturday Sparks Link Party 453 – Pieced Pastimes
Share the Wealth Link Up #8 – Big Fat Menopausal Life
Unlimited Link Party 63 – Grammy's Grid
Link Up Potpourri #22 – My Bijou Life
You're the Star Blog Hop – Decor Craft Design
617th Inspire Me Tuesday – A Stroll Thru Life
Fabulous Party 402 – Lou Lou Girls
Spread the Kindness Link Up #253 – Shelbee on the Edge
Wonderful Wednesday – Oh My Heartsie Girl
Encouraging Hearts & Home Blog Hop – My Slices of Life
Thursday Favorite Things #520 – An Artful Mom
Traffic Jam Weekend Link Party #306 – My Bijou Life
Funtastic Friday Link Party #363 – Simply Beautiful by Angela
Morning Cup of Joe – The Cottage Market
Songful Style Link Up – The Grey Brunette