This is a crochet pattern review of The Lapli Basket designed by DeBrosse. Review done by Candace of T&C Crafters for EyeLoveKnots.
This post contains affiliate links for Etsy and Amazon. If you make a purchase by clicking on them, I make a small commission at no extra cost to you. Thanks for your support!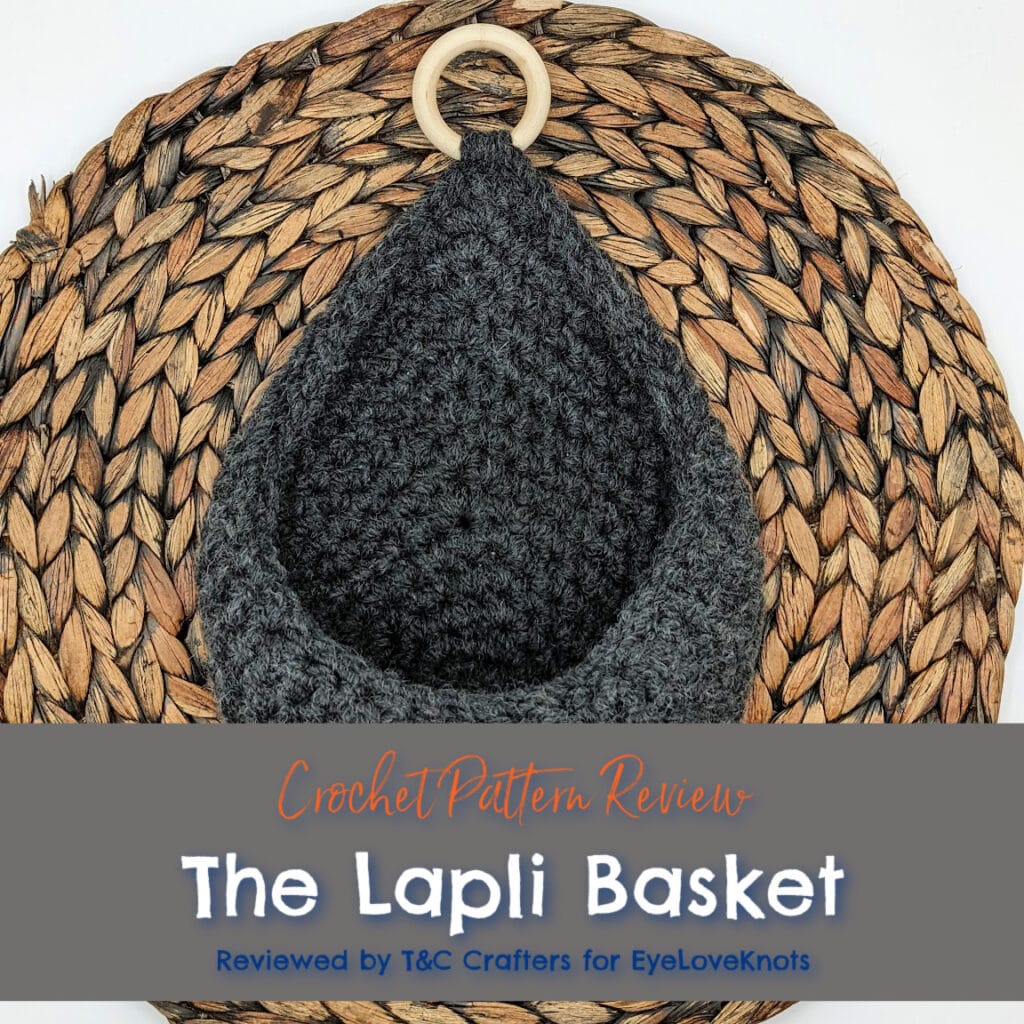 Visit with me on Facebook for all kinds of awesome crochet makes and inspiration.
As I was finishing out 2021 and preparing myself for the new year, my ultimate goal was to be more intentional about the decisions I make both in my personal life and for my business. My first goal for the new year was to get everything in my life organized and easy to use so I could follow through with my goal and stay on track throughout the year. Making the assumption that I am not alone in this resolution, I thought an organizational piece would be a great first product to release for the new year!
I have had my eye on The Lapli Basket pattern since it was released by DeBrosse, and I knew that it would be the perfect organizational piece to review and add to my shop for January. Like all the patterns by DeBrosse, it is very modern and has a classic, clean look. I love that it not only is a great piece to add to your decor, but it is also a useful piece that you can utilize in almost any room of your house. It would be great for displaying small plants in a living room, holding essentials near an entryway, storing personal items in a bathroom, or toy storage in a kid's bedroom or playroom.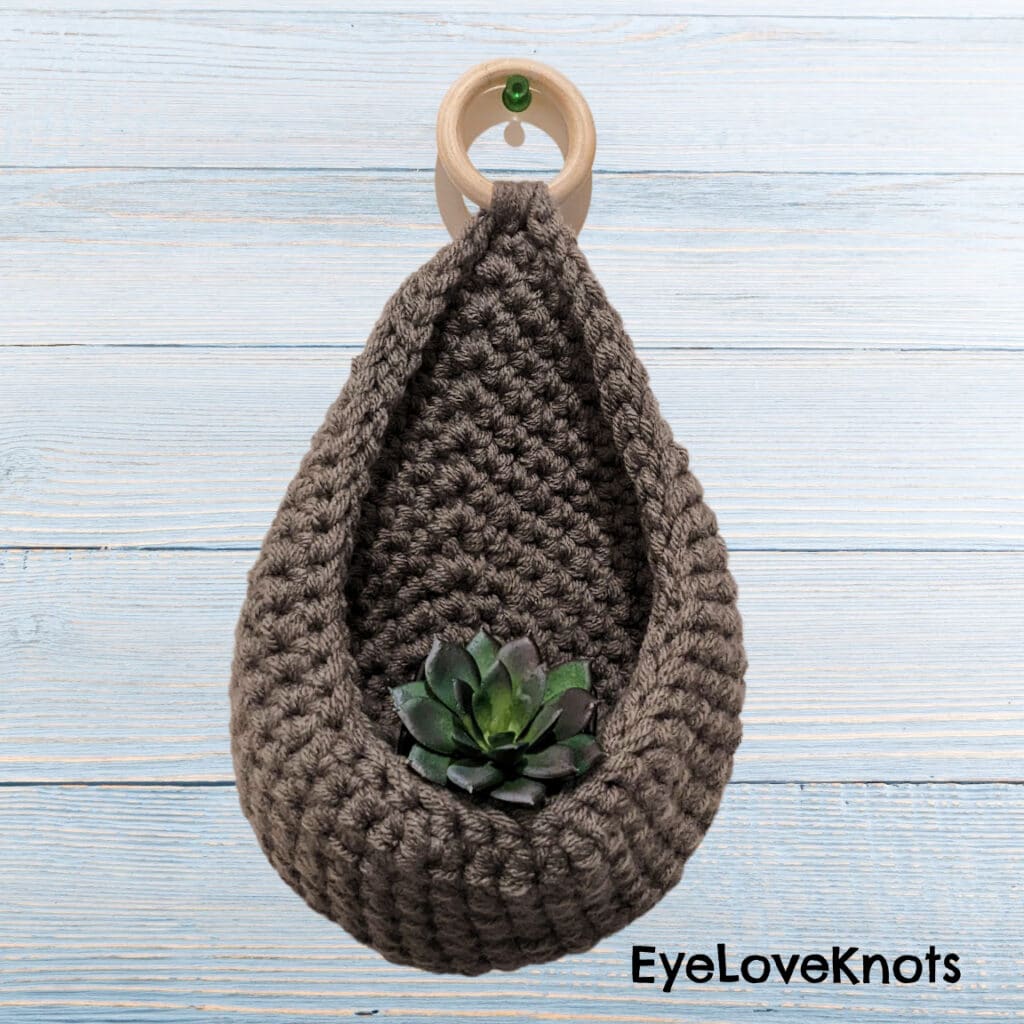 The Lapli Basket works up really quickly and can be made in so many different combinations of yarn. In just one weekend, I was able to quickly make five of them for my shop re-launch in the new year, and I am so excited about how they turned out! I will definitely be making a lot more of these, and will probably keep a few for myself as well.
Materials I Used:
Super Bulky (6) Yarn – I used a variety of different yarns, including Yarn Bee Turin, Bernat Wool-Up Bulky, and three strands of I Love this Yarn held together.
8.0 mm or 10.0 mm Crochet Hooks
Stitch Marker
Darning Needle
The Lapli Basket, Paid Crocchet Pattern by DeBrosse via Etsy
Material Notes:
This pattern calls for Lion Brand's Thick & Quick or Lion Brand's Hue and Me yarn, but I chose to use some different super bulky yarns that I already had instead. I made two different baskets using Bernat Wool-Up Bulky, which worked really well for this project. I also used Yarn Bee Turin for two baskets, which worked up very nicely, but were extremely difficult to finish off because the way the yarn pulls apart. My last basket was made with three strands held together of I Love This Yarn. This basket came out much smaller than the others, but was still nice and sturdy.
I made three of my baskets using the recommended 8.0 mm hook, but I noticed that they were a bit smaller than the pattern suggested. When I changed over to the Yarn Bee Turin yarn, I switched to a 10.0 mm hook, and my finished baskets were a much nicer size. I was a bit worried that using a larger hook would cause too many gaps between my stitches, but that was not a problem.
The basket hangs from a wooden ring. The pattern calls for a 2″ wooden ring, but for my smaller baskets, I felt that a 1.5″ wooden ring looked better. You can definitely get away with using a different size ring if you have a similar size on hand for this project.
Stitch markers are definitely helpful for this pattern since it is worked in continuous rounds. I did not use a stitch marker each time, because I normally prefer to just count my stitches as I go around. Since this pattern uses a lot of the same stitch over and over again, I would recommend using a stitch marker if you are in a setting where you could easily lose count, just so you don't lose track of where you are at in the round.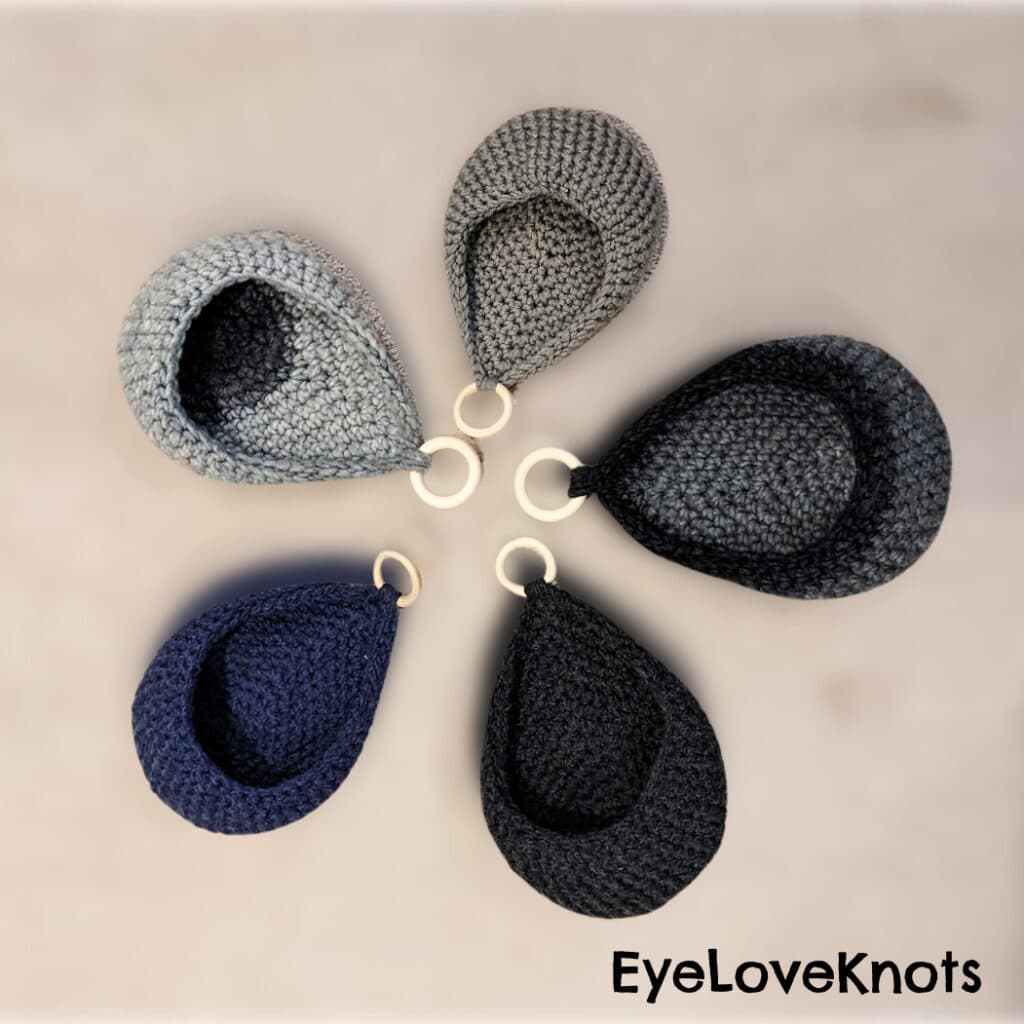 Time Spent:
This is a super quick make. My first finished basket took me about an hour and a half, and by my fifth one, I was able to finish the entire basket in about 45 minutes, including weaving in the ends and sewing on the wooden ring.
Measurements:
Depending on the yarn that you use, the size of the basket will vary. The pattern says that the final size should be 7.5″ by 11″ including the ring. My basket made with I Love This Yarn was 7″ by 10.5″, while the baskets made with Bernat Wool-Up were 7.5″ by 11.5″ and the baskets made with Yarn Bee Turnin were 8.5″ by 13″.
Gauge:
Gauge is not important for this project. You will just need to be mindful that your stitches are close enough together that you don't have large gaps, as that will potentially cause issues with using the basket. If you notice that your project is coming out smaller than you wanted, try going up a hook size or two.
Pattern Notes:
This pattern is easy to follow and definitely suited for any level of skill. The pattern uses a magic circle to start, and while working in continuous rounds, you only need to know how to single crochet, increase, decrease, and slip stitch. There is also minimal sewing involved, as all you need to sew onto the project is the wooden ring.
When choosing the yarn for this project, you definitely want to choose a bulky or super bulky yarn. I definitely preferred the look of the baskets I made with Yarn Bee Turin, but I am a little nervous that they won't hold as much weight due to how easily the fiber comes apart. I would recommend going with a thick, sturdy yarn that is easy to thread through a darning needle and sew with so that you can securely attach the wooden ring.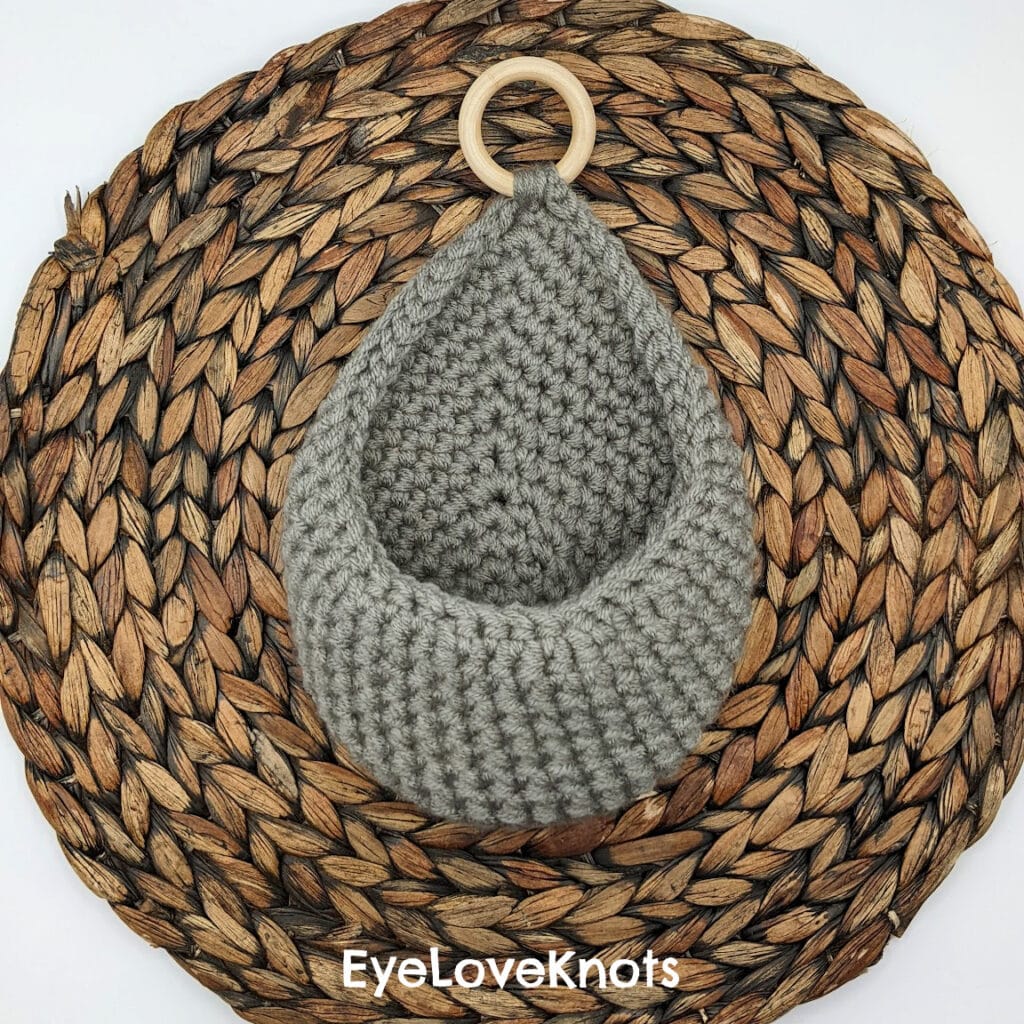 For the smallest basket I made using I Love This Yarn, which is a worsted weight acrylic yarn, I used the S-method to get three strands at once while only pulling from the center of one skein. I really liked the simplicity of this method, and it helped me to not get my yarn tangled. This method also gives you the freedom to work with any skein of worsted weight yarn without having to cut it or have multiple skeins. If you are not familiar with the S-method, here is a great video tutorial for it.
Counting stitches or using a stitch marker is important for this pattern, as you want to make sure that your increases happen in the correct stitch each time. If your increases are happening in a different stitch, it will cause your finished piece to be slightly crooked, and you will be able to see the issue in the finished product. After making several of these baskets, I was able to notice where my increase needed to happen each time without having to count or use a stitch marker, but I still made sure I had the correct number of stitches just to make sure my product turned out nicely.
If you are looking for a quick, simple, and useful crochet project, I definitely recommend making The Lapli Basket by DeBrosse! It works up really quickly and makes such a beautiful and useful finished piece. These would make great gifts either by themselves or filled with a small succulent, rolled washcloths, or potpourri. You could also make them in bright colors and put a stuffed animal in them to gift to a kiddo! The possibilities with this basket are endless, and it is the perfect project to make over and over again. I will definitely be making plenty more to organize my home and to add to my Etsy shop!
If you decide to make one of these wonderful hanging baskets, we would love to see your finished piece! Be sure to tag @eyeloveknots, @debrosse_nyc, and @tandc_crafters on social media so we can see what you made!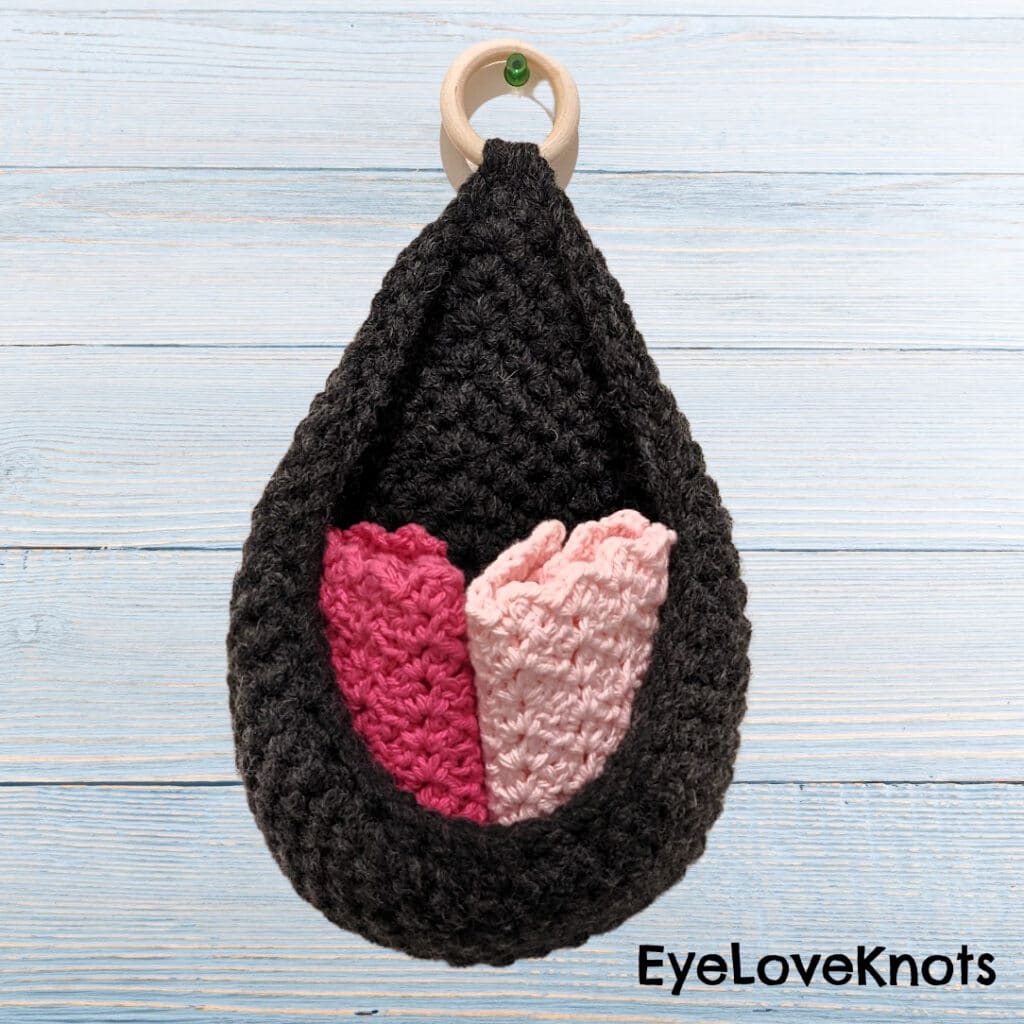 Don't forget to visit with me on Instagram for all kinds of awesome crochet makes and inspiration.
Join one of our awesome Facebook groups to share your creations, and see what others are up to!
– EyeLoveKnots Crochet & DIY Community
– DIY Home On Rockwood Lane
– Alexandra Lane Lifestyle
Linked Up To…
Linky Ladies Party #220 – The Purple Poncho
The Loop Scoop #29 – Moogly Blog
Creatively Crafty Link Party #310 – Try It – Like It – Create It
Beautifully Made Link Party 197 – Across the Boulevard
Farmhouse Friday #236 – County Road 407
Tuesday Turn About #133 – My Wee Abode
Friday with Friends #55 – My Hubbard Home
All About Home #126 – Common Ground
Home Matters Linky Party #362 – Modern on Monticello
Create, Bake, Grow & Gather Party #502 – Shabby Art Boutique
Craftastic Monday Link Party – Sew Can Do
{Wow Me} Wednesday #536 – Ginger Snap Crafts
The Wednesday Link Party 433 – Oombawka Design
Team Creative Crafts Link Party #76 – Artsy-Fartsy Mama
Share the Wealth Link Up #10 – My Big Fat Menopausal Life
You're the Star Blog Hop – Decor Craft Design
Handmade Monday #261 – Sum of their Stories
Happiness is Homemade Link Party #409 – Decor Craft Design
Sundays on Silverado #75 – The House on Silverado
Unlimited Link Party 65 – Grammy's Grid
The Really Crafty Link Party #298 – Keeping it Real
Link-up Potpourri #26 – My Bjiou Life
You're the Star Blog Hop – Decor Craft Design
621st Inspire Me Tuesday – A Stroll Thru Life
Fabulous Party 406 – Lou Lou Girls
Wonderful Wednesday – Oh My Heartsie Girl
Talent-Sharing Tuesdays Link-Up 2 – Scribbling Boomer
Grace at Home No 451 – Imparting Grace
Encouraging Hearts & Home Blog Hop – My Slices of Life
Thursday Favorite Things Link Party #523 – An Artful Mom
Traffic Jam Weekend Link Party #307 – My Bijou Life
Funtastic Friday Link Party #367 – Simply Beautiful by Angela
Link Up on the Edge #279 – Shelbee on the Edge
A Morning Cup of Joe – The Cottage Market