This is a crochet pattern review of the Millennial Jumper pattern from the designer Kate Polizzi. Review done by A Stitch Shy of Normal for EyeLoveKnots.
This post contains affiliate links for WeCrochet and Lion Brand. If you make a purchase by clicking on them, I make a small commission at no extra cost to you. Thanks for your support!
Find the crochet pattern review below or click here to purchase this paid pattern on Ravelry!
In a hurry? Pin it for later.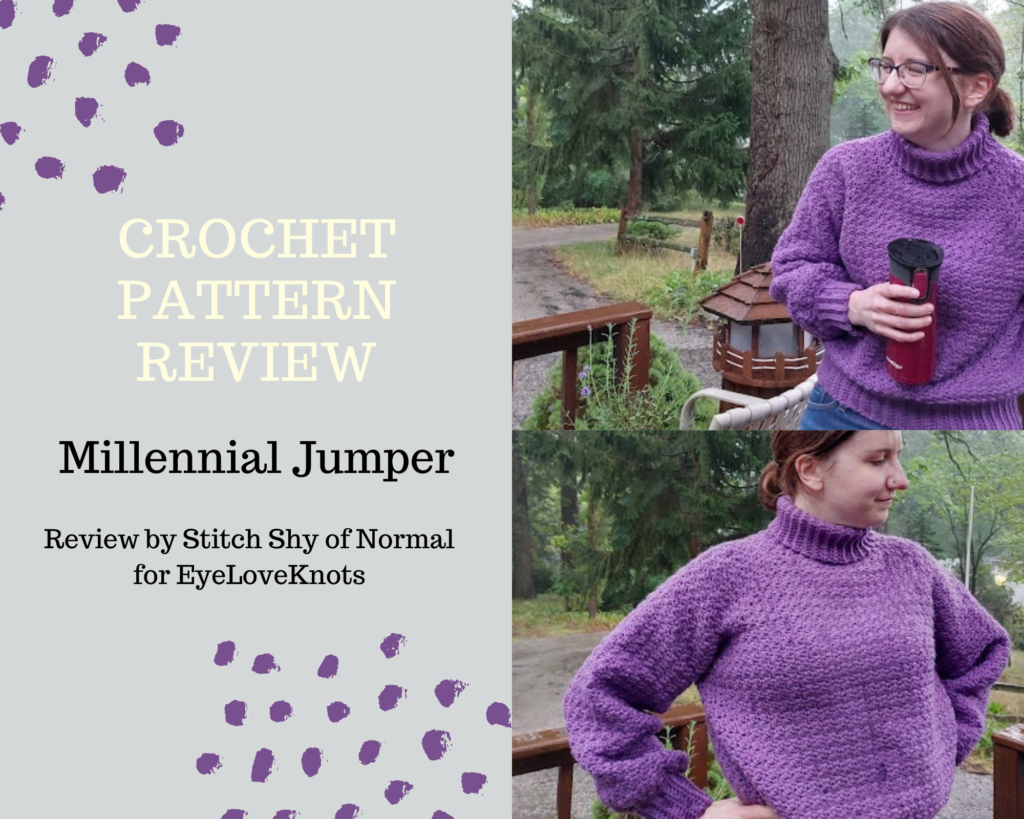 Visit with me on Instagram @astitchshyofnormal for all kinds of awesome crochet makes and inspiration!
I've already given my whole speech before, but I'll just say it again–I love fall. It's my favorite season, hands down. I love apple and pumpkin (just not in pies, but in candles and teas absolutely!), I love leaves changing and falling, and I love bundling up in layers. I have so many sweaters but I always need more. So when I was planning out my review for September, I decided it was the perfect excuse to make myself a sweater that was my style through and through. One that I can wear for any occasion, to work every day or at home in sweatpants.
I scrolled through Ravelry and fell in love with one pattern from the picture on the page. I saw it was called the Millennial Jumper and had to admit they were so very right. I'm not sure why this sweater defines my generation but I think it does, because I'm certainly in love with it already!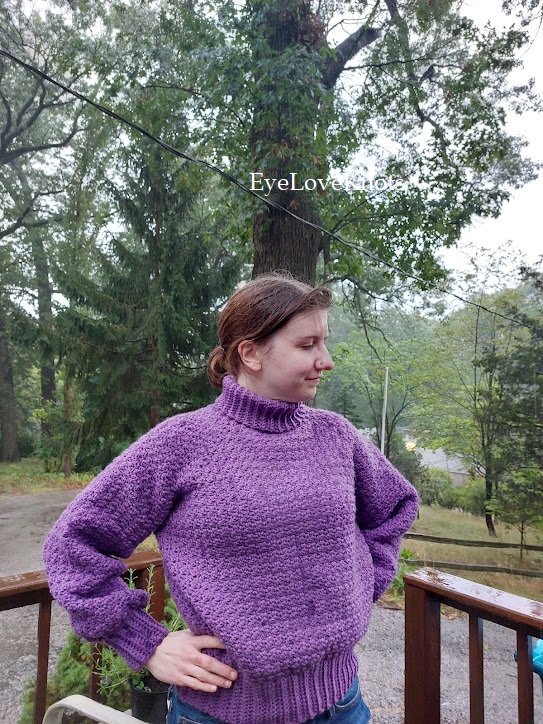 What Materials Do I Need to Crochet a Sweater?
3 skeins Red Heart Super Saver, I used the colorway "Medium Purple" (and I made the size Small, you'd need anywhere from 2 to 6 to make the written sizes)
H8/5mm hook and J10/6mm hook – I like Clover Amour Ergonomic Hooks
Scissors, yarn needle, etc. for assembly
The Millenial Jumper, Paid Crochet Pattern via Ravelry by Kate Bridge of Katieree
Material Notes:
In the interest of full honesty, I used this yarn because I already had a couple partial skeins in my stash and I thought the color was perfect. All I did was check on the Joann website to make sure the color was still available when I inevitably needed more (I've been hurt before by not checking that in advance), and got started. However, if given the chance to start fresh, I would likely have chosen it anyway.
Why do I say I would have done it anyway? Because when I looked through the pattern, the designer chose something called 4 Seasons Spot Saver USA Style. When I looked up that yarn it really looked similar to our Red Heart Super Saver (the designer seems to be from Australia). Just to be sure, I compared the yardage and weight. Mine (RHSS) has 349 yards in 198 grams, and the designer's yarn has 341 yards in 200 grams. That's pretty much indistinguishable, if you substituted these yarns for each other you shouldn't notice much of a difference at all. Both seem to be intended as more affordable but still durable and soft yarns, and both are 100% acrylic. Check out the pictures in this post to see why that's important to me–I wore this in the rain and had no worries about the yarn! It'll dry up just fine, and it probably held up better than my sanity did!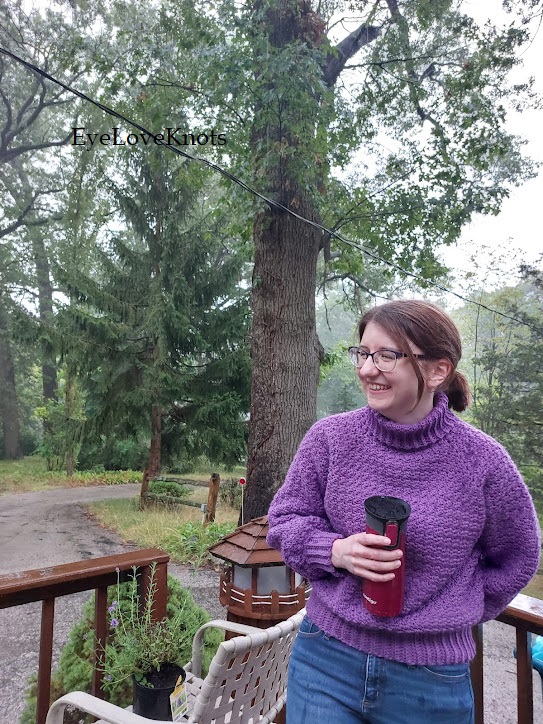 The other reason I know I would have likely picked this anyway is that I like to use Red Heart Super Saver for larger things like sweaters because it's so affordable. And I've done the whole discussion a few times now about how it's gotten much softer over the decade I've been crocheting, so I won't get into that. I'll summarize my feelings by saying that this yarn is one of the cheapest if you still want to be comfy in the garment. You can go cheaper but it might not feel as nice, and you can go softer but it won't be as cheap. It's right in that perfect middle ground. For context, I don't remember if I used any coupons at Joann for my yarn but even if I didn't, this sweater would have cost me about fifteen dollars in yarn. You can't really be mad about that.
Once you wash the sweater, it softens up a lot. If the yarn bothers you to work with in it's scratchier state, consider washing the skeins prior to crocheting with it.
Would I use this exact yarn again? I mean, to make myself a second one, I'd probably pick something else just for fun. But if I was recommending it to anyone else, then absolutely yes. It's affordable, probably fairly easy to access for most people, pretty soft, has nice colorway selections…and it worked very well with this stitch. I have zero complaints. I would just personally have fun trying something like Heartland or Basic Stitch (both from Lion Brand) just because I could. I'd like to see this stitch texture and overall shape in a different yarn, that's all.
If you want a warmer yarn option, try something with wool in it, like Lion Brand Wool Ease (acrylic/wool blend), or WeCrochet Swish (100% merino wool). Emma's Yarn Washable Worsted is also a fabulous 100% merino wool option if you want to splurge a little.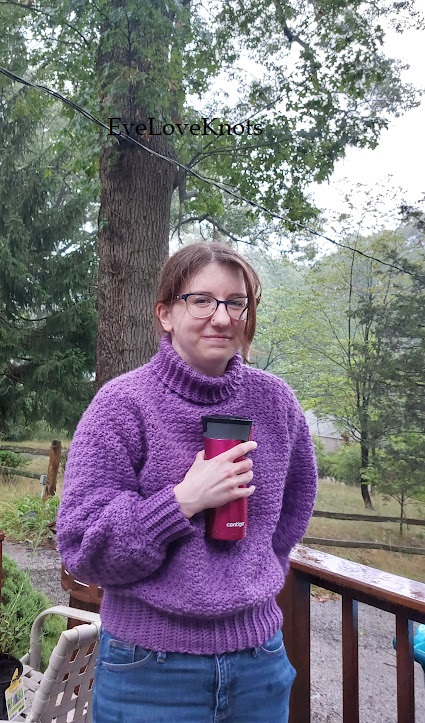 How Long Does it Take to Crochet a Sweater?
This was what I call my "priority WiP", the thing I focused on when I had the free time to crochet, for at least a couple of weeks. I'm going to say for about three weeks I was pretty serious about this project because I knew it would take a while. Adding up my various notes of the time I spent gives me roughly 24 hours, and that sounds right. Sweaters are generally 20-24ish for me, and this one took some time.
Gauge:
The pattern suggested gauge is 10cm (which is about 3.9 inches) to be 12 stitches by 11 rows.
I actually did not measure gauge before starting, because I knew the yarn was that similar and I could modify the sizing if needed, but I checked it now with the finished piece and in 10 cm I had a touch more than 11 rows and 12-13 stitches. So I was correct, my gauge was pretty much perfect! Mine being slightly higher stitch numbers just means I might have been working mine up a bit smaller. I could have used an extra inch or two of length in the finished piece but I wasn't sure if that was the intended fit. Turns out it was my gauge!
Measurements:
Again, the given measurements are in centimeters but I tried my best to translate it for myself so any imperfections are my calculator's fault!
I made the size Small, since the pattern lists that as being for Australian 8 to 10 and that translates as about a 34-36″ bust, which is my normal size range in tops.
The listed chest sizing (which I took to mean width laying flat) is 54 cm which is about 21.25″, and mine measures 21″ on the dot.
Height calls for 46 cm or about 18″, and this is not counting the waistband. I had about 18.5″, which is a small enough variation that it could just be the fact that it's been worn already and laid out to dry from the rain.
So all in all, despite having my gauge this close to perfect, my size came out nearly exactly as intended! So I can definitely say that from my experience, this yarn was a wonderful substitute for the suggested one if you're not in Australia. It ended up 99.9% identical in terms of gauge.
Pattern Notes:
This pattern is so simple! The stitch pattern itself is mindlessly easy. Once you get going, you don't need to think anymore. The only times you have to turn your brain back on is when you're finishing the yoke, or when you start the sleeves. Of course that's my opinion, others might feel it's not quite as simple, but that was my experience. You have to have a little bit of confidence in forging your own path, since your stitches might work out slightly different depending on your sizing, and the designer helps you out on how to modify your stitch pattern to get the right results. But when I got to the sleeves I did have to make it up a little bit here and there. As long as you're comfortable with the lemon peel stitch, you'll be okay.
If you follow me on Instagram you've heard this before, but this silhouette is gorgeous. I love the fit, I love how it drapes, I love that the sleeves and the bottom are kind of gathered/ruched in by the ribbing. It's flattering, it's comfy and warm, and the simple but interesting texture is just so perfect. I'm raving, I know I am, but I love these projects when you can just be so happy about the finished piece! I love purple so this is going to be a common outfit choice for me this fall. Like I mentioned, I chose to do a sweater for this month's review for "selfish" reasons, to expand my wardrobe choices with more handmade pieces. And this one absolutely paid off.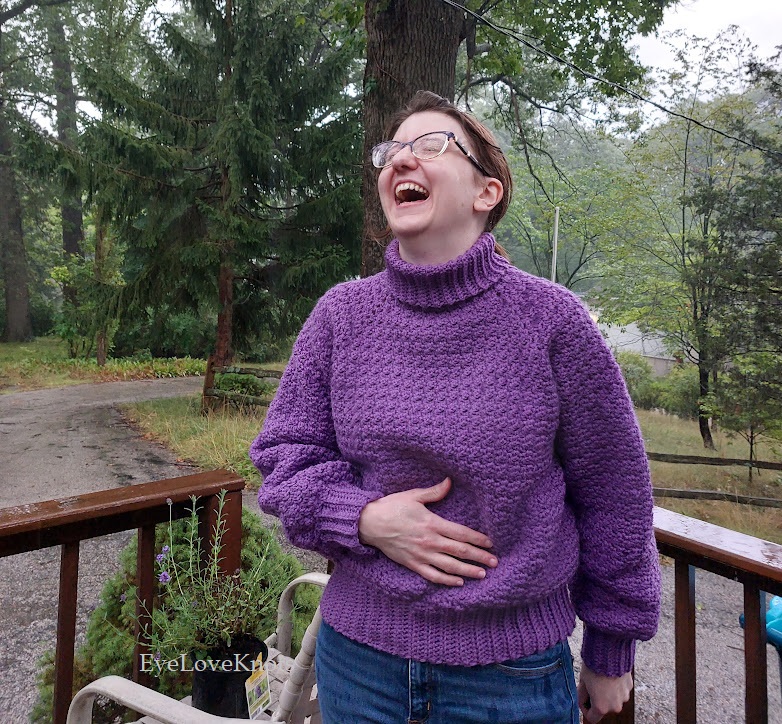 Speaking of how much I love it, I want to know why the designer called this the "Millennial Jumper". I feel targeted here, but it's probably correct targeting because I am a millennial, and I do love this sweater to death. Is it just a fashion style we're drawn to? Is it that we're now the ones in mom jeans and basic sweaters? Is this based on some famous sweater from my childhood that a celebrity wore or something? I'm totally lost on why the designer named it this way. But she was obviously correct, because I love it.
I made this joke on Instagram already, but if you notice in all these pictures, I took my photos of this piece in the rain. I didn't get time over the weekend until late Sunday afternoon for these, and although I knew it was going to rain it started a little earlier than I thought. But I figured "why not, I love rain!" and went outside anyway with a cup of coffee to get some cute pictures anyway. I just figured it would add an artsy touch and I'd get a little damp. Then the rain immediately picked up. I switched my coffee to a travel mug to protect it, but I kept trying! As you'll see, it didn't really lighten up. But I had a blast! I got drenched, and the sweater obviously has wet spots in many of the pics (but it's acrylic, so no yarn was harmed here), and at one point I just started laughing at myself and the absurdity of the whole thing. I feel like there's some kind of a philosophical point here about our generation, since that's the name of this sweater. Nothing about this photo shoot went to plan, but I made the best of it and ended up enjoying what I got!
Do I recommend this pattern? For sure. It might be a little complicated for a beginner but not impossible. If you're patient enough to try, it can be done. I'd say it's more comfortable for intermediate crocheters and above. You need to be a little bit skilled with making it up now and then (like I did on my sleeves at the beginning), but if you have the patience to frog a couple rows and try it over again? You'll be fine. And the result is so worth it. I hope you enjoyed this review, and I hope you get a chance to make one of these for yourself! You don't need to be a millennial to identify with this sweater, I promise. But if you are, apparently you'll love it as much as I did! Even with rain all over your glasses and getting in your mouth. This sweater makes you so happy you'll have to laugh!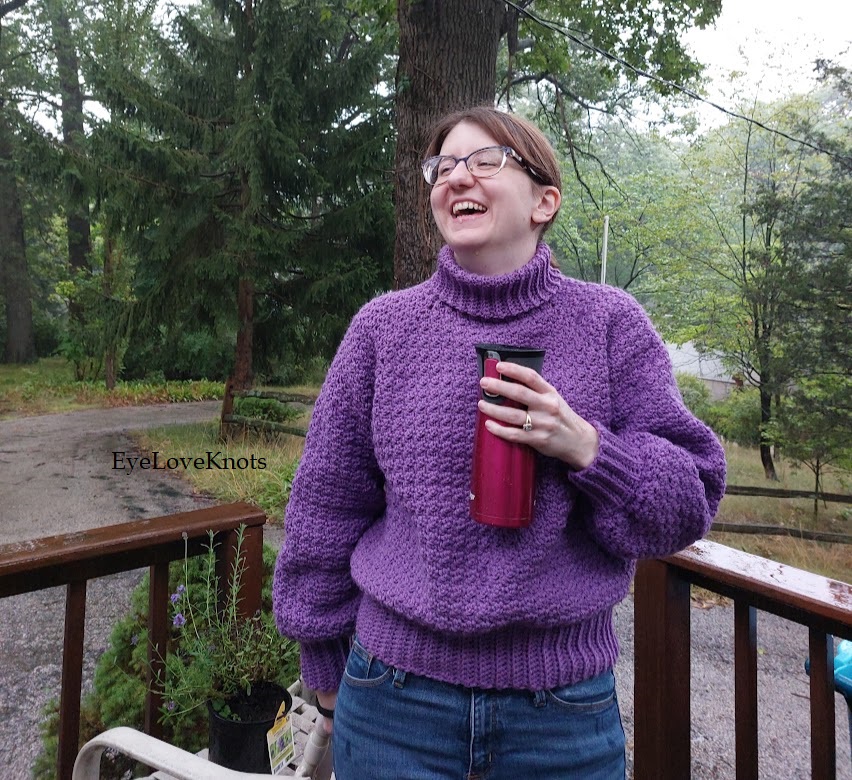 Don't forget to visit with me on Instagram @astitchshyofnormal for all kinds of awesome crochet makes and inspiration.
Join one of our awesome Facebook groups to share your creations, and see what others are up to!
– Yarn Crafts & Coffee Community
– DIY Home On Rockwood Lane
– Alexandra Lane Lifestyle
Linked Up To…
Link Up – Fine, Whatever Blog
Weekday Wear Link Up – Away from the Blue
Thursday Fashion Files – Doused in Pink
Chic and Stylish Link Up – Mummabstylish
Fancy Friday Linkup – Nancy's Fashion Style
Neverending Style Link-Up – The Grey Brunette
A Morning Cup of Joe – The Cottage Market
Craft Schooling Sunday – Creative Jewish Mom
Happiness is Homemade Link Party – Decor Craft Design
Sundays on Silverado #111 – The House on Silverado
Share the Wealth Link Up #27 – Big Fat Menopausal Life
Handmade Monday #294 – Sum of their Stories
The Really Crafty Link Party #331 – Keeping it Real
Craftastic Monday Link Party – Sew Can Do
You're the Star Blog Hop – Decor Craft Design
Hello Monday – Pink Lady
Anything Goes Linky 346 – My Random Musings
Thursday Favorite Things #559 – An Artful Mom
Creatively Crafty Link Party #346 – Try It – Like It – Create It
Encouraging Hearts and Home Blog Hop – My Slices of Life
Crafty Creators Link Party #36 – Life as a LEO Wife
Create, Bake, Grow & Gather Party #538 – Shabby Art Boutique
Funtastic Friday Link Party #403 – Simply Beautiful by Angela
Pink Saturday – How Sweet the Sound
Turning Heads Tuesday – Elegantly Dressed and Stylish
Confident Twosday – I do deClaire
Style with a Smile Link Up – Style Splash
Style on the Daily – Straight A Style
Spread the Kindness Link Up #293 – Shelbee on the Edge
Wow on Wednesday – Is This Mutton
654th Inspire Me Tuesday – A Stroll Thru Life
Fabulous Party 442 – Lou Lou Girls
Talent Sharing Tuesdays Link Up 34 – Scribbling Boomer
The Happy Now Blog Link-Up #339 – JENerally Informed
Linky Ladies Party #228 – The Purple Poncho
The Loop Scoop 46 – Moogly Blog
The Wednesday Link Party 469 – Oombawka Design
Team Creative Crafts Link Party #111 – Artsy-Fartsy Mama
Wonderful Wednesday – Oh My Heartsie Girl
Wonderful Wednesday Blog Hop – My Life Abundant
The Wednesday Link Party #314 – To Grandma's House We Go