This is a crochet pattern review of the Atticus Rat Doll designed by Bea King of Cottontail & Whiskers. Review done by Candace of T&C Crafters for EyeLoveKnots.
This post contains affiliate links for WeCrochet, Amazon, and Etsy. If you make a purchase by clicking on them, I make a small commission at no extra cost to you. Thanks for your support!
Find the crochet pattern review below, or click here to purchase the pattern from Cottontail & Whiskers on Etsy!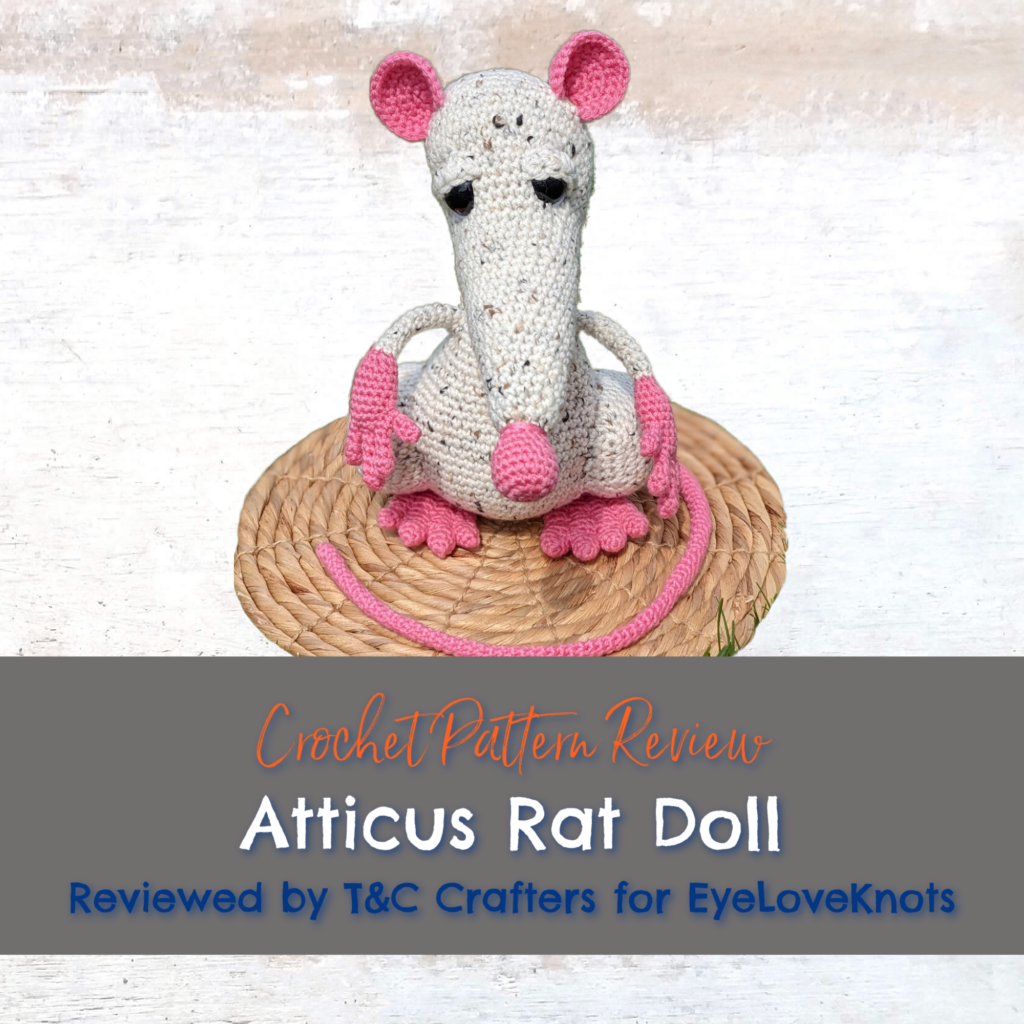 Visit with me on Facebook for all kinds of awesome crochet makes and inspiration.
A few months back, I was contacted on Etsy by a customer that wanted me to make an amigurumi for them. They had tried out the pattern but struggled with it, and were hoping I would be able to make it. The pattern was for the Atticus Rat Doll by Cottontail & Whiskers. Having never read a pattern by this designer before, I promised them I would give it my best shot, and I'm really glad that I did!
The Atticus Rat Doll is hands down the most detailed amigurumi I have ever made. The designer, Cottontail & Whiskers, provided an extremely detailed description of each step along the way with over seventy photos showing important steps in the process. The pattern also includes a bonus pattern for a cockroach pal named Splat. This pattern is definitely worth every penny, and I would recommend it to anyone that is looking for a pattern for a cute and detailed rat stuffed doll.
My customer plans to use the finished doll to help ease anxiety. All of the details will make it a great doll to cuddle and pet to help calm nerves. The design includes so many details to make this a perfectly textured and sensory-stimulating project. I am really excited about how this finished piece worked out, and I can't wait for my customer to receive it and enjoy it!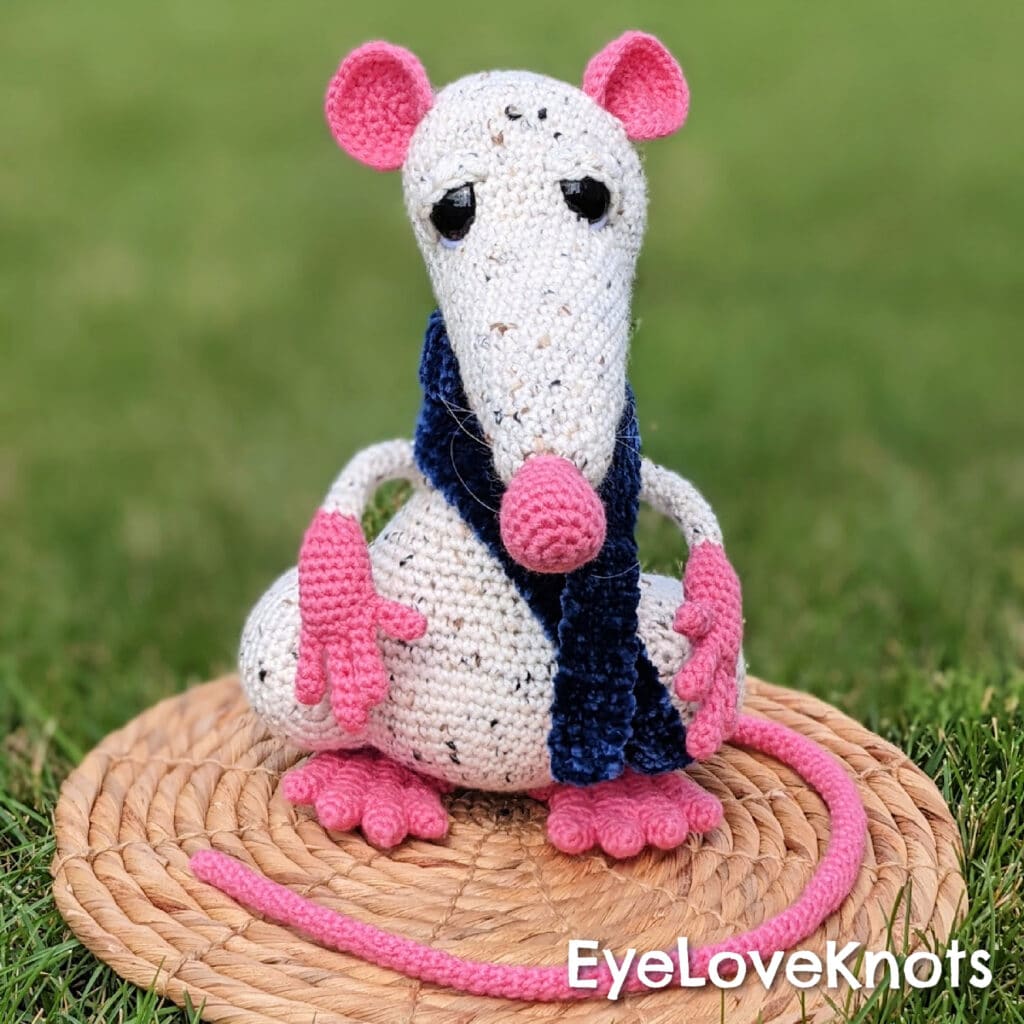 Materials I Used:
Worsted Weight Yarn – Specifically I Love This Yarn in Ivory Tweed and Big Twist Value in Bubblegum
Bernat Velvet in Indigo (for optional scarf)
G6/4mm Crochet Hook and E/3.5mm Crochet Hook – I prefer Clover Amour Ergonomic Crochet Hooks
Yarn Needle
Small Amount of White Yarn
Nylon Thread
Optional: Straight Pins, Stitch Markers, Gripper/Jewelry Pliers
Atticus Rat Doll, Paid Crochet Pattern by CottontailandWhiskers via Etsy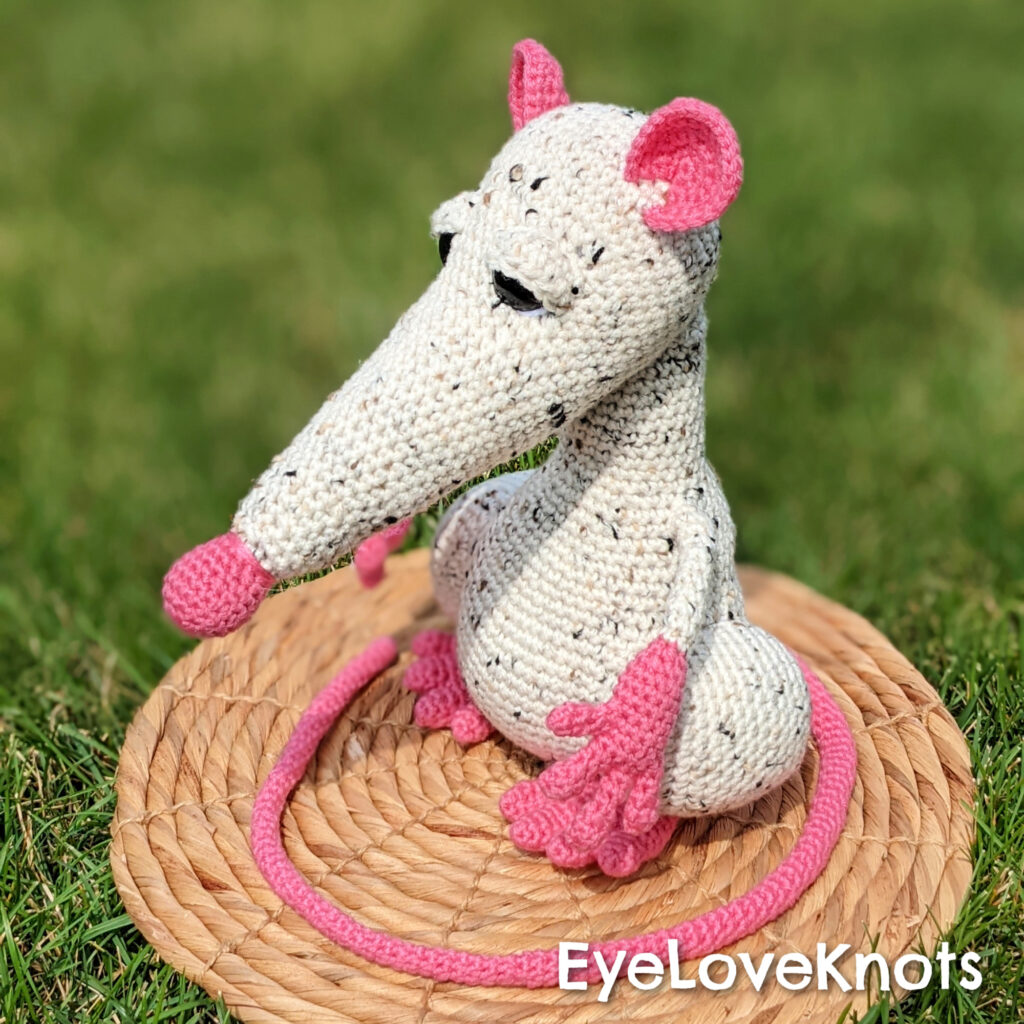 Material Notes:
This pattern calls for aran weight yarn in the main color and DK weight in pink and the scarf color. Although the worsted weight yarn that I used was a little lighter than the aran weight that was called for, I didn't really run into any issues with using the worsted weight yarn. I also used worsted weight yarn for both the pink and scarf. By crocheting with a tighter gauge and a smaller hook, the pink parts and the scarf turned out to be the right ratio to the rest of the body.
You will need to use two different size crochet hooks to get the correct ratio between the body and the appendages. I used a G6/4mm crochet hook for the main body parts and an E/3.5mm crochet hook for the ears, hands, feet, tail, and nose. In the pattern, the designer recommends a G6/4mm crochet hook and a 3 mm crochet hook, but because the set of hooks I typically use did not have that size, I just made the adjustment to the E/3.5mm hook.
There is a lot of sewing involved in this project, so you will want to have a sturdy yarn needle to sew the pieces together and to add the accents. When sewing through pieces that have been stuffed, it is sometimes helpful to have a gripper to grab the needle so you can pull it out the other side more easily. You could also use jewelry pliers to do the same thing.
Due to the amount of sewing involved, it is also helpful to have some straight pins or stitch markers to help hold pieces in place while you connect them. I recommend using rather long straight pins to prevent the pieces from moving around while trying to connect them. If you don't have straight pins, you could also use a dab of hot glue to hold pieces in place since it will be covered up once the pieces are attached.
The whiskers of the rat are made using pieces of nylon thread. You do not need a lot to get the right look. If you don't have nylon thread, thicker fishing line would work as well.
The designer used a mixture of watercolor pencils, eye shadows, and pens to color in around the eyes and the ears of the original design. I opted to not do this because the doll I was making will be used a lot, and I didn't want anything to smudge.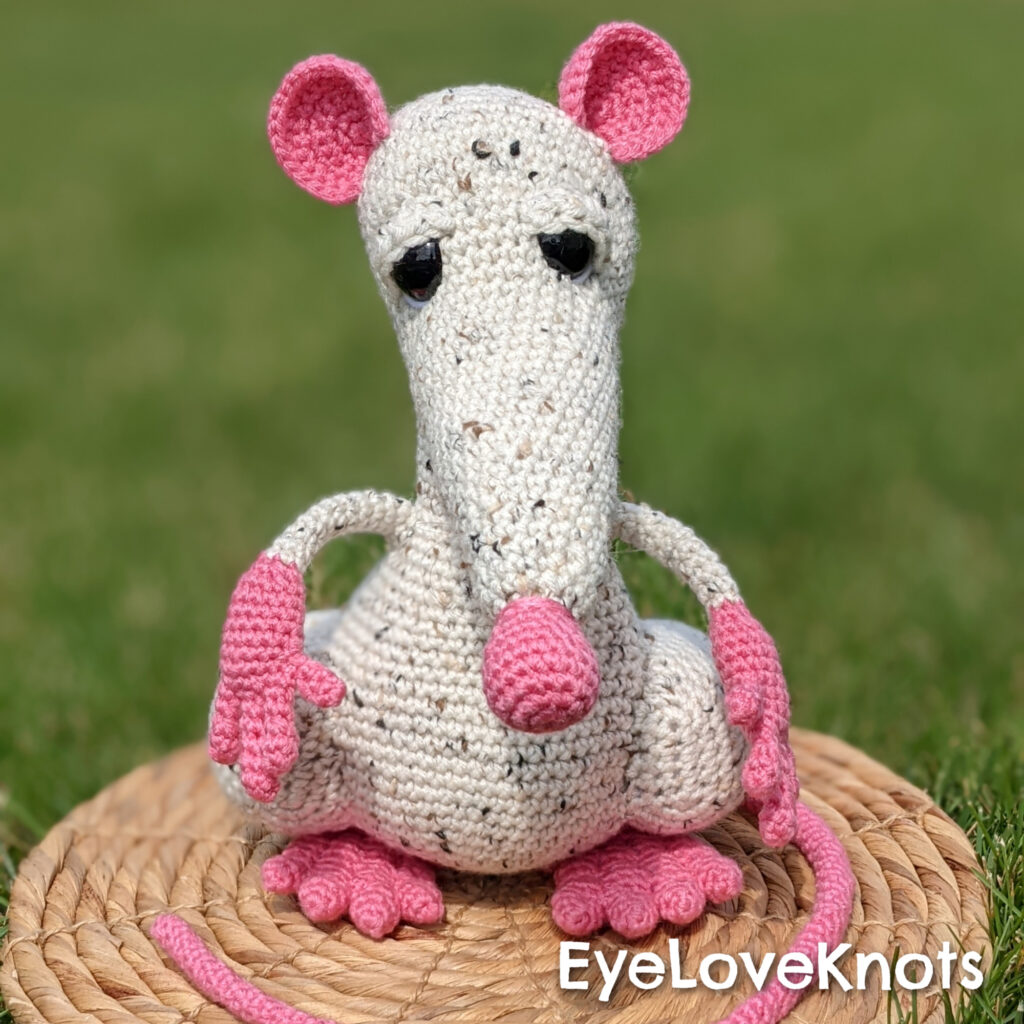 How Long Does It Take to Crochet an Atticus Rat Doll?
This project was quite time consuming with all of the detailed components. I finished this project in about 14 hours total over the span of a few weeks.
Measurements:
My finished Atticus the Rat measured approximately 11.5 inches tall from his feet to the top of his ears. The distance from his feet to the top of his head measured 10 inches. He was 7.5 inches wide at the base of his legs. The head measured 9 inches long from the back of the head to the nose. Each arm was 5.5 inches. The scarf was 1 inch wide by 24 inches long, and the tail was 22 inches long with the widest part measuring 3/4 inches wide and the tip measuring 1/2 inch wide.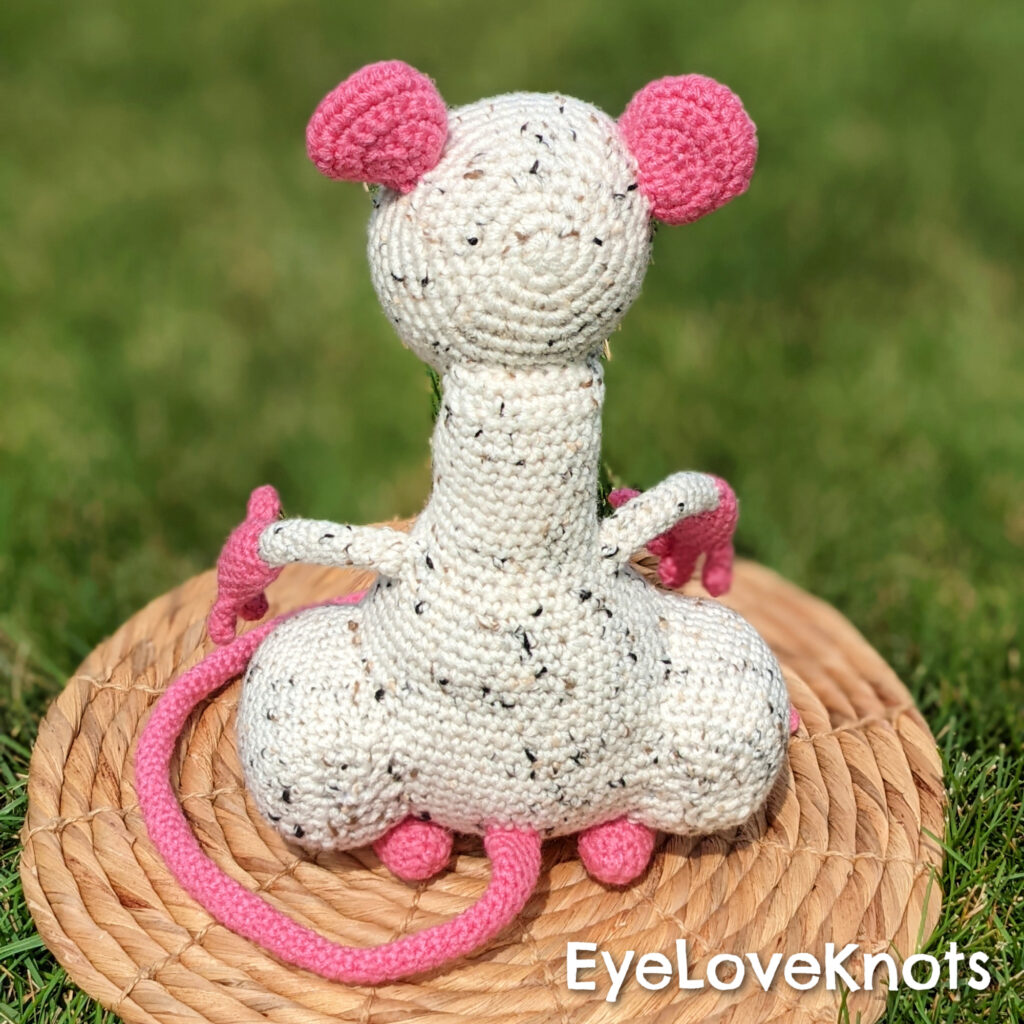 Gauge:
The pattern does not provide a gauge for this project. If you want to make sure that your finished project turns out the same size as mine, when using a G6/4mm crochet hook with worsted weight yarn, a magic circle with six single crochets should measure 3/4 inch in diameter, and after a second round of increases in each stitch, it should measure approximately 1 inch in diameter. When using an E/3.5mm crochet hook with worsted weight yarn, a magic circle with six single crochets should measure 1/2 inch in diameter, and after a second round of increases in each stitch, it should measure approximately 7/8 inch in diameter.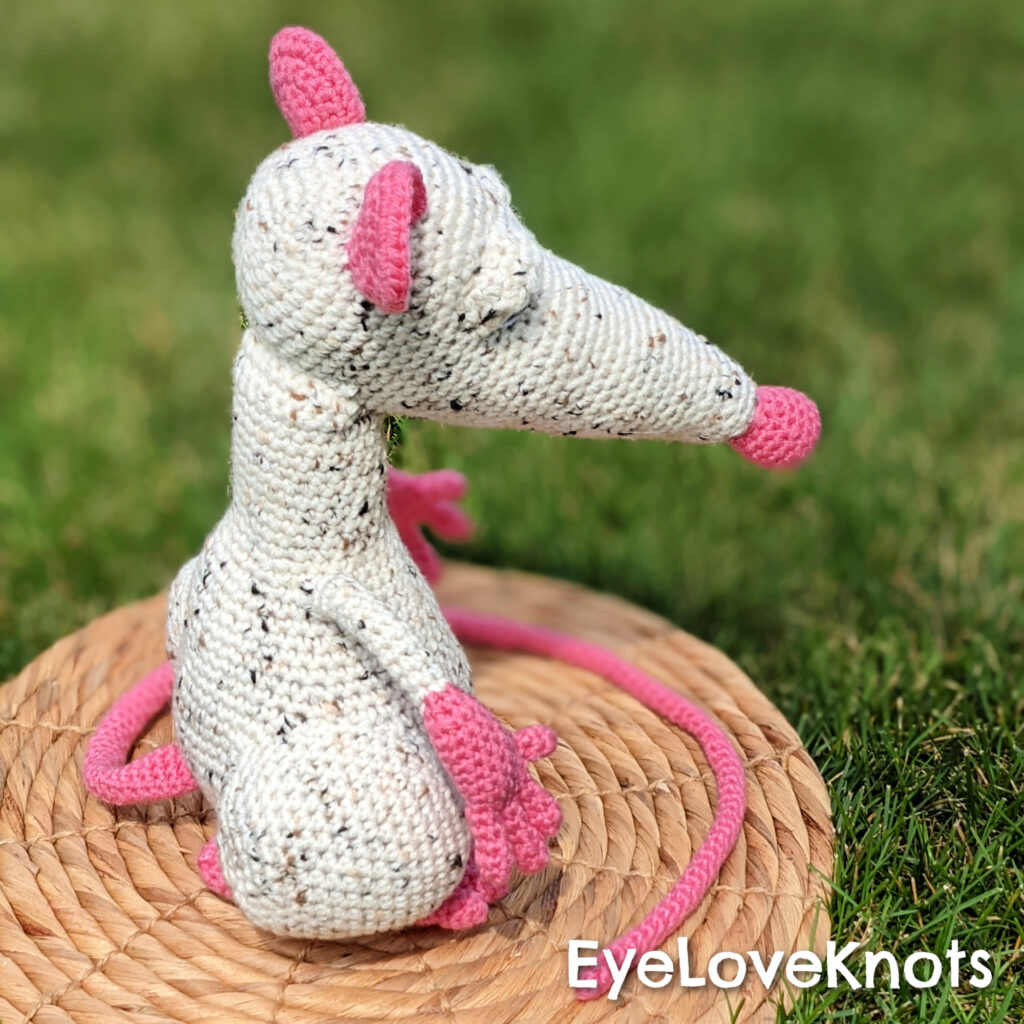 Pattern Notes:
When I first looked over this pattern, I noticed there wasn't really anything too overly difficult in the way the pieces are made. The design is worked in the round and requires knowledge of single crochets, increases, decreases, slip stitches, half double crochets, and double crochets. What makes this project an intermediate to advanced project is the shaping of the pieces and the attachment of pieces.
I learned a lot from working through this pattern thanks to all the detailed pictures and directions that were provided. I was very impressed by the methods the designer used to get the correct face shape, to make the hips and legs realistic, and to shape the feet. The precise details made it easy to match the look of the original design.
While the hands and feet are some of the smaller parts of this design, I felt that they were some of the most complex pieces. The toes and the fingers are all made individually and then attached together as the rest of the hand or foot is made. This part can be a little difficult to follow, so the designer used a series of pictures with a contrasting yarn color to show how to complete this step. When it is time to shape the feet to give them a more realistic look, the designer again shows pictures with a contrasting yarn color to show exactly where to stitch.
Most of the pieces are very straightforward, and the attachment is easy to follow from the pictures. The part that I struggled with the most on this project was the attachment of the hips/legs. Because the body and the legs were both stuffed pretty full, it was a little tricky attaching the legs and maintaining their positioning. I ended up using a little bit of hot glue to hold the leg in place and a lot of straight pins around the outside so I could clearly see where I wanted to attach the leg. Once attached, the legs look totally different than they do as pieces because the body and the leg are now smooth together. In addition to the tools I used, I would also recommend sewing around the leg once loosely and then going back around a second time to sew it on securely so you can shape it how you would like.
If you are thinking about making your own Atticus Rat Doll, I can assure you that this pattern will walk you through each step in detail. While it is a time-consuming and intricate project, I was extremely impressed with the end results. I am also very grateful for all the time and effort the designer put into creating such a detailed pattern. Not only does it come with detailed instructions and pictures for each part of the process, but there is also a condensed version of the pattern that you can use if you want to work through it without the pictures.
If you decide to make your own Atticus Rat Doll, I would love to see the finished product! Be sure to tag @cottontailandwhiskers, @eyeloveknots, and @tandc_crafters so we can all see what you made!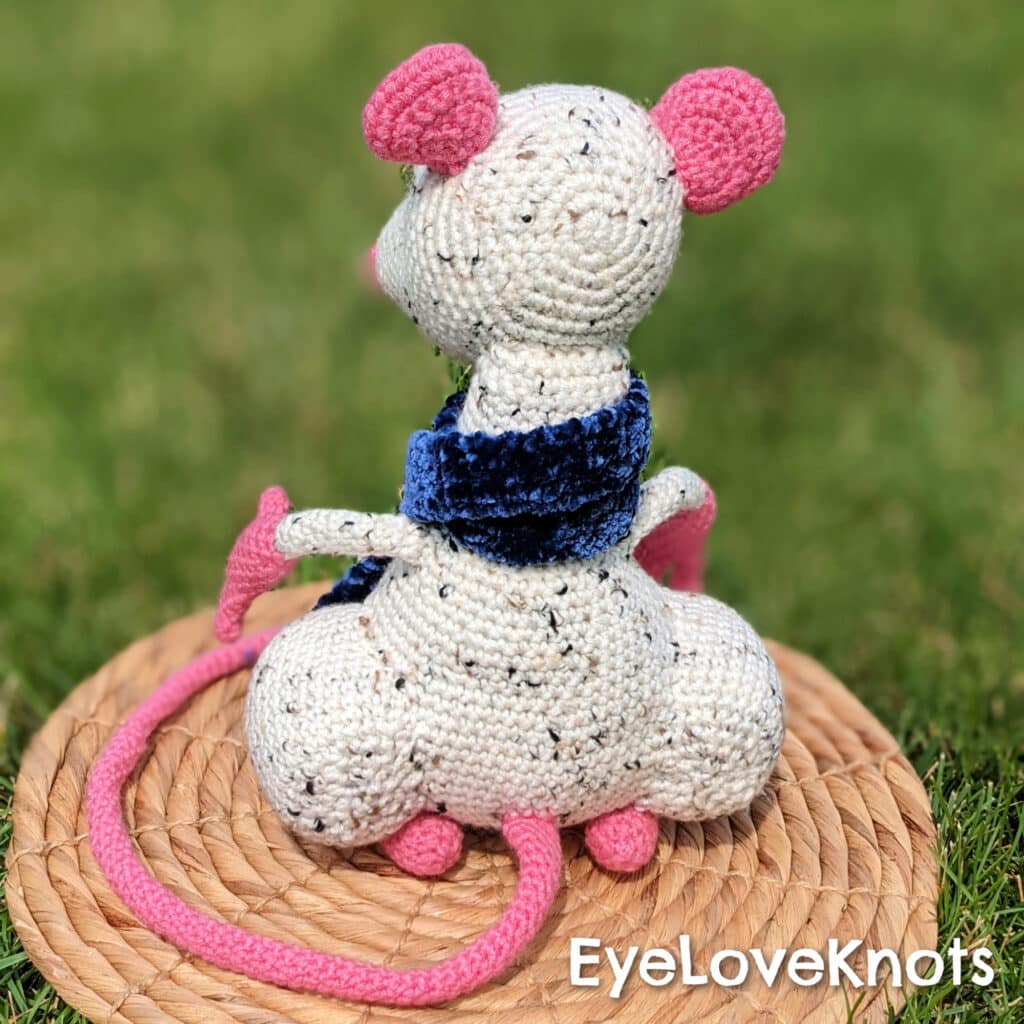 Don't forget to visit with me on Instagram for all kinds of awesome crochet makes and inspiration.
Join one of our awesome Facebook groups to share your creations, and see what others are up to!
– EyeLoveKnots Crochet & DIY Community
– DIY Home On Rockwood Lane
– Alexandra Lane Lifestyle
Linked Up To…
Craft Schooling Sunday – Creative Jewish Mom
Sundays on Silverado #110 – The House on Silverado
Happiness is Homemade Link Party – Decor Craft Design
Handmade Monday #293 – Sum of their Stories
The Really Crafty Link Party #320 – Keeping it Real
Craftastic Monday Link Party – Sew Can Do
You're the Star Blog Hop – Decor Craft Design
Hello Monday – Pink Lady
Anything Goes Linky 345 – My Random Musings
Thursday Favorite Things #558 – An Artful Mom
Creatively Crafty Link Party #345 – Try It – Like It – Create It
Encouraging Hearts and Home Blog Hop – My Slices of Life
Grace at Home No. 482 – Imparting Grace
Linky Party – Karins Kottage
Crafty Creators Link Party #35 – Life as a LEO Wife
Create, Bake, Grow & Gather Party #537 – Shabby Art Boutique
Funtastic Friday Link Party #402 – Simply Beautiful by Angela
Pink Saturday – How Sweet the Sound
A Morning Cup of Joe – The Cottage Market
Saturday Sparks Link Party 532 – Pieced Pastimes
Home Matters Linky Party #397 – Modern on Monticello
All About Home Link Party #162 – Common Ground
654th Inspire Me Tuesday – A Stroll Thru Life
Fabulous Party 442 – Lou Lou Girls
Talent Sharing Tuesdays Link Up 34 – Scribbling Boomer
The Happy Now Blog Link-Up #339 – JENerally Informed
Linky Ladies Party #228 – The Purple Poncho
The Loop Scoop 46 – Moogly Blog
The Wednesday Link Party 469 – Oombawka Design
Team Creative Crafts Link Party #111 – Artsy-Fartsy Mama
Wonderful Wednesday – Oh My Heartsie Girl
Wonderful Wednesday Blog Hop – My Life Abundant
The Wednesday Link Party #314 – To Grandma's House We Go
Share the Wealth Link Up #27 – Big Fat Menopausal Life