This is a crochet pattern review of the Chloe Tabard Top pattern from HanJan Crochet. Review done by A Stitch Shy of Normal for EyeLoveKnots.
This post contains affiliate links for Lion Brand and WeCrochet. If you make a purchase by clicking on them, I make a small commission at no extra cost to you. Thanks for your support!
Find the crochet pattern review below, or click here to grab the pattern on Ravelry! It's also available in the third issue of a publication called Studio Crochet.
In a hurry? Pin for Later.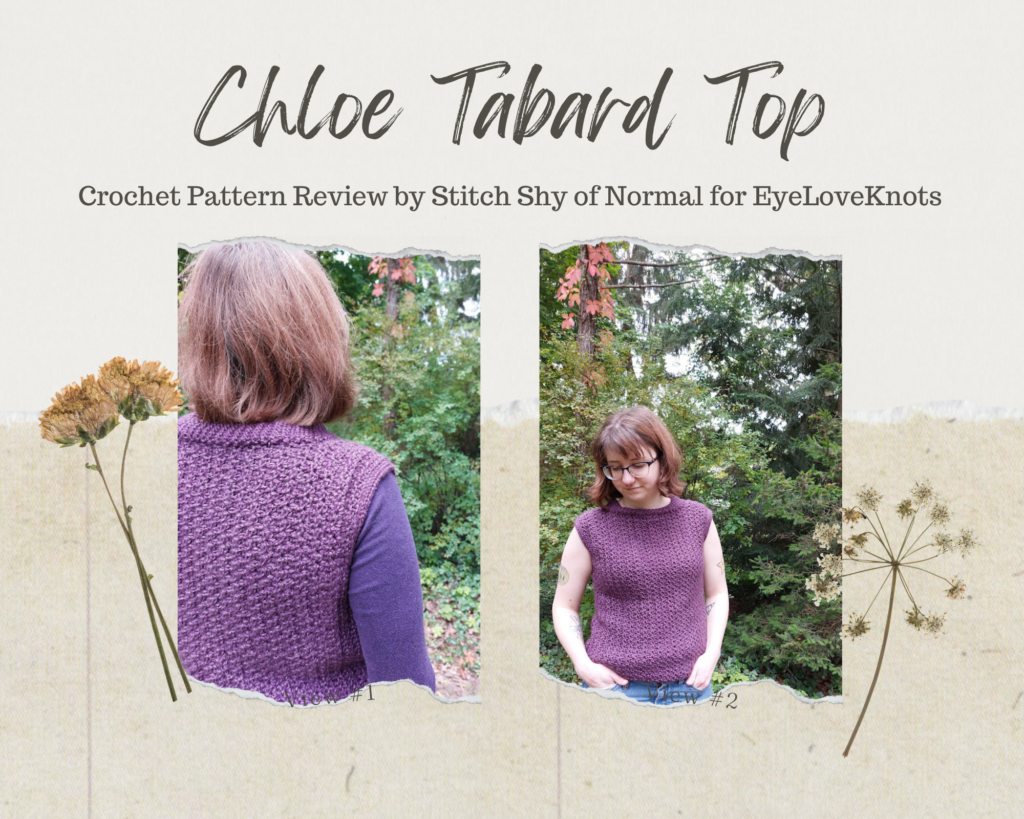 Visit with me on Instagram @astitchshyofnormal for all kinds of awesome crochet makes and inspiration!
I had this top in my head ever since I came across the crochet pattern on Ravelry. I've been mulling over the options, a looser outer layer version with a tie versus a slimmer-fitting one made as a top and seamed up… but I couldn't decide! When I was looking for this month's pattern to review, and I just happened to have a few skeins of Lion Brand Heartland (bought for a design idea that didn't work out), I realized it was the universe telling me to make one of these tops.
I also recently got a desk job this year after working on production lines, so I've been trying to gradually increase my work wardrobe. I love crochet items but so many of the ones I've made are flowy or have fringe, and I still do work with machines now and then so I need to be careful about dangling bits. This top though? It's sleek and gorgeous and has no such issue. I'm so excited, I finished it just before writing this up so I'm definitely wearing it to work on Monday. It turns out that it's more of a top layer like a vest instead of a top all on its own, but that worked out okay for me! See the review below if you want more info on that.
This top looks scarier than it actually is, trust me. The stitching is not that scary and there's minimal shaping. It takes some time, yes, but the majority of the stitching is a rectangle. You shape the armhole area, then work a rectangle with a neckhole in the middle, then end with shaping the other armhole. So when you're in the in-between section you're just working back and forth! You can see the top take shape before your eyes and it gets more exciting as it grows.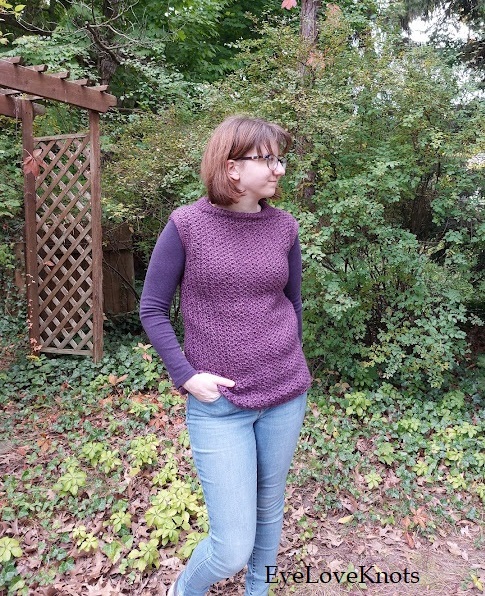 What Materials Do I Need to Crochet a Top?
Material Notes:
Texture and appearance-wise, this yarn worked great. It's one of the secondary choices recommended within the pattern, actually! I can't speak for the designer, but I can suggest that this yarn works better if you're making this as a looser outer-garment version, like a top or a poncho style. I initially wanted it to be wearable as just a sleeveless top, and it came out a little bit looser than I intended and also is a little too warm for that use.
The designer suggests that you could also use anything lighter like a category 3 (DK), as long as the gauge is met. So you just need to experiment a little bit to find the right yarn fit for the top you want! I can definitely see this being gorgeous in something like Lion Brand Truboo. It would be lovely for spring or summer not only in that lightweight bamboo fiber but also in some of those shades! I can picture it in the yellow or the lighter blue shades for sure.
Although it ended up not being ideal for the top I had pictured, this yarn was still a great choice for comfort and durability. Heartland is one of my favorites, you guys have heard that a hundred times by now. It's so soft, comes in so many lovely colorways, and is pretty affordable! Plus it's machine washable and holds up decently well in my opinion as long as you're careful with your makes.
Now, would I use this again? Honestly, no. I want to find a lighter yarn for the next time I make this. It's not like I'm saying it didn't work out, I just really wanted a top to wear by itself and not as a topper layer. Heartland works great if that's what you're wanting. I will personally use something like Lion Brand Coboo or Truboo when I make my next one.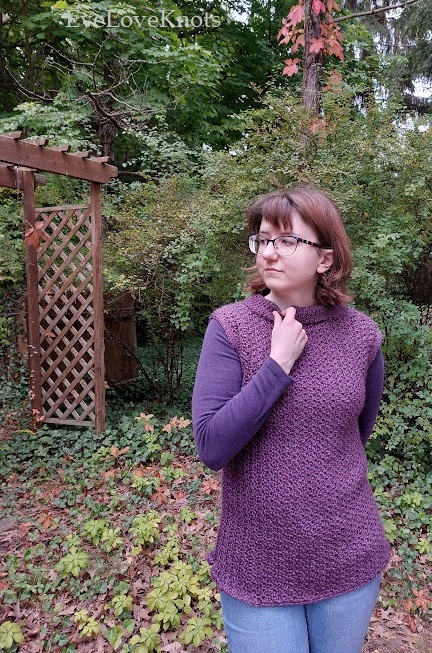 How Long Does it Take to Crochet a Top?
I kept track this time and it looks like it took me about 12-14 hours. This really isn't too bad for a top, if you think of this being a few hours a day on the weekends it could take you just a few weeks to whip up! I didn't add some of the optional things like a tie, but that wouldn't add very much time in the big picture.
Gauge:
The pattern gauge is written as 4 inches being equal to 15 stitches or 11 rows.
In comparison, 4 inches of my garment measures 15 stitches on the dot but actually 12 rows.
I didn't say width or height because you actually work this sideways and then fold it in half and seam up the sides. So my gauge having extra rows in the 4 inch measurement is surprising because that would imply my stitching was smaller than the designer's. And yet I ended up with a larger fit. This could all be a factor of stretching, though. It's possible that my yarn stretches more than the pattern samples, so it can measure larger. I'm not sure! In summary, my gauge came pretty close.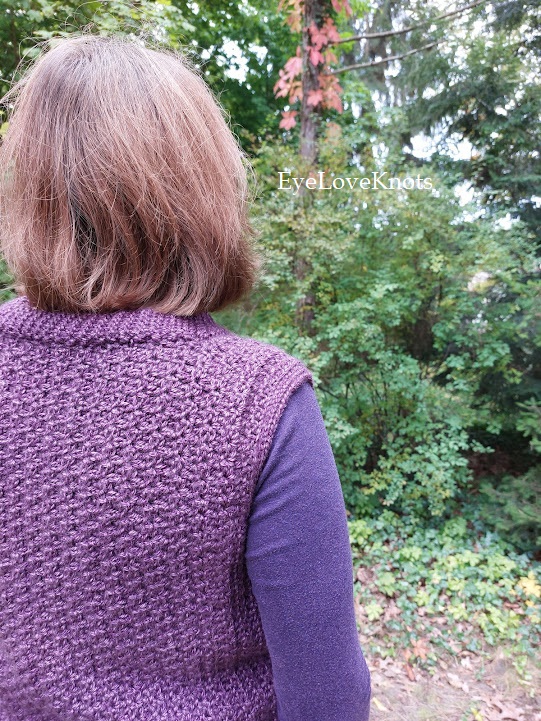 Measurements:
I made size XS (although I usually wear Small) because the designer says if you want a snug top, size down. If you want a loose topper, size up. So I chose to step down a size to get a nice slim-fitting top.
My width is about 17.25″, and the listed sizing is 17″.
I got a length of about 24″, and the written is 25″.
My armholes as well are actually a little small, at about 6″ wide instead of 7.75″.
All of this adds up to say that my garment ended up a touch smaller laying flat versus the pattern sample. So why does it fit so much looser? I'm going to assume that this is due to stretch. Heartland is a very bouncy and stretchy yarn, and it has a lot of give. I'm sure if I stretch this out and then measure it again, I'd get a couple inches larger than the listed sizing in all directions. (I'm not going to stretch my top, don't worry!)
So this adds to my opinion that I would not use this yarn again IF I wanted to make the actual top. I would use it again for the vest style, though.
Pattern Notes:
The stitching on this one is fairly simple. However, you need to do a lot of counting at the beginning during the armhole shaping. You have to be really careful to line it up correctly and start/end slip-stitching at the correct times. But that's the worst of it in my opinion and once you get through a few rows, you're then working a pretty simple rectangle shape for a while. You stop in the middle for the neck opening but both sides are straight and simple, and then you just end the whole thing with a few more rows of slip stitching. You guys know by now that is not my favorite stitch, but in something like this pattern it's worth it to have that beautiful shaping.
If I had to give this one a difficulty level in my opinion based on my own experience, I'd call it intermediate. You would need to be comfortable with a few different stitches, some basic sizing and gauge knowledge to find your correct fit. But if you're considering yourself on the beginner side of intermediate, and you want to try out a first garment, you might be able to handle this. Just be prepared to be patient with yourself in the armhole section!
This design has a lot of options, and I really appreciate it! You can make it long, short, slim or loose. You can add one large tie, a few small ties, or none at all. You can seam the sides up just a tiny bit or halfway or none! You could try this in lighter or thicker yarns if you're comfortable making up your own sizing. I can imagine it being lovely in a thick yarn, unseamed, and with a tie on the sides.
Overall, even though I ended up with a different top than I wanted at the start, I'm glad I made this. And that's how I like to think about these things–I didn't mess up or get a bad top, I just ended up with something different from what I thought it was going to be! And different can be good! I would (and will) make this again, knowing what I do now and having the comfort level to play around a little bit with the sizing options. I'll definitely add a tie next time and maybe change up my side-seaming. It was fun to make, and I got a gorgeous top out of the deal. I recommend looking this one up for sure.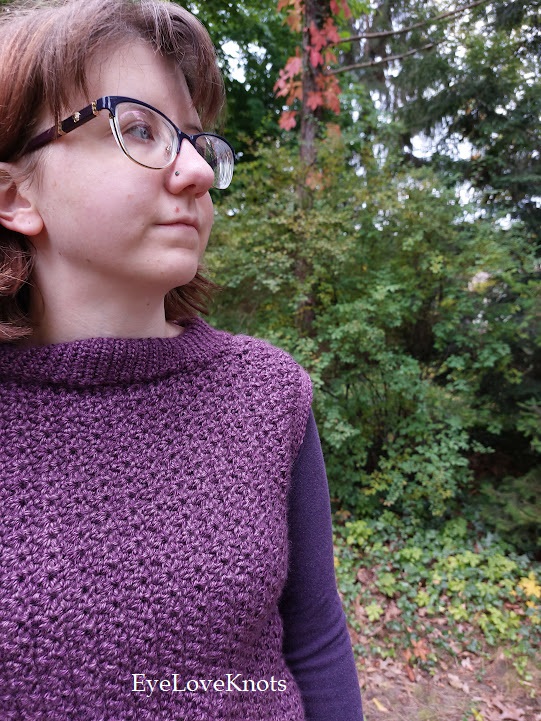 Don't forget to visit with me on Instagram @astitchshyofnormal for all kinds of awesome crochet makes and inspiration.
Join one of our awesome Facebook groups to share your creations, and see what others are up to!
– Yarn Crafts & Coffee Community
– DIY Home On Rockwood Lane
– Alexandra Lane Lifestyle
Linked Up To…
Craftastic Monday Link Party – Sew Can Do
Talent Sharing Link Up – Scribbling Boomer
Linky Ladies Party #229 – The Purple Poncho
The Loop Scoop 48 – Moogly Blog
The Wednesday Link Party 473 – Oombawka Design Crochet
Team Creative Crafts Link Party #116 – Artsy Fartsy Mama
Saturday Sparks Link Party 536 – Pieced Pastimes
Weekday Wear Link Up – Away from the Blue
Turning Heads Tuesday – Elegantly Dressed and Stylish
Confident Twosday Linkup – I do deClaire
Style with a Smile Link Up – Style Splash
Spread the Kindness Link Up #297 – Shelbee on the Edge
Style on the Daily – Straight A Style
Craft Schooling Sunday – Creative Jewish Mom
Happiness is Homemade Link Party – Decor Craft Design
Sundays on Silverado #115 – The House on Silverado
Share the Wealth Link Up #29 – Big Fat Menopausal Life
Handmade Monday #298 – Sum of their Stories
The Really Crafty Link Party #335 – Keeping it Real
You're the Star Blog Hop – Decor Craft Design
Anything Goes Linky 350 – My Random Musings
658th Inspire Me Tuesday – A Stroll Thru Life
Fabulous Party 446 – Lou Lou Girls
The Happy Now Blog Link Up #343 – JENerally Informed
Pink Saturday – How Sweet the Sound
A Morning Cup of Joe – The Cottage Market
Creatively Crafty Link Party #351 – Try It – Like It – Create It
Link Up on the Edge #318 – Shelbee on the Edge
Fancy Friday – Nancy's Fashion Style
Neverending Style – The Grey Brunette
Thursday Fashion Files – Doused in Pink
Chic and Stylish Link Up – Mummabstylish
Create, Bake, Grow & Gather Party #543 – Shabby Art Boutique
Funtastic Friday Link Party #408 – Simply Beautiful by Angela
Encouraging Hearts and Home Blog Hop – My Slices of Life
Grace at Home No 485 – Imparting Grace
Thursday Favorite Things #564 – An Artful Mom
Crafty Creators Link Party #40 – Life as a LEO Wife
The Sunday Showcase – Chez Mireille