This is a crochet pattern review of the Yarn Ball Stress Reliever designed by Sonya of Blackstone Designs. Review done by Candace of T&C Crafters for EyeLoveKnots.
This post contains affiliate links for Amazon, We Crochet, and Etsy. If you make a purchase by clicking on them, I make a small commission at no extra cost to you. Thanks for your support!
Find the crochet pattern review below, the free pattern on the Blackstone Designs blog or buy the PDF on Etsy.
In a hurry? Pin it for later.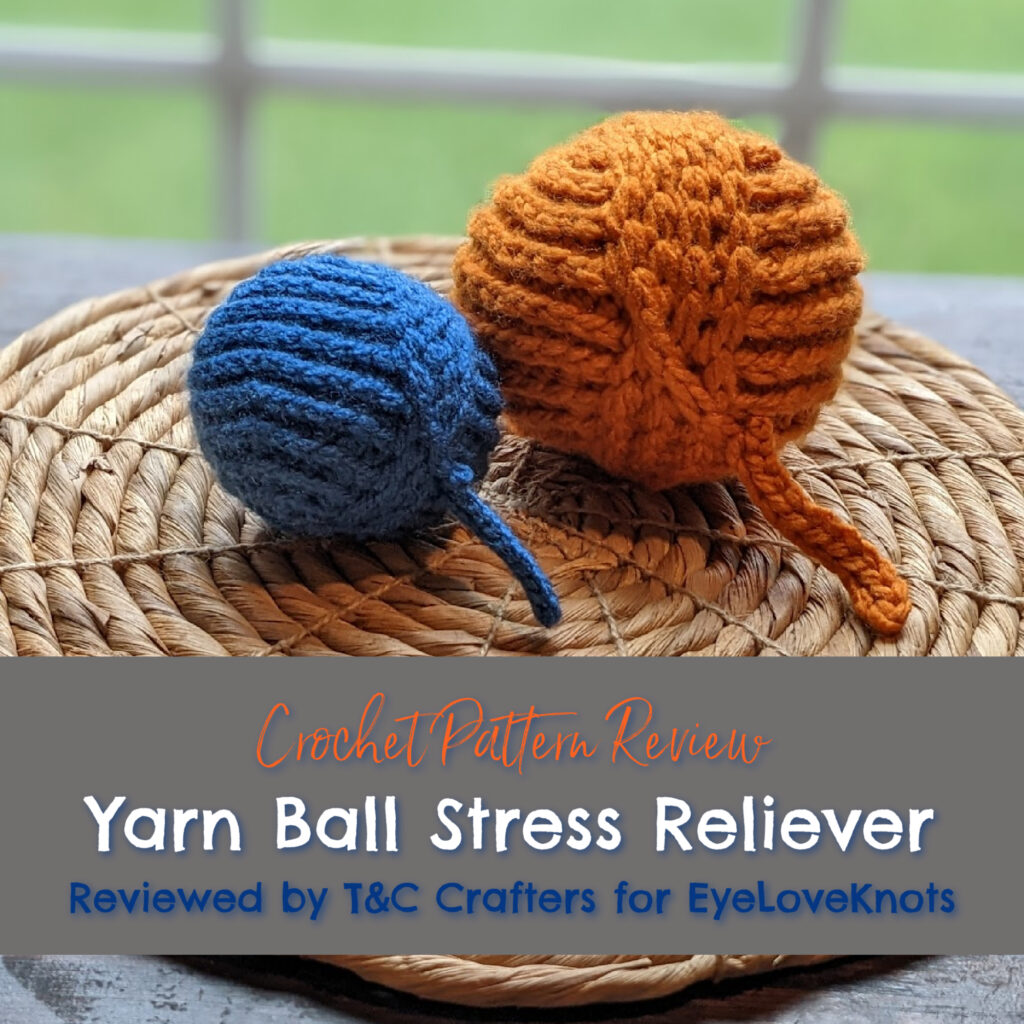 Visit with me on Facebook for all kinds of awesome crochet makes and inspiration.
It is not often that I make a project just for myself, but when I was checking out the amazing free patterns on the Blackstone Designs blog, I immediately fell in love with the Yarn Ball Stress Relievers! I pulled a hook out of one of my current projects, grabbed some worsted weight yarn I had on hand, and got to work. In under an hour, I had an adorable yarn ball that was super soft and squishy.
This is a super quick and easy project that creates the cutest little yarn ball. While they are advertised as a stress reliever and come with instructions on how to create your own stress ball insert, I plan to use mine as photo props for my business. I am also thinking that I am going to make some to attach to ornament hooks to hang on my Christmas tree. My two kids also love these yarn balls, and I'm happy they can't unravel them!
Whether you are looking for a project just for you or for a yarn-loving friend, I highly recommend you try out this crochet pattern! They are so quick and easy that you can make a bunch in no time, and you have the perfect gift for any knitter or crocheter you know. They would also make cute stuffed toys for little ones that love playing with yarn (like my kids do). You could even turn them into adorable little cat toys! The possibilities with this pattern are endless, so you definitely want to put them on your project list!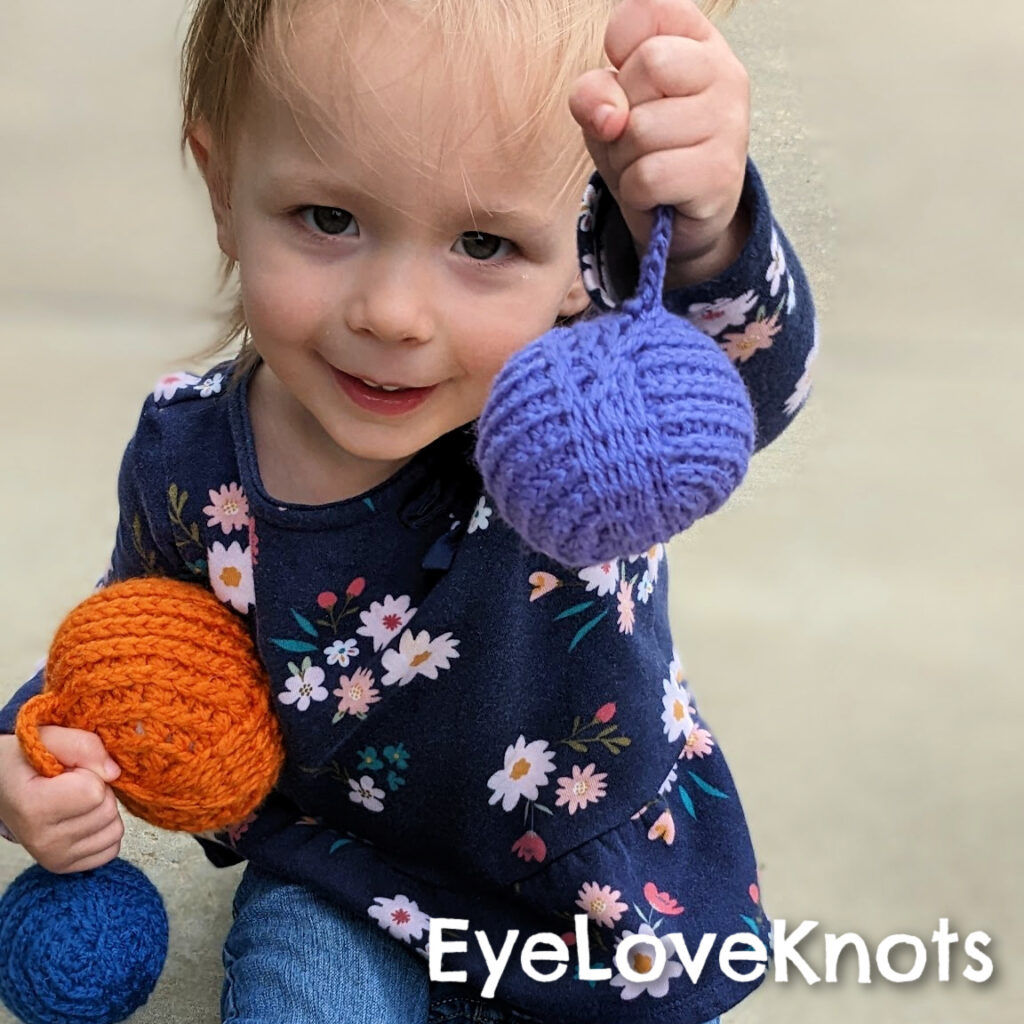 Materials I Used:
Regular Size: Worsted Weight Yarn in Royal Blue (I used the Stitch Studio Basics line which has since been discontinued)
Large Size: I Love This Chunky yarn in Spice
Regular Size: G6/4mm Crochet Hook – I love using Clover Amour Ergonomic Hooks
Large Size: I9/5.5mm Crochet Hook
Yarn Needle
Yarn Ball Stress Reliever, Crochet Pattern (Free Version) or (Paid Version) from Blackstone Designs
Material Notes:
The pattern calls for about 30 yards of any color worsted weight yarn and a F5/3.75 mm crochet hook. I used some blue yarn that I had in my stash with a G6/4mm crochet hook since that is my hook of choice for stuffed toys. I also made a larger version using some chunky yarn from my stash and sizing up my hook to an I9/5.5 mm hook. As long as you adjust your hook size appropriately, you can use pretty much any type of yarn for this project.
When creating my yarn balls, I stuffed them with standard polyester fiber-fil because I wanted them to be soft and squishy. If you are making a stress ball, the designer suggests either stuffing it with a pre-made stress ball, or using a latex balloon filled with cornstarch. The pattern provides detailed directions and suggestions on how to best create your own stress ball insert. For example, the designer recommends using a thicker party-style latex balloon rather than a water balloon to prevent it from popping. I would also recommend that you make sure your balloon is a similar color to your yarn so you can see the balloon color through the gaps in your stitches.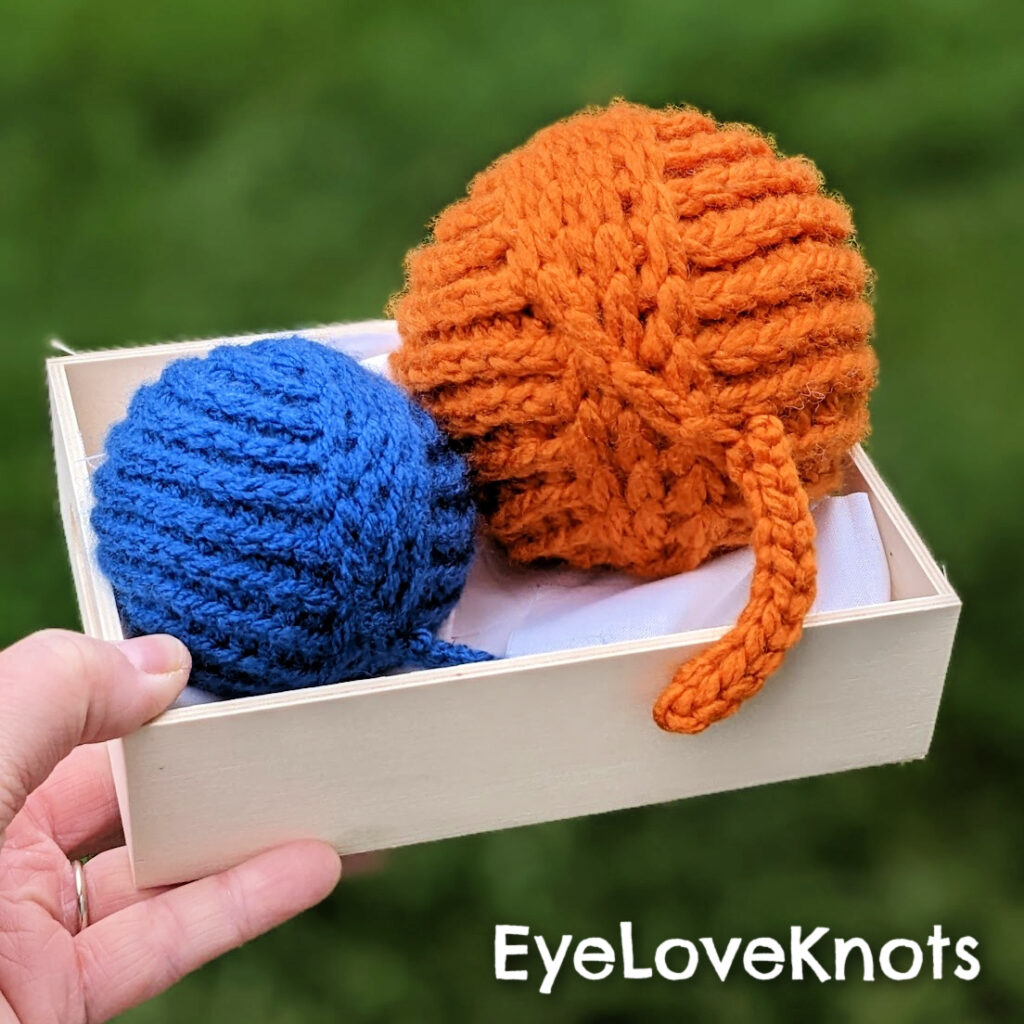 Time Spent:
Each of the yarn ball stress relievers took me just under an hour from start to finish. This is a nice project that can easily be completed in one evening.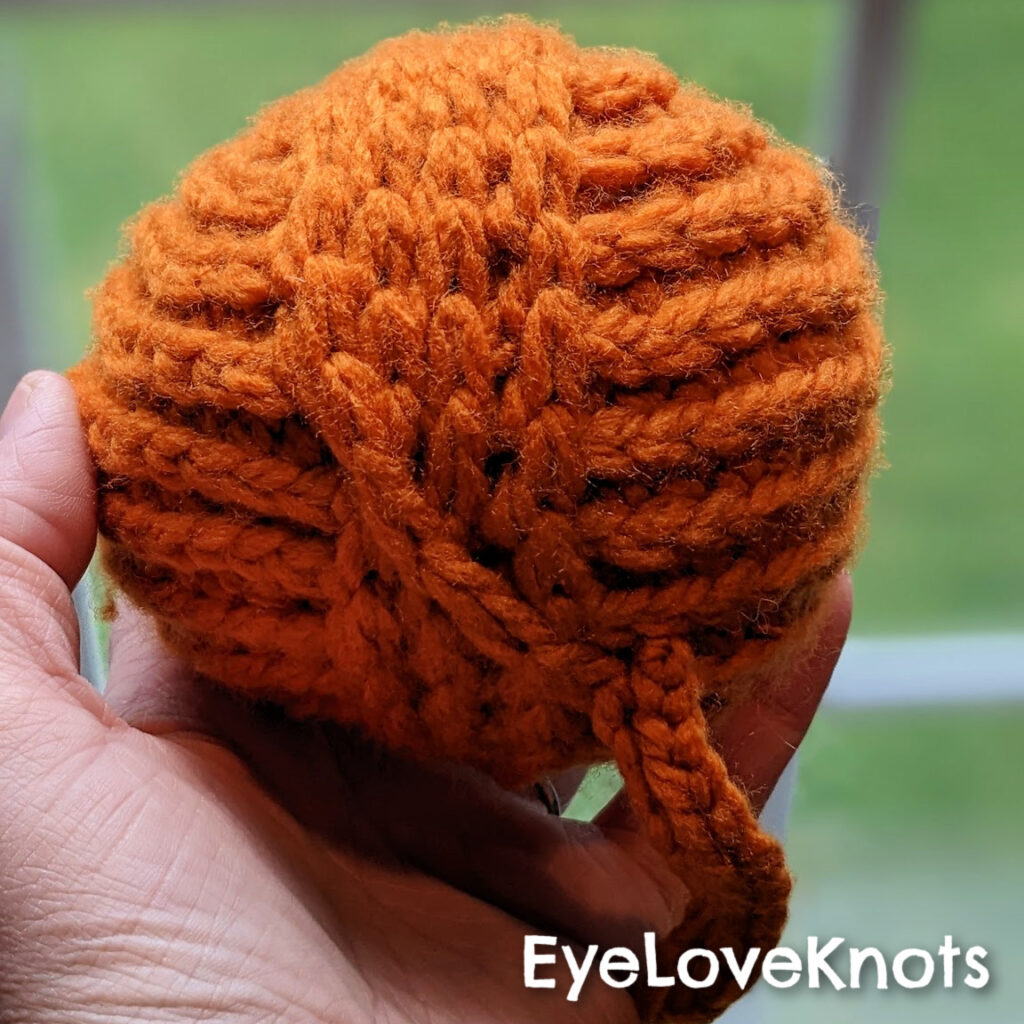 Measurements:
My regular size yarn ball made with worsted weight yarn measured 2.75 inches in diameter. My larger yarn ball made with chunky yarn measured approximately 4 inches in diameter.
Gauge:
The author indicates in the pattern that gauge is not important for this project. When making my stress relievers, a magic circle with 8 half double crochets measured 15/16 inch in diameter in worsted weight yarn with a G6/4mm crochet hook and 1 1/4 inches in diameter with chunky yarn and an I9/5.5mm crochet hook.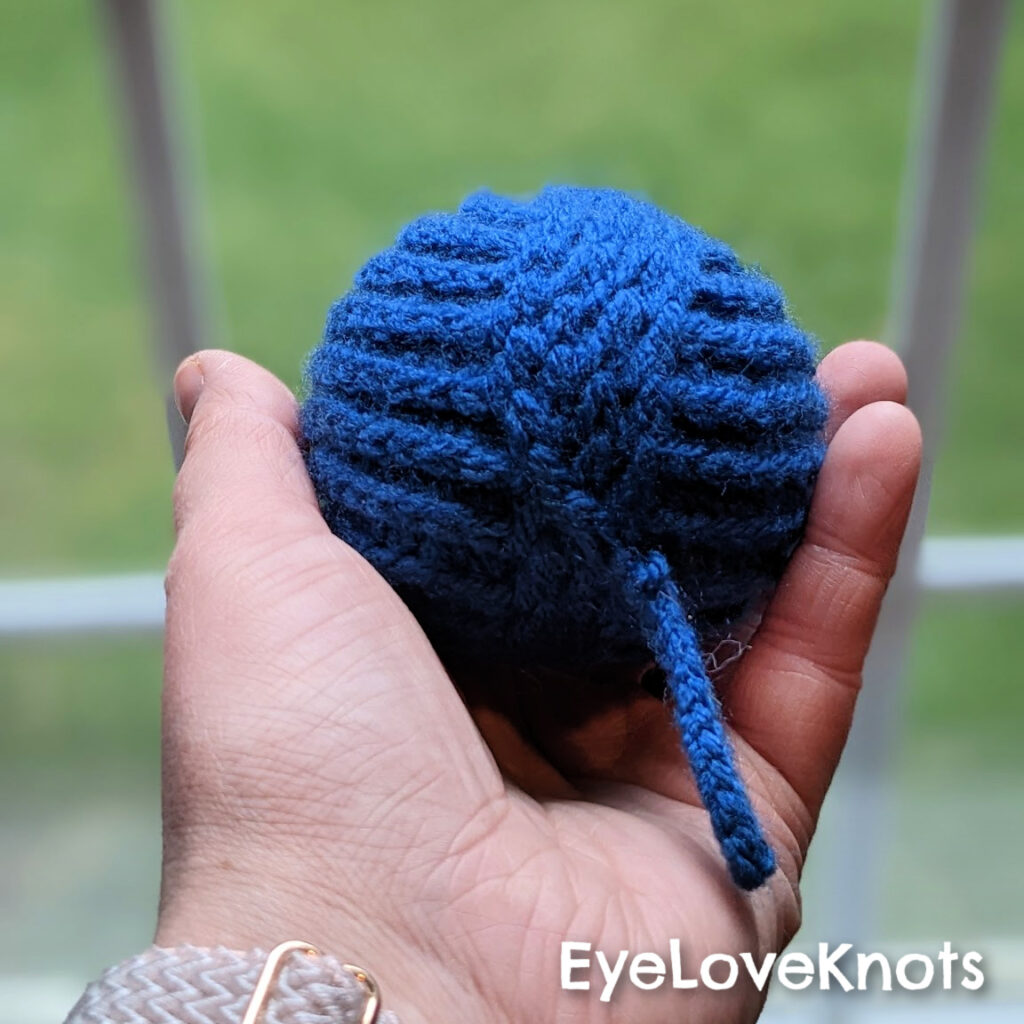 Pattern Notes:
While this pattern is a super easy make, I was introduced to a few new techniques that I haven't tried before. This pattern is worked in the round with the camel stitch and surface slip stitching. I had seen these stitches used before, but I have never tried them. Thankfully, they were very well explained and very easy to execute.
If you are familiar with making a ball, the process to make a yarn ball is very similar in the way that you increase and decrease throughout. The whole project is worked in the third loop only of a half double crochet, which is what creates the camel stitch, giving it the look of yarn strands wrapped around on the outside. If you have never done this before, it may take a second to locate where that third stitch is, but once you figure it out, it is really easy to keep working like this the whole way through the pattern.
Once the ball is made, there is a small opening on the bottom that you can use to stuff any last pieces of polyfil to make it nice and firm. You could use a yarn needle to secure the bottom opening, but I found it really easy to just add a few slip stitches at the bottom to close up the hole.
To add the strands of yarn around the outside, you will need to surface slip stitch around the outside. When I first read the pattern, I was a little intimidated by this, but it was actually really easy! You want to make sure that you have a very loose tension when you are surface slip stitching so that you don't squish your yarn ball. My stitches on my first attempt (the purple yarn ball my daughter was holding) were way too tight, so I had to really loosen my tension for my blue and orange versions.The ridges made from the camel stitch make the surface slip stitching really easy because you can just work through the stitches in the ridges.
On the last round of surface slip stitching, you cross your yarn strands over and then make a hanging piece of yarn by chaining and slip stitching. I think this last step really makes it look like a real yarn ball with that extra strand hanging out the side. My daughter is a huge fan of this part too, because she loves to carry the yarn ball around by this little piece.
These were such fun projects to make, and I highly recommend you try them out! I have some crocheting friends that I am going to definitely make these for during the upcoming holiday season. I think I may also make some ornaments or a garland to decorate my own home for the holidays! They are so versatile, easy, and fun!
If you decide to make a yarn ball stress reliever, I would love to see your finished projects! Be sure to tag @blackstone_designs, @eyeloveknots, and @tandc_crafters so we can see your finished work!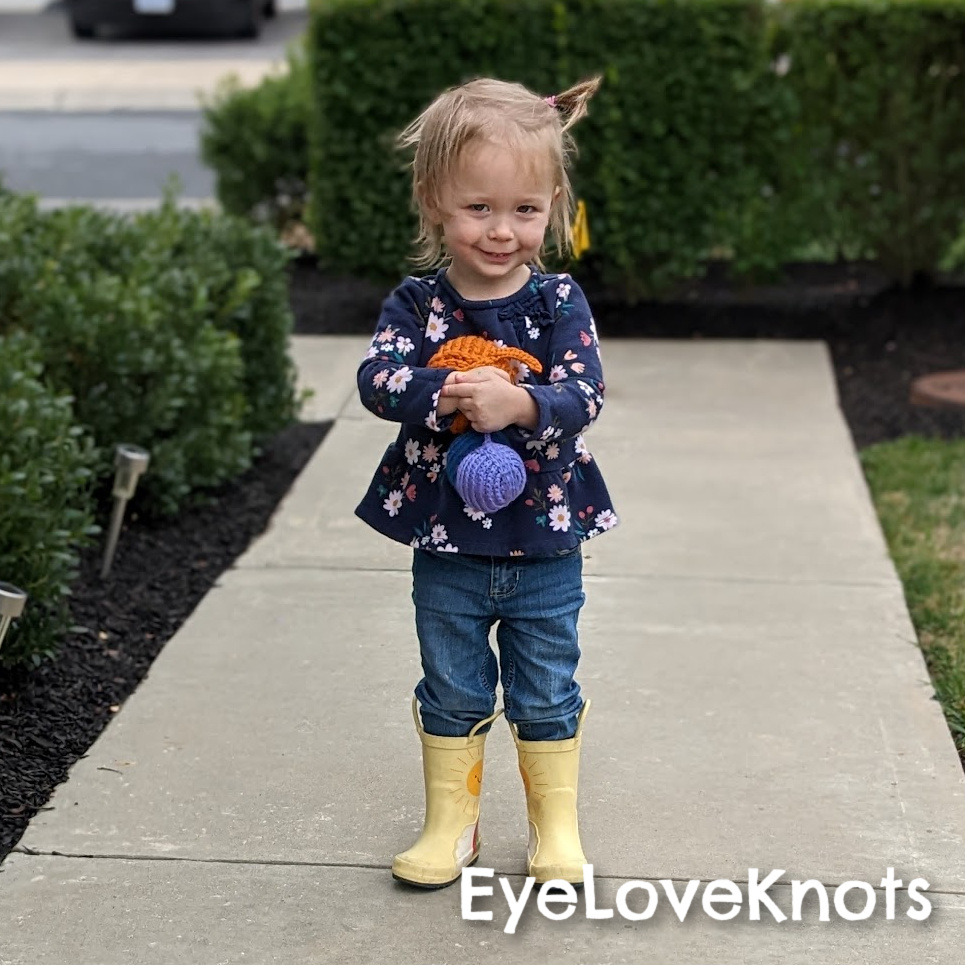 Don't forget to visit with me on Instagram for all kinds of awesome crochet makes and inspiration.
Join one of our awesome Facebook groups to share your creations, and see what others are up to!
– EyeLoveKnots Crochet & DIY Community
– DIY Home On Rockwood Lane
– Alexandra Lane Lifestyle
Linked Up To…
All About Home #165 – Common Ground
Craft Schooling Sunday – Creative Jewish Mom
Happiness is Homemade Link Party – Decor Craft Design
You're the Star Blog Hop – Decor Craft Design
Sundays on Silverado #114 – The House on Silverado
Handmade Monday #297 – Sum of their Stories
The Really Crafty Link Party #334 – Keeping it Real
Craftastic Monday Link Party – Sew Can Do
Hello Monday – Pink Lady
Anything Goes Linky 349 – My Random Musings
Fabulous Party 445 – Lou Lou Girls
657th Inspire Me Tuesday – A Stroll Thru Life
Talent Sharing Link-Up – Scribbling Boomer
The Happy Now Blog Link-Up #342 – JENerally Informed
Linky Ladies Party #229 – The Purple Poncho
The Loop Scoop 47 – Moogly Blog
The Wednesday Link Party 472 – Oombawka Design Crochet
Team Creative Crafts Link Party #115 – Artsy-Fartsy Mama
Wonderful Wednesday – Oh My Heartsie Girl
Wonderful Wednesday Blog Hop – My Life Abundant
Wednesday Link Party #317 – To Grandma's House We Go
Saturday Sparks Link Party 536 – Pieced Pastimes
Pink Saturday – How Sweet the Sound
A Morning Cup of Joe – The Cottage Market
Creatively Crafty Link Party #351 – Try It – Like It – Create It
Home Matters Link Party #403 – Modern on Monticello
Create, Bake, Grow & Gather Party #543 – Shabby Art Boutique
Funtastic Friday Link Party #408 – Simply Beautiful by Angela
Encouraging Hearts and Home Blog Hop – My Slices of Life
Grace at Home No 485 – Imparting Grace
Thursday Favorite Things #564 – An Artful Mom
Crafty Creators Link Party #40 – Life as a LEO Wife