This is a review of the Long Stocking Cap crochet pattern designed by All Tangled Up. Review done by Jessica Munroe for EyeLoveKnots.
This post contains affiliate links for Etsy. If you make a purchase by clicking on them, I make a small commission at no extra cost to you. Thanks for your support!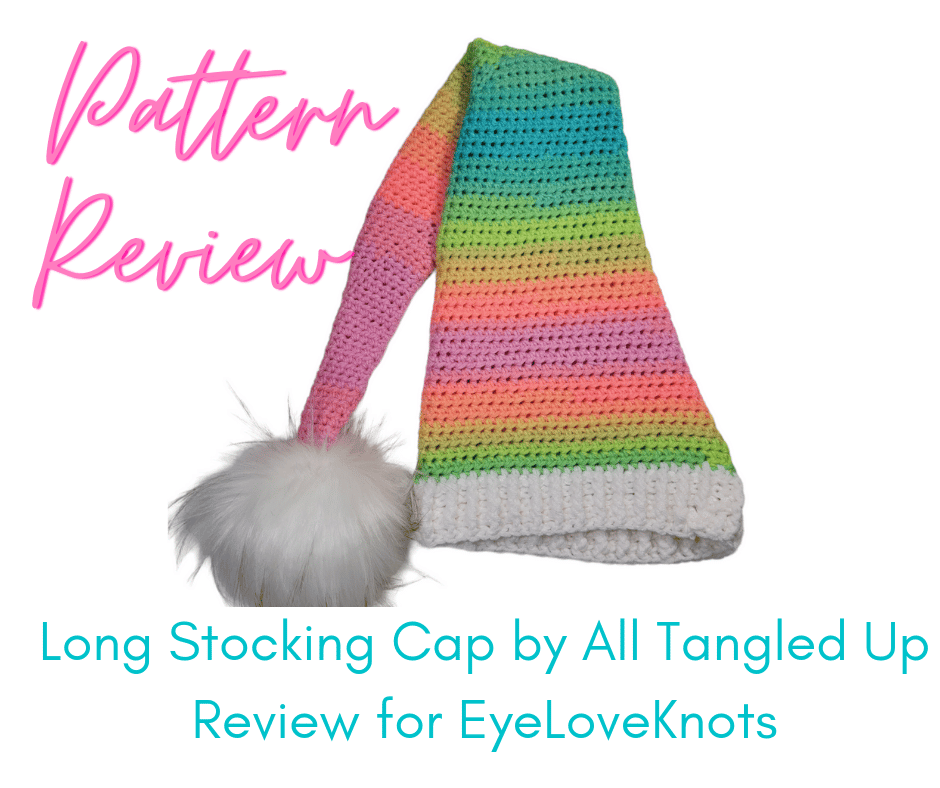 It's me, Jessica with Nice and Knotty.
Visit with me on Facebook or Instagram for all kinds of awesome crochet makes and inspiration.
I know Halloween hasn't even arrived yet but in the crochet world, we are always working at least 2 months ahead. Which is why we are reviewing a pattern for a long stocking cap before frost has even come (at least where I live!).
When I was in elementary school, my best friend's mom made long stocking caps for her and I. All our friends loved them and soon we had a group of 5 of us girls that had these cool, handmade stocking caps. I loved that hat so it makes sense that I have wanted to make one of these cute little hats for awhile. I also got caught up in the Red Heart Retro Stripes yarn craze (please tell me I'm not alone here!) so it was a match made in heaven putting these two things together!
My daughter loves all things rainbow so she immediately fell in love with this cap and promptly wore it to school. Good thing the hat was for her because there is no way she would be giving this up! Her little brother now wants one too!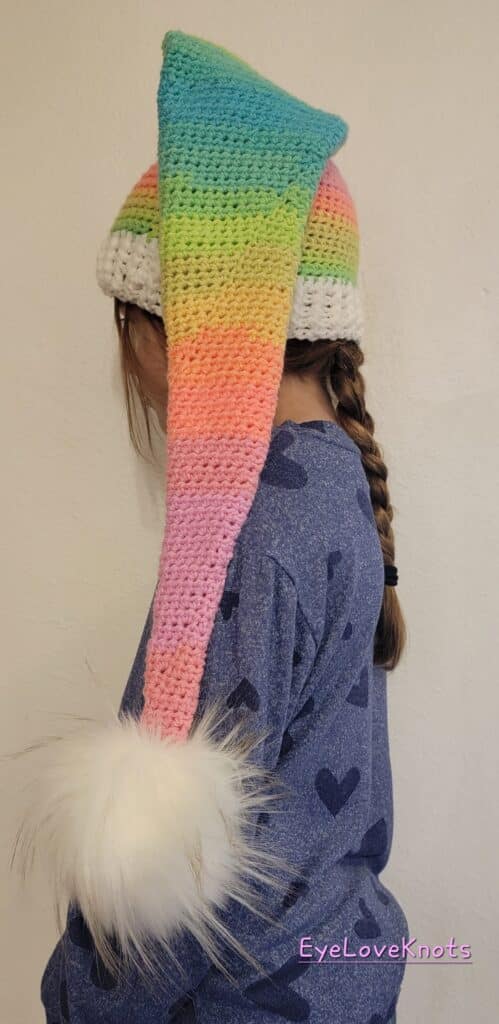 What materials do I need to crochet this long stocking cap?
Approximately 400 Yards of Red Heart Super Saver Stripes in Retro Stripes & Red Heart Super Saver in White (and will vary depending on the size you make, and the finished length you choose)
Size I9/5.5mm crochet hook
Yarn needle
Scissors
Long Stocking Cap, Free Crochet Pattern from All Tangled Up via Ravelry
Material Notes:
The pattern uses two colors of yarn, alternating to make stripes but like I said before, I've been itching to use the Retro Stripes yarn in part because I think it's so pretty but also because it is a self-striping rainbow. It seemed like the obvious choice here. I also used a faux fur pom pom on my hat but making a yarn pom pom is part of the original pattern.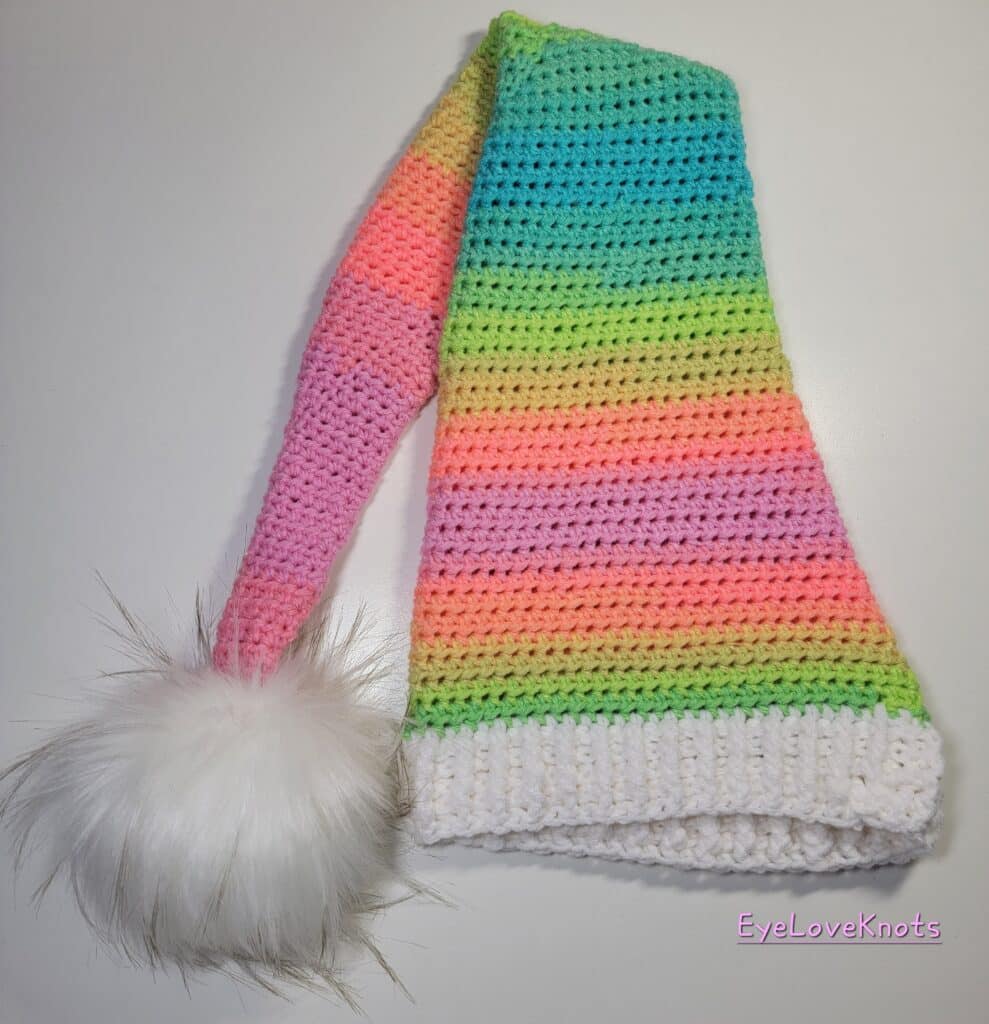 How long does it take to crochet this long stocking cap?
The entire project took me 3 hours and 30 minutes and I am not a fast crocheter. It makes a great afternoon project.
Measurements:
My hat measures 32 inches from brim edge to the end of the hat itself. It measures 34 inches in total if you include the pom pom. There was no measurement given for the estimated length your hat should be, only measurements for the circumference of the head you're sizing to. That said, you could make a longer or shorter hat but adjusting how often you do the increases.
Gauge:
The gauge for this stocking cap is 12 hdc and 10 rows to equal a 4-inch square.
Pattern Notes:
The long stocking cap pattern was very easy and an excellent beginner pattern. The designer included several helpful hints such as links to videos that explain different stitches and techniques, tips from her own experience, a hat size chart and it includes the option (and pattern) to create elf ears on your hat!
Overall, I am really pleased with this hat and the ease of the pattern. I highly recommend giving it a try! I would love to see what color combos you come up with and especially if you add the elf ears!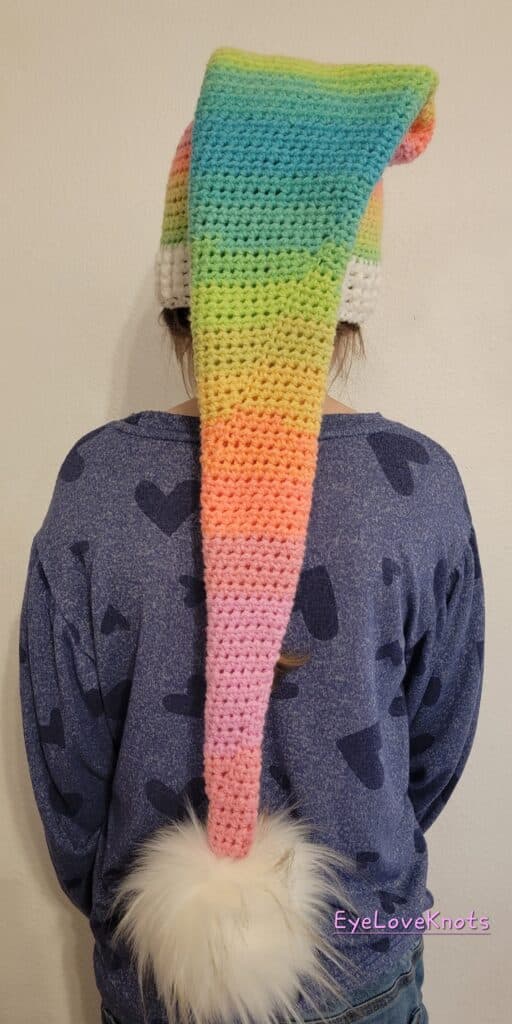 Don't forget to visit with me on Facebook for all kinds of awesome crochet makes and inspiration.
Join one of our awesome Facebook groups to share your creations, and see what others are up to!
– Yarn Crafts & Coffee Community
– DIY Home On Rockwood Lane
– Alexandra Lane Lifestyle