This is a review of the Tooth Fairy Pillow crochet pattern designed by HCCrochets. Review done by Jessica Munroe for EyeLoveKnots.
This post contains affiliate links for Etsy and Amazon. If you make a purchase by clicking on them, I make a small commission at no extra cost to you. Thanks for your support!
Find our crochet pattern review below, or purchase the crochet pattern on Etsy by clicking here.
In a hurry? Pin this for later when you have more time.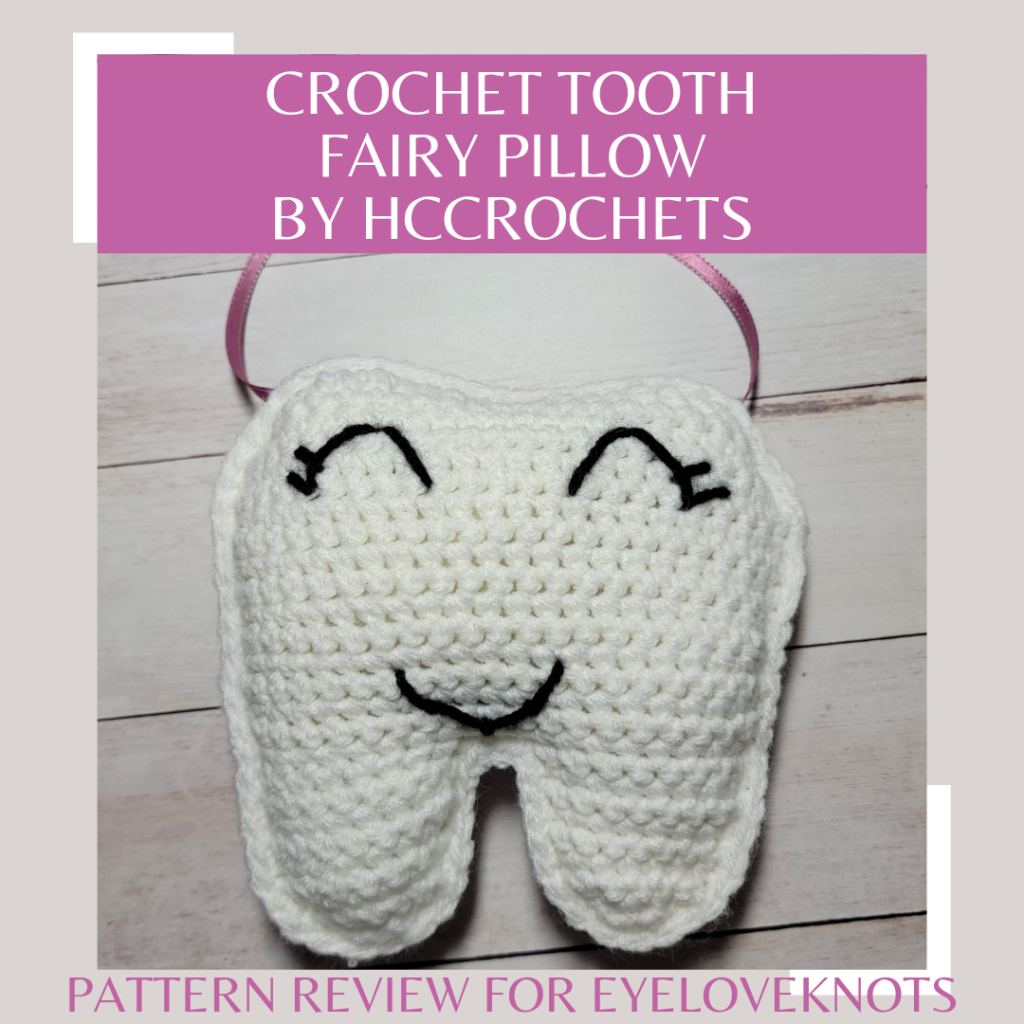 It's me, Jessica with Nice and Knotty.
Visit with me on Facebook or Instagram for all kinds of awesome crochet makes and inspiration.
I am a mom of two young children, and they are at the age where I'm pretty sure they have a new loose tooth every week. Naturally, it's time for the Tooth Fairy to make her debut and it needs to be magical! I have had this Tooth Fairy Pillow pattern saved on my Pinterest to do list since before my kids had teeth because I thought it was that stinkin' cute. Now is the perfect time to make it!
I love how whimsical the little tooth is but what's even better is the pocket on the back! If you have a light sleeper and the traditional route of making the tooth-for-cash swap under the pillow seems daunting, this is an excellent alternative!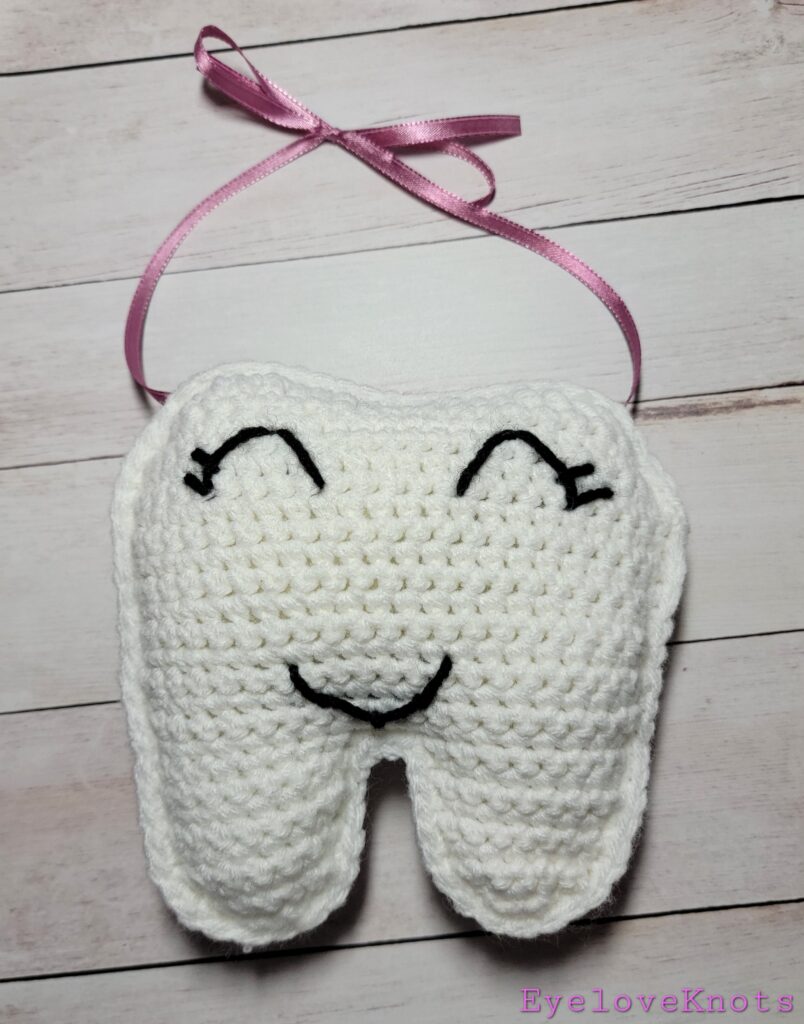 WHAT MATERIALS DO I NEED TO CROCHET A TOOTH FAIRY PILLOW?
MATERIAL NOTES:
You can swap the ribbon for yarn, twine or some other material of your choice for the loop to hang the pillow from.
HOW LONG DOES IT TAKE TO CROCHET a Tooth Fairy Pillow?
The entire tooth pillow took me approximately 1 hour and 15 minutes to make.
MEASUREMENTS:
There are no measurements given in the pattern, but my pillow was about 6.5 inches across at the widest points and 6 inches tall from tooth top to root bottom.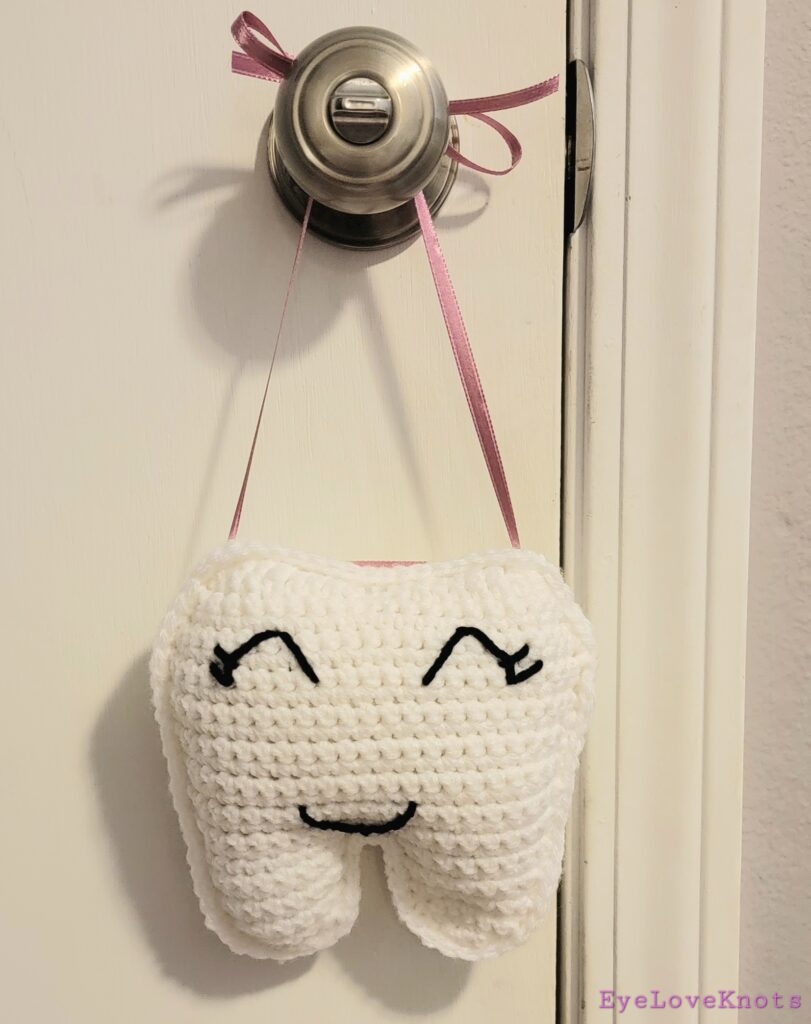 GAUGE:
There is no gauge given for this pattern. But my personal gauge was 20 single crochet stitches across by 16 rows for a 4-inch square.
PATTERN NOTES:
This pattern is very easy to follow with basic stitches and easy to read instructions. It's an excellent beginner pattern that results in a more complicated-looking finished product.
I think it would be fun to make teeth with silly faces, uneven root lengths or a more defined tooth top. This Tooth Fairy Pillow is a wonderful new tradition to start with your own kids or to give to other mom friends for their kids!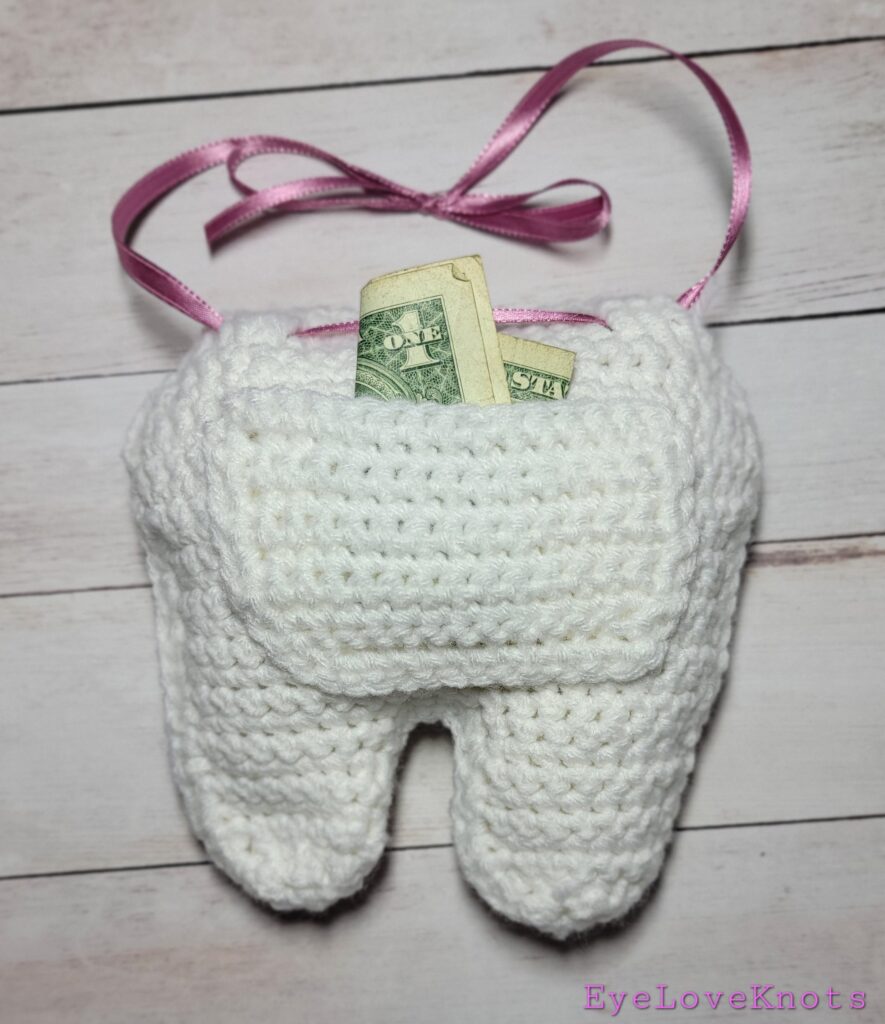 Don't forget to visit with me on Facebook for all kinds of awesome crochet makes and inspiration.
Join one of our awesome Facebook groups to share your creations, and see what others are up to!
– EyeLoveKnots Crochet & DIY Community
– DIY Home On Rockwood Lane
– Alexandra Lane Lifestyle