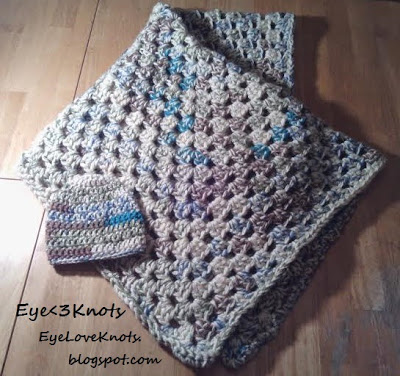 My mom's friend is having a little boy this June. My mom has made several different requests as gifts for the family. One of them was a baby blanket. My first attempt at a baby blanket was a few weeks ago. I used a V Stitch and boy, did that blanket take me a while to complete. This time around I went with the ever so popular Granny Square.

Materials:
     – 1,245 yards of Worsted Weight Yarn – I used Hobby Lobby's I Love This Yarn in Cream and High Meadow Stripe
     – Size M13/9mm Hook
     – #18 Tapestry Needle for Weaving in Ends

Material Notes:
     I used two strands of yarn held together. I wanted my main color for the blanket to come from the High Meadow Stripe yarn which is a mixture of cream, brown, green, and blue green. To blend in, I choose the Cream yarn. Alternatively, you could use one strand of a chunky weight yarn.

To make this set more Summer friendly, you can easily change out the acrylic yarn for a cotton one. Continue to measure here and there as changing yarns can change the final size.

Time Spent:
     In my first hour, I was able to complete 11 rows or 17″. Rows 12 to 19, took approximately 12 minutes each and the border took about half that, for a total of roughly 2 hours 45 minutes.

Abbreviations:
     CH – Chain
     ea – each
     sp – space
     SC – Single Crochet
     DC – Double Crochet
     sl st – Slip Stitch

Measurements:
     30″ x 30″

Note for Pattern:
     If you want your blanket rounds to be in alternating colors (such as red one round, blue the next), then at the end of the round you will fasten off. You will join your next color into the CH-1 space. If you are only using one color throughout (like me), then you will be slip stitching over to the CH-1 space in the beginning of each round.
Pattern:
CH 4. Join to form a ring. CH 3. 2 DC in ring, CH 1, (3 DC in ring, CH 1) 3 times.

Rnd 2: sl st over to the CH-1 sp. CH 3, 2 DC in same CH-1 sp, CH 2, 3 DC into same sp. CH 1, (3 DC into next CH-1 sp, CH 2, 3 DC in same sp, CH 1) around. Join.

Rnd 3: sl st over to the CH-1 sp. CH 3, 2 DC in same sp, CH 2, 3 DC into same CH-1 sp, CH 1, (3 DC into next CH-sp, CH 2, 3 DC in same sp, CH 1, 3 DC in next sp, CH 1) around. Join.

Rnd 4-19: You will continue in this pattern, slip stitching into the next CH-1 sp in the beginning of each round, (3 DC, CH 2, 3 DC) in each corner (where the CH-2 spaces are), and (3 DC, CH 1) in each side (where the CH-1 spaces are). You will notice with each round, the number of CH-1 spaces will increase by 1.

Edging: After last join, CH 1, SC in ea DC and ea CH-1 sp with 2 SC in ea CH-2 sp.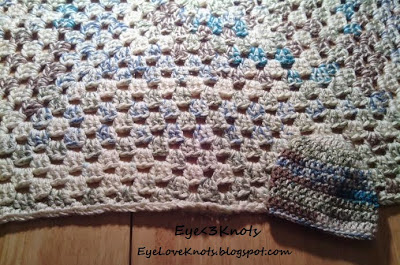 Please feel free to make and sell your own Granny Square Baby Blanket and/or Basic Beanie using this pattern, but please DO NOT claim this pattern as your own nor should you sell my pattern, and DO NOT re-publish my photos as your own. DO NOT copy and paste my pattern anywhere, link to it instead.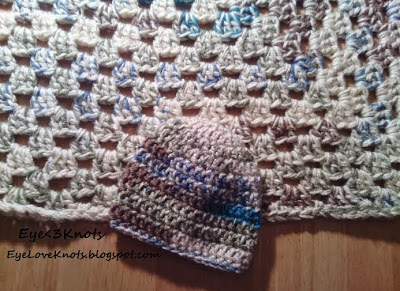 I also made a matching newborn sized hat using my Basic Beanie Free Crochet Pattern, which includes all sizes from Newborn through Adult Large.

With so many size, yarn type and color options, I would love to see them! Join the EyeLoveKnots Crafting Community to share your creations, and see what other's are up to! 

Check out the EyeLoveKnots Ravelry page to keep track of all your EyeLoveKnots favorites in your que, and share your WIPS and finished projects!

Don't miss out on new crochet patterns, reviews, jewelry tutorials and more! Subscribe to EyeLoveKnots by using the box on the right side toolbar, or follow me via Bloglovin! You can also find me sharing on the EyeLoveKnots Facebook page, and @EyeLoveKnots on Twitter!