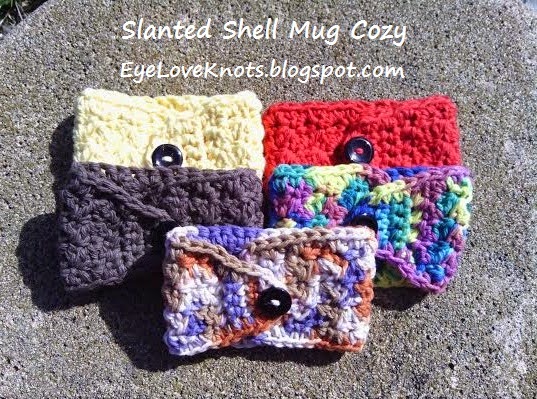 Earlier this week, for Three King's Day, I worked up this mug cozy, and a matching Slanted Shell Coaster to give as a gift to my co-workers. As promised, here is the free crochet pattern, complete with an invisible crochet and sewing on a button tutorial.

Enjoy!

Materials:
     – Worsted Weight Cotton Yarn – I used Lily Sugar n Cream in Psychedelic, Oriental Ochre, Yellow, Red, and Brown
     – H8/5mm Hook
     – Tapestry Needle for Weaving in Ends – I like to use a #18, or #20.
     – 3/4″ Button – I used this Black one from the Slimline collection by the Blumenthal Lansing Company found at JoAnn's.

Material Notes:
     With one three ounce skein, you will be able to make four and a half cozies.
     Bernat Handicrafter Yarn will also work great! Lion Brand Kitchen Cotton will work up a tad bit bigger.
     Cotton yarn is a little tougher when it comes to weaving in your ends. You will want a tapestry needle with a larger eye, and duller point otherwise, it will take you longer to weave in your ends and hurt your fingers from tugging at the needle and yarn.

Time Spent:
     I was able to work up one of these in just under 30 minutes.

Measurements:
     This cozy measures 10.25″ across by 3″ wide, with the half double crochet border.

Gauge:
Using an H8/5mm Hook and Lily Sugar n Cream – 4″ x 4″
     Chain 17, HDC in the 2nd chain, and each chain across. (16 HDC)
     R2 – 10: Chain 1, turn. HDC in the 1st stitch, and in each stitch.
     Fasten Off.

Abbreviations:
      R… – Indicates Row/Round Number
     …(…) – Indicates Stitch Count
     (…) – Indicates Repeat Pattern
     SC – Single Crochet
     DC – Double Crochet

Pattern Notes
     Typically, the slanted shell pattern is worked into the 2nd chain of an even numbered chain. I, however, feel that working into this stitch causes the project to come out uneven and bunched up. 
You will find my pattern is worked into the 3rd chain of an odd numbered chain.

     When working the border, make sure after working down the first side that your corner is worked into the first chain that was created when we skipped it in the beginning of the pattern by working into the 3rd chain from the hook. This will keep your cozy from pulling up on the ends, and from the border coming out uneven. 

     Each additional row of repeating the pattern will add just about half an inch.

     You may choose to work your final join as an invisible join. 
Not sure how to work it? Find photos below pattern!

Pattern:

Chain 9. SC & DC in the 3rd chain from the hook, (skip 1 chain, SC & DC in the next stitch) across. (4 clusters)

R2-22: Chain 1, turn. SC & DC in the 2nd chain from the hook, (skip 1 stitch, SC & DC in the next stitch) across.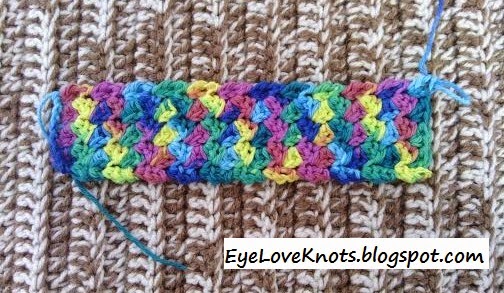 R23: Chain 1, turn. single crochet decrease 4 times (4 SC)
   *You can see the cozy after completing Row 23 in the photo above. You can continue on with this pattern if you need to extend the length of your mug cozy, or continue on for the closure instructions. 
At this point, your cozy should measure about 9″ in length. Remember, each additional row will add roughly half an inch. 
Also keep in mind that the yarn will stretch a little, adding a little in length as well.

R24-26: Chain 1, turn. SC in each stitch across.


R27 [Buttonhole]: Chain 1, turn. Single crochet decrease, chain 3, slip stitch to 3rd stitch, single crochet decrease beginning in the same stitch that you just slip stitched into.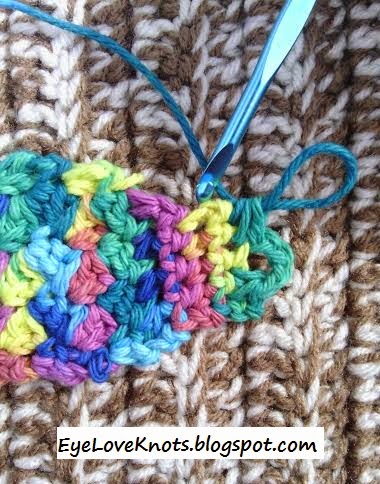 Border: Don't Turn. You will be evenly single crocheting around the cozy to create a nice, even finish. See in the above photo where to place the first SC.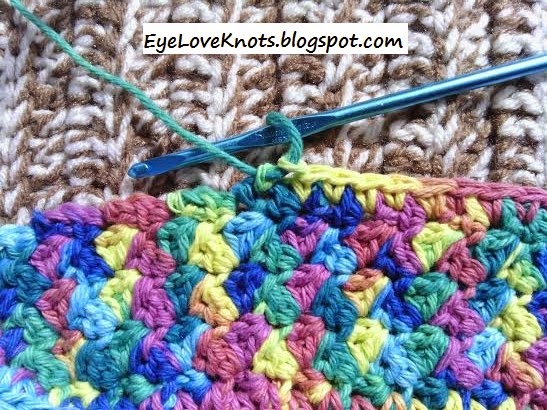 Continue working in this direction.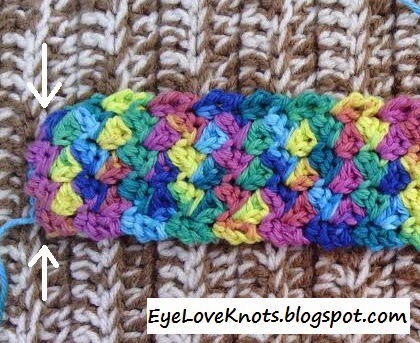 At each corner – marked by the white arrows – work 3 SCs. 
Continue working evenly across the opposite side up to just before R26. Slip stitch into the first stitch of R26, or work the invisible join as shown below.

Invisible Join: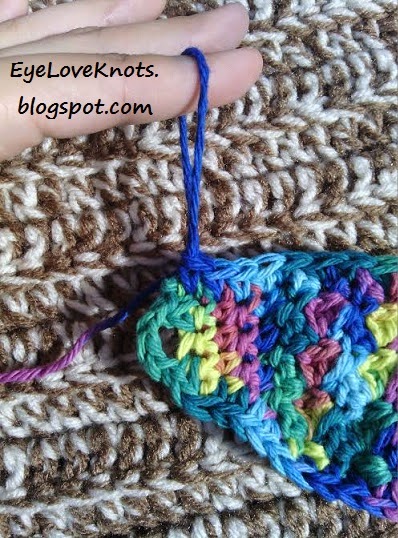 After working the last stitch, cut your yarn and then pull up on the loop.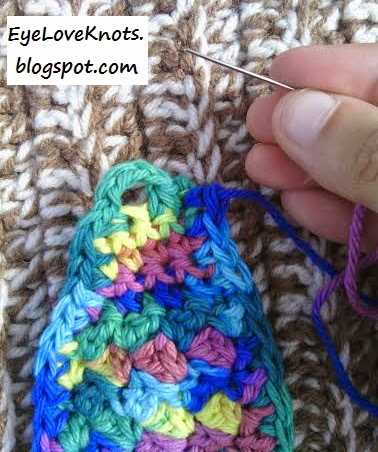 Thread the tail into a needle.
I like to use a #18 or #20 tapestry needle.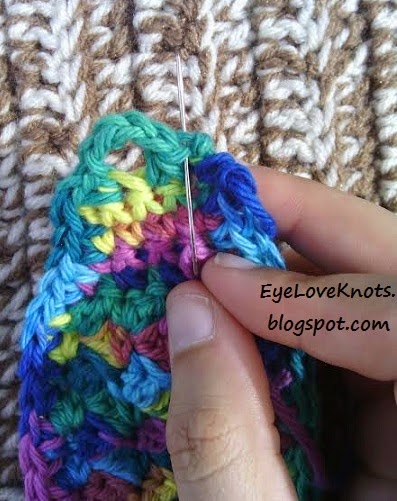 Insert the needle under both loops of the first stitch 
– the forms the first leg of your stitch.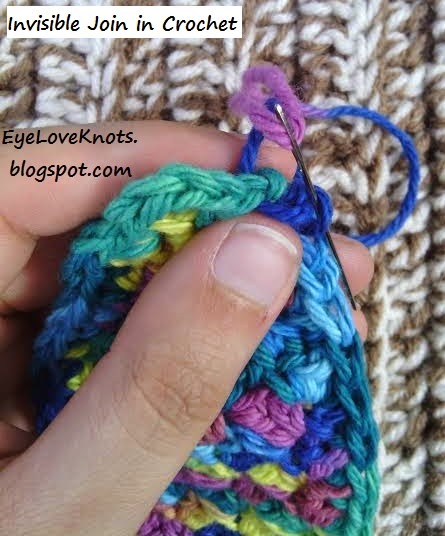 Then take the needle back down the center of the last stitch
– this forms the second half of the stitch.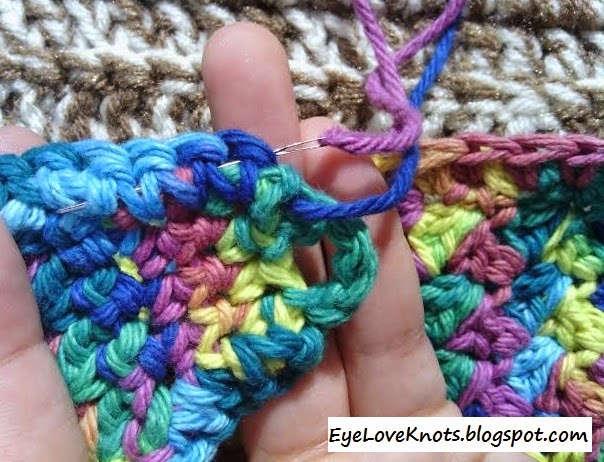 When I take my needle down the center of the last stitch, I like to
also run it down in my stitches to begin the weaving process.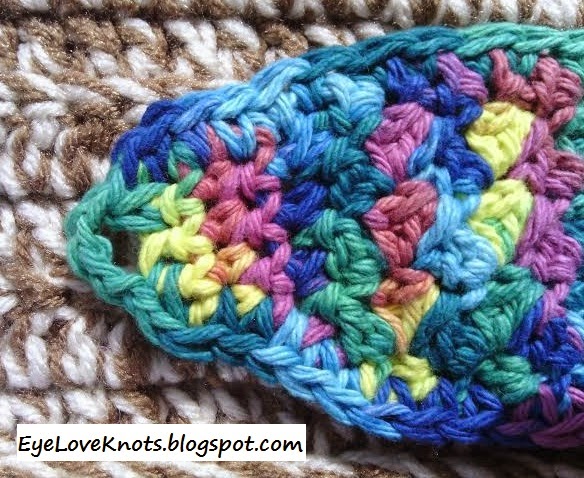 Button: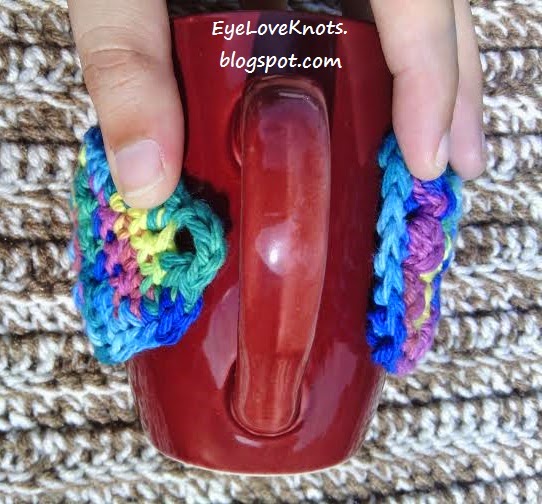 When you first wrap your cozy, you will notice that it won't reach.
No need to fret! It will stretch (within reason).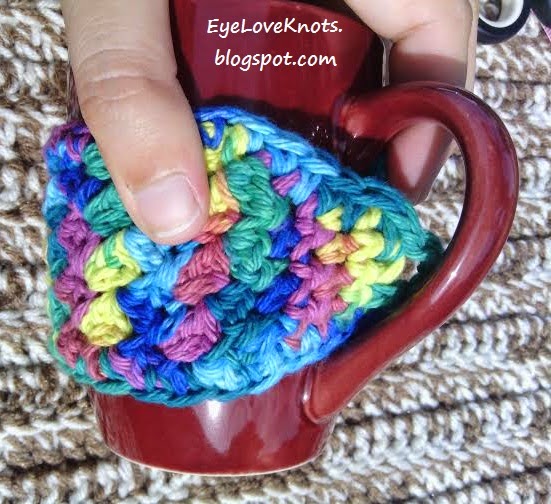 I used my thumbs to stretch the cozy out.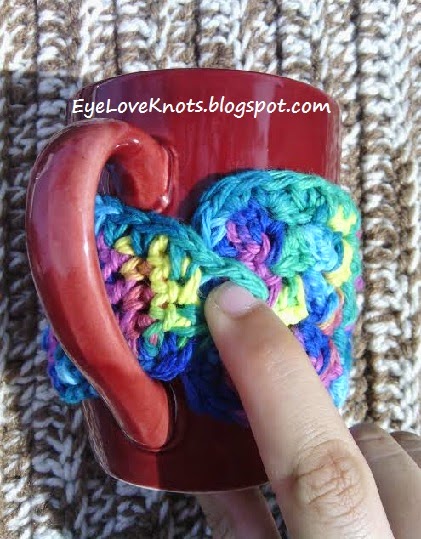 Determine where your button will need to be placed.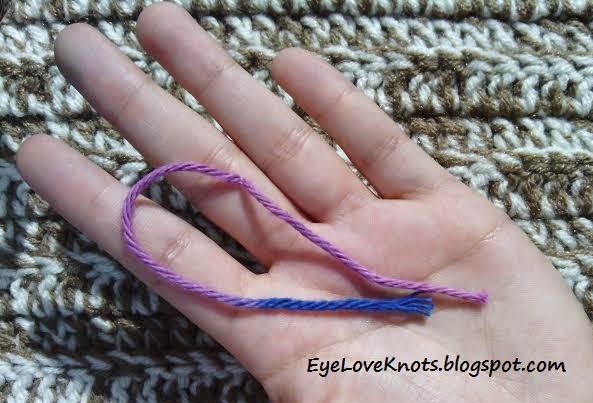 To sew on the button, I used the extra yarn I had leftover from
trimming after I weaved in my ends.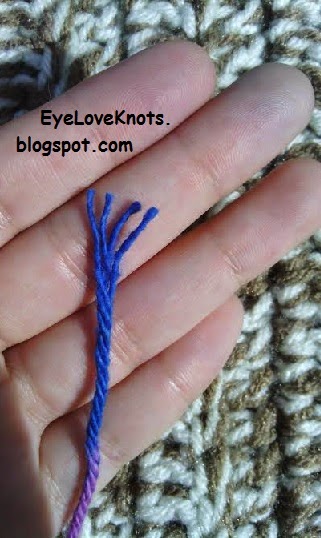 I separated the strands, and only used three for my sewing.
You could also use two, but I would recommend going through the
button holes an additional time. Also note that two strands will be more
fragile than the three and are subject to tear apart as you are weaving in and out.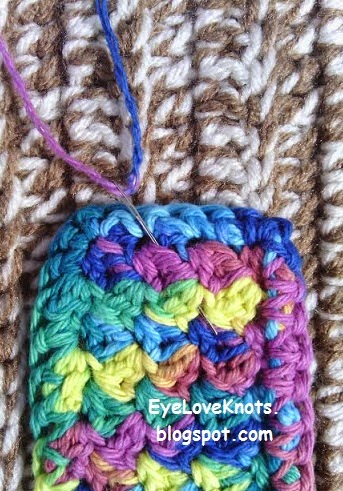 First, you will want to
secure your tail piece so the
button doesn't just pull off
once you get started, or
after you have the button
in place.
Run your needle down some
stitches – I would recommend
at least 6-8, or two clusters.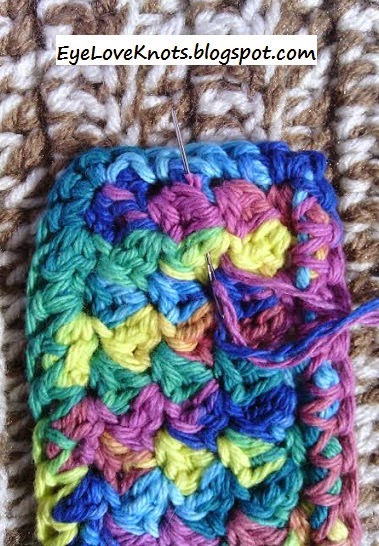 Next, go back in the direction
you just came from.
This should secure your tail piece.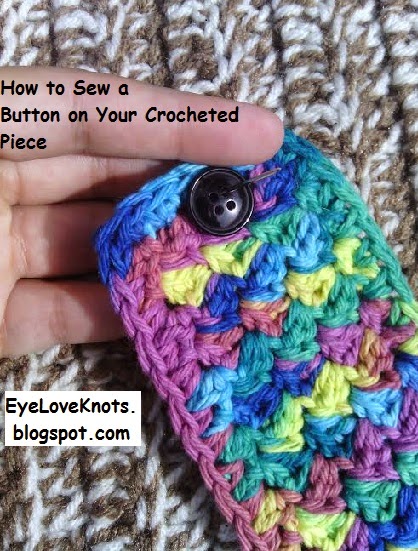 Stitch into either of the top holes on the button, and bring it down through
one of the bottom holes opposite the one you just came from – creating a diagonal stitch.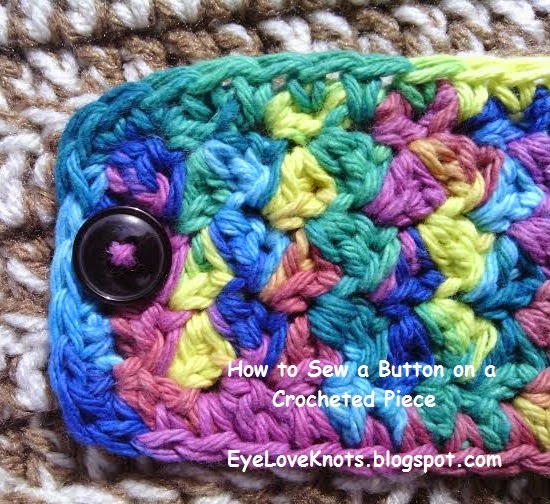 Repeat from the other side. This will form an "x".
Then, repeat again, creating another "x" on top.
Weave in your end.
Please feel free to make and sell these mug cozies, but please DO NOT claim this pattern as your own nor should you sell my pattern, and DO NOT re-publish my photos as your own. DO NOT copy and paste my pattern anywhere, link to it instead.
*If you would like a PDF version of this post, you may get one through my Etsy shop for a small fee. This fee is to compensate for the view/s lost once you no longer need to return to the blog for the information, as you will have your own copy. Plus! It helps fund supplies for new projects to share with you!
Shop EyeLoveKnots – Slanted Shell Coffee Mug Cozy.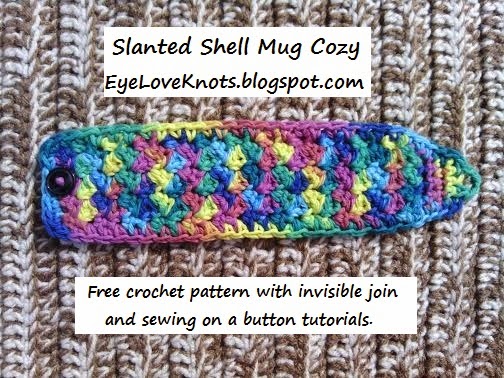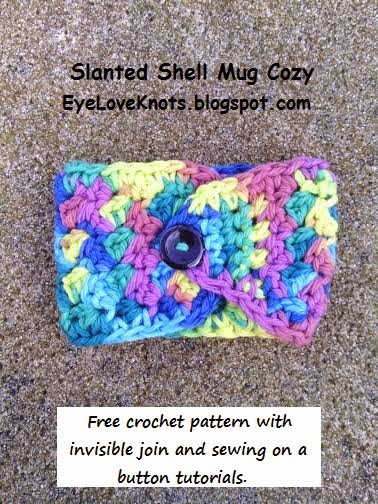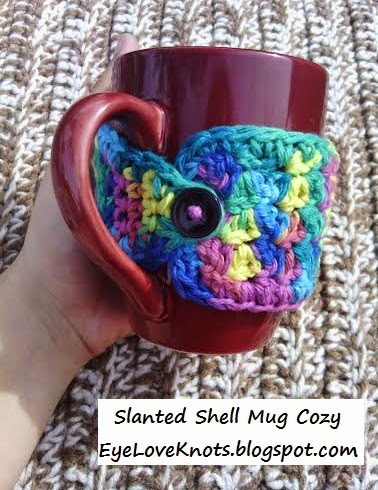 You May Also Like:
Linked Up To…
Motivational Monday – Burlap & Babies
Lou Lou Girls Fabulous Party #42 – Lou Lou Girls
The Creative Link Exchange #36 – The Happy Scraps
Hookin On Hump Day #87 – Moogly / Petals to Picots
From Dream to Reality #151 – The DIY Dreamer
Take-a-Look Tuesday – Sugar Bee Crafts
Made by You Monday – Skip to my Lou
Hit Me With Your Best Shot #53 – One Krieger Chick / Just a Girl and her Blog
Awesome Things Tuesday – Krafting Kreations / Sowdering About in Seattle
Share Your Creativity Link Party No 147, All You Need is Less – It's Overflowing
The Party Bunch Linky Party – The Idea Room / 30 Handmade Days
Best DIY Projects and Recipe Party – The 36th Avenue
Tutorials & Tips Link Party #193 – Home Stories A to Z
253rd Inspire Me Tuesday – A Stroll Thru Life
Craft Schooling Sunday – Creative Jewish Mom
Best of the Weekend Party – Little Miss Celebration
January 2015 Sharing Time Week 4 – Raising Memories