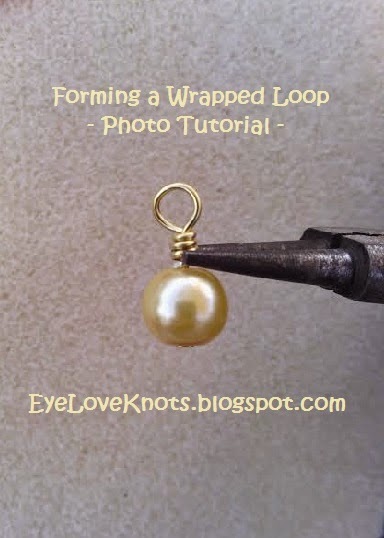 A wire wrapped loop is one of the most secure, and in my opinion, easiest ways to attach beads, charms, pendants, etc to your jewelry pieces. It's also gives a beautiful, finished look.
One thing that is a little difficult to get just right when forming loops, is getting close enough to avoid the space that sometimes forms between your loop and bead. Using this wrapped loop technique eliminates that space by filling it with the wrapped portion.
Materials I Used:
– 2″ long Head Pins – I used Gold Tone Head Pins by Darice (JoAnns)
– 8mm Gold colored Glass Pearls by Darice (JoAnns)
– Round Nose Pliers (found in Jewelry department of your local craft store)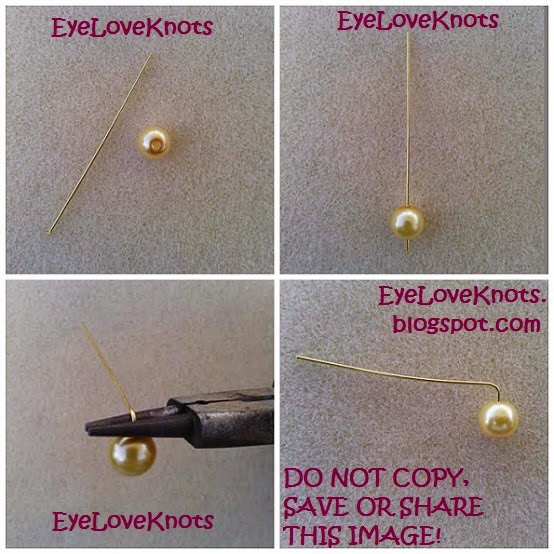 To create a wrapped loop:
You will first want to string the bead onto the headpin.
Then, with the bottom of the bead snug to the end of the headpin,
place your round nose pliers on top of it.
*Note: Depending on where you place your pliers,
will determine the size of the wrapped loop.
Bend the headpin 90 degrees to the left.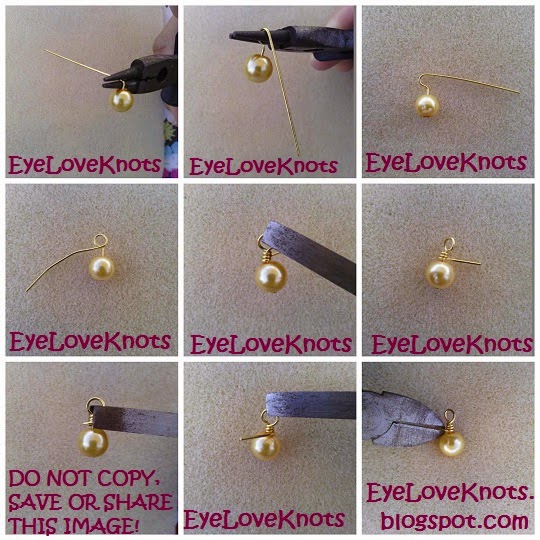 Replace your pliers at the bend, this time turning your pliers from just
above the bead onto the other part of the headpin.
Grab the end of the headpin, and wrap it around the
pliers until it's almost point down
I've included the last photo on the top row to show the curve in the bend from the pliers, form the first part of the loop. You will want the end pulled down more than that though.
Next, you'll reposition your pliers by turning them 180 degrees
– the part of the pliers that was on the bottom, should now be on the top –
and then continue to pull the end of the headpin around (1st Photo, 2nd Row).
Now starts the wrapping process –
You should be able to use your fingers to pull the wire around, while hold the top of the loop steady with your pliers.
I like to wrap about 3 times, and then use my wire cutters to cut the remaining headpin.
Make sure when using your wire cutters, the flush/flat side is across your piece.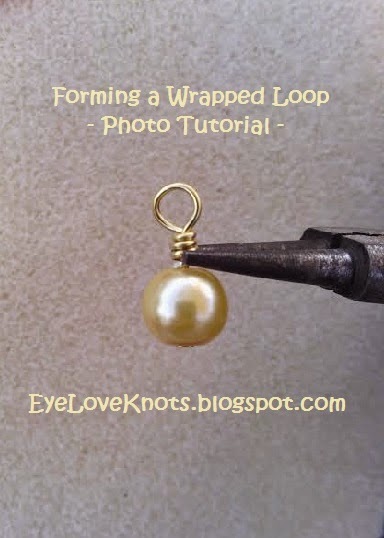 After cutting the excess off, use your pliers to
press down the end so no sharp pieces are sticking out.
Linked Up To…
Craft Schooling Sunday – Creative Jewish Mom
Snickerdoodle Sunday Link Party #79 – 2 Crochet Hooks, Sadie Seasongoods
My Favorite Things Sunday #73–5/2 – Budget Girl
Share It One More Time #9 – Vintage, Paint and More