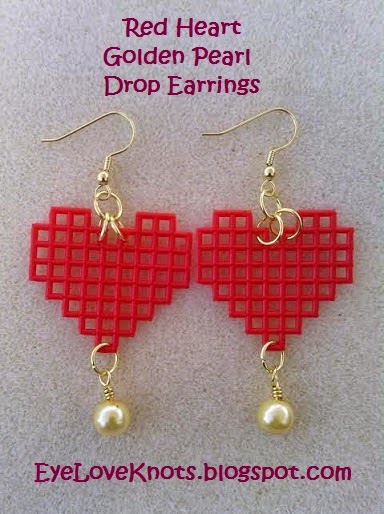 Two weeks ago, I showed you an easy tutorial on creating some cute Dangle Heart Earrings with colored Plastic Canvas.

The same day I created those, I also created these Red Heart Golden Pearl Drop Earrings.

I love these earrings because they are so lightweight, and can easily be customized in any color.

Change out the pearl color, match with coordinating colored jewelry findings and change up the color of canvas or stitch it up in some worsted weight yarn. Possibilities are endless!
Materials:
– Small Amount of Colored 7 Mesh Plastic Canvas – I used Christmas Red
– 8 8mm 18 Gauge Jumps Rings – I used the Gold Tone from CanterburyLane on Etsy
– 2 Earrings Hooks – I used Gold Tone Fish Hooks by Darice (JoAnns)
– 2 2″ long Head Pins – I used Gold Tone Head Pins by Darice (JoAnns)
– 2 8mm Gold colored Glass Pearls by Darice (JoAnns)
– 2 Round Nose Pliers
– 2 Earring Backs – I like to use the rubber ones

Material Notes:
I have it on my list to get some other colored canvas to try this with. Hobby Lobby has quite a large variety. You could also use some clear canvas and stitch it, in place of using blank colored canvas. I have a tutorial on cutting and stitching these Small Little Plastic Canvas Hearts.

I love using the professional grade, heavy jump rings from Canterbury Lane. If using a generic jump ring purchased from your local craft store, you may want to use two jumps in place of a single one for extra support.

Because the jump rings that I use are too strong to open with my fingers and to use of one pair of pliers, I have to use one to hold the jump ring and one to twist open the jump ring. If using a generic jump ring, one pair of pliers will suffice.

While I enjoy using the professional grade, heavy findings from CanterburyLane, I prefer to use the generic head pins found at my local craft store because they easily bend around to create the wrapped loop.
I recently purchased some of the professional grade findings for a different pair of earrings, and could not wrap at all.

Time Spent:
I was able to complete this pair of earrings in less than 30 minutes.

Measurements:
The small hearts measure 1.5″ wide, and dangle 2.25″.

DIY Notes:
Opening a Jump Ring: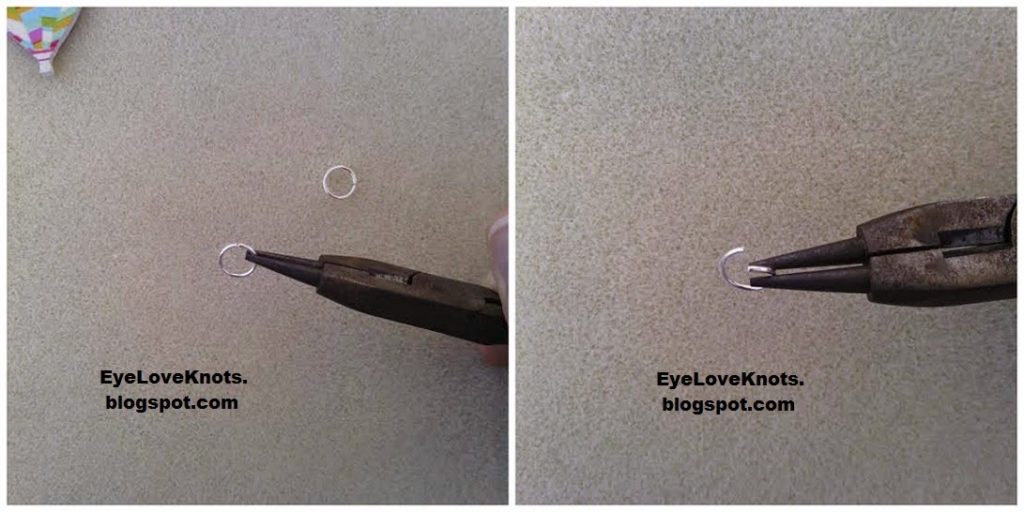 You open the jump ring towards you, not side to side.
You close it the same way.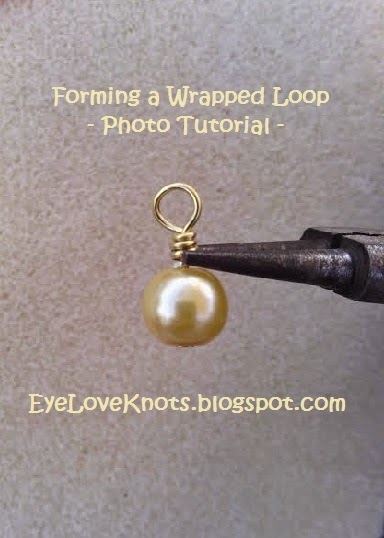 DIY: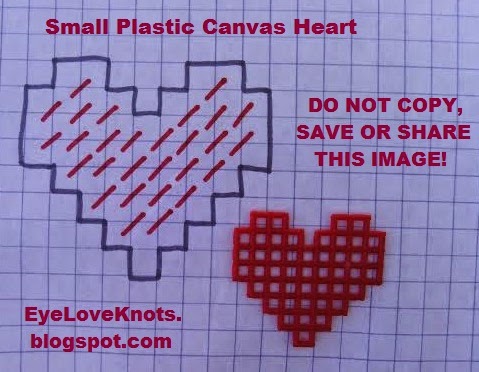 Here is the pattern for the plastic canvas cut out.
If you need assistance cutting or stitching the heart (if you go that route),
visit my

Small Plastic Canvas Hearts

tutorial!
After you cut your heart out, open and attach two jumps rings
to the inside of the top.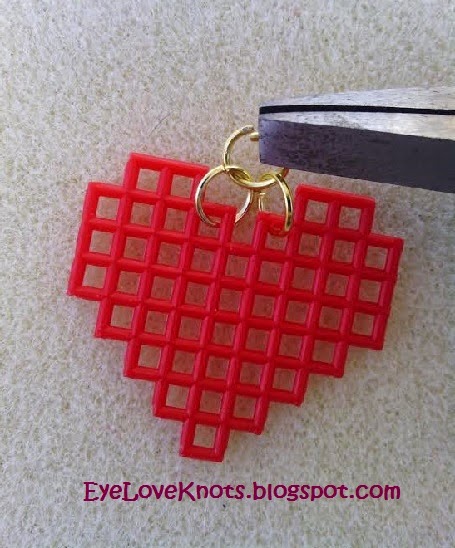 Open an additional jump ring, and pick up the two existing jump rings.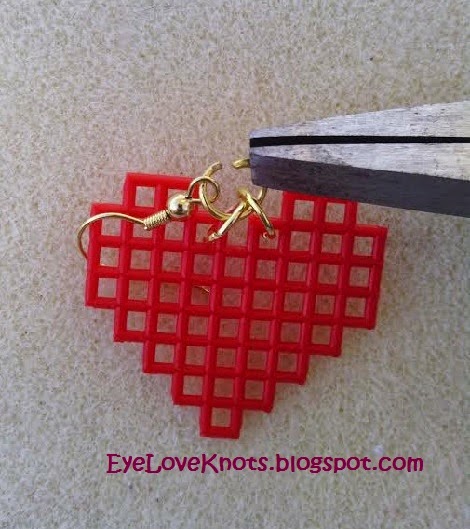 Also place earring wire on open jump rings.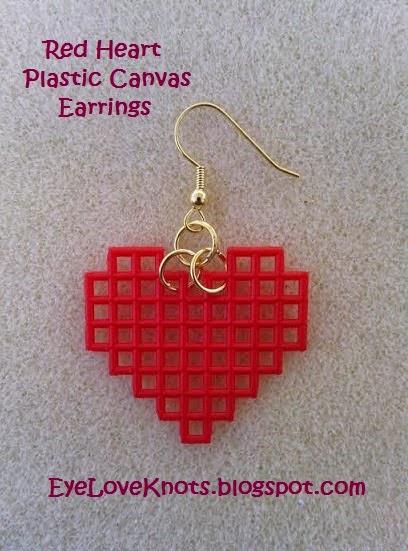 Here, you have a cute, simple earring.
You can leave it this way, or you can add the little pearl drop.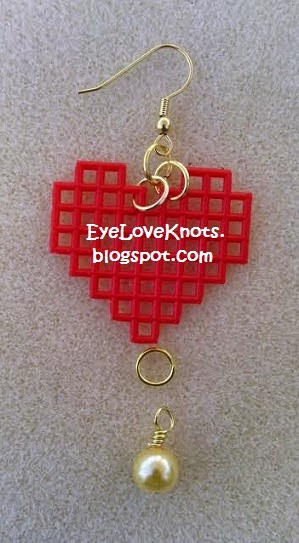 Create a wrapped loop. Check out the Notes section if you need assistance creating a wrapped loop.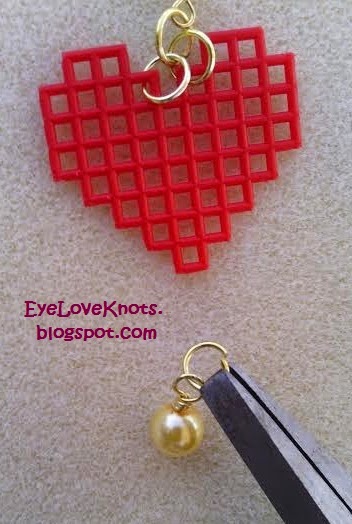 Open a jump ring, grab wrapped loop.
DON'T CLOSE JUMP RING YET…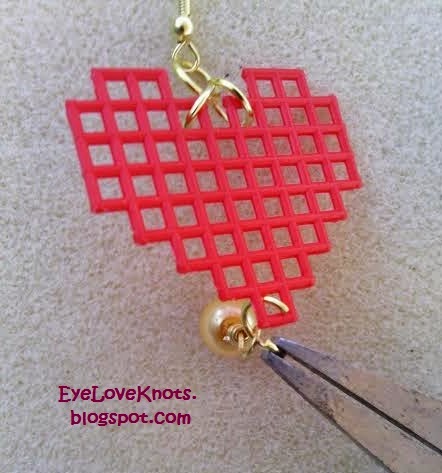 Also grab the bottom point of the canvas heart.
Now, close the jump ring.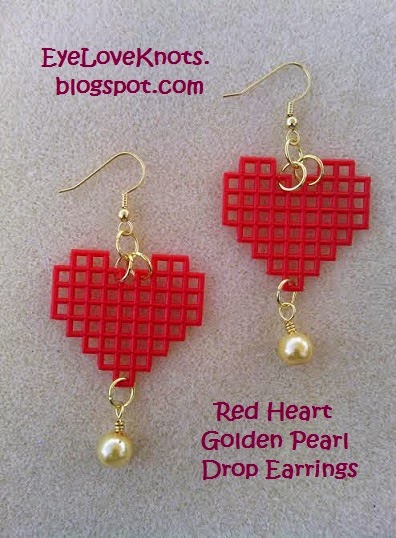 Enjoy your earrings! Experiment with the colors.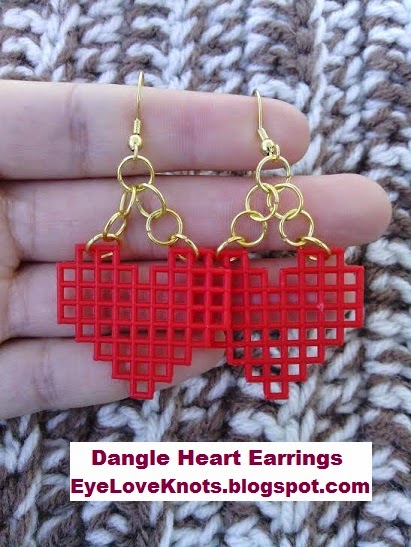 Linked Up To…
Craft Schooling Sunday – Creative Jewish Mom
Snickerdoodle Sunday Link Party #79 – 2 Crochet Hooks, Sadie Seasongoods
My Favorite Things Sunday #73–5/2 – Budget Girl
Share It One More Time #9 – Vintage, Paint and More