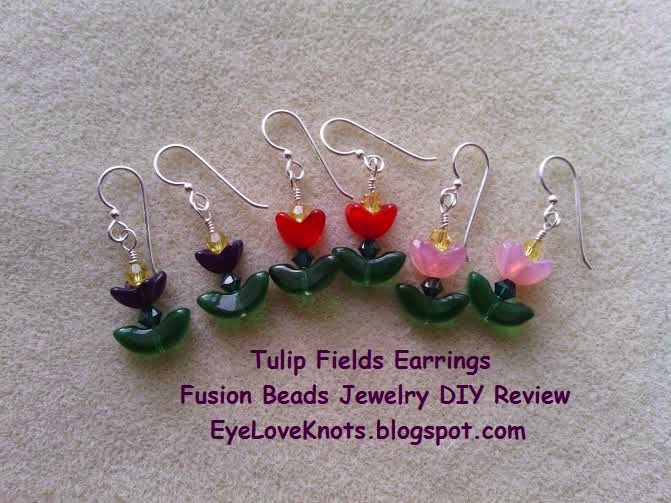 My mom LOVES Tulips. Every year for Mother's Day, I always buy her some Tulips and get some chocolates. This year, I though maybe I would make her a type of Tulip that won't die. I found these beautiful Tulip Fields Earrings on Fusion Beads. I knew I just had to make some!

Materials I Used:
– 3 pairs 14mm Sterling Silver Ear Wire with 2mm Bead by TierraCast
– 6 (2 each pair) 24 Gauge Sterling Silver 2″ Head Pins
– 6 (2 each pair) 4mm Round Light Topaz Swarovski Element Crystal
– 6 (2 each pair) 6x11mm Twirling Tulip Czech Pressed Glass Bead in Rose Opal, Amethyst Opal, Ruby Opal
– 6 (2 each pair) 4mm Bicone Emerald Swarovski Element Crystal
– 6 (2 each pair) 3x15mm Emerald Angel Wing Czech Pressed Glass Bead
– Tulip Fields Earrings Inspiration Project from Fusion Beads
– Jewelry Pliers – I use two pairs, one in each hand  
– Wire Cutters (also called Side Cutters)

Material Notes:
     All materials listed above purchased from Fusion Beads, with the exception of my jewelry pliers and wire cutters. I got those at JoAnn's.
*In the supplies photo you will notice I also have the Citrine colored Twirling Tulip but I didn't like how close in color it was to the Light Topaz bead so I didn't end up using it. 
     Be careful with the glass pieces – Twirling Tulip and Angel Wings. They WILL break if dropped.
     I usually try to order the size pieces that are suggested – ie "24 Gauge Sterling Silver 2″ Head Pin" – because I believe it was used for a particular reason, especially since I am still learning about different jewelry pieces. I know with crocheting, I always recommend a particular material that I personally use and recommend for that particular piece. Sometimes though, I do not get as lucky with the jewelry pieces that I receive because they are usually smaller or more petite than I am looking for. This time though, they were perfect. The 2″ headpins are long enough for the stringing, and great for wire wrapping, and the earring wires were nice and solid. The glass pieces do carry some weight – not too much but something you notice. I do not wear earrings that are heavy because they really hurt my ears, but these I can wear everyday! Solid but not too heavy to be uncomfortable.
     Not sure what color Tulips to make? I wasn't sure just how many colors of Tulips there were out there so I did a quick Google search. There are so many beautiful colors! It helped in my choice of Twirling Tulip pieces.

Time Spent:
     I had all three pairs done in 15 minutes!
Measurements:
     These earrings drop down about 1.25″. I used a wrapped loop so mine came out just a tad bit longer.
Tutorial Notes:
     I made wrapped loops for my pendants – I have a photo tutorial here, Forming a Wrapped Loop.
You could always just use a Basic Loop, but I like the stability and clean finish of the wrapped loop.

Visit the Tulip Fields Earrings Inspiration Project for more information!