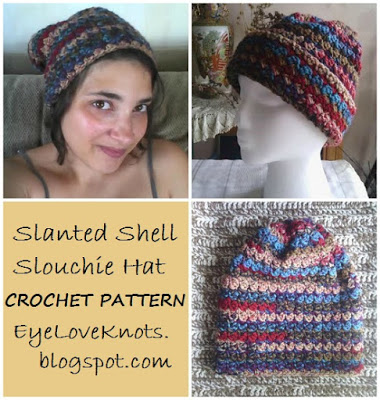 I have had this slouchie hat on my list of things to make for a while now. I want to thank Christine for requesting it! It's the motivation I needed to get my notes in order, photos taken and edited and post put together.

Materials:
     – 250 yards of Worsted Weight Yarn – I used one skein of Hobby Lobby's I Love This Yarn in Dakota
     – I9/5.5mm Crochet Hook
     – Tapestry Needle for Sewing Up and Weaving In Ends – I used a #18

Material Notes:
     Yarn Alternatives: Red Heart's With Love. Any worsted weight yarn will work, just make rectangle to size.

Time Spent:
     I worked up this hat in about two hours; two hours and 15 minutes for the larger size.

Measurements:
     Main size fits the average adult head size. It measures 20″ around to fit a 22″ circumference, and 11″ in length. Parenthesis shows stitch count for larger size which measures 22″ around to fit a 24″ circumferece, and 11″ in length.

Gauge:
With I Love This Yarn and an I9/5.5mm Hook = 4″ x 4″
     Chain 16, DC in the 4th stitch, and in each stitch across. (14 DC)
     R2 – R8: Chain 2, turn. DC in the 2nd stitch, and each stitch across.
     Fasten Off.

Abbreviations:
     SC – Single Crochet
     DC – Double Crochet
Pattern:
SC 67 (73). Chain 1, turn. (SC, DC) in the second chain, [skip the next stitch, (SC, DC) in the next stitch] across. [33 (36) clusters]

R2 – 31: Chain 1, turn. (SC, DC) in the second stitch, [skip the next stitch, (SC, DC) in the next stitch] across.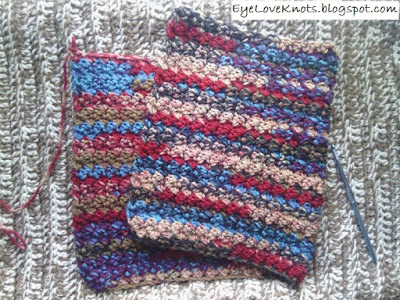 Fold piece in half so wrong side is facing you – you will turn the piece inside out later.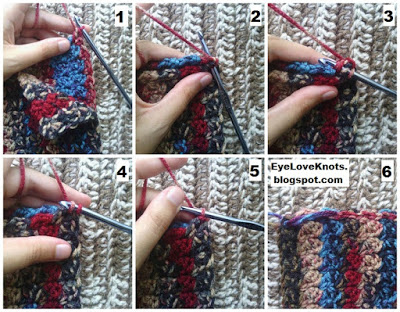 My wrong side was on the opposite side of the work, and that's okay. Chaining 1 will give you enough leverage to work the join. Working through both layers of the crocheted piece, begin slip stitching across creating the seam for the hat.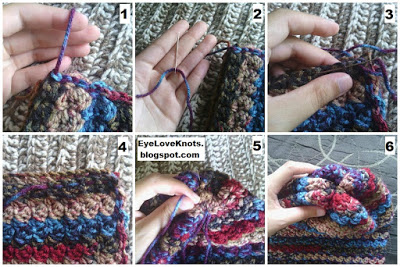 At the end of the row, cut a long tail for sewing.

Pull up on the loop so it creates a single tail. Thread into a needle.

Turn piece 90 degrees to the right so you are working across the opposite end of the foundation chain. Take your needle in and out of the posts and skipped stitches, similar to threading a drawstring.

At the end of the round, pull the yarn tight to close up the hole. Use the remaining yarn to sew up the hole. When you are satisfied with the close and weaving of your tail, fasten off.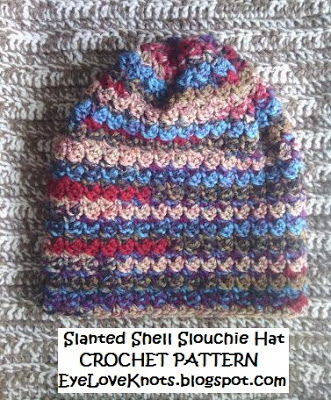 Turn the hat inside out, and enjoy your new hat 🙂

Please feel free to make and sell your own Slanted Shell Adult Slouchie Hats using this pattern, but please DO NOT claim this pattern as your own nor should you sell my pattern, and DO NOT re-publish my photos as your own. DO NOT copy and paste my pattern anywhere, link to it instead.

With so many size, yarn type and color options, I would love to see them! Please share your photos on my EyeLoveKnots Facebook page!

I am on Ravelry! Check out the EyeLoveKnots Ravelry page to keep track of all your EyeLoveKnots favorites in your que, and share your WIPS and finished projects!

Don't miss out on new crochet patterns, reviews, jewelry tutorials and more! Subscribe to EyeLoveKnots by using the box on the right side toolbar, or follow me via Bloglovin!

You May Also Like…