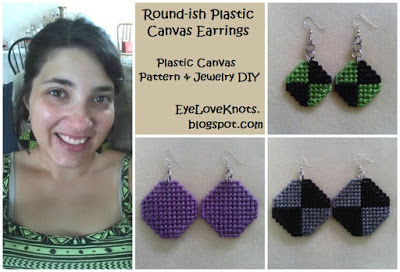 On Thursday night, I decided I was going to work up a new pair of earrings to go with my Friday outfit, and a pair for my Saturday outfit. The problem? I had two potential outfits for each day. Hehe. Well, I worked up a new plastic canvas pattern for a simple pair of earrings in a few different color schemes to match the potential outfits. After two takes of this pair of earrings, I am very happy with them! And with A TON of color combinations, it's practically endless.
This simple design would also make a neat necklace pendant (especially the large size), magnet/s, or for other round-ish designs. You could even use them in scrapbooking and card making.
Materials:
     – Small Amount of Worsted Weight Yarn – I used less than 75″ for each earring, and Red Heart 

Super Saver

 in Black, Medium Purple and Charcoal, and Red Heart 

Soft

 in Guacamole
Material Notes:
     

Yarn Alternatives:

Lion Brand's

Vanna's Choice

, 
Bernat 
Super Value
, Caron 
One Pound
, Hobby Lobby's 
Crafter's Secret
     I used clear colored plastic canvas but you could definitely cut out the same shape from colored canvas and leave it unstitched.
Time Spent:
     I was able to stitch up the small in 10 minutes, the medium in 16.25 minutes and the large in 25 minutes each earring. 
With assembly and per earring: Small, 13 minutes; Medium, 16.75 minutes; Large, 26.5 minutes.
Measurements:
     The small one is just shy of 1.5″ wide by 2.5″ in length, the medium is just about 2.25″ wide by 2.5″ in length, and the large is 2.75″ in length by just shy of 2.5″ wide. Length measurements are dangling measurements.

Pattern Notes:
     If you need help with cutting or stitching, check out my Small Plastic Canvas Hearts post.

     If you don't like the way your carried yarn looks on the back of your finished piece, you can add a piece of felt, just make sure you don't glue it too high as you will still want to get the jump rings through the holes in the center top. I didn't, as I like the way it looks and it isn't really visible to anyone.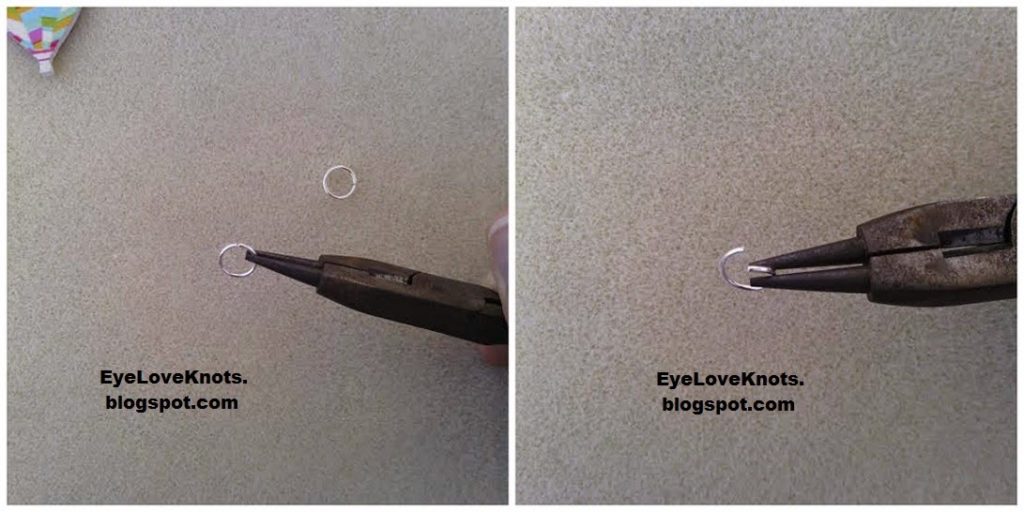 Grab one end of your jump ring with your round nose pliers. 
You will need to grab the other end with another pair of pliers or your fingers for leverage and stability.
Pull open the jump ring TOWARDS you, not side to side.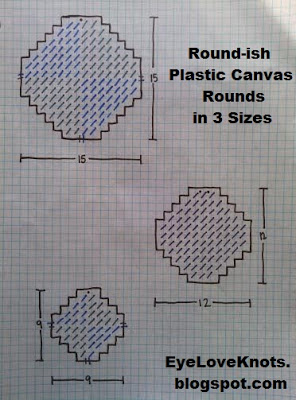 Large (top) is 15 holes by 15 holes, Medium (middle) is 12 holes by 12 holes and Small (bottom) is 9 holes by 9 holes.
Work the slashes as continental stitches. Whipstitch around the edges after.
I like to work two stitches per hole when working the whipstitch. On the Large and Small ones, I worked one of each color at the intersections of the colors – shown by dashed lines.
Dots at top center/s indicate where to attach jump rings to.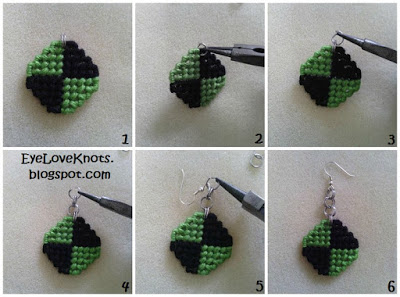 1 – Open and begin attaching jump rings at the top corner – I attached two jump rings together for added security.
2 – 4 – Continue to attach jump rings.
For the medium and large ones, I attached two levels of jump rings, and for the small, I attached four levels of jump rings – DON'T close the last one yet!
5 –  Put on the earring wire. Close jump ring.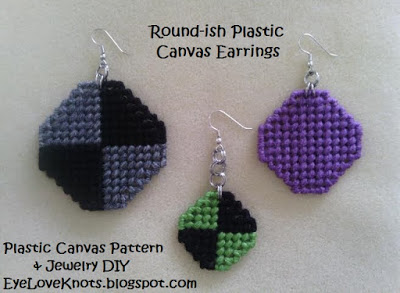 Repeat for second earring. Experiment with colors and sizes. What fun!
Please feel free to make and sell your own Roundish Plastic Canvas Earrings using this pattern, but please DO NOT claim this pattern as your own nor should you sell my pattern, and DO NOT re-publish my photos as your own. DO NOT copy and paste my pattern anywhere, link to it instead.
With so many color options, I would love to see them! Please share your photos on my EyeLoveKnots Facebook page!

Don't miss out on new crochet patterns, reviews, jewelry tutorials and more! Subscribe to EyeLoveKnots by using the box on the right side toolbar, or follow me via Bloglovin!