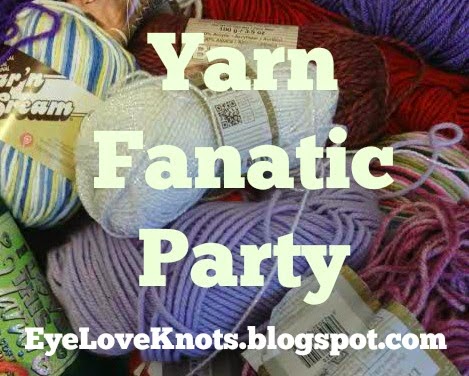 Welcome to the 49th Yarn Fanatic Link Party, and my 32nd as co-host, alongside Rachel from The Philosopher's Wife.


These week I shared…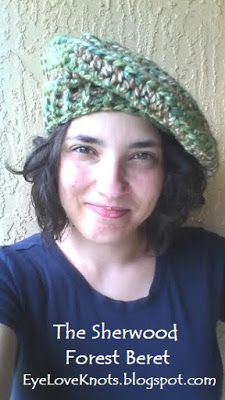 A few reminders on some CAL's I am/will be participating in…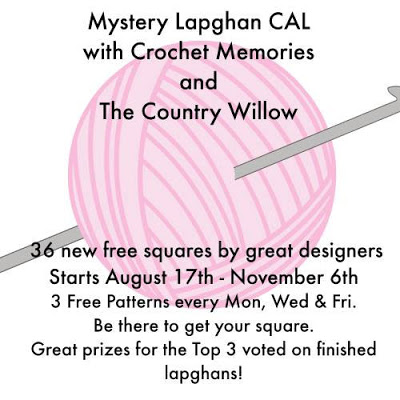 The

Mystery Lapghan CAL

is in progress!
Check out my post for a full list of all squares shared so far.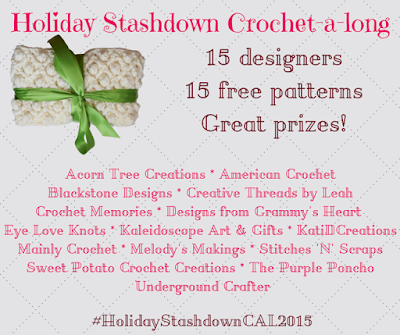 First project will be shared Monday, September 14th.


Most Clicked: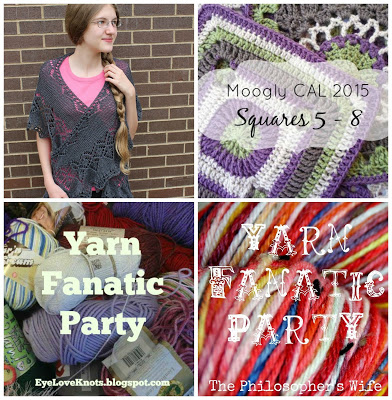 Georgiana Shawl from A Little Bit to Knit – Knitting Pattern Link Included. Though Sarah loves knitting a variety of things, shawls are her go-to and boy are they stunning! I am sure this one was hard to part with, but I am also sure that her mother just loved it! What is your go-to type of yarn craft?

Moogly CAL Blocks 5 – 8 from Olives n Okra – Links to Crochet Patterns Included. I love Sherry's choice of colors for this afghan – it's going to be one beautiful afghan! Make sure to check out this post for her tips and experience with each of these squares 🙂

EyeLoveKnots Yarn Favorites:
From Left to Right, Top to Bottom:

Hand Crafted Crochet Hook Collection from Creative Designs by Sheila Zachariae – With Links Included. I haven't gotten into the polymer clay crochet hooks, but I do admire the idea quite often because they all look so fun. I love the uniqueness of Sheila's collection.

Rock African Flower Skirt from Hakelfieber – Crochet Inspiration with Chart Included. This is a cute little skirt! I've only made one skirt for myself in the past, but do drool over them quite often – I really need to work up some more! I found that a ribbon was a great gathering option for the skirt as it made the skirt fitting no matter my waist size, it can easily be removed/weaved in and out when the skirt needs washing, and you don't have to worry about the dreaded stretching matter. LOVE this idea! And a great granny square inspiration piece.

Easy Lattice Scarf from Shelf Reading Life – Knitting Pattern. I completely understand the not creating elaborate gifts for everyone during the different holidays – I tend to do elaborate for birthdays though (more personal), and then a little something simple for Christmas. One of the things that stuck out the most to me of this scarf was the beautiful denim-like colored yarn used. Close up you can see the difference in strands of the chunky yarn, but from a ways, I really love the look. That paired with the openwork pattern makes me think this would make a really beautiful scarf for many different seasons depending on the yarn weight used. Love it!

Flower Dream Catcher from Howling at the Moon – Crochet Pattern Link Included. This is such a simple and fun idea! Especially for all of those doilies we love to work up, but run out of table surfaces to put them on – or like Liz, they just don't match. I love the outside of the box thinking and the boho look of this project.

A Bright Summer Jumper Dress from My Funky Crochet – Knitting Inspiration. This is a beautiful piece full of fun colors and designs. I love that Ingrid included a photo showing how she used two different types of shirts to help in the designing of the top of the dress – this is a great resource that I think sometimes doesn't cross our mind in the process.


Have You Been Featured? Grab Your Button!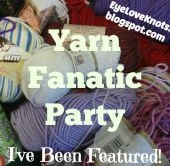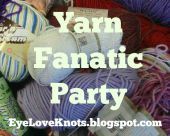 Are you a pattern designer – Crochet, knit, plastic canvas, embroidery, latch hook, pom pom crafts, and other yarny crafts… Or do you design yarn related graphics, shirts, buttons, printables, tote bags? Maybe you are a yarn dyer? Or perhaps you have a really large yarn stash and you are looking to do a de-stashing of them? We are in need of giveaway sponsors for the Yarn Fanatic Party! If you are interested in teaming up with Rachel of The Philosopher's Wife and I to sponsor a giveaway at one of our parties, PLEASE contact either Rachel or I.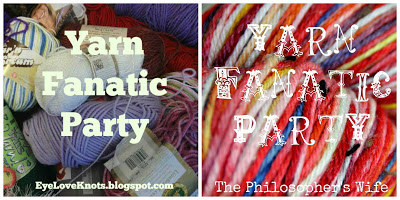 Join the Party!
The Yarn Fanatic Party will begin every Monday afternoon, and run through Sunday night. You have all week and weekend to post your fantastic yarn related projects!
Please share projects that are family friendly, and YARN RELATED; ie Crochet, Knit, with an extension to include Cross Stitch, Needlepoint on Plastic Canvas and Embroidery.
Also make sure you are linking up to your blog post, and just just your blog's home page.
*Become a Follower of the blog where you linked up. Following both is also greatly appreciated!
Alexandra of EyeLoveKnots
Rachel of The Philosopher's Wife
*Check out the other Great Projects that have been linked up!
*Spread the comment love!
Features will be chosen weekly. By linking up, you give us permission to feature your item.
*If you don't have a blog, you can still share with us by creating a Free

Flickr

Account – powered by Yahoo.
Add your projects there, and then come back here with the link for the project.
*Link ups cannot be to Etsy listings or Ravelry pages where patterns are sold. You can link to blog posts, Flickr or Facebook pages, Pins, etc that are directed towards it, but can't directly link to it.
To be clearer though, Raverly pages of finished projects are okay to share. Sorry for the inconvenience! That's per InLinkz guidelines. Thanks!