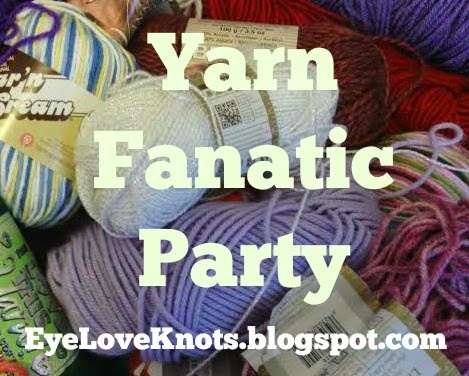 Welcome to the 53rd Yarn Fanatic Link Party, and my 36th as co-host, alongside Rachel from The Philosopher's Wife.


First off, HAPPY [late] THANKSGIVING!! Well, to my friends here in the states. How was your holiday and crazy holiday weekend? Eat too much, and spend a lot of time in traffic and big crowds over the last few days? You can read about my Thanksgiving in my Happy Thanksgiving from EyeLoveKnots post, but as far as Black Friday shopping that was a no this year. In years past, I really look forward to going to my local JoAnn's Arts and Craft Store on Black Friday. Why? 1.) Not much more business than a normal weekend day, since everyone else is out shopping for electronics and whatnot; 2.) Everything is on sale! Including Christmas decor.
This year though, I was looking forward to getting some of my things organized and Chad's arrival home from visiting with family out of town. As many of you know, I recently moved. LOTS of my things are still in boxes in the garage, and I don't know where much is. I took the opportunity on Black Friday to go through some boxes, find new places for my things and put things aside for donation. I am proud to say that I have donated four totes full of items so far. I also took out my beautiful 6 foot Christmas Tree pre-lit with multi-colored lights, but when I plugged it in, only some of my lights were working – ugh! I kept it up until Chad got home, but after he started laughing at it, I decided it was time to get rid of it and get a new Christmas Tree for my new home.
We waited until 6:30pm to go out – hoping things had died down out – and it had! We went to Big Lots and got a little 3 foot topiary. It was pre-lit, came with ornaments on it already and was on sale so we took advantage. I don't know if I am sold on it yet, but it was cute and affordable.  
We also went out to Barnes and Noble for coffee and reading. It's a normal part of our week, and nice to get away and relax. A little choir group from one of the local high schools was there singing Christmas songs. It was neat.


Since Week 2 of the Yarn Fanatic Party #53, I have been very busy working on and finishing up some projects – none of which are going towards Christmas Gifts – procrastination is a terrible trait, hehe. Find them listed here in order of appearance, first to last.
In celebration of Veteran's Day 2015!
Available in Newborn, 3-6 Month and 6-12 Month Sizes.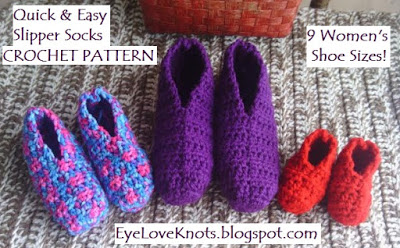 Makes a great Gift for Her!
Available in Women's US Sizes 4 through 12.5.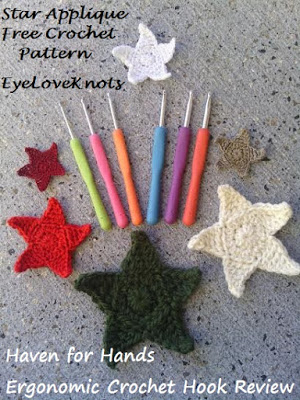 6 hook sizes, 6 yarn types, 6 sizes!
Okay, now that I've talked your ear off… Today is the LAST DAY to share your projects and enter the yarn giveaway from The Rainy Apple Shoppe. We will be taking a break for the month of December as many of us are going to be busy getting ready for Christmas, making gifts and baking, and visiting with friends and family. We will pick back up Monday, January 4th with the Yarn Fanatic Party #54 and a great giveaway! Stay tuned 🙂
To see our Most Clicked from the Yarn Fanatic Party #52, and my EyeLoveKnots Favorites, please visit the post for the Yarn Fanatic Party #53 – Week 1.


Have You Been Featured? Grab Your Button!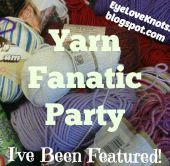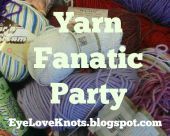 This Month's Giveaway

is sponsored by

The Rainy Apple Shoppe

. She is generously giving away a skein of her Tannenbaum colorway to one lucky winner. Winner will be able to choose between 463 yards/100 grams of 75% Super Wash Merino/25% Nylon Fingering Weight Yarn, or 220 yards/100 grams of 100% Peruvian Highland Worsted Weight Wool.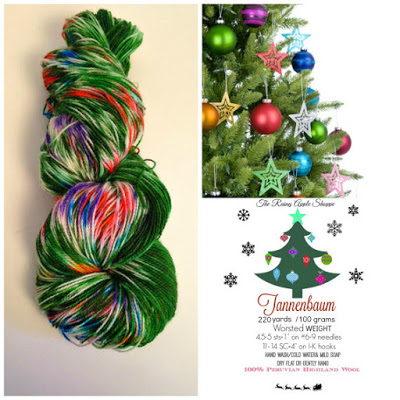 Must be 18 Years or Older to enter. US only. Void where prohibited. Winner has 48 hours to respond to notification, or another winner will be chosen. Social media not affiliated with this giveaway. The Rainy Apple Shoppe is responsible for prize fulfillment, not EyeLoveKnots nor The Philosopher's Wife.
a Rafflecopter giveaway


Are you a pattern designer – Crochet, knit, plastic canvas, embroidery, latch hook, pom pom crafts, and other yarny crafts… Or do you design yarn related graphics, shirts, buttons, printables, tote bags? Maybe you are a yarn dyer? Or perhaps you have a really large yarn stash and you are looking to do a de-stashing of them? We are in need of giveaway sponsors for the Yarn Fanatic Party! If you are interested in teaming up with Rachel of The Philosopher's Wife and I to sponsor a giveaway at one of our parties, PLEASE contact either Rachel or I.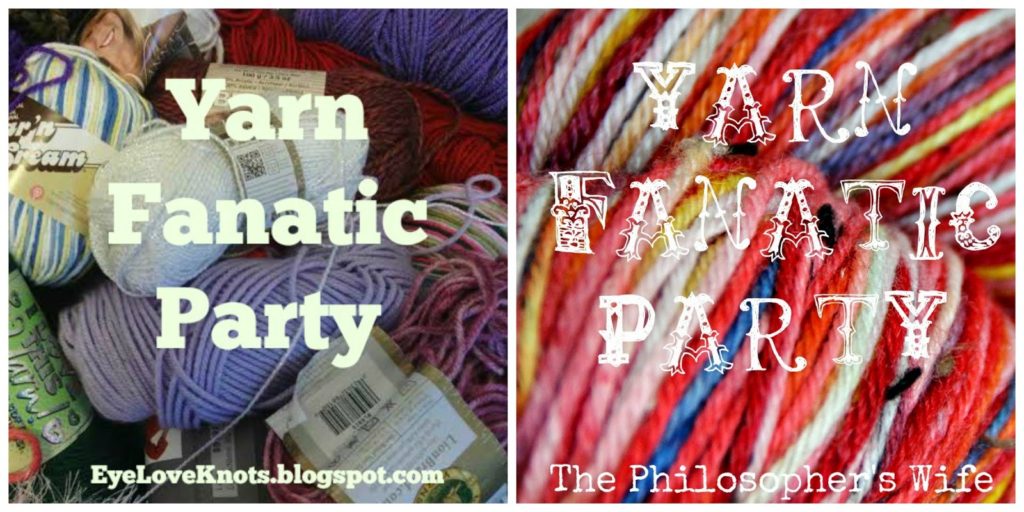 Join the Party!
The Yarn Fanatic Party will begin every Monday afternoon, and run through Sunday night. You have all week and weekend to post your fantastic yarn related projects!
Please share projects that are family friendly, and YARN RELATED; ie Crochet, Knit, with an extension to include Cross Stitch, Needlepoint on Plastic Canvas and Embroidery.
Also make sure you are linking up to your blog post, and just just your blog's home page.
*Become a Follower of the blog where you linked up. Following both is also greatly appreciated!
Alexandra of EyeLoveKnots
Rachel of The Philosopher's Wife
*Check out the other Great Projects that have been linked up!
*Spread the comment love!
Features will be chosen weekly. By linking up, you give us permission to feature your item.
*If you don't have a blog, you can still share with us by creating a Free 

Flickr

 Account – powered by Yahoo. 
Add your projects there, and then come back here with the link for the project.
*Link ups cannot be to Etsy listings or Ravelry pages where patterns are sold. You can link to blog posts, Flickr or Facebook pages, Pins, etc that are directed towards it, but can't directly link to it. 
To be clearer though, Raverly pages of finished projects are okay to share. Sorry for the inconvenience! That's per InLinkz guidelines. Thanks!