This post has been sitting as a draft since Fall of 2014 – YIKES!

Back then: Over the last few days, I have been testing a pattern for Rhelena of CrochetN'Crafts.

I have worked two and a half slouch hats in different weight yarns, unfortunately, my gauge did not meet hers so I had to do some adjusting. Positively, easy adjustments!

Materials I Used:
– 420 yards of Hobby Lobby's I Love This Yarn – 240 of Peacock, and 180 Rose Pink
– 140 yards of Lion Brand's Hometown USA Yarn – 80 in San Diego Navy, and 60 of Cincinnati Red (JoAnn's)
– 295 yards of Deborah Norville's Serenity Chunky Weight Yarn – 160 in Pristine, and 135 in Red Ochre (JoAnn's)
– M13/9mm, and N15/10mm Crochet Hooks
– Opt. Flat Nose Pliers (found in the Jewelry section of your craft store)
– #18 Tapestry Needle
– Alternating Chunky Slouch Hat, Free Crochet Pattern on Crochet n Crafts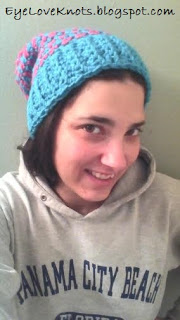 Material Notes:
Since my gauge did not match Rhelena's, I played around with different yarn types. Neither of the three matched up with her gauge but I was able to easily adjust.
I ended up using less than a skein each of the I Love This Yarn, just a bit under a full skein of the Hometown USA yarn and just over a skein of the Deborah Norville yarn.
Of the three, I think my favorite for this hat was the I Love This Yarn [shown to the right], followed by the Deborah Norville Chunky yarn.

Flat nose pliers are great for use with chunky and super bulky weight yarns. Insert the needle as you normally would for weaving but instead of struggling to get it out the other side, use the pliers to pull it out. Works like a charm!

Pattern Notes:
GENERAL:
In general, I ended each round with an invisible join. I did try four rounds with a regular join and color change, but it left me with a seamlike, big gap so I ripped it out and continued with the invisible join. I have a photo tutorial shown in my Newborn Twin Chunky Hat post.
I wanted the edge of my hat to be nice and clean so I reattached Color A to the opposite end of the ribbing, and worked one round of Round 1.

I LOVE THIS YARN:
I used two strands of I Love This Yarn held together to create a chunky strand.
To get an 18″ circumference, I worked 48 rows for the ribbing portion. This stretched comfortably to fit my 21.5″ head.
To get it to measure 11″ long, I had to work 21 rows.
I found this double strand of yarn was my favorite yarn option since it wasn't as heavy as the other yarns I used, and more flexible.

Time Spent: An hour and a half.

Gauge: 4 (HDC, sl st) x 5 rows = 2.5″ x 2″

CHUNKY SERENITY:
Originally, I did not test my gauge and worked a hat to the measurements provided on the pattern. While I was working, I noticed that the hat was on the smaller end, but didn't really think anything of it. It wasn't until the end of Round 17, that I realized this hat was too small for my head! Here's a note as to the importance of checking your gauge!

After I finished, I worked up another hat with my leftover yarn, flipping the colors. For this one, I stitched the same number of rows for the ribbing as I did using the two strands of I Love This Yarn.
I didn't end up getting to finish this hat, because I ran out of yarn – noo!! But I was on the right track to finish with the same number of rounds too.

Time Spent: An hour and a half.

Gauge: 4 (HDC, sl st) x 5 rows = 2.5″ x 2″

HOMETOWN USA:
I happened to have quite a few skeins of Hometown USA Yarn on hand from a project that didn't quite work out the way I wanted it to, so I thought – why not? I did work up this hat before working the I Love This Yarn hat, hoping that with the bigger yarn, I would get closer to the necessary gauge. Unfortunately, not the case.
This was my least favorite yarn for this project because of its bulk. It made it very heavy, and less flexible.
I also ended up running out of my Color A one round short of finishing, so I just shorted it that one round. No biggie. I did include the correct number of yards needed in my Materials Section.
To comfortably fit my head, I worked 42 rows of the ribbing, and 20 rounds of the slouch portion.

Time Spent: About an hour and fourty five minutes.

Gauge: 3 (HDC, sl st) x 7 rows = 2″ x 3″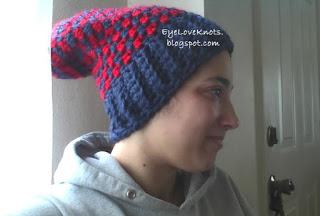 Overall, I had fun testing out this pattern for Rhelena and was really excited to have been chosen as one of her testers for it.
While I have had the idea of working a slouch hat lately, I probably won't be making any of these for my shop. I tried wearing these hats, but they don't lay as I would have hope – shown to the right.
I will be donating the two that I finished, and patiently await a Worsted Weight version because I think it would make a more comfortable and slouchier hat.

With so many size, yarn type and color options, I would love to see them! Please share your photos on my EyeLoveKnots Facebook page, or our latest Yarn Fanatic Party Link Up!

Don't miss out on new crochet patterns, reviews, jewelry tutorials and more! Subscribe to EyeLoveKnots by using the box on the right side toolbar, or follow me via Bloglovin!


Don't Crochet but Interested in Purchasing a Chunky Slouch Hat?
You can check out

EyeLoveKnots

on

Etsy

to see what I have available! Use the search box to type in what you have in mind, or feel free to send me a message with your custom request.
You May Also Like…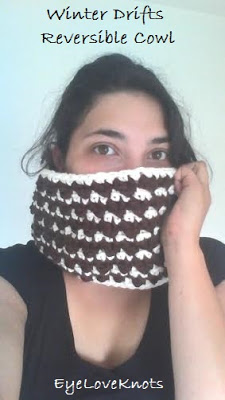 Design by Crochet n Crafts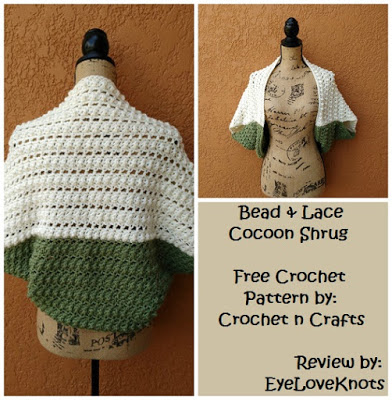 Design by Crochet n Crafts
Adsense: