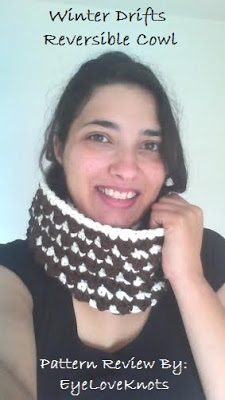 I had a lot of fun creating this Winter Drifts Reversible Cowl Crochet Pattern from Crochet n Crafts! The pattern is really easy to follow and memorize, and with carrying up the yarn it makes for a very quick finish.

Materials:
     – Chunky Weight Yarn – I used two strands of Hobby Lobby's I Love This Yarn in Brown and Ivory held together – about a quarter of a skein of the Ivory (CA) and half a skein of the Brown (CB)
     – N15/10mm Crochet Hook (as recommended in pattern)
     – #18 or #20 Tapestry Yarn (since I used two strands of worsted weight yarn)
     – Winter Drifts Reversible Cowl, Free Crochet Pattern

Material Notes:
     You may opt to use a small crochet hook to weave in your ends. See the Pattern Notes section below.

Time Spent:
     I was able to complete this cowl in about an hour and a half, including my weaving.
Measurements:
     The pattern states that the cowl measures 29.5″ by 6.5″, but mine only came out to be 22.5″ by 6.25″. Because gauge isn't essential for this project, I didn't take mine beforehand. The cowl still wraps around my neck twice comfortably so it is perfect!

[My] Gauge (in Pattern):
     8 SC by 8 Rows = 3.5″ in Length by 4″ Wide

Pattern Notes:
     I chose not to work my second row into the back bumps because it's a lot of extra work that I rather go without, but I will tell you that working into the back bumps is a great technique for a project like this because it creates a clean, uniformed look between the two ends without the need for adding a border.     

To carry my yarn, I used a technique I wish I would have come up with long before! I work the slip stitch join with the new color as normal, and then I work the very first stitch over the old color. This helps to secure the yarn, but also brings it to the perfect spot for the next step. Once I have worked my way around the piece, I slip stitch join as normal with the new color. This technique is great because it hides the yarn carry's, and doesn't limit stretch.

The main thing to keep in mind when working this project is the seam. Being that there aren't any turns, the seam is visible and in a diagonal motion. I suggest every couple rows of single crochet to slip stitch over a stitch after you join, and work your way around as normal. This will help to shift the seam back, and keep it more straight.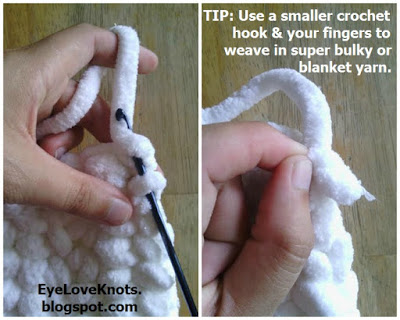 This technique is great for weaving in chunky and bulky weight yarns.
I did not use this technique in this project because I chose to weave in the strands individually.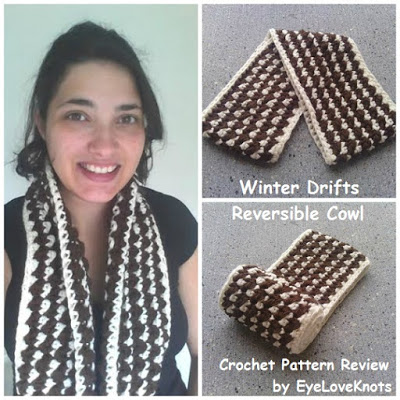 This cowl makes for a great Gift for Her, and being that Rhelena works in sets, I am sure it is only a matter of time before the matching hat pattern is released. Can't wait!
Don't miss out on new crochet patterns, reviews, jewelry tutorials and more! Subscribe to EyeLoveKnots by using the box on the right side toolbar, or follow me via Bloglovin!