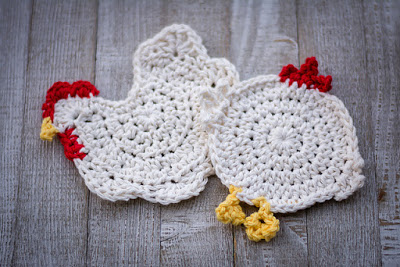 Photo courtesy of Happily Hooked Magazine.
My Chicken Coasters can be found in the latest issue of the Happily Hooked Magazine – March 2017, Issue 36 – which features some pretty and practical Home Decor Projects.


For Todd's mom's birthday last year, he asked me to make some chicken coasters for her because she looovvveeess chickens! I came up with both of these designs, but settled on the Hen ones, and ended up making a set of 6.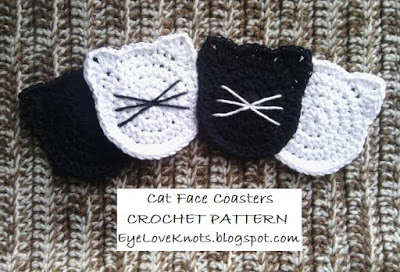 They all laughed at the other design, saying it looked like a chicken's butt! That one was inspired by my Cat Face Coasters – I was going for a similar look. Worked out even better I guess, hehe!

To complete these coasters, you will need less than one skein each of Lily Sugar n Cream Yarn – I used Ecru, Red and Yellow colorways – or about 105 yards of worsted weight cotton yarn, and an I9/5.5mm crochet hook. With one super sized skein, you can easily make 6 – 8 coasters (or maybe even more).


Issue 36 Also Features…

These Crochet Patterns:
– Spring Breeze Blanket by Kenneth Cormier
– Cypress Bloom Centerpiece by Kenneth Cormier
– Mandala Clock by Lucy Ward
– Parchment Meadow Pillow by Heather C Gibbs
– Jewel Tones Baby Blanket by Angela Plunkett
– Paw Print Pillow by Karen Peacock
– Cotton Candy Pom Pom Rug by Lee-Anne Sartori
– Cottonwood Dishcloth by Debbie Richardson
– Textured Waves Rug by Patsy Harbor for Red Heart

These Articles:
– Stitch of the Month: Simple Chevron
– Business Tip: Dealing with Negative Feedback
– Crochet Heals: Athena Field
– Artist Profile: Hannah March Sanders
– Random Acts of Giving
– Hooked on… Roundup
– Red Heart Pattern Roundup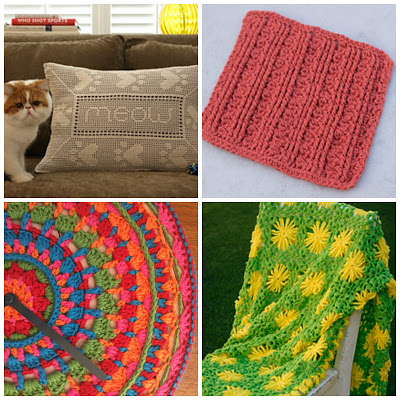 A few of my favorites include the Paw Print Pillow (top left), which includes "meow" and "woof", the Cottonwood Dishcloth (top right), which is a great project to learn the stitch on and apply to others, the Mandala Clock (bottom left), and the Spring Breeze Blanket (bottom right), which would look great in any color combination!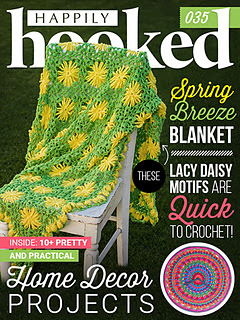 Photo is front cover of March 2017, Issue 36.
Hop on over to the Happily Hooked Magazine site to subscribe and get the current issue – March 2017, Issue 36!

Share your version of this project on Ravelry – Chicken Coasters. Check out the EyeLoveKnots Ravelry page to keep track of all your EyeLoveKnots favorites in your que, and share your WIPS and finished projects!

Don't miss out on new crochet patterns, reviews, jewelry tutorials and more! Subscribe to EyeLoveKnots by using the box on the right side toolbar, or follow me via Bloglovin!


Don't Crochet but Interested in Purchasing a set of Chicken Coasters?
Visit the

EyeLoveKnots Etsy Shop

to see what I have available! Use the search box to type in what you have in mind, or feel free to send me a message with your custom request. I am happy to make in any custom size and/or color. View color options here:

Lily Sugar n Cream

.
Adsense: