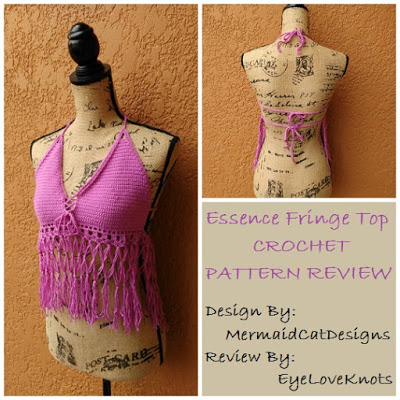 Last Summer, I pattern tested this for my friend Stacey of MermaidCatDesigns. I was really excited when I received an email from her with the photo of this one asking if I was interested in testing it out. It is such a fun piece with great coverage, is lightweight and would look great paired with some shorts, a skirt or jeans as well as over a bathing suit top or not. It worked up fairly quickly. 


*06.25.17: It's come to my attention that this crochet pattern has been retired from the MermaidCatDesigns shop 🙁  I did reach out to Stacey, and she said she may be releasing this as a free pattern so make sure to favorite her shop, and keep your eyes peeled! Aside from that, this is good inspiration for working up a similar top. There are so many other crochet summer tops. You could start with a basic bikini/top base, and then added a fringe to the bottom, and knot it just the way you like.

Materials:
     – Less than 1 skein of Baby Bee's Sweet Delight in Hot Orchid (which I found on Clearance at my local Hobby Lobby so not sure if that color is available anymore)
     – 3.5mm Crochet Hook (Larger than Recommended)
     – Tapestry Needle for Weaving in Ends
     – Essence Fringe Top, Paid Crochet Pattern by MermaidCatDesigns

Material Notes:
     I opted to use Sweet Delight Yarn on this top because I wanted something soft and lightweight with good stretch. Cotton would definitely make this top better for the summer and help keep you cooler, but I don't like how cotton yarn tends to not stretch back or keep it's shape too long. I think the top would be just fine worn out during the day (or at night).

Time Spent:
     I am not sure how long this project took me, as I misplaced my original notes, but fairly quickly.

Measurements:
     I worked the Medium size, but sizes Small and Large are also included in the pattern.

My Gauge:
     With 3.5mm: 24 SC by 30 Rows = 4″ (Larger than Recommended)

Pattern Notes:
     I worked another pattern by MermaidCatDesigns that had the same gauge as called for in this pattern, and after meeting the gauge and working the top, it turned out to be too small for me, so when I saw that this pattern was with the same size hook and gauge, I opted to use a larger hook which produced a larger gauge. It worked out perfectly for me, and the top fits great! I have a feeling that had I worked it with the smaller hook, it would have been too small. A factor that contribute to this though is the yarn type – I used a 100% acrylic yarn, while she used a cotton yarn.

This is a beautiful and fun pattern. The knotting has always been intimidating to me but after I did a few I found that it wasn't scary at all and they all came out to be pretty consistent – just go slow, and be patient.

Finishings: I worked the pattern as written with the long, criss cross ties along the back to tie in the front, but I didn't like two things about this:
     1. The thin straps were cutting into my back, and not a lot of support. Also, not that pretty looking along my back;
     2. It was causing the sides where the ties were attached to not lay flat and sorta poof up.
I opted to take the ties down to a chain 100, slip stitch down the chain in the back bumps and use a single tie along the back. With both back ties, front support was no issue.


To Care For: If machine washing and drying – I would highly suggest using a lingerie bag or pillowcase, but handwashing is definitely recommended.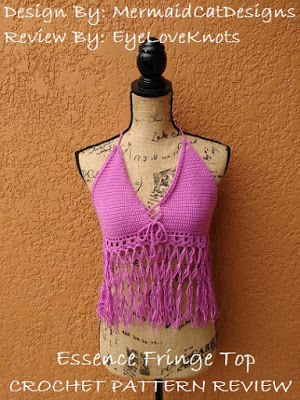 Join the EyeLoveKnots Crafting Community to share your creations, and see what other's are up to! 

Don't miss out on new crochet patterns, reviews, jewelry tutorials and more! Subscribe to EyeLoveKnots by using the box on the right side toolbar, or follow me via Bloglovin! You can also find me sharing on the EyeLoveKnots Facebook page, and @EyeLoveKnots on Twitter!



Linked Up To…
Scrappy Stitchers Link Party #32 – Stitches 'N' Scraps
{nifty thrifty sunday #290} – Nifty Thrifty Things
Craft Schooling Sunday – Creative Jewish Mom
July 2017 Sharing Time – Raising Memories
Thursday Fashion Files Link Up #117 – Curly Crafty Mom


You May Also Like…