This is a crochet pattern review of the Chic Tank from the Super Simple Summer Tops book designed by Melissa Leapman Blowney. Review done by EyeLoveKnots.
This post contains affiliate links for Leisure Arts and Lion Brand. If you make a purchase by clicking on them, I make a small commission at no extra cost to you. Thanks for your support!
Find our crochet pattern review below, or click here to purchase the crochet pattern from the Leisure Arts website (here is the digital version).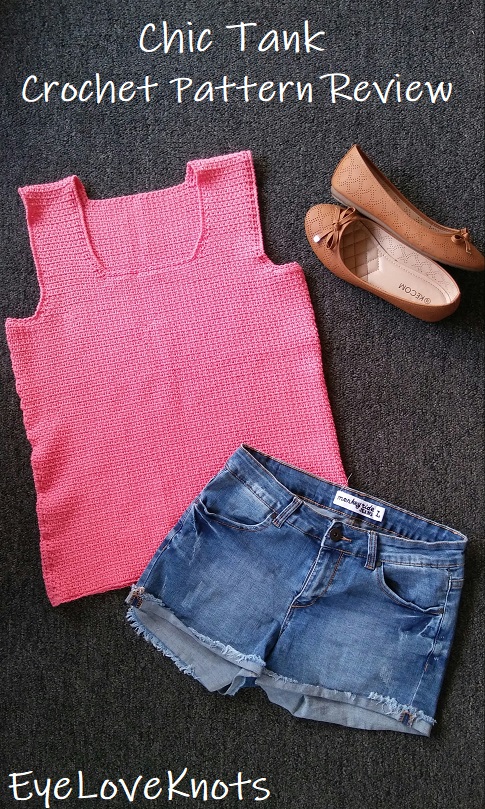 The first book I purchased when I joined Leisure Arts affiliate program was the Super Simple Summer Tops book. I have really been wanting to start designing garments, so I thought this would be a good book to start out with. The main thing that caught my eye, and I really like about this book, is that all of the tops in this book are made using the moss stitch as a base – in this case, the Chic Tank is all moss stitch, with a small mesh area at the stomach, which I left out because I didn't want to have to wear a tank top underneath my finished crocheted tank top. You may be asking what is so special about them all using the same stitch pattern, well, the simple fact that you can use one stitch pattern, and come out with 100 different looks. This book is more about learning about the simple shaping, and assembly of each garment.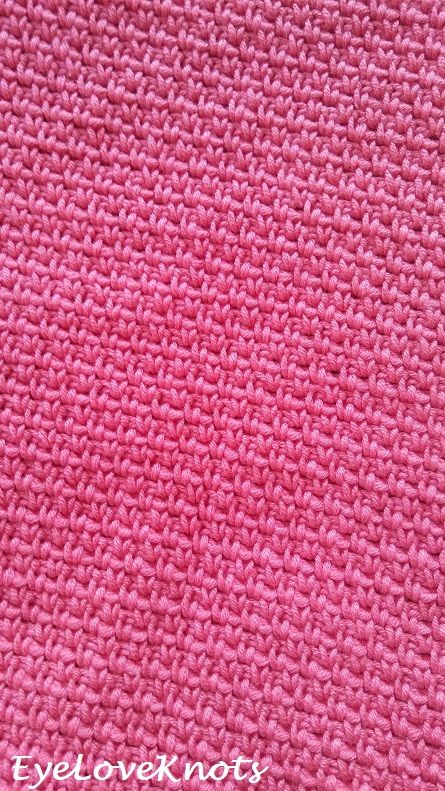 I did consider adding the mesh part up just above the armhole shaping, but I had forgotten by the time I got there, so I ended up using only the solid moss stitch pattern throughout the whole top. Now, you could add more of the mesh pattern throughout the piece as you work, or you could have it only on the front piece or only on the back piece, you could work the top in color blocks, or alternate colors every other row for a neat vertical striping affect… The possibilities are endless!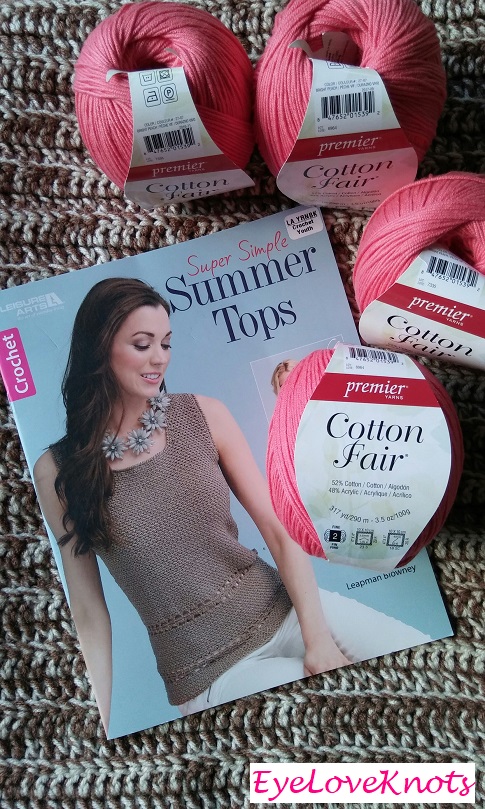 Materials I Used:
Yarn Alternatives:
Berroco's Modern Cotton DK is what I might substitute the Cotton Fair yarn for. Original pattern states to use a Fine (#2) Weight Yarn, and they use Lion Brand's Vanna's Glamour Yarn, which sadly has been discontinued. Lion Brand Coboo is another great substitute.
Time Spent:
I worked my top up in several seatings for a total of about 18 and a half hours.
Measurements:
Pattern is written in sizes Small through 3X. I worked the Medium size. Patterns given measurements for this size are 19.75″ Wide (39.5″ in circumference) by 24″ in Length.
My finished measurements came to be 19 1/8″ Wide (38.25″ in circumference) by 24.25″ in Length.
For reference, I have a 39″ bust.
My Gauge:
Following written gauge pattern, 4 1/8″ by 4.5″, while original pattern gauge is 4″ square.
Pattern Notes: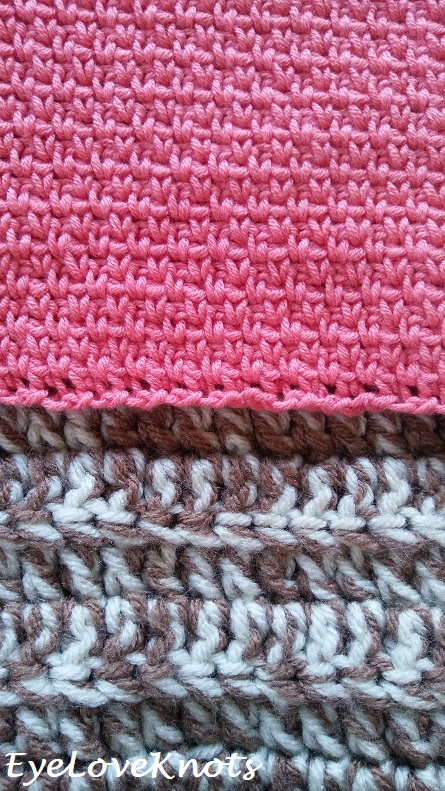 Pattern notes in book do not specify, but Row 2 of body should be worked into the back bumps to create a clean, straight edge. There will not be any edgings worked along the bottom later.
In case it catches you off guard too… Armhole shaping states that "each single crochet and chain 1 space counts as one stitch". At first, I thought it was as a pair and worked as such, come to find out that it is each individually, so I ripped back, and reworked.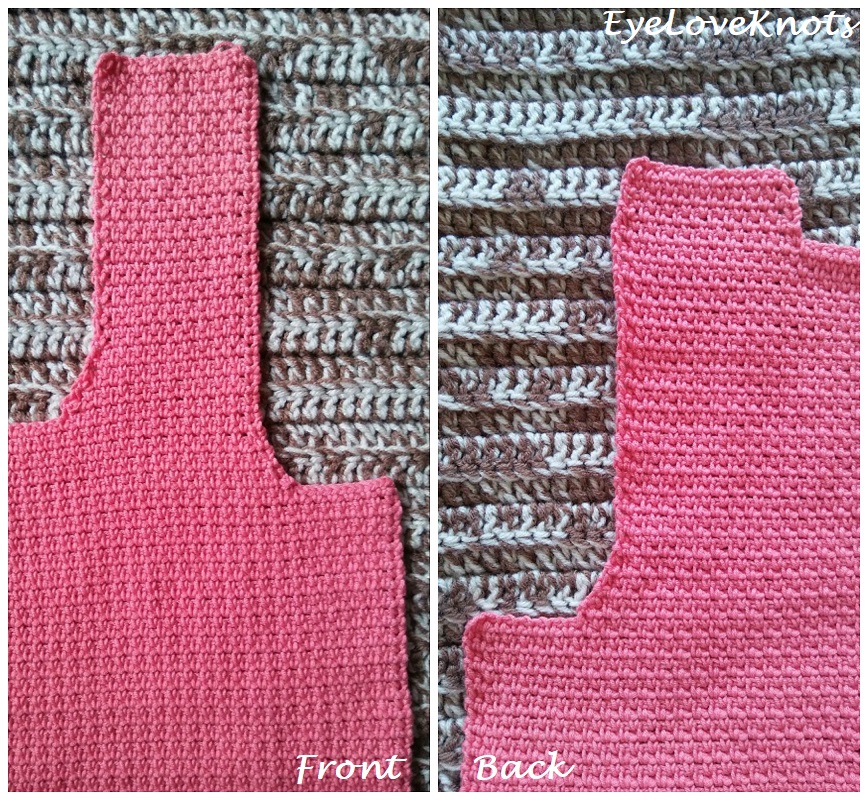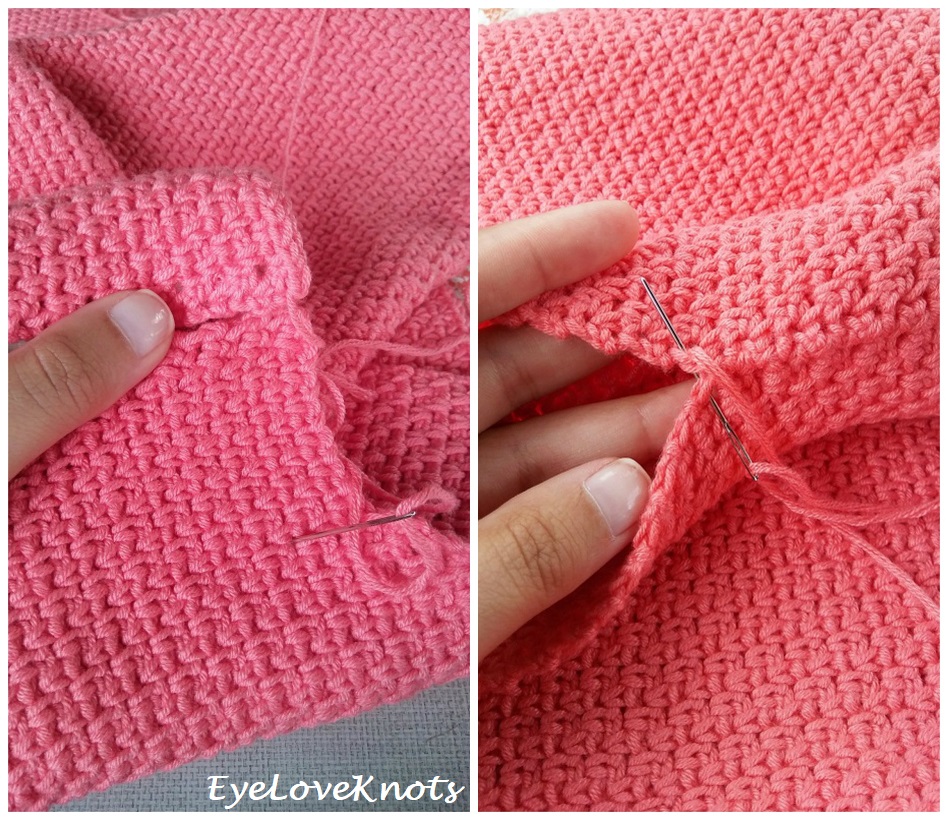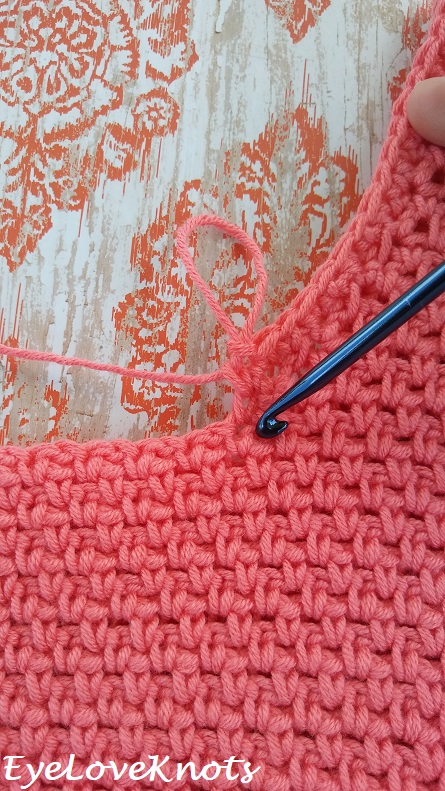 One thing when working the first round of the edging, at the corner points where the sleeves meet the body, don't work into this stitch – skip it to avoid bunching, this goes for the neck edging and the armhole edging.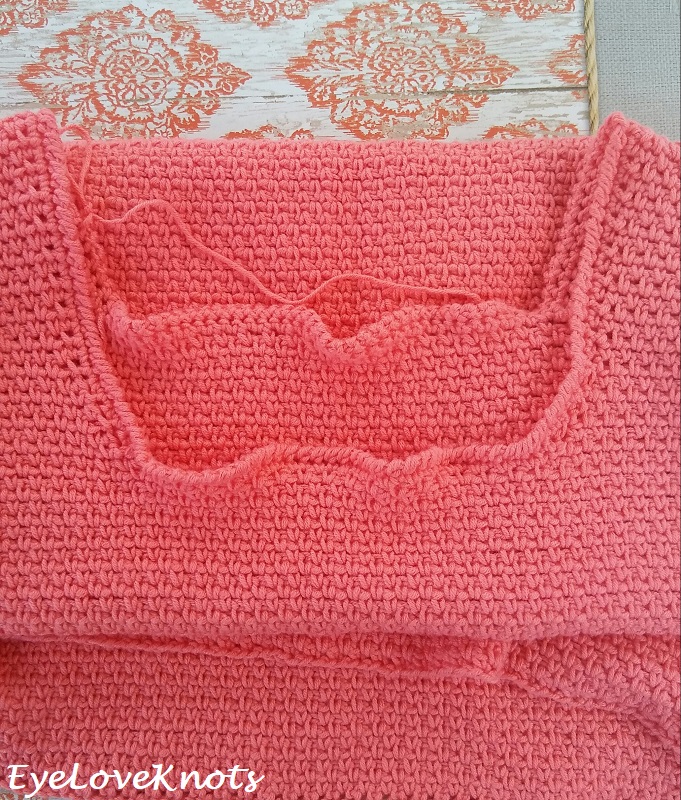 When it came time to work the neck and armhole edgings, I ran into a ruffle problem, as you can see in the photo above. After completing the whole neck edging, I realized there was a bad ruffle, but only going across, and perfect going up and down the sleeves. This happens when there is too many stitches, or too close together. What I did to compensate for this, I worked in every other stitch along the portions that go across, and worked as written in every stitch going up and down the sleeves.
I also faced the same ruffling problem in the sleeves, except only on the back side. Because of what I experienced with the across part from the neck edging, I figured it might happen on the armhole edgings too, so I worked the bottom part in every other stitch, but I also worked in every other stitch along the back piece from the top shoulder seam down to the bottom corner. Then I worked in every stitch from the top shoulder seam along the front side.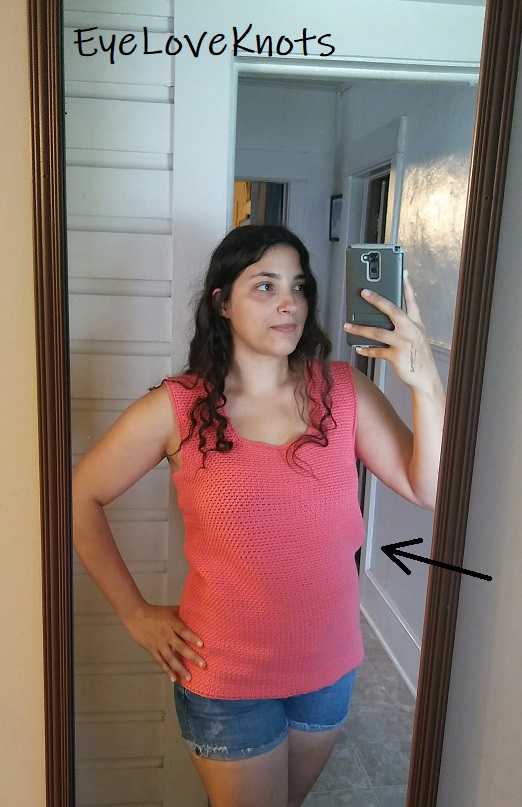 One thing I wanted to point out after finishing the assembly, and I put on, the sides right about at my ribs don't sit that well. Looking back at the image in the book, I can see this too, but I just assumed it was related to the mesh on the bottom. Now I see that it is more because the this spot of the top is too large. I am interested in working up another top, but I am not sure how I would tackle this spot… I am sure if I worked a piece better sized – ie work to 37″ circumference to stretch to 39″, that it would fit sit better. Secondly, a smaller hook size could be used in the center part of the top to bring it in, but I think finding the right spot to switch hooks could prove more difficult than just working a smaller, more fitted top. If I would up another top, I will update you then. I still plan on wearing this one out, and I can't wait!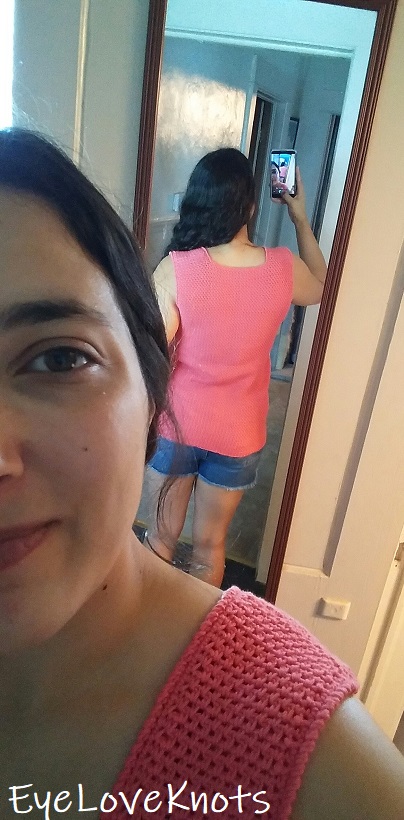 Here's what the back looks like.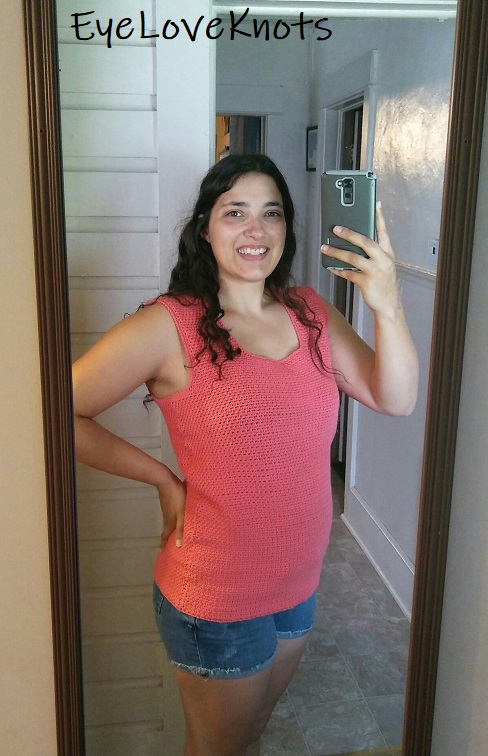 And that's it! New summer tank top is ready to wear!
Join one of our awesome Facebook groups to share your creations, and see what others are up to!
– EyeLoveKnots Crochet & DIY Community
– DIY Home On Rockwood Lane
– Alexandra Lane Lifestyle
Linked Up To…
Craft Schooling Sunday, 06/10/18 – Creative Jewish Mom
Nifty Thrifty Sunday #338 – Meet Our Life
Tutorials & Tips Link Party #356 – Home Stories A to Z
Creative Mondays Blog Hop – Claire Justine
Merry Monday Link Party #208 – A Wonderful Thought
Handmade Monday #79 – Sum of their Stories
The Scoop Link Party #330 – Worthing Court Blog
The Really Crafty Link Party #123 – Keeping it Real
You're the Star Linky Party Week 89 – Let it Shine
Craftastic Monday Link Party – Sew Can Do
Ginx Woolly Linx Party June – Ginx Craft
Lou Lou Girls Fabulous Party #219 – Lou Lou Girls
Talk of the Town 127 – My Repurposed Life
Sew It Cook It Craft It Link Party #58 – Sew Historically
Your Whims Wednesday #359 – My Girlish Whims
{wow me} wednesday #355 – Ginger Snap Crafts
The Linky Ladies Party #134 – The Purple Poncho
The Style File – Lady in Violet
Confident Twosday Linkup – I Do DeClaire
The Blended Blog Style Link Up – Living on Cloud Nine
Turning Heads Link Tuesday Link Up – Elegantly Dressed and Stylish
The Wednesday Link Party #249 – The Stitchin' Mommy
Hookin' on Hump Day #168 – Petals to Picots
Crafty Love Link Party #34 – Jessie at Home
Scrappy Stitchers Link Party #42 – Stitches 'N' Scraps
Thursday Fashion Files Link Up #165 – Curly Crafty Mom
I'm Lovin' It Linky Party – Tidy Mom
Pin Junkie Pin Party #269 – The Pin Junkie
Funtastic Friday 183 Link Party – Olives & Okra
Sweet Inspiration Link Party #111 – The Boondocks Blog
Friday Frenzy Link Party – 06/15/18 – Kelly Lynn's Sweets and Treats
Weekend Wear Linkup – Mom with Style
Lizzie in Lace Link Up – Lizzie in Lace
Snickerdoodle Create Bake Make Party #236 – Across the Boulevard
Sundays at Home #210 – Celebrating Everyday Life
Nifty Thrifty Sunday #339 – Meet Our Life
Craft Schooling Sunday – Creative Jewish Mom
Handmade Monday #80 – Sum of their Stories
Merry Monday #208 – A Wonderful Thought
Nifty Thrifty Sunday #339 – Meet Our Life
Craft Schooling Sunday – Creative Jewish Mom
Handmade Monday #80 – Sum of their Stories
Merry Monday #208 – A Wonderful Thought
Creative Mondays Blog Hop – Claire Justine
I'm Lovin' It Linky Party – Tidy Mom
Pin Junkie Pin Party #270 – The Pin Junkie
Funtastic Friday 184 Link Party – Olives n Okra
Hookin' on Hump Day #169 – Petals to Picots
Thursday Fashion Files Link Up #166 – Curly Crafty Mom