This post contains affiliate links for LoveCrochet. If you make a purchase by clicking on them, I make a small commission at no extra cost to you. Thanks for your support!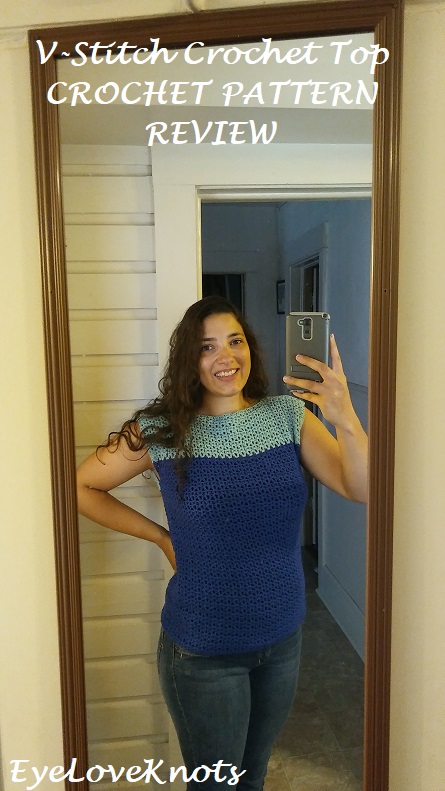 I pattern tested this top out for my friend Helena of CrochetN'Crafts. I know, I know… Another crochet top?! Hehe! You can never have too many! And especially being in Florida, this top is one I can wear year round.
One thing I really enjoyed about this top, was the slight difference in stitches – one row is worked in double crochets, while the other row is worked in half doubles. This technique really produces a beautiful fabric, and makes the repetition a little more fun.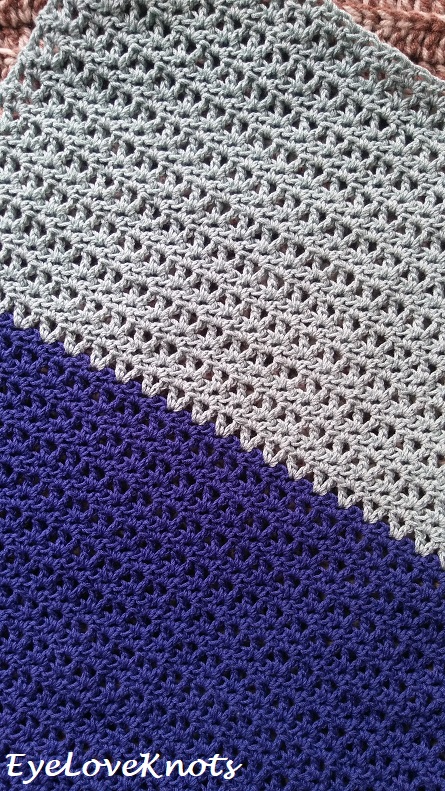 I was a little nervous about using this color combination, but I recently purchased (and am in the process of working up a top with) a ball/cake of Red Heart's It's a Wrap in the Photography colorway, which has very similar colors back to back, and because of it, I was tempted to mix the teal with the dark blue, and I really think it turned out great! Especially with a pair of blue jeans on.
Materials I Used:
1200 Yards of Berroco's Weekend DK Yarn in the Starry Night [Dark Blue; 3.5 Skeins] and Clothesline [Teal; 1 Skein] colorways (My local yarn store – not an affiliate link)
H8/5mm Crochet Hook
Tapestry Needle for Weaving and Sewing in Ends
V-Stitch Crochet Top, Free Crochet Pattern from CrochetN'Crafts
Material Notes:
Yarn Alternatives: Premier Yarn's Cotton Fair, Paton's Grace Yarn, Berroco's Modern Cotton DK.
Time Spent:
I worked my top in a few seatings, for a total of about 9 hours, 45 minutes.
Measurements:
This pattern has instructions for sizes Extra Small through Extra Large, but with a basic shape, it is very easy to adjust. The original pattern is designed to have 6″ of positive ease – meaning it is going to have an oversized fit measuring 6″ wider than given bust measurements.
I do not like oversized clothing, so I went based off my measurements and knowledge of the yarn stretch to pick the perfect size for me. This yarn will stretch 4+". I have a bust of 39″, and chose to make the small size. Math behind my decision: 17 3/8″ (width of the small) times two pieces (to give a final circumference) = 34.75″, plus 4ish"… Top fits me perfectly!
My top also measures 23.5″ in length.
Pattern Notes:
I did not take a gauge for this project before I started. Typically, from the reviews I have been doing for Rhelena recently with cotton yarn, I have been needing to go up two hook sizes, so even though this is a different yarn than what I've been using, I went ahead and went up the two hook sizes to an H8/5mm, and worked for several rows, then measured. My piece measured perfectly! And so I just continued.
In the last top I tested, the Summer Crochet Lace Top, I worked it to about 21.5″ in length, but after I put it on, I realized it was way too short. The given lengths for this v-stitch top fall in the 22″ range, but that just seemed a little short to me still, so I went ahead and worked my top to be 23.5″ in length, which worked out perfectly – not too long. To achieve this length, I worked 61 rows.
For the color blocks I made, I worked the front piece with 48 rows of the dark blue, and the rest in the teal, and for the back piece, I worked 38 rows of the dark blue, and the rest in the teal.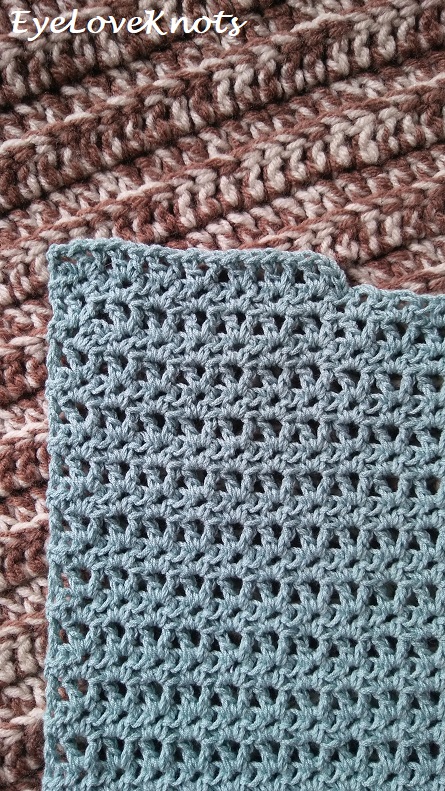 This top is comprised of two identical pieces that are sewn on the sides, and shoulders. This particular style is one that I am not a fan of because I also find that it is too tight across my neck, so to offset this, I worked Row 61 a little differently… I worked the beginning stitch as normal, then I worked 7 v-stitches, and double crocheted into the next double crochet, then fastened off, and mirrored on the other side. This created a 4″ shoulder, and left me 9.5″ for my neck opening.
Because I normally wear a size large, I went ahead and left the 9.5″ open for the neck so I would be comfortable. For the arms, I left them at 8.5″, but only because from previous crocheted tops, I knew this would fit comfortably.
For assembly, I used a whipstitch, but if you make your top in different colors that don't line up for matching, you may opt to use the mattress stitch.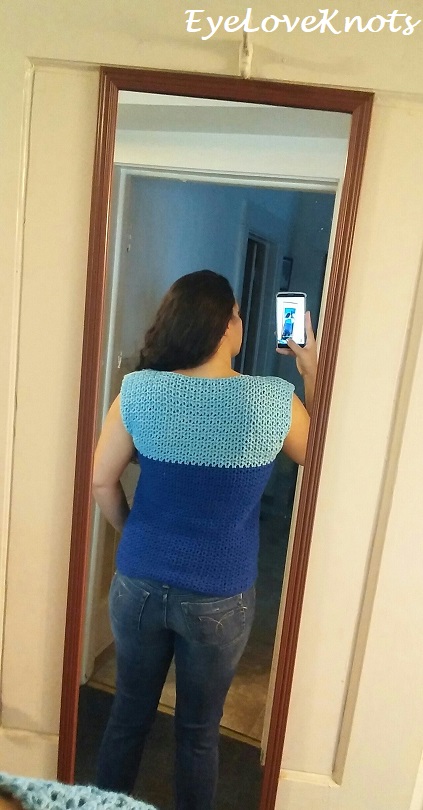 The back of my top…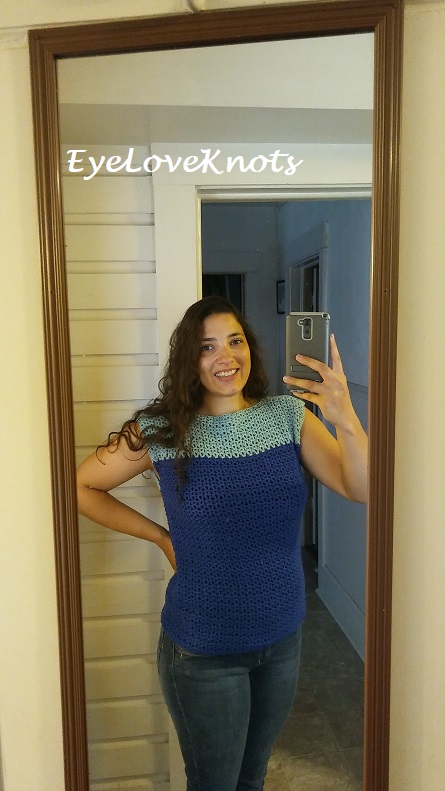 And that's it! Nice, new, cool, pretty summer top.
Join the EyeLoveKnots Crafting Community on Facebook to share your creations, and see what others are up to!
Linked Up To…
Nifty Thrifty Sunday #344 – Meet Our Life
Craft Schooling Sunday – Creative Jewish Mom
Craftastic Monday Link Party – Sew Can Do
Merry Monday Link Party #214 – A Wonderful Thought
The Really Crafty Link Party #129 – Keeping it Real
Handmade Monday #85 – Sum of their Stories
Creative Mondays Link Up – Claire Justine
Tutorials & Tips Link Party #360 – Home Stories A to Z
The Scoop Link Party Link Party #336 – Worthing Court Blog
432nd Inspire Me Tuesday – A Stroll Thru Life
Fabulous Party – Lou Lou Girls #225 – Lou Lou Girls
The Linky Ladies Party #137 – The Purple Poncho
Turning Heads Link Up – Elegantly Dressed and Stylish
Confident Twosday Linkup – I Do deClaire
Talk of the Town 133 – My Repurposed Life
Sew It Cook It Crafty It Link Party #64 – Sew Historically
{wow me} wednesday #361 – Ginger Snap Crafts
Your Whims Wednesday #365 – My Girlish Whims
The Wednesday Link Party 255 – The Stitchin' Mommy
Hookin' on Hump Day – Petals to Picots
The Blended Blog Freestyle Link Up – Living on Cloud Nine
Pin Junkie Pin Party #275 – The Pin Junkie
Funtastic Friday 189 Link Party – Olives n Okra
Thursday Fashion Files Link Up #171 – Curly Crafty Mom
Friday Frenzy Link Party – Kelly Lynn's Sweets and Treats
Home Matters 194 – Domestic Deadline
Weekend Wear Linkup – Mom with Style
Lizzie in Lace Link Up – Lizzie in Lace
Link Your Stuff – Annemarie's Haakblog
Snickerdoodle Create Bake Make Party #242 – Across the Boulevard