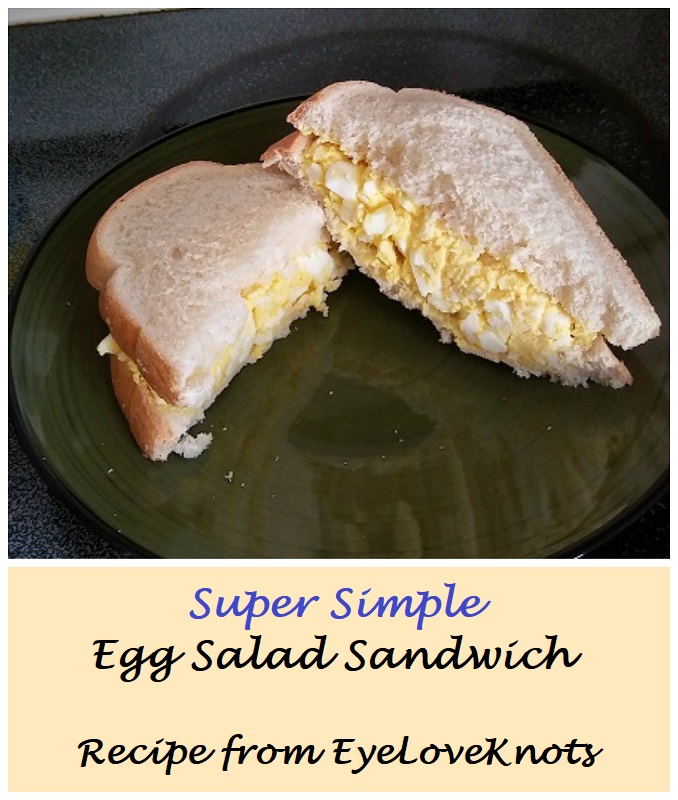 I have always been a fan of cold salads – egg, tuna, potato, macaroni… Especially with BBQ food or hamburgers. Mmm! I love how they are so good, and so filling, but not heavy. Sometimes when I get home from work, I just want something light to eat – and egg salad sandwiches are perfect!
I've gone with a super simple recipe here for just the basic sandwich, but you could absolutely add lettuce and tomato to your sandwich, or mix in some bacon bits, diced onions or celery, or even dill pickles!
Makes:
3 – 4 Sandwiches
Time:
30 Minutes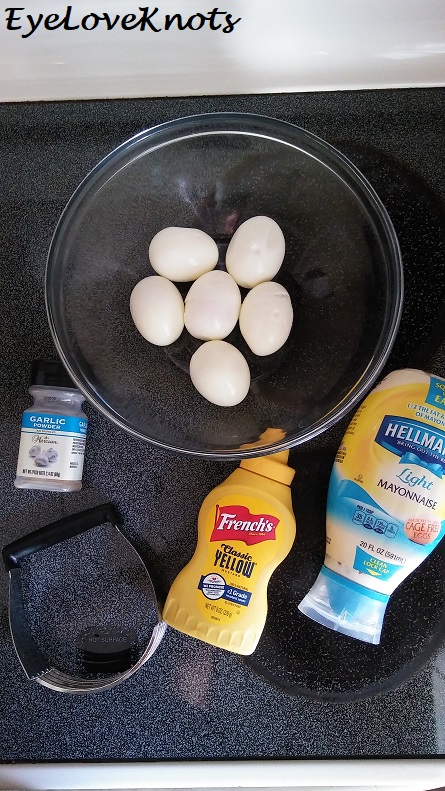 Ingredients:
6 Large Eggs
2 – 2.25 Tablespoons of Mayo
1 – 1.5 Tablespoon/s of Mustard
Sprinkle of Garlic Powder
Bread!
You'll Also Need:
Small Pot to Boil Eggs In (with Lid)
Bowl to Chill Eggs In (with Ice)
Bowl to Mash and Mix Egg Salad
Masher
Tablespoon
Mixing Spoon
Recipe:
Step 1: Boil and peel the eggs.
To Boil: Place eggs in a pot. Fill with hot water to cover eggs. Place on medium heat (I use 6.5) until comes to a rapid boil – about 6 minutes. Pull off heat, and cover for 12 minutes.
Peel: Drain water. Fill a mixing bowl with ice and cold water. Put eggs into cold water to shock. Start peeling.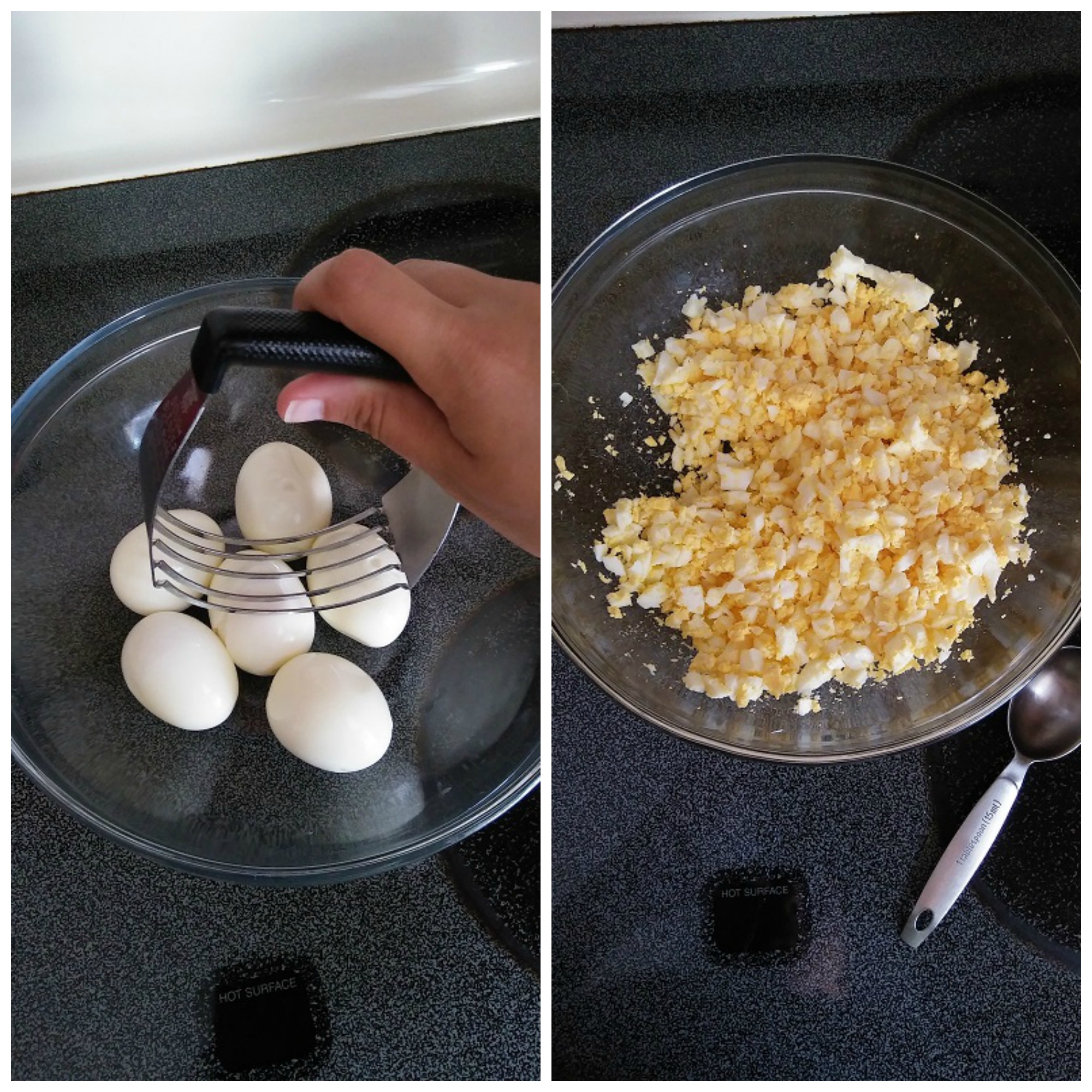 Step 2: Mash up the eggs.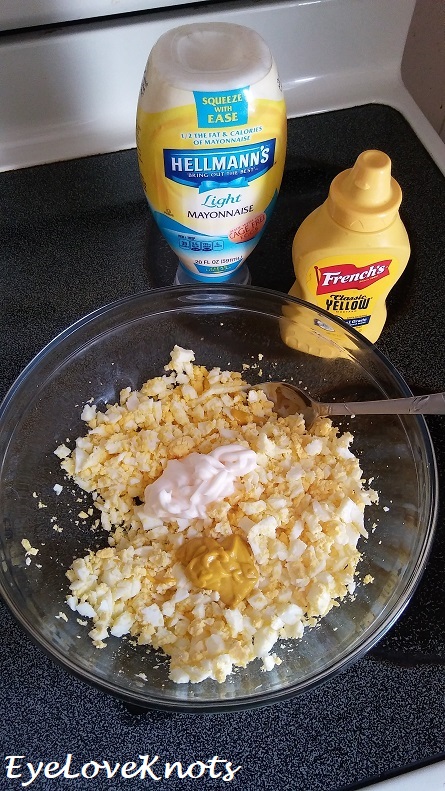 Step 3: Add mayo and mustard to eggs.
I like 2 tablespoons of mayo, and 1 of mustard, but that's my preference. Taste, and add more if needed.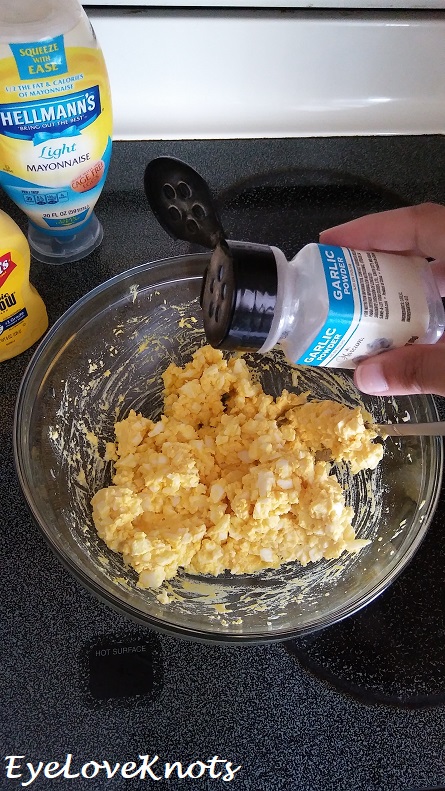 Step 4: Sprinkle on garlic powder! I love it.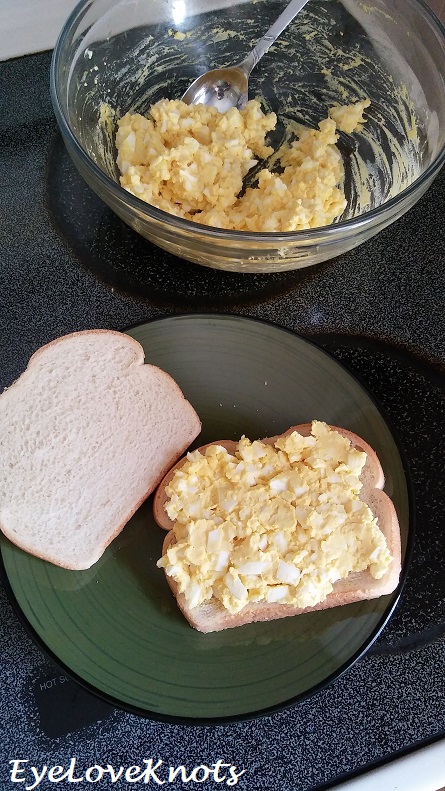 Spread egg salad onto bread, and enjoy!
Please DO NOT claim this recipe as your own nor should you sell my recipe, and DO NOT re-publish my photos as your own. DO NOT copy and paste my recipe anywhere, link to it instead.
Join the EyeLoveKnots Crafting Community on Facebook to share your creations, and see what others are up to!
Linked Up To…
Nifty Thrifty Sunday #354 – Meet Our Life
Craft Schooling Sunday – Creative Jewish Mom
Creative Mondays Linkup – Claire Justine
Handmade Monday #95 – Sum of their Stories
Merry Monday Link Party #224 – A Wonderful Thought
The Really Crafty Link Party #137 – Keeping it Real
Inspiration Monday – Scattered Thoughts of a Crafty Mom
Craftastic Monday Link Party – Sew Can Do
Tutorials & Tips Link Party #368 – Home Stories A to Z
The Scoop Link Party #346 – Worthing Court Blog
441st Inspire Me Tuesday – A Stroll Thru Life
Fabulous Party #235 – Lou Lou Girls
Sew It Cook It Craft It Link Party #73 – Sew Historically
{Wow Me} Wednesday #371 – Ginger Snap Crafts
Your Whims Wednesday #375 – My Girlish Whims
The Wednesday Link Party 265 – The Stitchin' Mommy
Pin Party #285 – Pin Junkie
Home Matters #204 – Domestic Deadline
Friday Frenzy Link Party – 10/5/18 – Kelly Lynn's Sweets and Treats
Pretty Pintastic Link Party #229 – Sparkle Living
Best of the Weekend Link Party – B4 and Afters
Link Your Stuff – Anniemarie's Haakblog
Snickerdoodle Create Bake Make Party #252 – Across the Boulevard