This post contains affiliate links for LoveCrochet. If you make a purchase by clicking on them, I make a small commission at no extra cost to you. Thanks for your support!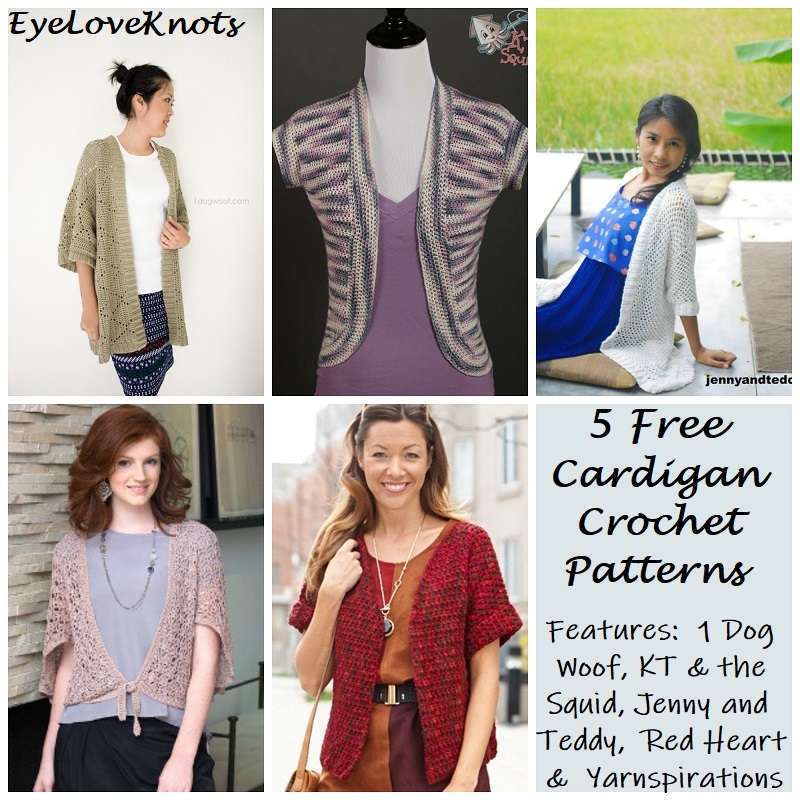 Since I shared my crochet pattern review for the Moss Cardigan last week, I thought I'd share a round up of five free cardigan crochet patterns found on AllFreeCrochet – a crochet directory. The Red Heart and Yarnspirations patterns are available right there on the site!
I did my my Moss Cardigan so I could wear it to work, so when I was seeking out the cardigans for this round up, I kept that in mind – I'd love to make any of these to wear to work. How about you? Aside from that, they are perfect for at home, or on the town as well.
Round Up: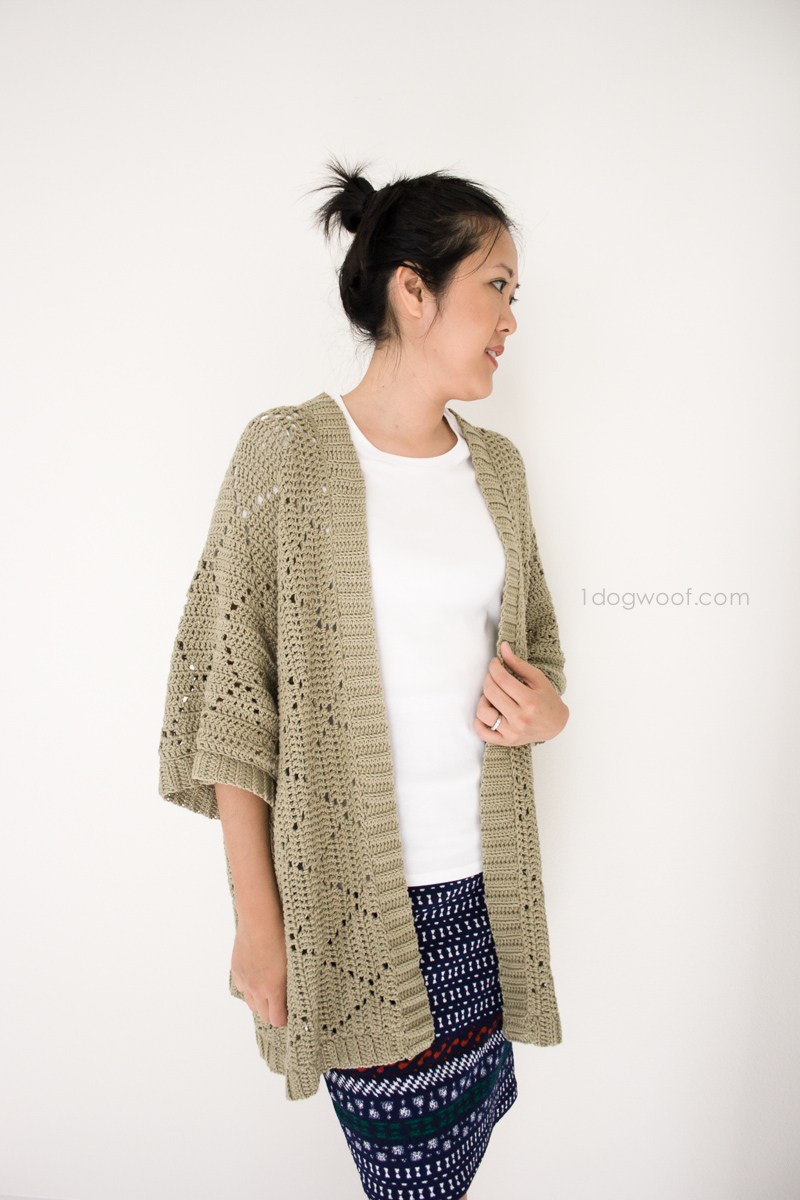 This cardigan is worked in one piece, with the collar sewn on later. Sewing may be intimidating, but with some sewing pins to help hold it in place, it really is nothing to fret over! Especially when you have the beautiful diamond pattern all worked up, and almost ready to wear. Made in a lightweight yarn, this is a nice, lightweight design perfect for any time of the year.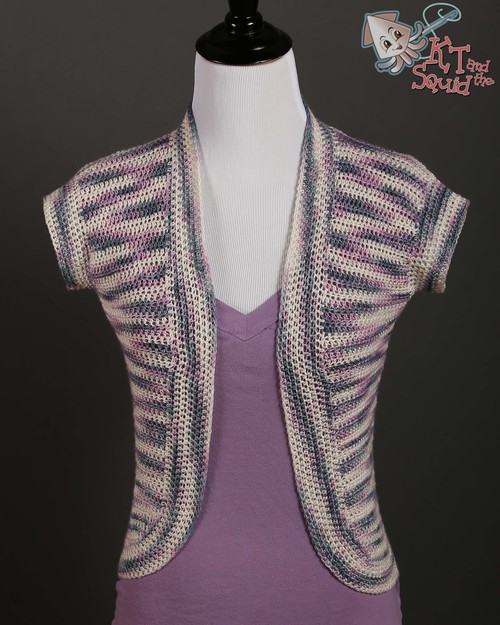 I actually own the crochet pattern for this design. I am a little embarrassed to admit that I've had it for such a long time now, and haven't pulled it out to work on it. I love the simple design of this cardigan that is really taken off the top with the variegated yarn. It requires a fingering weight yarn (probably why I haven't made it). Maybe check out Katy's Squid Sock Yarn line?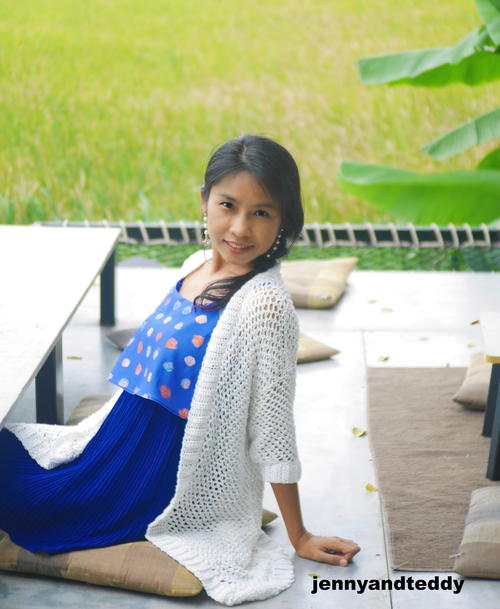 This is such a classic piece, but I love the twist of the mesh pattern – almost reminds me of a knitted duster, but it's all crocheted! It's worked in Lion Brand's new 24/7 Cotton, making it perfect for warm weather, but feel free to splurge a little with Berroco's Modern Cotton DK, or work a warmer cardigan for cooler weather using Berroco's Vintage DK. Photos along the way showing assembly.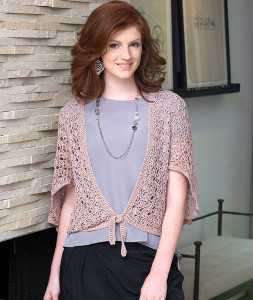 This cardigan is worked in two strands of bamboo thread! Yikes, that is a little intimidating to me, but I have really been wanting to try some bamboo yarn, and the design is gorgeous, so I am definitely keeping this one on the list. Love how it is open in the front, but ties at the bottom. Pattern is available right on AllFreeCrochet's site linked under the photo.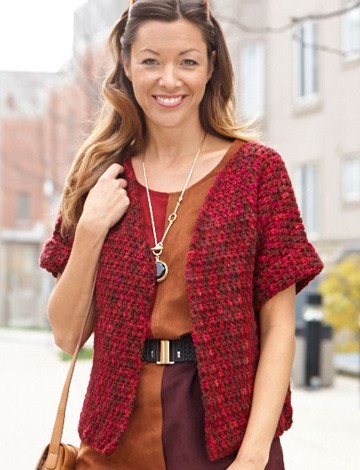 Here's another beautiful, simple design that really lets the yarn speak. This one uses Caron's Simply Soft Paints, but imagine a hand dyed yarn in it's place! Katy (from KT and the Squid a few cardigans up) also has some really lovely Squid Worsted Weight Yarn. Looks like it's a fairly quick cardigan to work up with basic shaping – I might end up with a few in a few different colorways. Especially with the rolled sleeves – love! Pattern for this one is also available right on AllFreeCrochet's site linked under the photo.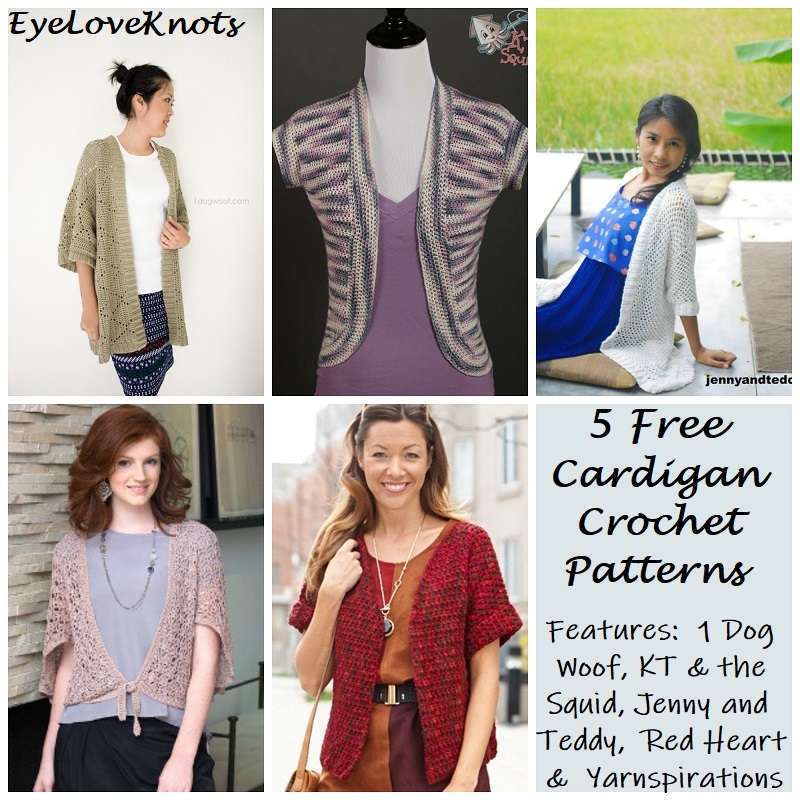 And there you have it! 5 Free Cardigan Crochet Patterns you can wear to work, or out and about town. Which one has caught your eye?
Join the EyeLoveKnots Crafting Community on Facebook to share your creations, and see what others are up to!
Linked Up To…