This post contains links to my free crochet patterns including a crochet wreath base pattern, crochet flower pattern, and crochet leaf pattern.
This post contains affiliate links for Consumer Crafts and LoveCrochet. If you make a purchase by clicking on them, I make a small commission at no extra cost to you. Thanks for your support!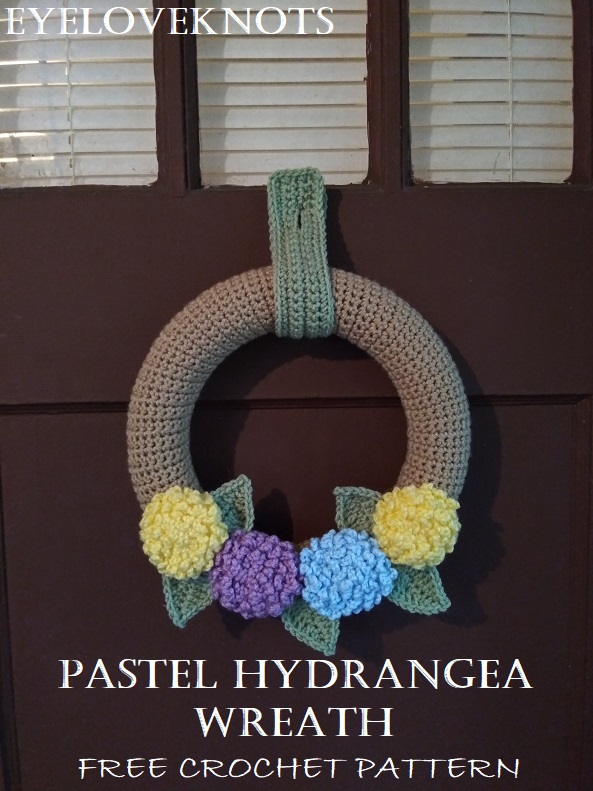 It's time again for the Inspire My Creativity Challenge! This is a monthly craft blog hop, and each month, there is a different theme. This month's theme is Pastels, the colors, not the medium. If you have a post that fits that theme, feel free to link up too!
First off, I want to apologize for the quality of my photos. I upgraded my phone, and the camera on it is disappointing, and I didn't have enough time for any kind of back up plan, so I hope to retake some photos after I figure out how to work my actual camera, but for now, sorry!
On to my wreath's story! I love the Hydrangea flower, as you might be able to tell – being that I recently designed a Endless Summer Hydrangea Tote Bag, and shared the Frilly Flower inspired by the Hydrangea flower. I have several more ideas I'd like to share too!
So this wreath is a pastel version of my take on the popular Hydrangea wreaths you may have seen on Etsy and Pinterest.
I am pretty proud to say that all but the blue yarn came from my stash, so this project only cost me $3ish to make. Score!
I will say this is a project post, but the actual patterns have been previously published on my blog, so I will be linking to them (so Google doesn't penalize me for duplicate information).
Materials:
300 Yards of Worsted Weight Yarn – I used Red Heart's Super Saver in Warm Brown for the base, Light Sage for the leaves, and for the flowers, Lemon, Light Blue and Orchid
H8/5mm Crochet Hook
Tapestry Needle
12″ Styrofoam Wreath Base – I used a white Floracraft one I found at my local JoAnn's
Material Notes:
Yarn Alternatives:Caron's One Pound, Bernat's Super Value, Crafters Secret
Time Spent:
This wreath came together in around four hours.
The wreath base cover will take the longest at just over two hours. Each flowers takes about 20 minutes to stitch and sew up, and the leaves are 5 minutes each.
Measurements:
12″ Wreath
Adsense:
Tutorial:
Firstly, you will need to gather your wreath base color (I used the Warm Brown), and styrofoam wreath form, and head over to my Basic 12″ Wreath Form Cover Free Crochet Pattern, found here on the EyeLoveKnots blog.
Once finished, time to start your flowers and leaves! I used my Frilly Flowers Free Crochet Pattern to work up four flowers – two in Lemon, one in Light Blue and one in Orchid, then I completed five leaves using the Light Sage and my Basic Leaf Pattern 2 Ways withOUT the vein.
I also used the Light Sage to make a Wreath Hanger – this is optional depending on how you will hang your wreath.
Wreath Hanger:
Chain 43. SC into the 2nd chain, and each chain across. (42 SC)
R2: Chain 1, turn. SC into the 1st 4 SCs, chain 4, skip the next 4 SC, SC into the next 26 SC, chain 4, skip the next 4 SC, SC into the last 4 SC. (34 SC)
R3: Chain 1, turn. SC into the 1st 4 SCs, work 4 SC into the chain space, SC into the next 26 SC, work 4 SC into the next chain space, SC into the last 4 SC. (42 SC)
R4: Chain 1, turn. SC into the 1st SC, and each across. (42 SC)
Border: Chain 1, but don't turn. SC into the side of Row 3 (this is the same stitch as the last), and into the side of Row 2, and then Row 1, work 3 SC into the next stitch – corner, working into the opposite side of the foundation chain, SC into the next 40 stitches, work 3 SC into the next stitch – corner, SC 3 into the next side, work 3 SC into the next stitch – corner, SC across into the next 40 stitches, work 3 SC into the next stitch – corner. Join to the first SC. (92 SC)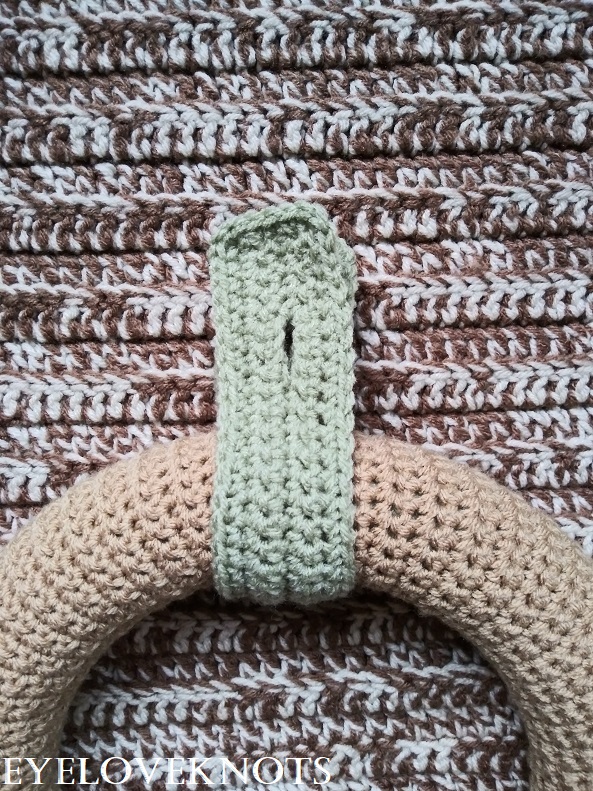 Weave in ends, and set aside. This wreath hanger is used to hang on a wreath hanger. The open ends will be at the top, and the slit is where the loop of the wreath hanger will be placed through.
Assembly: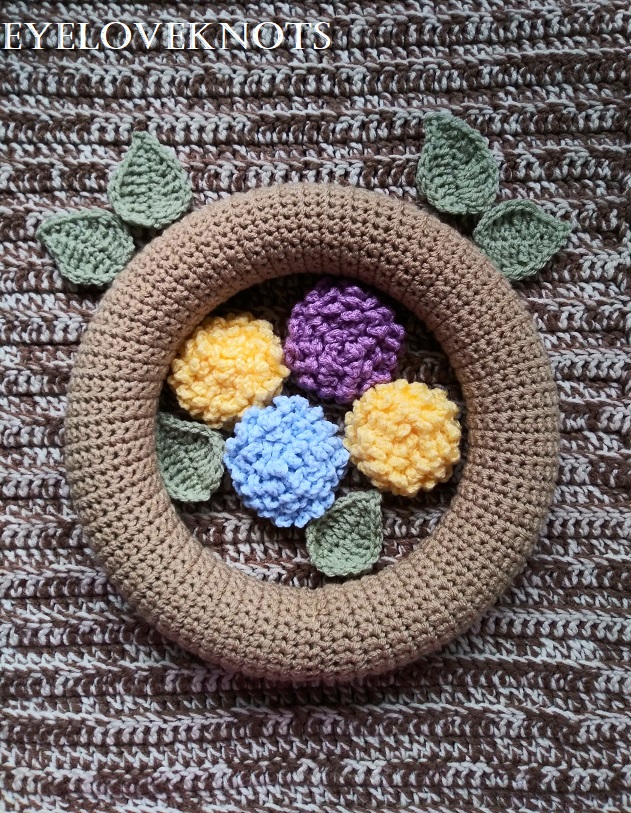 Your wreath base should already be sewn closed on the styrofoam base.
Decide where to place your flowers and leaves. Before hot gluing in place, just lay them down on top of the wreath base, and move around until you have found the perfect spots for them. I suggest using them to cover up the seam from sewing the two ends together of the wreath form cover (or you can use your wreath hanger to cover the seam up).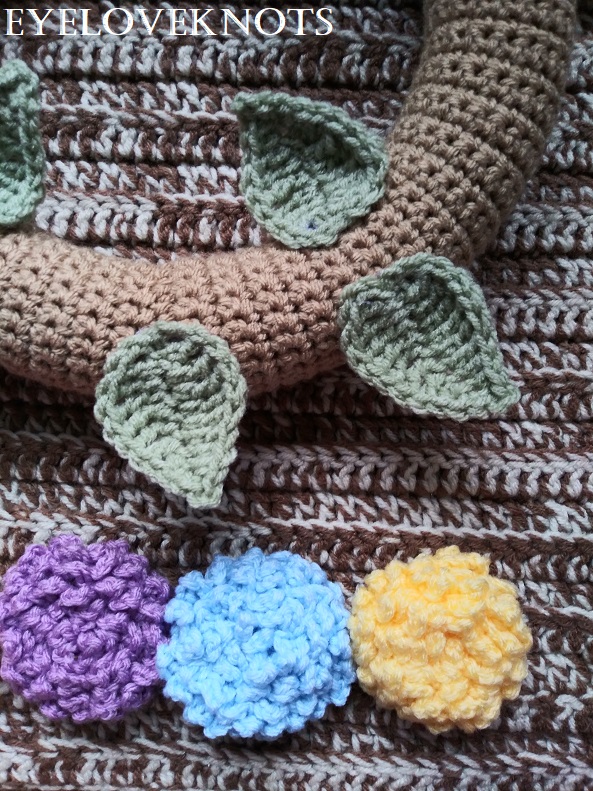 I find it easiest to glue my leaves down in place first. After settling on my design, I carefully remove one flower, tack the leaves in place with my hot glue, and work across, then I go back, and secure my leaves on better. If you want more security while you work, you can use some sewing pins to keep your leaves in place.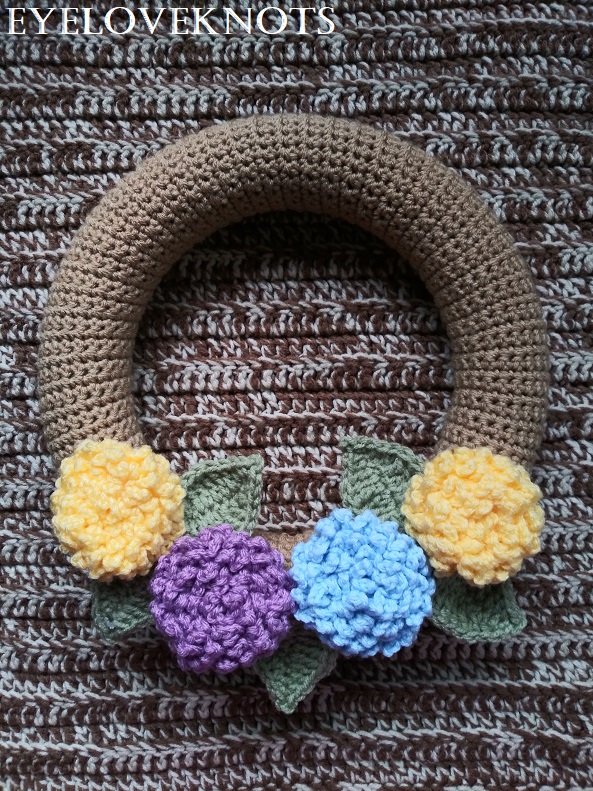 Add in the flowers, and you have a beautiful Pastel Hydrangea Wreath! Perfect for Spring and Easter porch decorating.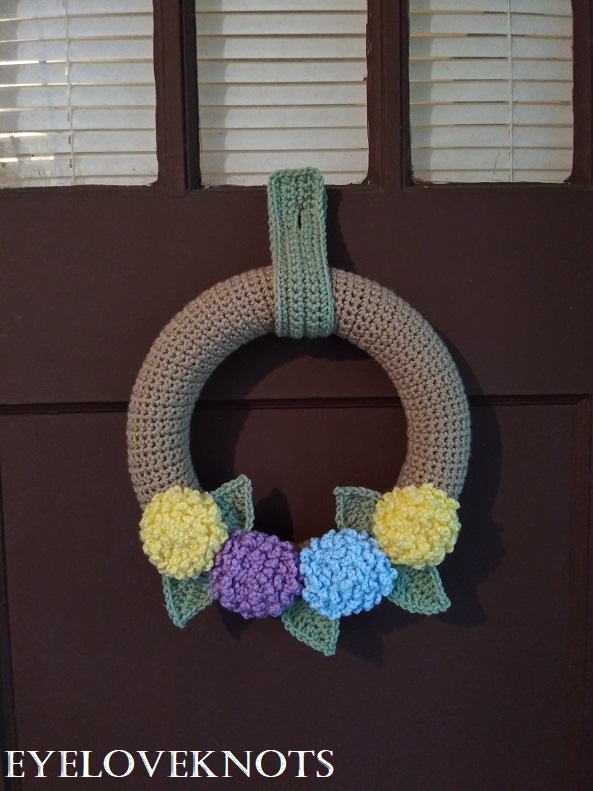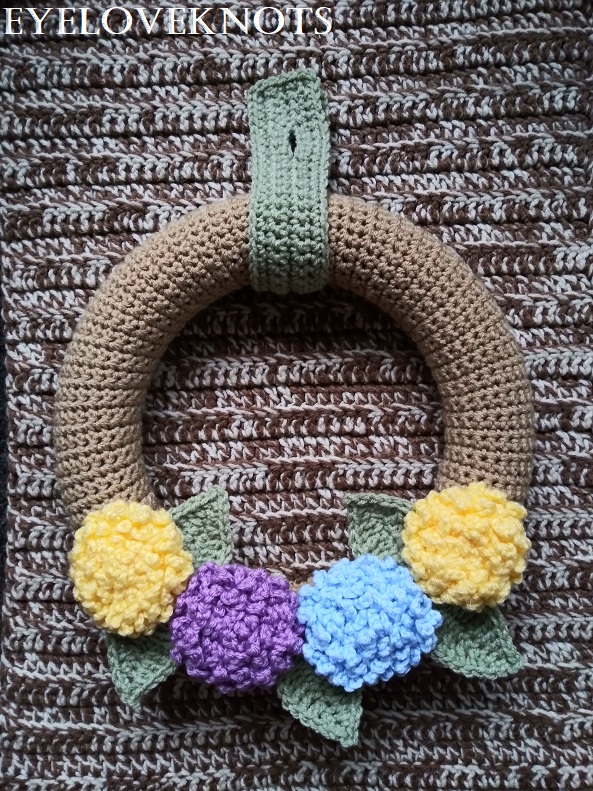 Please feel free to make and sell your own Hydrangea Wreaths using this pattern, but please DO NOT claim this pattern as your own nor should you sell my pattern, and DO NOT re-publish my photos as your own. DO NOT copy and paste my pattern anywhere, link to it instead.
Join the EyeLoveKnots Crafting Community on Facebook to share your creations, and see what others are up to!
Linked Up To…
Ginx Woolly Linx Party April – Ginx Craft
Tutorials & Tips Link Party #389 – Home Stories A to Z
496th Inspire Me Tuesday – A Stroll Thru Life
Fabulous Party #263 – Lou Lou Girls
Sew It Cook It Craft It Link Party #100 – Sew Historically
The Linky Ladies Party #156 – The Purple Poncho
Funtastic Friday 224 – Olives n Okra
Best of the Weekend – Calypso in the Country
Link Your Stuff – Annemarie's Haakblog
Snickerdoodle Create Bake Make Link Party #280 – Across the Boulevard
In Stitches Party #34 – Nicki's Homemade Crafts
Craftastic Monday Link Party – Sew Can Do
Creative Monday – i should be mopping the floor
The Really Crafty Link Party #166 – Keeping it Real
Merry Monday #247 – A Wonderful Thought
Creative Mondays Link Up – Claire Justine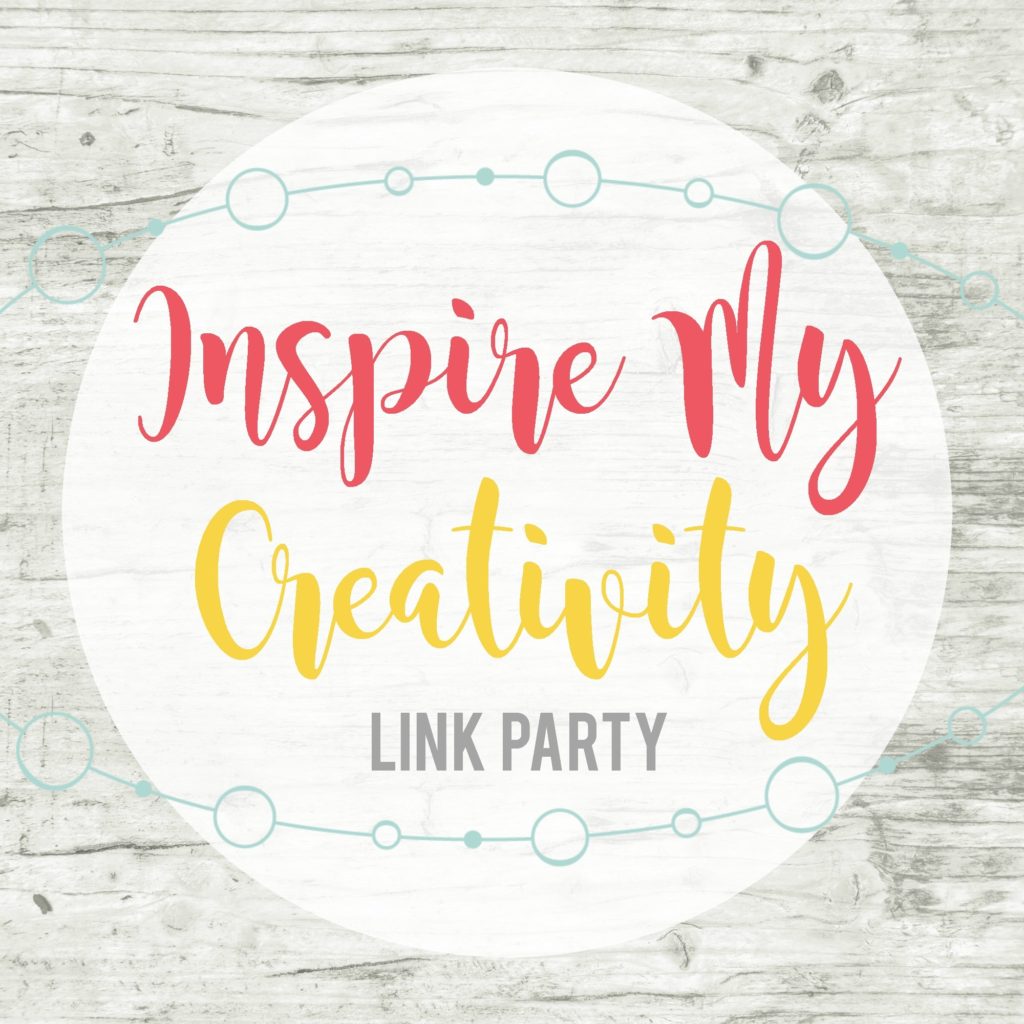 This post is part of the monthly link party I host called Inspire My Creativity. Each month, a group of bloggers all create a project based around a theme and this month the theme is PASTELS (the color/s). There are tons of great ideas and I know you'll get inspired to create something fun and new!
Your Co-Hosts
Shani | Sunshine & Munchkins — Meg | See The Happy
Christine | Swordfights & Starry Nights — Candice | She's Crafty
Julia | The Quiet Grove — Marie | The Inspiration Vault
Brooke | My Beautiful Mess — Heather | Glitter On A Dime
Rachel | Adventures of a DIY Mom — Jenny | Cookies, Coffee and Crafts
Anna | Practical and Pretty — Keala | Recipe For A Sweet Life
Carmen | Living Letter Home — Cathy | A Boy and His Mom
Sarah | The Strawberry Nest — Adree | The Keele Deal
Aimee | Things Small and Simple — Alexandra | EyeLoveKnots
If you have a post that fits, feel free to link up too! Link up will stay live for two weeks.