This is a recipe to make Alexandra's Maple Walnut Cookies! They are soft, chewy and delicious with a hint of two Fall flavors.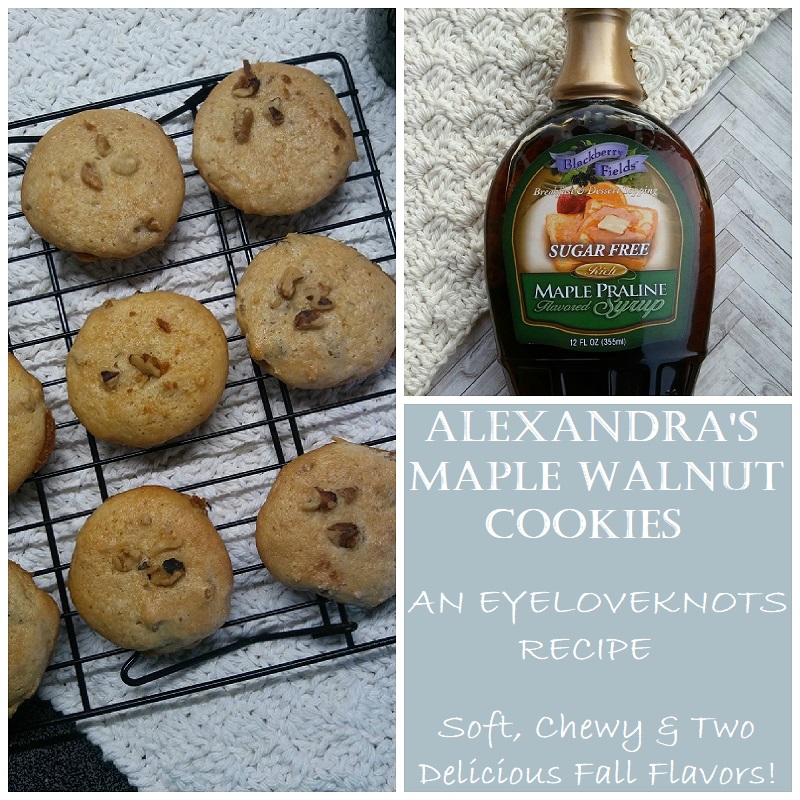 Around this time last year, I shared my Basic C2C Washcloth (Free Crochet Pattern). This year, I wanted to work up a hand towel version in one of my favorite colors, Ecru [cream]. When I was planning it out, I got to thinking about how I would photograph it in use, and then I thought of these Maple Walnut Cookies! It's been a while since I got in the kitchen, and did some baking, so I was really looking forward to the crochet project, and recipe.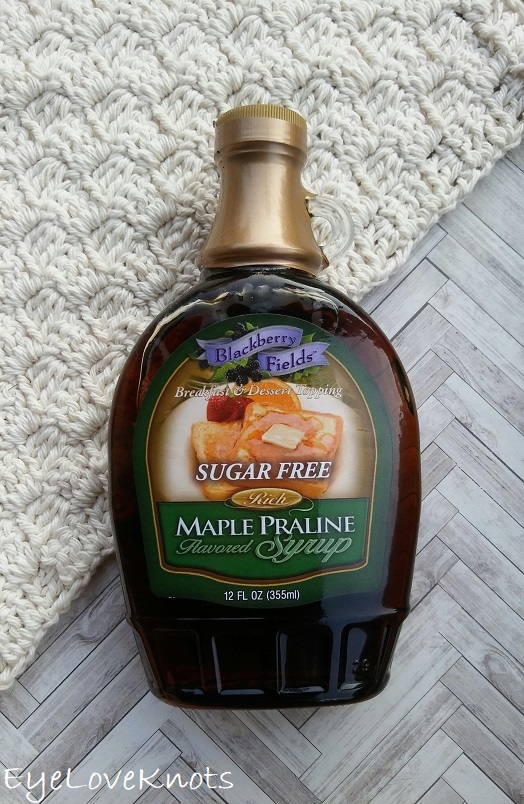 These cookies start with cake mix as the base (I love how soft the cookies come out, and how easy it is to use), then among the ingredients mixed with it is ooey, gooey maple syrup. When I was at Winn-Dixie for our monthly grocery shopping trip, I checked out the syrup section, and found a sugar-free Maple Praline syrup – sold!
Since my husband doesn't like Walnuts, I halved the mixture, and put the Walnuts into one of them, and baked the rest as is. When we were taste testing them, he said it reminded him of pancakes, and that they should be served with more maple syrup for dipping, hehe.
In my original recipe, I used only 1/3 cup of syrup, and while I was pleased with the taste of the dough, some of the flavor baked out and I was longing for more maple flavor, so I upped it to 1/2 cup in the recipe. Thinking about it now, it could have been because my syrup was sugar free, so I will have to test this recipe out with regular maple syrup in the future to see (or please leave me a comment with your experience!).
In the end, I got some delicious Fall inspired cookies, and some nice shots of my new crocheted hand towel in action.
Want more Cake Mix cookie recipes? Check out Alexandra's Soft & Sweet Sugar Cookies.
Makes:
30 Cookies
Baking Time:
Roughly 1 hour, 45 minutes
Break down: [10 Minutes Prep + 30 Minutes Before Baking + 20 Minutes to Bake (x 3) + 2 Minutes to Cool (x 3)]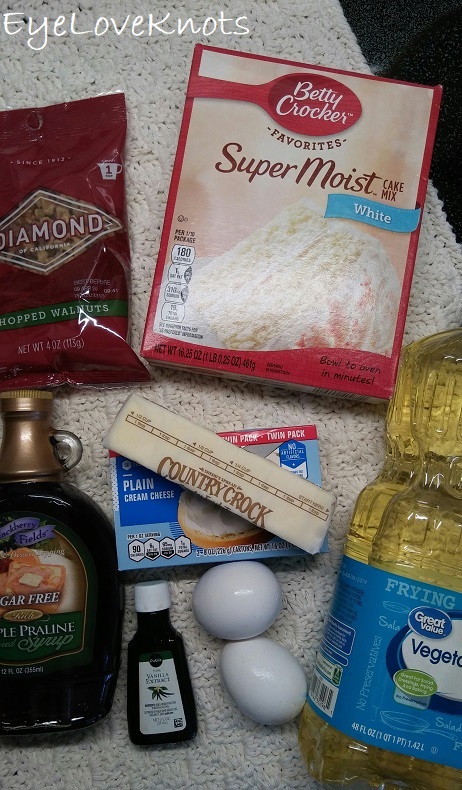 Ingredients:
1 Box of Vanilla Cake Mix – I used Betty Crocker's White Cake Mix
1 Stick of Butter (or 8 Tablespoons), Softened
2 Eggs
1 Teaspoon of Vanilla Extract
4 oz of Cream Cheese, Softened – this is half a rectangle
1/2 Cup of Maple Syrup – I used some Maple Praline flavored by Blackberry Fields that I found at my local Winn-Dixie.
1/3 – 2/3 Cups of Chopped Walnuts
You'll Also Need:
Mixing Bowl
Mixer/Spoon/Spatula for Mixing Ingredients
Measuring Cup and Spoons
Pam, or Butter and Flour
Cookie Sheet
Optional, Cookie Scoop
Optional, Aluminum Foil
Plate or Cooling Rack for Cookies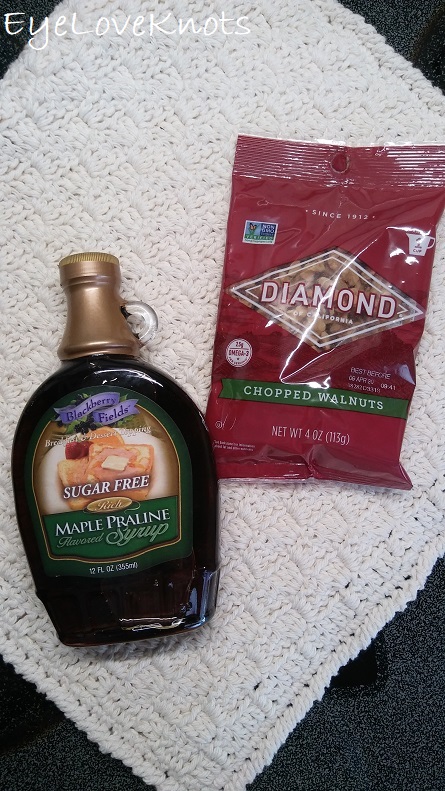 Ingredient Notes:
VEGETABLE OIL: It is in the photo of my ingredients, but not used in the recipe. Not sure what I was thinking when I put it in there, haha.
CAKE MIX: Pillsbury and Betty Crocker cake mix cookies are less cakey. I have found that Duncan Hines cake mix cookies are more like little bits of delicious cake (I love their French Vanilla!).
WALNUTS: My husband does not like Walnuts, so I only put them into have of the mixture (hence the range). If you do use them, make sure to refrigerate your leftover Walnuts.
FOIL: Great for easy clean up!
Recipe:
Step 1: Mix the cake mix, butter eggs, vanilla, cream cheese and maple syrup until a soft dough forms.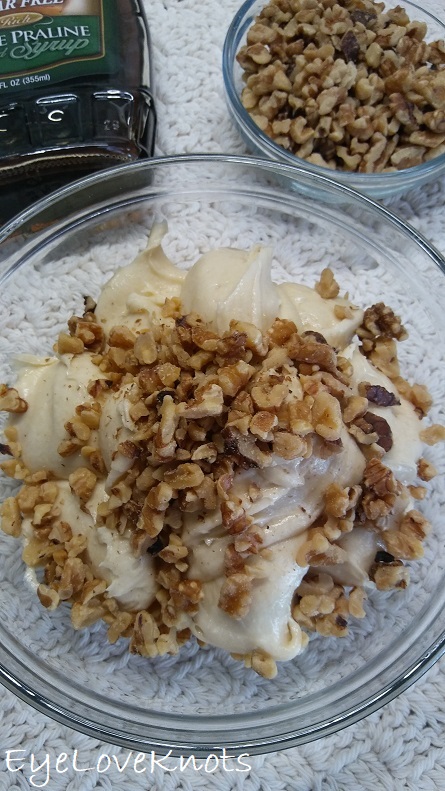 Step 2: Add in walnuts, if desired.
Step 3: Pre-Heat the oven to 350 degrees – mine takes 6 minutes, so I did it in the last 6 minutes of the dough being in the fridge (#3).
Step 4: Refrigerate the cookie dough for at least half an hour.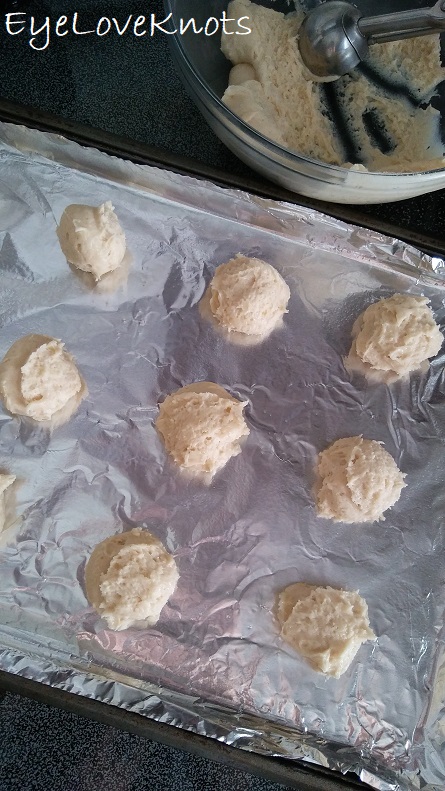 Step 5: Scoop out 12 cookie balls – I did not roll my cookies this time because the maple syrup made the dough very sticky, so I just scooped the cookie balls right out of the bowl, and dropped them onto the cookie sheet. Place unused dough back in the fridge.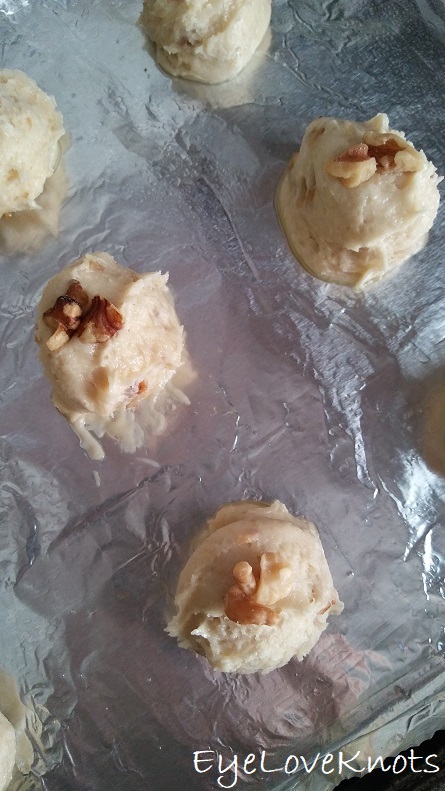 Step 6: If you put walnuts into your mixture (#2), sprinkle a few onto the top of your cookie balls. I don't think there is a science to this – my walnuts moved around as the cookies baked, so even though I placed them on the top center, some didn't end up here.
Step 7: Bake cookies for 20 minutes! They will turn out soft, and chewy.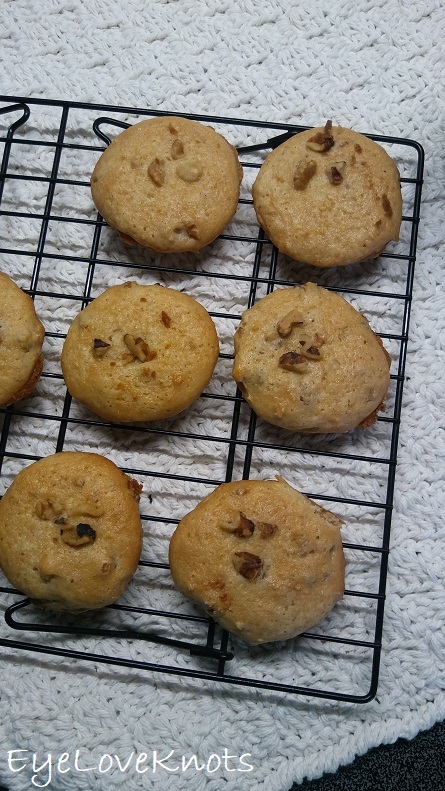 Step 8: Let cookies cool on cookie sheet for 2 minutes, then move to a plate, or cooling rack.
Step 9 – 12: Repeat steps 5 and 8.
Store finished cookies in an air-tight container on the counter.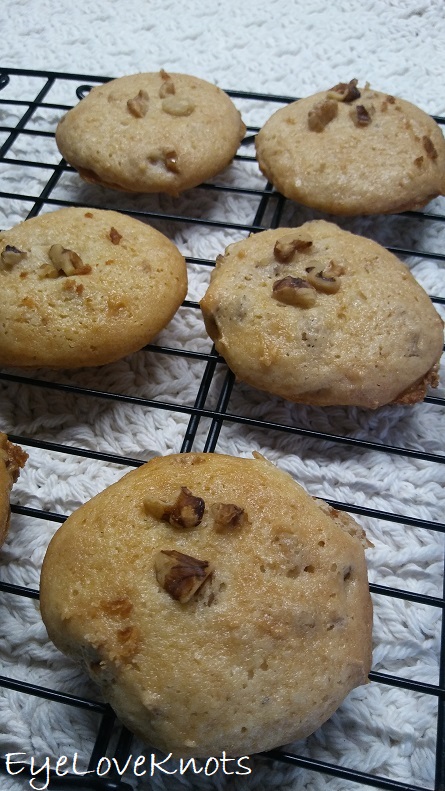 Please DO NOT claim this recipe as your own nor should you sell my recipe, and DO NOT re-publish my photos as your own. DO NOT copy and paste my recipe anywhere, link to it instead.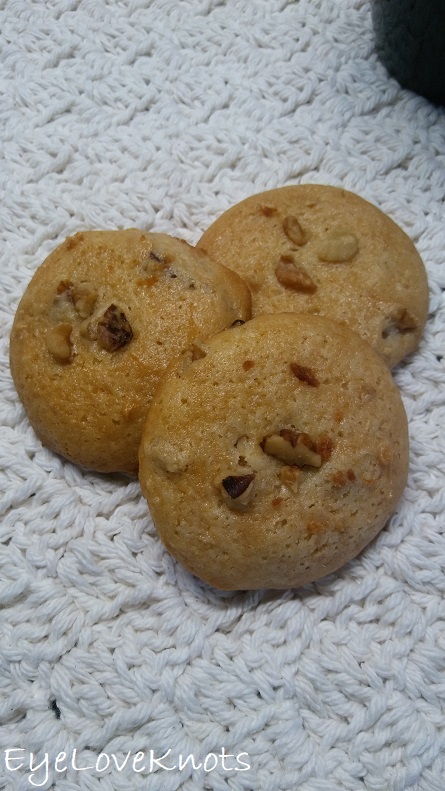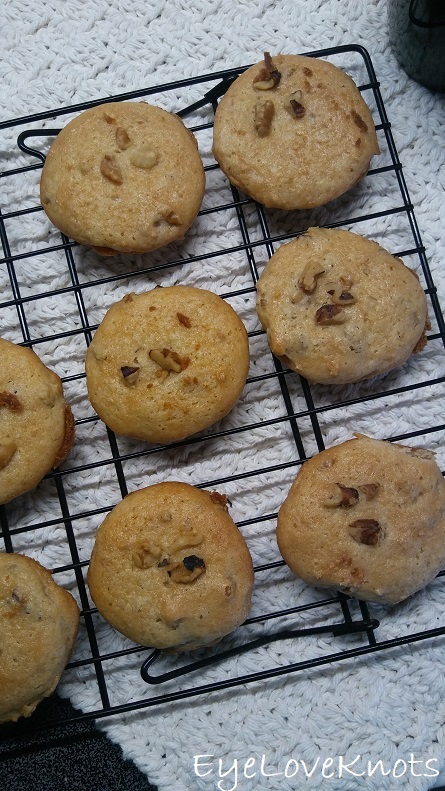 Join the EyeLoveKnots Crafting Community on Facebook to share your creations, and see what others are up to!
Linked Up To…
The Weekly Linkup – Claire Justine
Handmade Monday #146 – Sum of their Stories
The Really Crafty Link Party #188 – Keeping it Real
Craftastic Monday Link Party – Sew Can Do
Little Cottage Link Party #22 – Love my Little Cottage
Fabulous Party #288 – Lou Lou Girls
Craft Schooling Sunday – Creative Jewish Mom
Tutorials & Tips Link Party #408 – Home Stories A to Z
All About Home Link Party #9 – Common Ground
519th Inspire Me Tuesday – A Stroll Thru Life
Project Inspire{d} Link Party #344 – The How-to Home
Tuesday Turn About #20 – My Wee Abode
{Wow Me} Wednesday #324 – Ginger Snap Crafts
Your Whims Wednesday #428 – My Girlish Whims
The Wednesday Link Party #316 – The Stitchin' Mommy
To Grandma's House We Go Link Party #161 – Chas' Crazy Creations
Waste Note Wednesday Link Party #176 – Faeries and Fauna
Pin Party #337 – The Pin Junkie
Thursday Favorite Things – An Artful Mom
Home Matters #254 – Modern on Monticello
Handmade & Otherwise Weekly Link Up Week 20 – Petals, Pies & Otherwise
Best of the Weekend – Calypso in the Country
Link Your Stuff – Annemarie's Haakblog
Snickerdoodle Create Bake Make Link Party 305 – EyeLoveKnots
Create, Bake, Grow & Gather Party #388 – Shabby Art Boutique
What's for Dinner Sunday Link Up #122 – Lazy Gastronome