How to Make Pumpkin Spice Flavored Coffee with your Favorite Coffee Blend!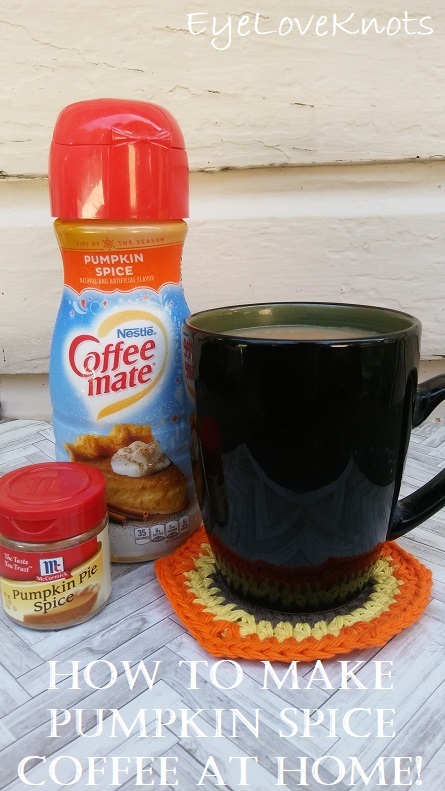 So, back in August, I found some Pumpkin Spice coffee from my favorite coffee brand, New England Coffee, at my local Publix – see on Instagram, and I was sooooo excited to try it, but I wanted to wait until the coffee went on a BOGO sale.
I kept going back to check, and would look at the coffee each time, but still I waited, until finally I went back a couple weeks ago, and it was on sale! But to my disappointment, all of the Pumpkin Spice was SOLD OUT!! Ugh!
I decided right then and there that I was going to make my own Pumpkin Spice coffee at home. You only need a couple things to do this, and that includes your favorite coffee brand that is already sitting in your cupboard!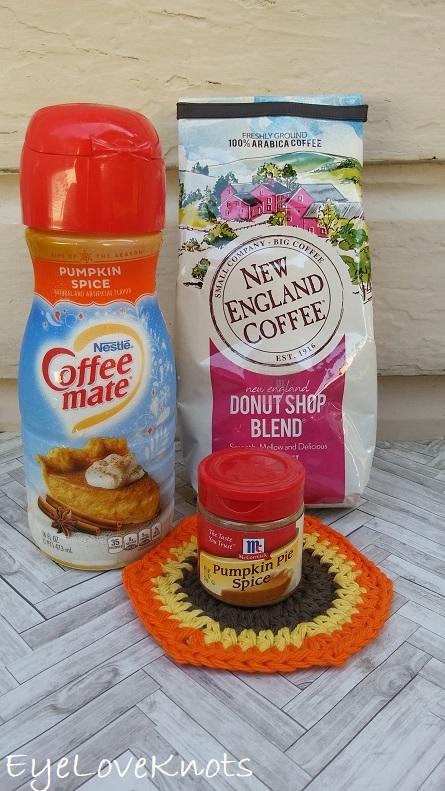 Stop #1 – Pumpkin Pie Spice
I went to the baking aisle, and picked up some Pumpkin Pie Spice. It's usually a small little container, and around $5.
Alternatively, you can make your own spice at home with a combination of cinnamon, nutmeg, allspice, cloves, and ginger but I find it cheaper, and easier to buy it all together.
Stop #2 – Pumpkin Spice Coffee Creamer
I went to the milk aisle, and picked up a small container of Pumpkin Spice Creamer. This is optional depending on the flavor you are looking for.
If you want a real pumpkin flavored spice coffee, like the very popular Pumpkin Spice Latte, then use the Pumpkin Spice Creamer, and it'll be like drinking a slice of pumpkin pie!
If you just want the spice flavored coffee, then use your preferred creamer – I like to use Hazelnut.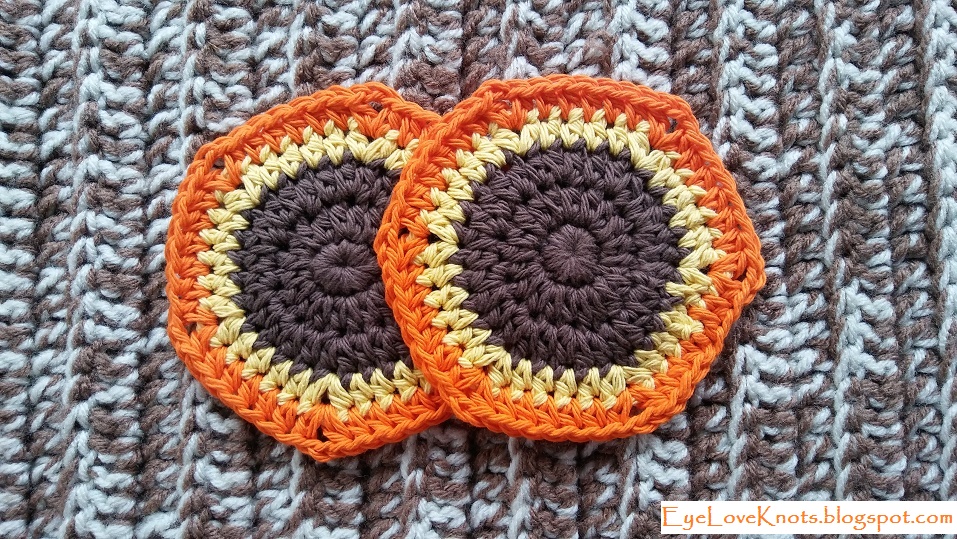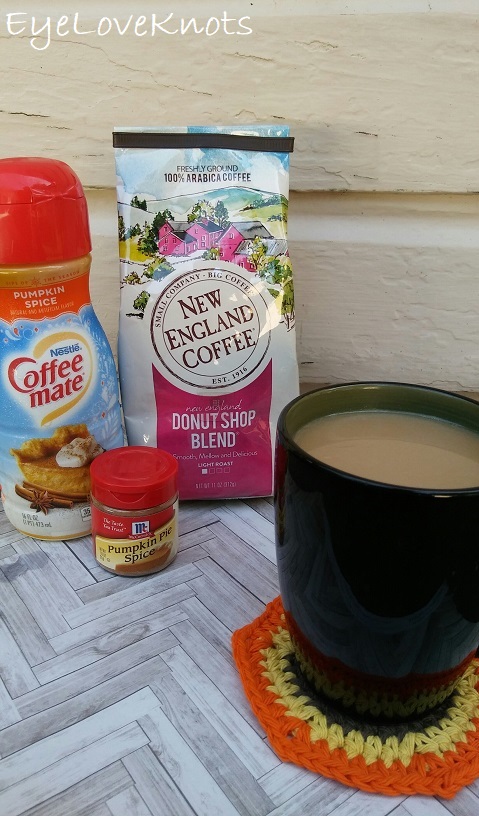 How to Make Pumpkin Spice Coffee:
Step 1: Set up your coffee grinds. For every 6 oz of water/tablespoon of coffee grinds, add 1/8 – 1/4 teaspoon of Pumpkin Pie Spice to the grinds.
I just eyeball it, but I did try 1/4 teaspoon, and it is a little much for me, so I use a little less than that.
Step 2: Add water, and brew coffee regularly.
Step 3: Creamer! Like I said, I add hazelnut creamer to my Pumpkin Spice coffee, but you can add Pumpkin Pie Spice for a delicious Pumpkin Pie flavor. One tablespoon is equal to an individual creamer (like the kind you find at the gas station, and restaurant).
Step 4: ENJOY!!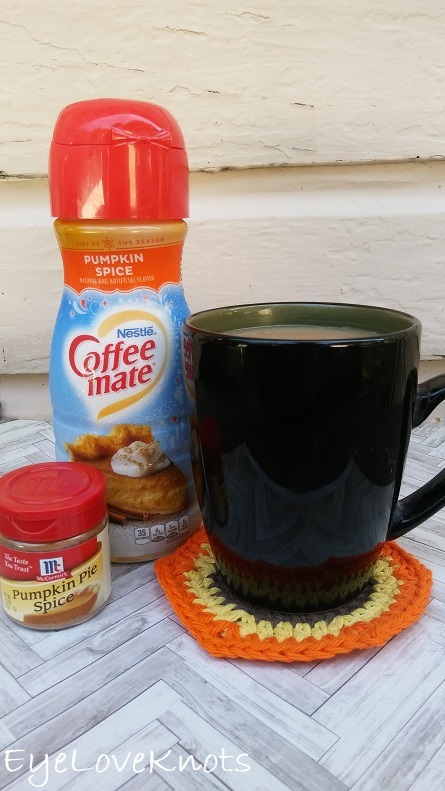 Join the EyeLoveKnots Crafting Community on Facebook to share your creations, and see what others are up to!
Linked Up To…
Craftastic Monday Link Party – Sew Can Do
Handmade Monday #154 – Sum of their Stories
What's for Dinner Sunday Link Up #129 – Lazy Gastronome
The Really Crafty Link Party #196 – Keeping it Real
The Weekly Link Up – Claire Justine
Little Cottage Link Party #30 – Love my Little Cottage
Inspire Me Tuesday – A Stroll Thru Life
Fabulous Party #296 – Lou Lou Girls
All About Home Link Party #17 – Common Ground
Talk of the Town #203 – My Repurposed Life
Tuesday Turn About #28 – My Wee Abode
{Wow Me} Wednesday #432 – Ginger Snap Crafts
Your Whims Wednesday #436 – My Girlish Whims
The Wednesday Link Party 324 – The Stitchin' Mommy
To Grandma's House We Go Link Party 169 – Chas' Crazy Creations
Waste Not Wednesday 184 – Faeries and Fauna
Creatively Crafty Link Party #200 – Life Beyond the Kitchen
Hookin' on Hump Day #204 – Moogly Blog
Scrappy Stitchers Link Party #58 – Stitches n Scraps
Pin Party #345 – The Pin Junkie
Best of the Weekend – Calypso in the Country
Handmade & Otherwise Weekly Link Up Week 28 – Petals, Pies and Otherwise
Create, Bake, Grow & Gather Party #396 – Shabby Art Boutique
The Super Fabulous Friday Linky Party #11 – A Big Green House
Home Matters #261 – Modern on Monticello
Snickerdoodle Create Bake Make Link Party #313 – EyeLoveKnots