Enjoy my 2018 Red & Gray Christmas Tree, and a little about my set up for my small home, and special ornaments!
This post contains affiliate links for Amazon. If you make a purchase by clicking on them, I make a small commission at no extra cost to you. Thanks for your support!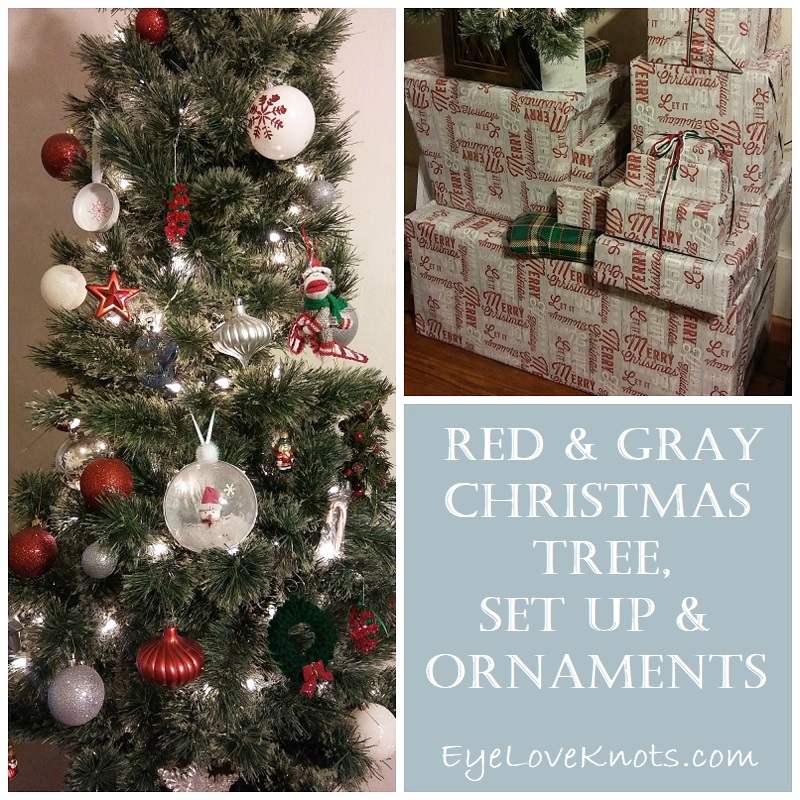 It seems every year I am too late at setting my tree up, and getting photos done to get a post up at the right time, so I decided in April to get this post together from last Christmas.
In 2017, we used our dining room table to house our small Christmas Tree, and all the gifts, and boy was it grand. I was a little disappointed with this display, but still sweet, just more simple. This year, I sat the tree up the same as 2017, so I will put together that to share next year.
My Tree Display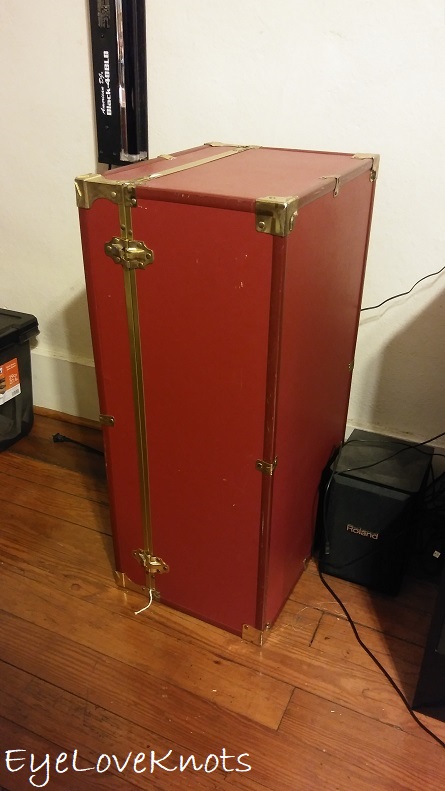 My house is very tiny, and there aren't many options for where to put the Christmas tree at – either on the table, or this small space you see above, which is between the TV and the hallway – about enough space for a bookshelf, or maybe a sofa table (one of those long, skinny ones – ya know?).
At the time, I had this trunk laying in this space, and…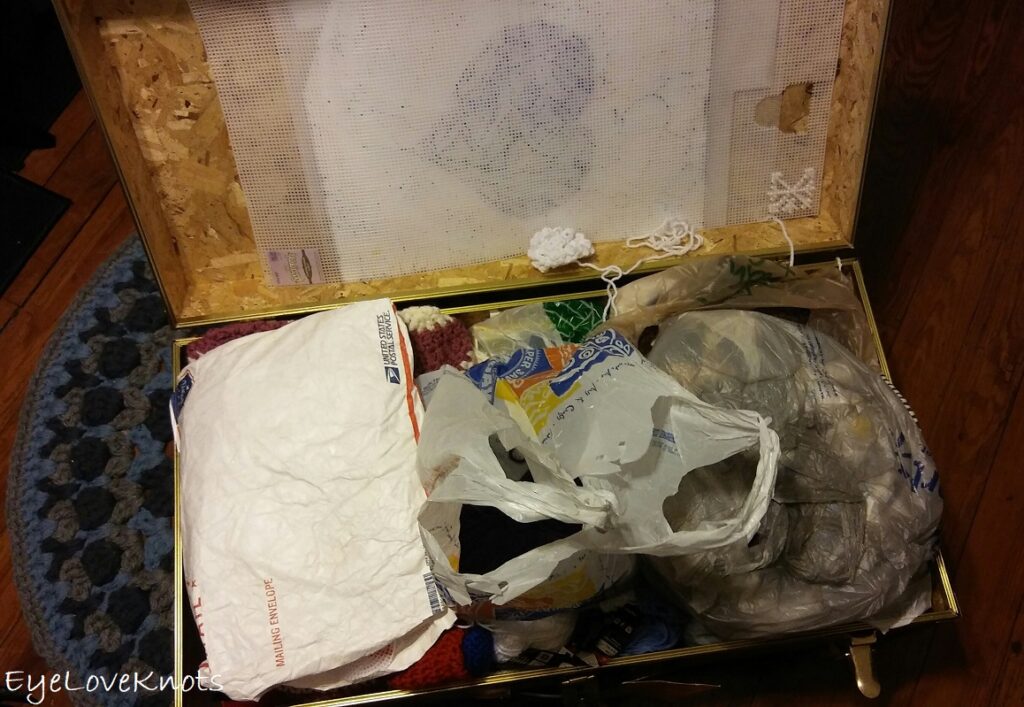 … Filled with WIPs (works-in-progress)! Old ones – ones I hadn't seen in quite some time. I had decided I was going to use the trunk standing up to give the treet he height I was looking for, so was definitely time to clean this baby out.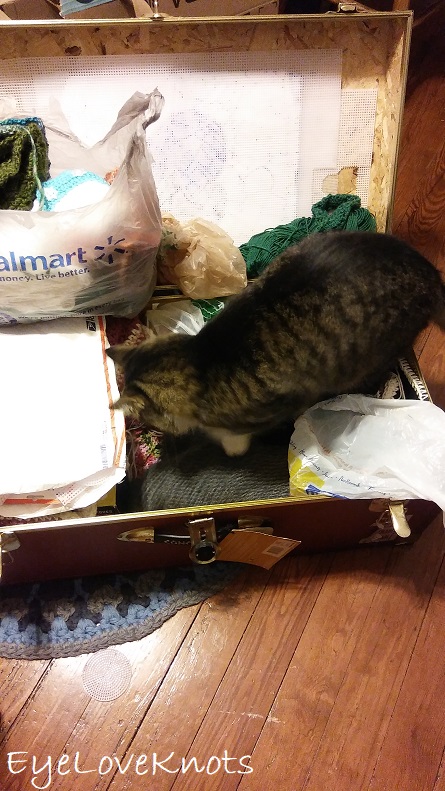 My sweet Shiloh checking it out, and pitter-pattering, hehe.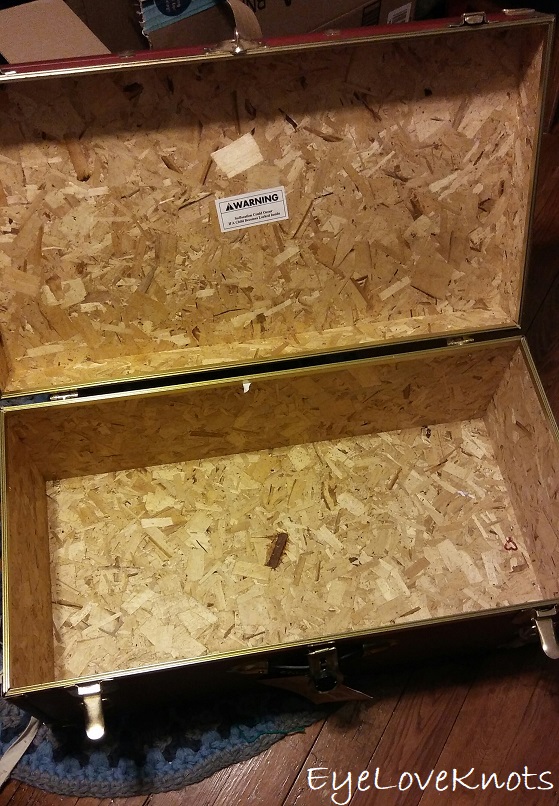 That's better!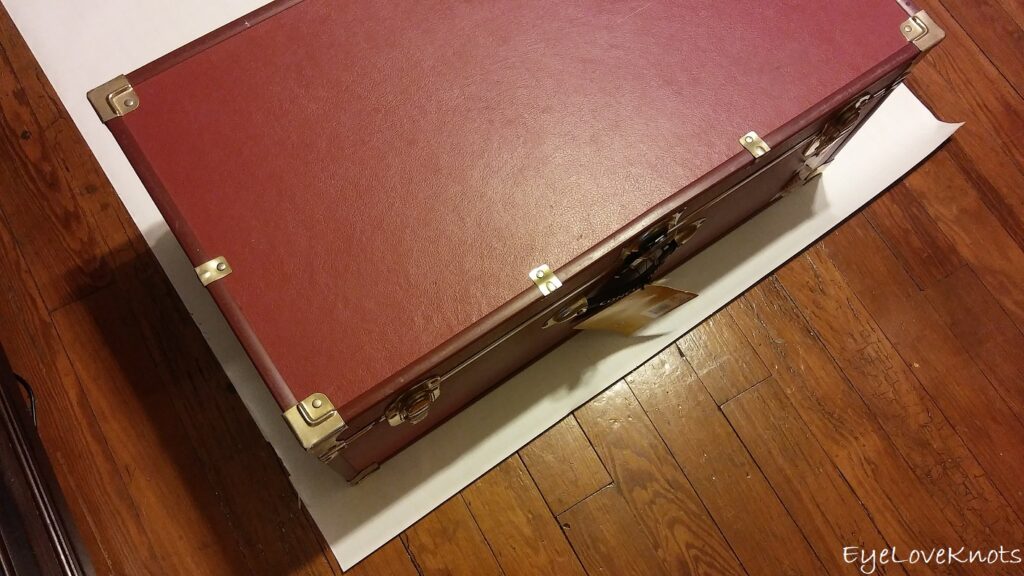 I grabbed my wrapping paper (I buy a new tube every year, and use that for all the gifts). Since it had words on it, I laid the trunk on it so the words would be right side up when the trunk would be standing. This didn't leave much space on the ends, but I figured since the bottom would be against the ground and not seen, I would just leave enough there to fold over, and make my focus the top. I changed my mind later…
My wrapping paper came from Walmart, but I found THIS really nice Bundle of 3 Red and Gray Wrapping Paper, that will go great with THESE Red and Gray Peel & Stick Bows, or THESE pretty Red and Gray Foiled Wine Bags.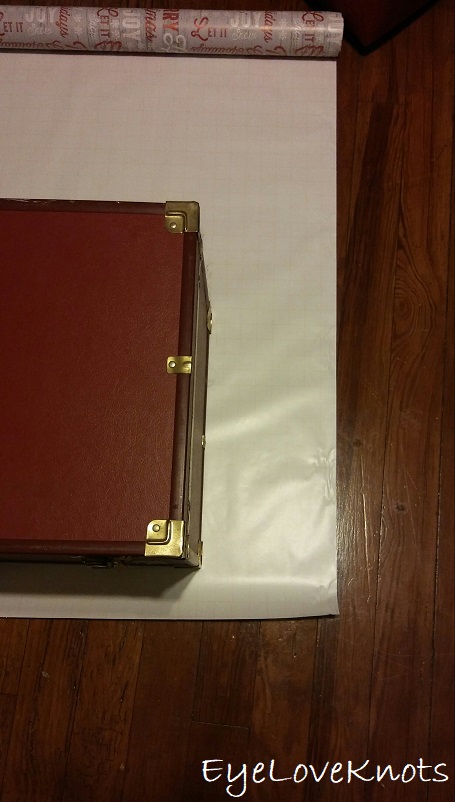 This will be the top.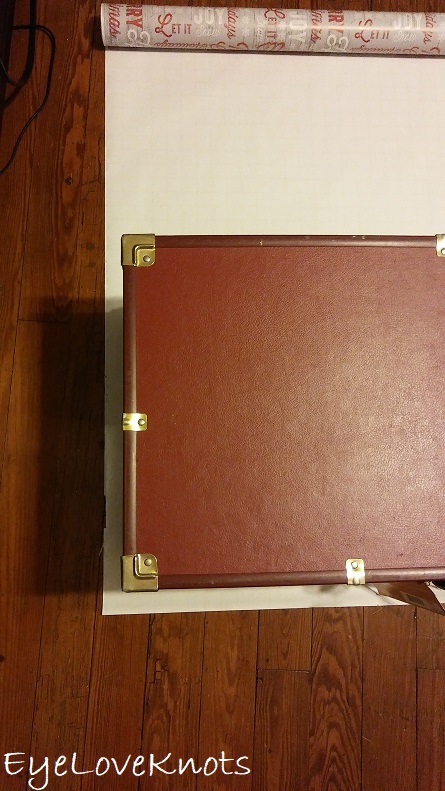 This will be the bottom.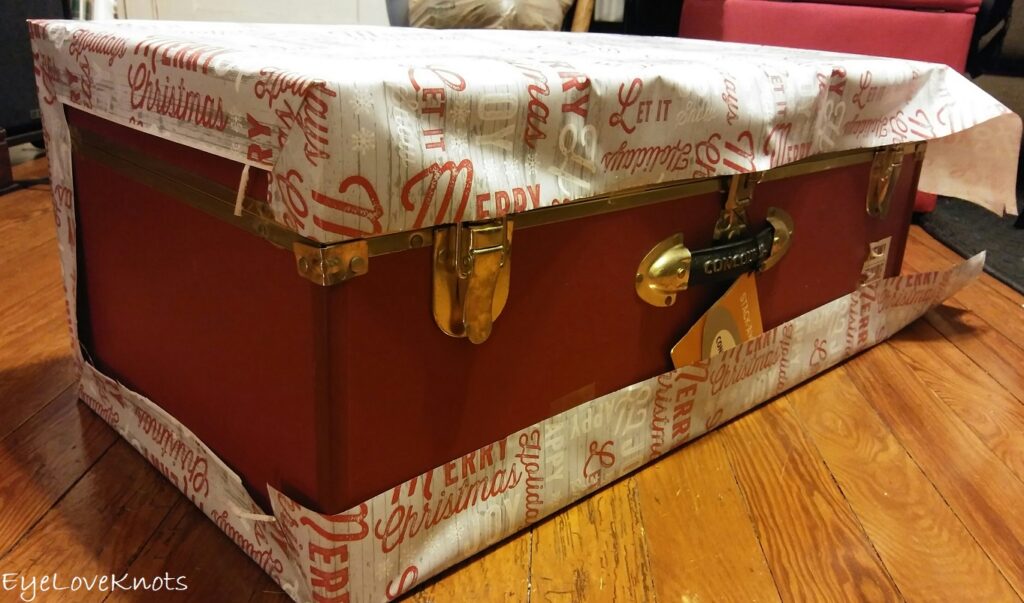 And this is what it looks like from the bottom and back – uncovered since this would be facing the wall.
Some Special Ornaments
Before we get into what the tree looked like up, I wanted to point out some special ornaments you'll find on my tree. My color scheme for the last several years has been cranberry (a dark red), silver, dark green, white, different shades of gray, and glitters in all these colors.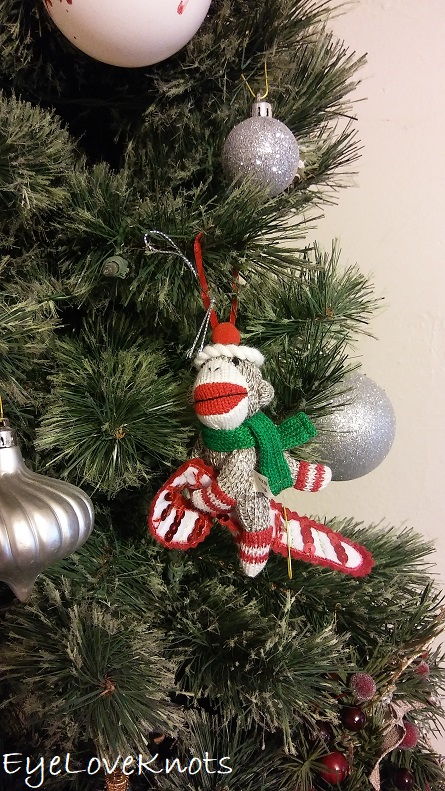 You'll find a sock monkey! He was given to us our first Christmas together.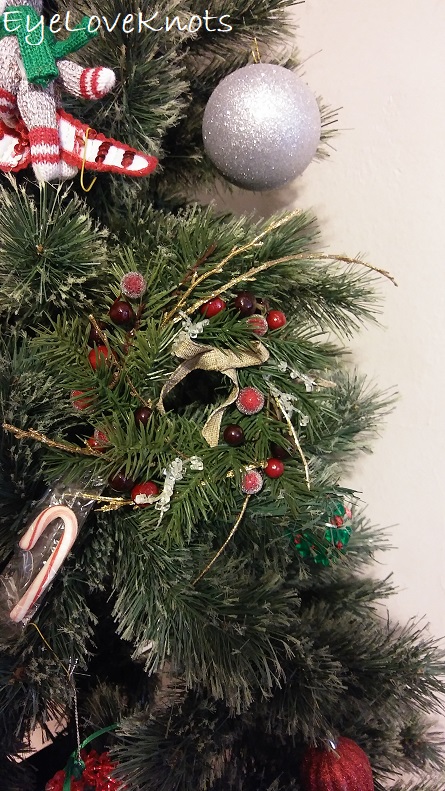 This one is a little hard to see, but it's a handmade wreath ornament that was given to me as part of an ornament exchange many years ago. It's got frosted cranberries on it.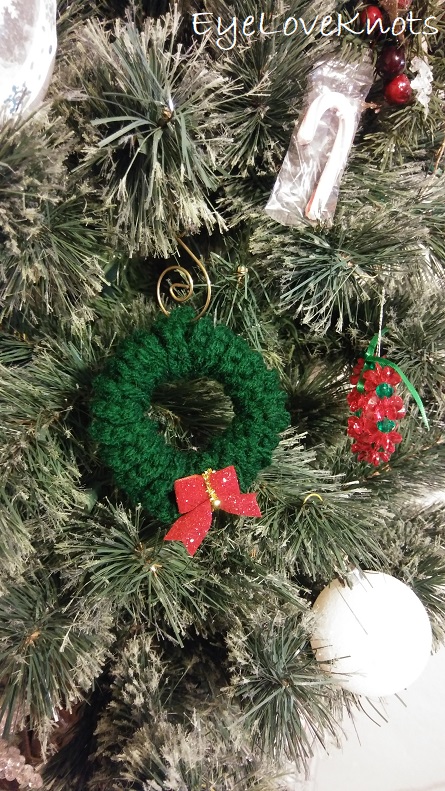 A crocheted wreath ornament! This was also given to me as part of an ornament exchange many years ago.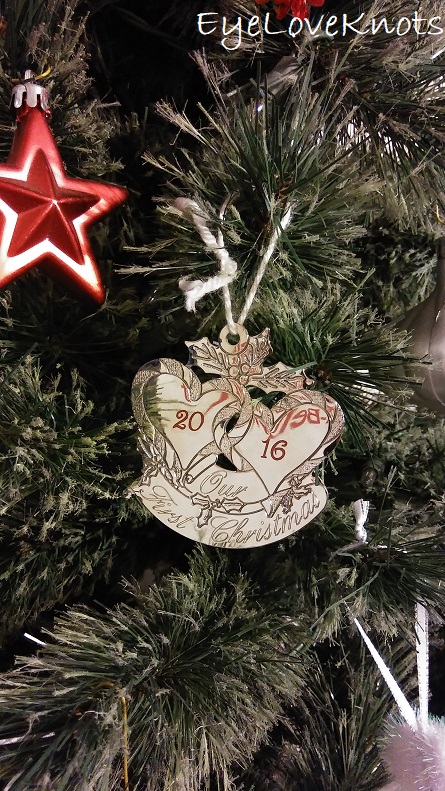 Todd and I celebrated our first Christmas together (dating) in 2016. His mom gave this to us.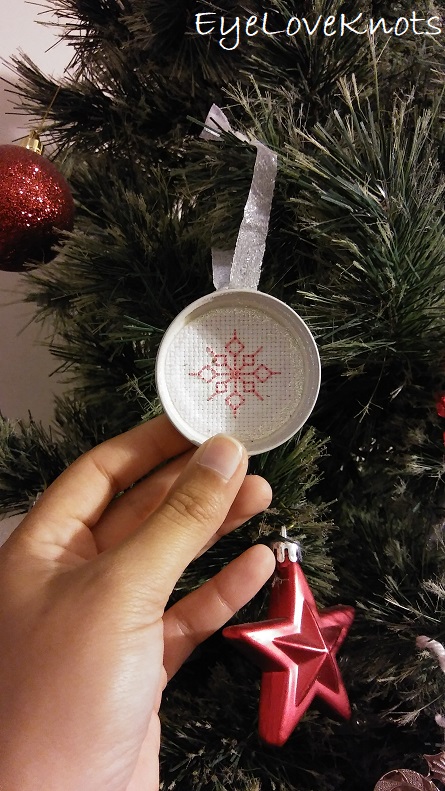 This cross stitched ornament was also part of an ornament exchange many years ago. It's attached to a mason jar lid, and dusted with glitter along the inside. So pretty!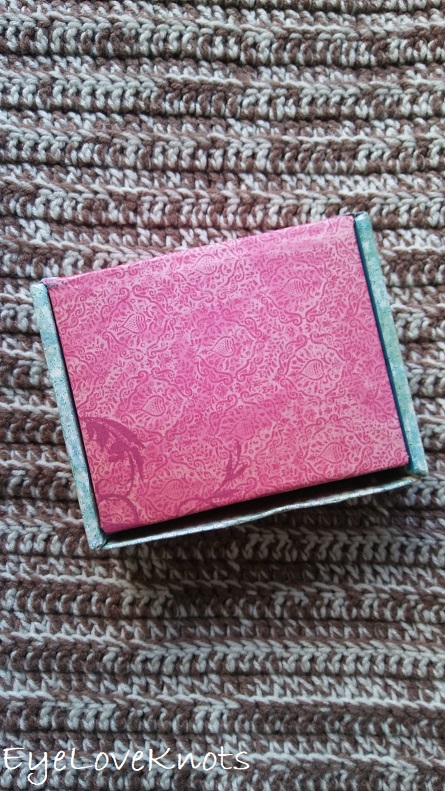 And the ornament from last year's ornament exchange (the one I made the Plaid Plastic Canvas Gift Box for) came in this beautiful, decoupaged box.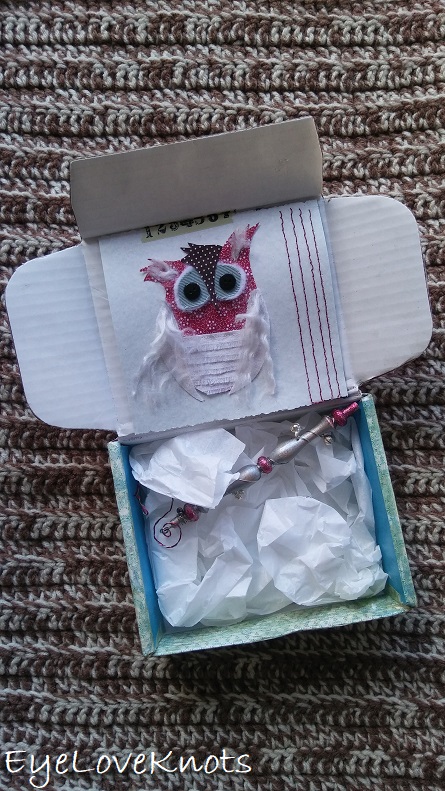 Kristie of Teadoddles made this beauty for me as part of the 2018 Handmade Ornament Exchange LINK UP. It is a wooden spindle upcycled with paint, glitter, wire and beads. Check out her Glitz & Glam Christmas Ornament Tutorial to see how to make your own.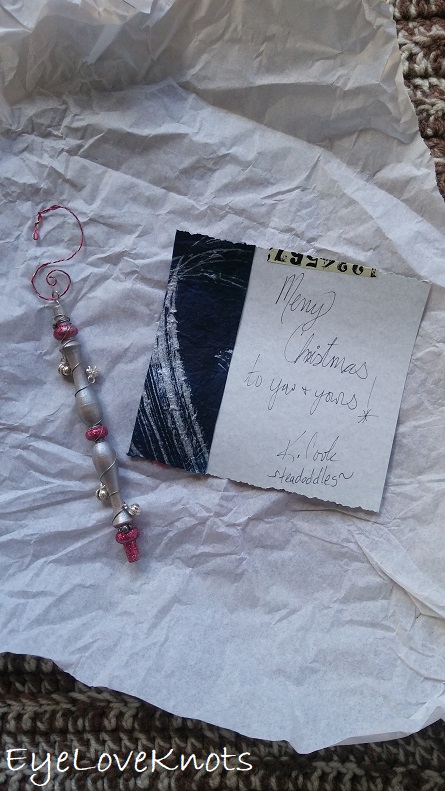 The owl you saw in the previous photo was actually the card (shown here), and here is the ornament.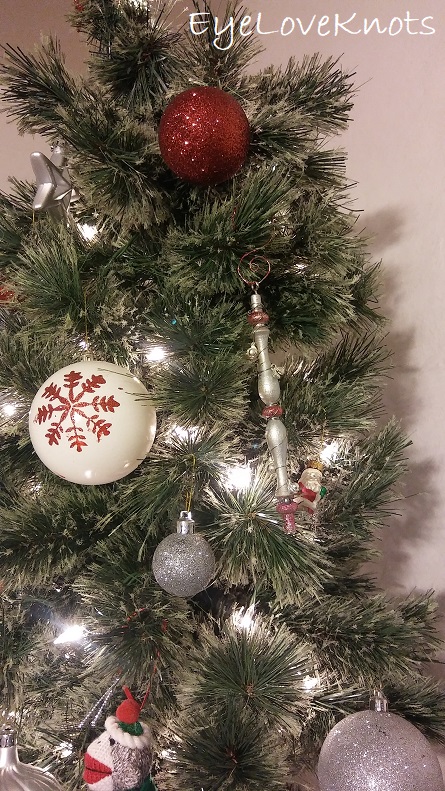 And on my tree!
My 2018 Christmas Tree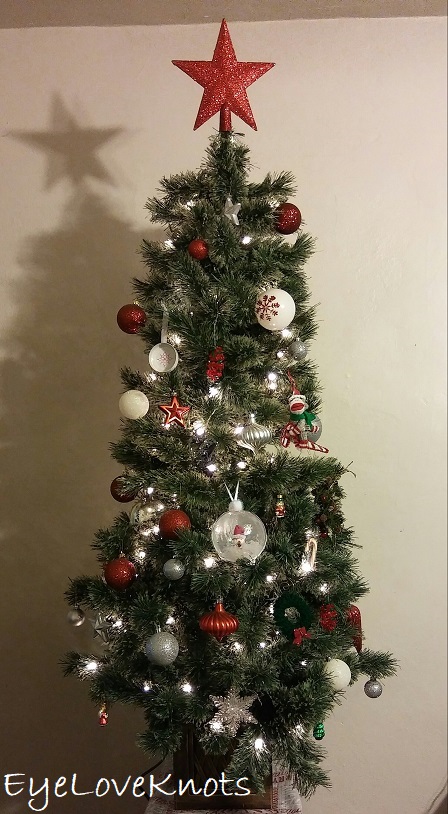 And the moment you've been waiting for! The tree 🙂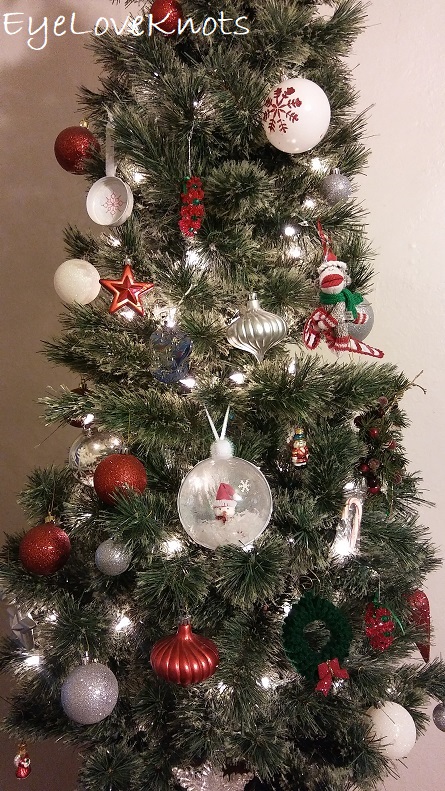 I will share more on the snowman ornament you see there next year.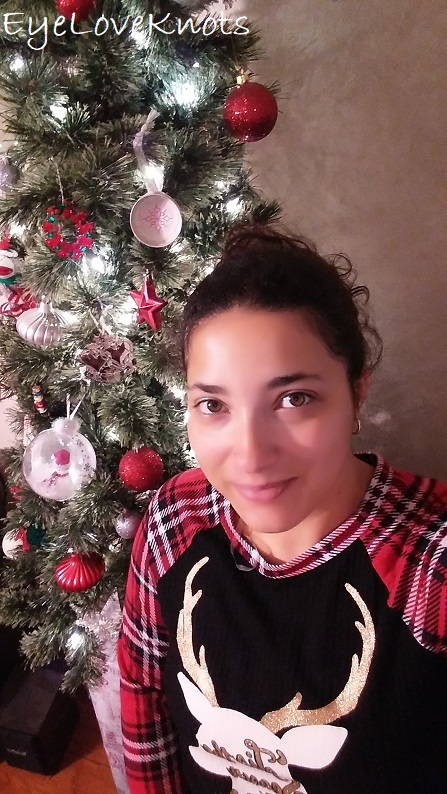 This was the top I bought especially for Christmas last year – I found it at Walmart. See how I wore it in my 'Tis the Season to Sparkle! Christmas 2018 Outfit post. Still trying to decide on what I want to wear for this year.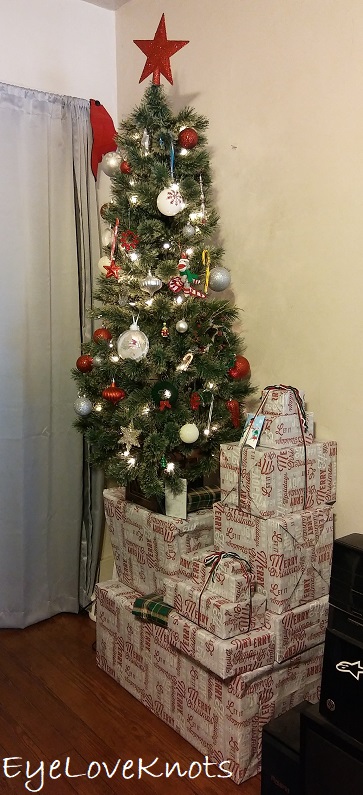 Okay, as you might remember from above the part where I said that I changed my mind… Originally, I planned for the trunk to stand upright, and it worked out beautifully, however, there was no space for gifts, so… I turned it sideways – the uncovered bottom is on the other side closest to the curtain, and while I could have recovered it, I didn't want to waste the paper, so I just left it. I wrapped a smaller tote we had, and put the tree on top of that.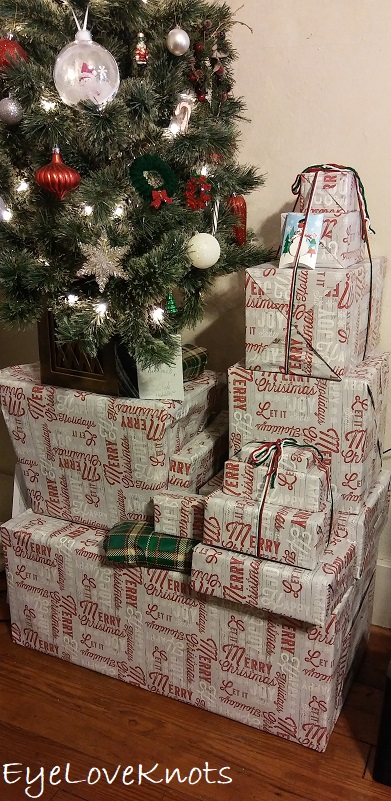 The odd green plaid gift you see there is one of the ones my husband gave me.
Join the EyeLoveKnots Crafting Community on Facebook to share your creations, and see what others are up to!
Linked Up To…
Creative Monday Link Up – Claire Justine
Handmade Monday #155 – Sum of their Stories
The Really Crafty Link Party #197 – Keeping it Real
Craftastic Monday Link Party – Sew Can Do
Fabulous Party #297 – Lou Lou Girls
Talk of the Town #204 – My Repurposed Life
Tuesday Turn About #29 – My Wee Abode
{Wow Me} Wednesday #433 – Ginger Snap Crafts
Your Whims Wednesday #437 – My Girlish Whims
To Grandma's House We Go Link Party 170 – Chas' Crazy Creations
Waste Not Wednesday 185 – Faeries and Fauna
Creatively Crafty Link Party #201 – Life Beyond the Kitchen
Pin Party #346 – The Pin Junkie
Thursday Favorite Things #418 – An Artful Mom
Best of the Weekend – Calypso in the Country
Home Matters #262 – Modern on Monticello
Handmade & Otherwise Weekly Link Up Week 29 – Petals, Pies & Otherwise
Create, Bake, Grow & Gather Party #397 – Shabby Art Boutique
Snickerdoodle Create Bake Make Link Party 314 – EyeLoveKnots