This is an Easy Spanish Pulled Pork "Pernil" Recipe. Pernil is a very staple meat in Hispanic foods – it's Flavourful, Juicy & Delicious!
It's a definite repeat within my family, and knowing how simple it is surprises me.
Disclaimer: This post contains affiliate links for Amazon. If you make a purchase by clicking on them, I make a small commission at no extra cost to you. Thanks for your support!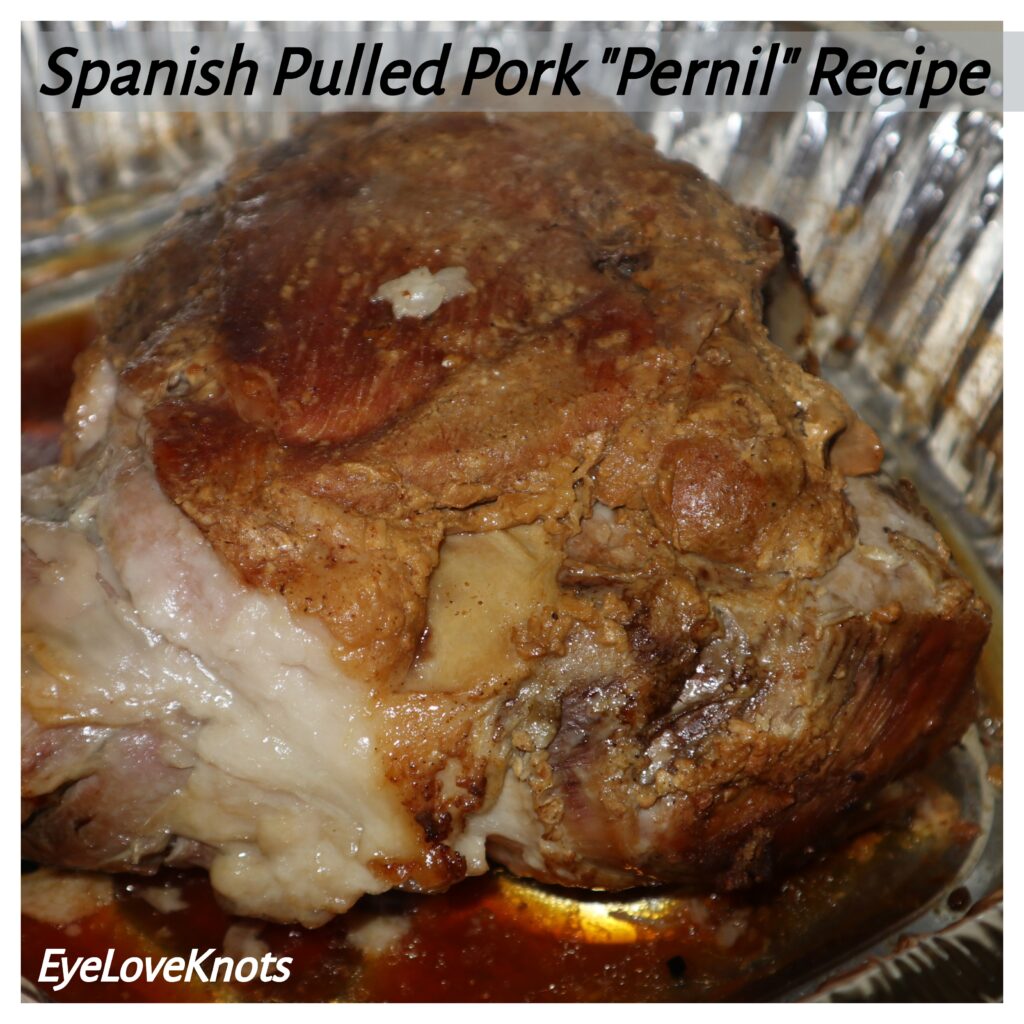 I took a mental month off for December to be fully refreshed for this new year, and I wanted to start off strong by sharing one of my FAVORITE recipes.
My Husband was obsessed with pernil (still is). He used to eat this so much, but now it's become a holiday and special occasion type of thing for us.
It's unbelievable how EASY this is, and I'm so happy that my family passed this simple recipe down to us. It's also a good one to prep today for tomorrow.
Please enjoy how easy and delicious this is,i can't wait for you to give it a try.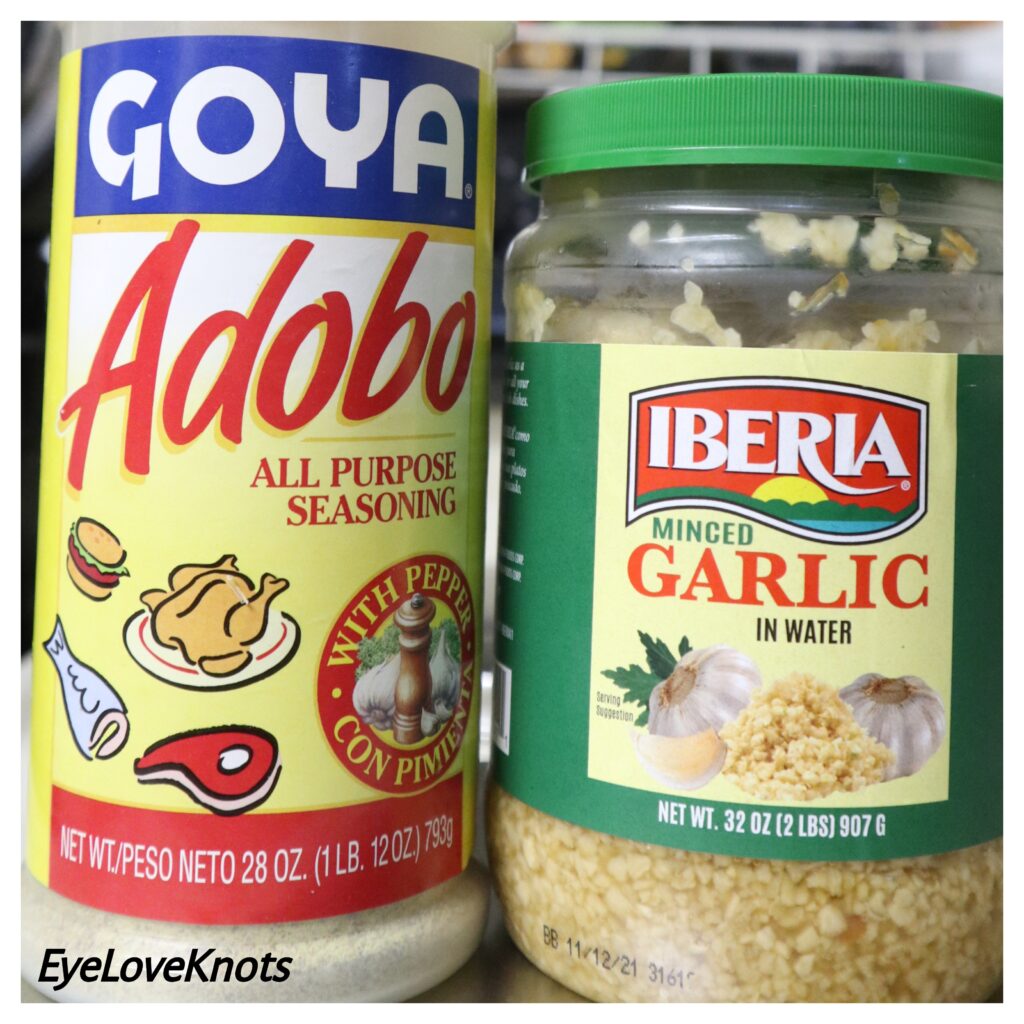 Ingredients Needed:
Pork Shoulder 5 lbs or more with a bone
Adobo
Minced Garlic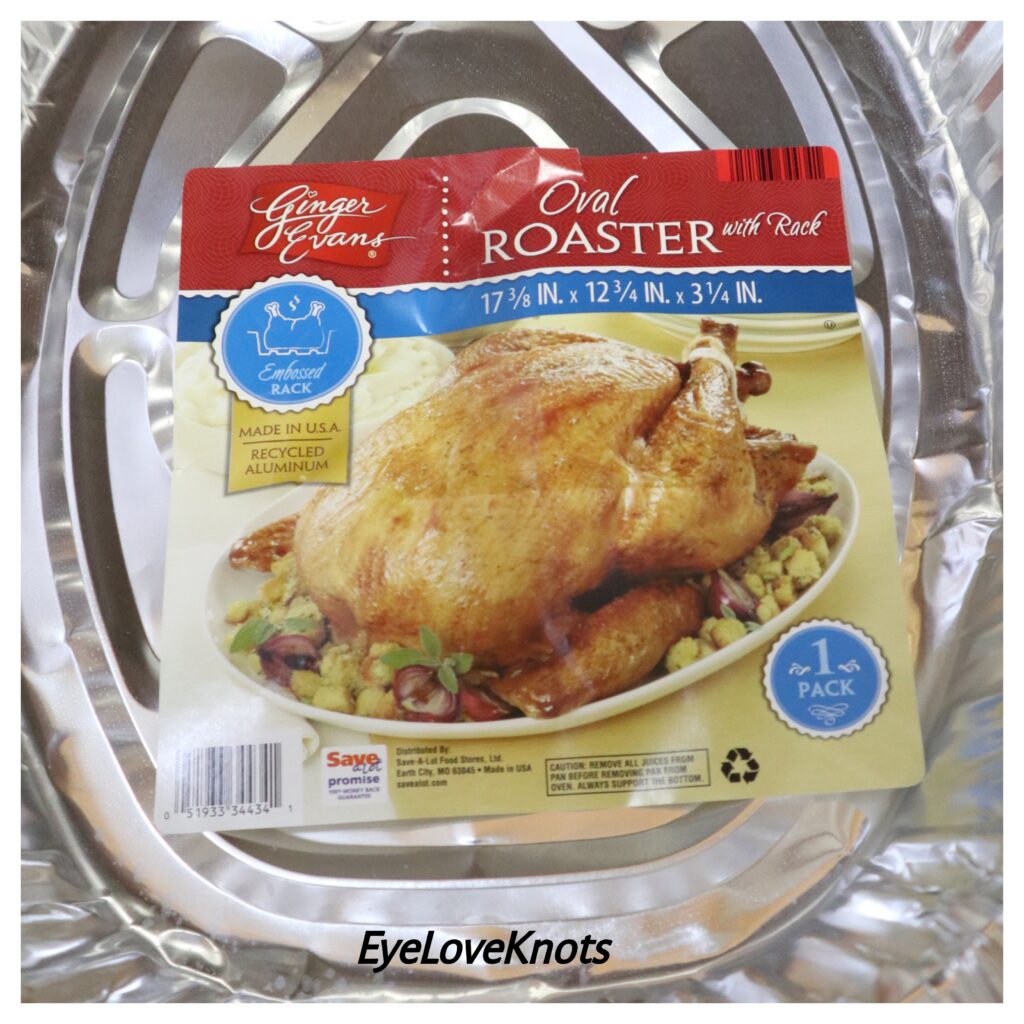 Equipment Needed:
Large Spoon
Large Roasting Pan
Aluminium Foil
A small knife or fork (to poke holes with)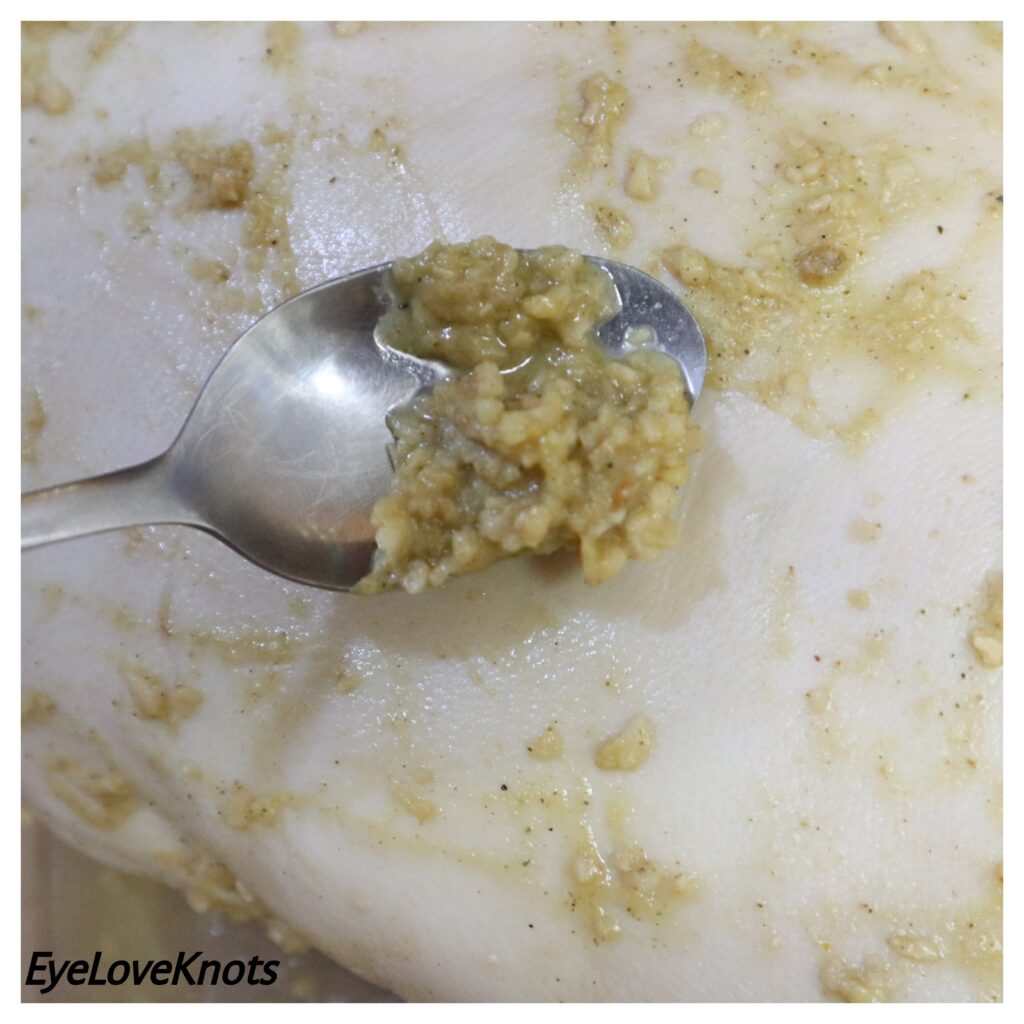 Poke a decent amount of holes into the pork – enough for the seasonings to go into the meat.
Grab five heaping tablespoons of garlic, and add it to the top of the pork.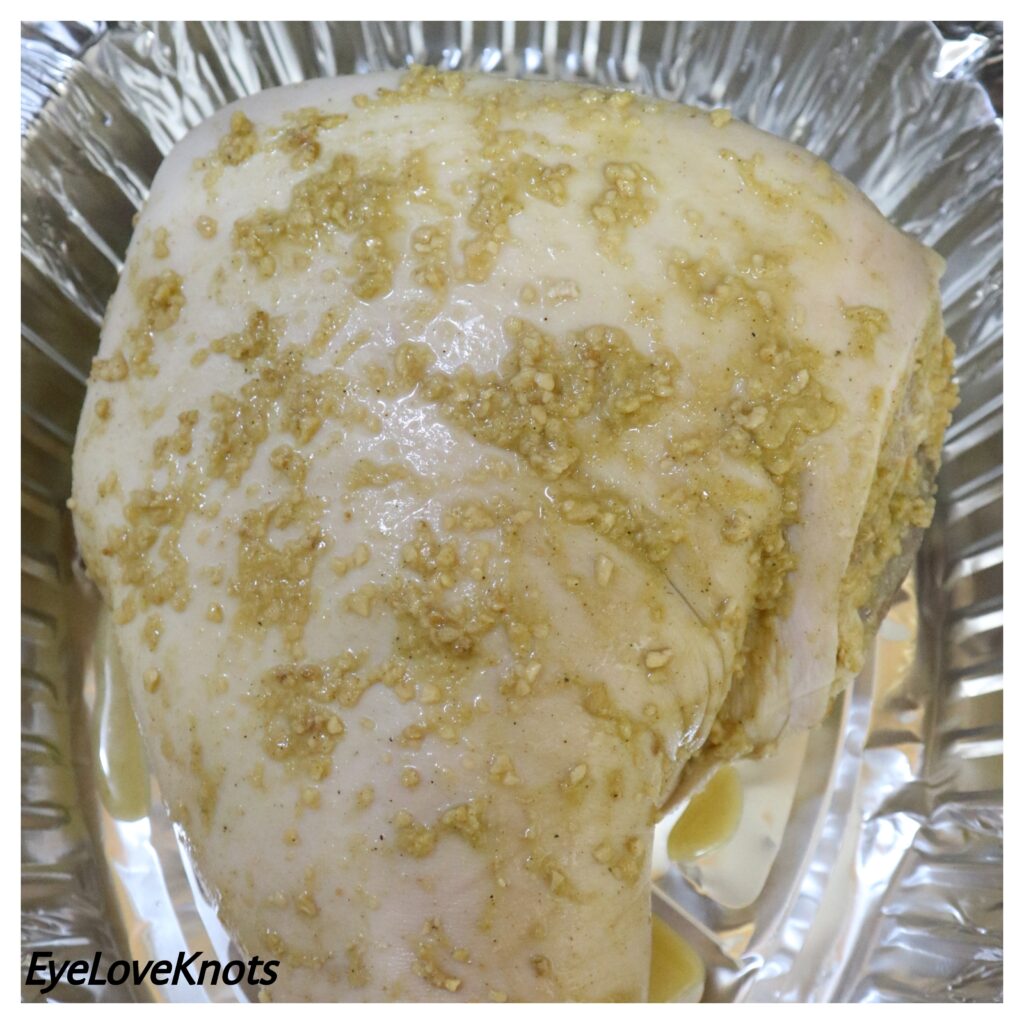 Next: Add a LOT, and I mean A LOT of adobo (the bigger the piece the more you need) to the pork.
I let the pork sit in the aluminum pan with foil on top to marinate overnight. It isn't necessary, but I was prepping this one for the next day.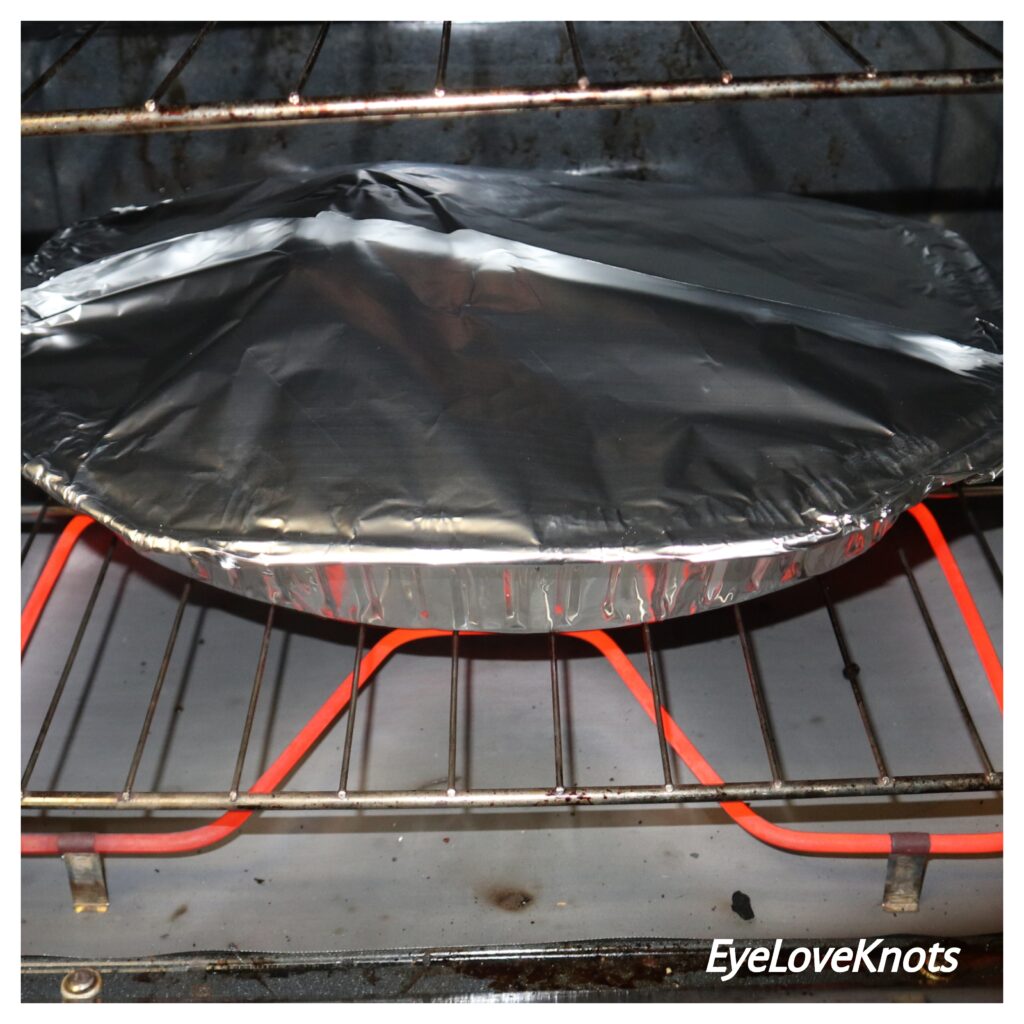 No oven preheating needed – just place the pan in the center rack of the oven, and bake at 350 F for 4 Hours.
The size of the cut, and also your oven will make the time vary. Use a Meat Thermometer, and cook internal temperature of 165 F.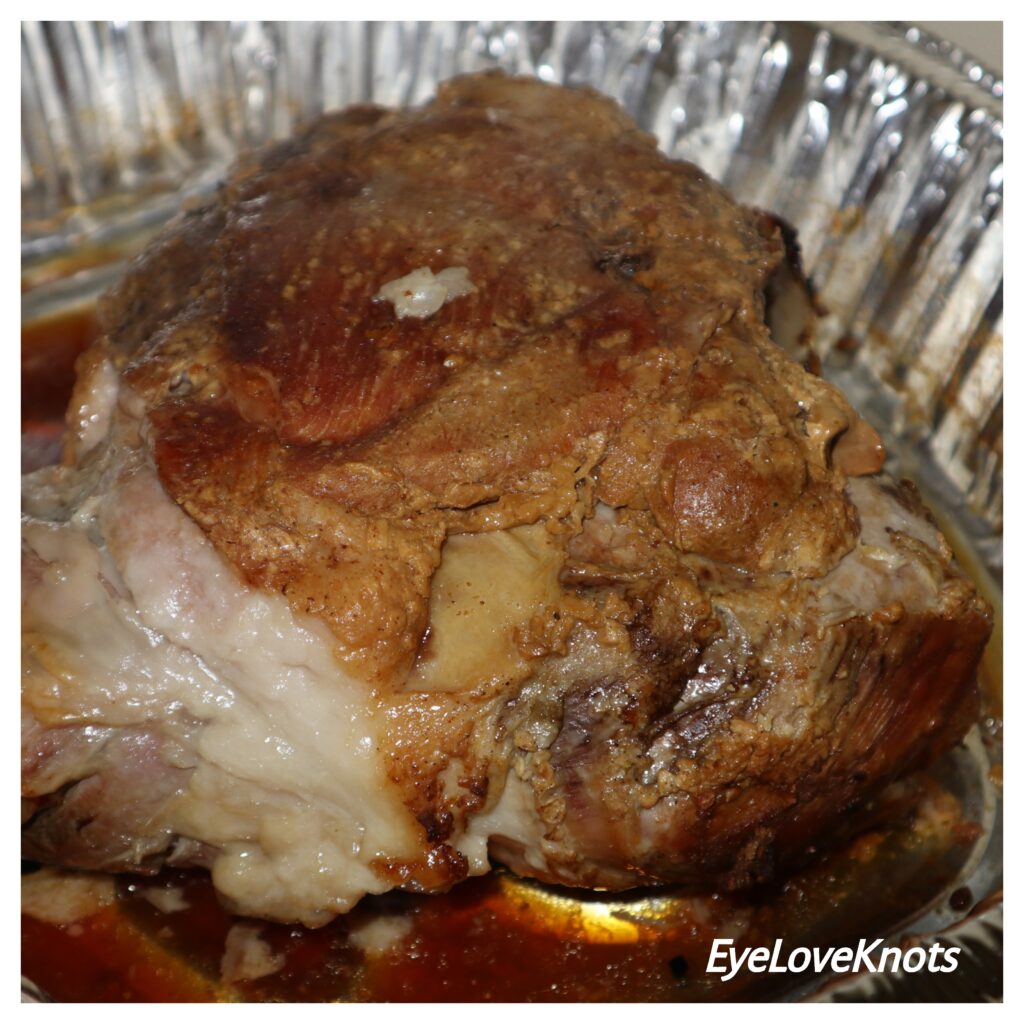 Once the pork has cooked thoroughly – a good way to know its fully cooked, is when it will easily pull apart/when you can remove the bone with little to no effort – you can remove the foil, and for the last hour of cooking, the skin will brown.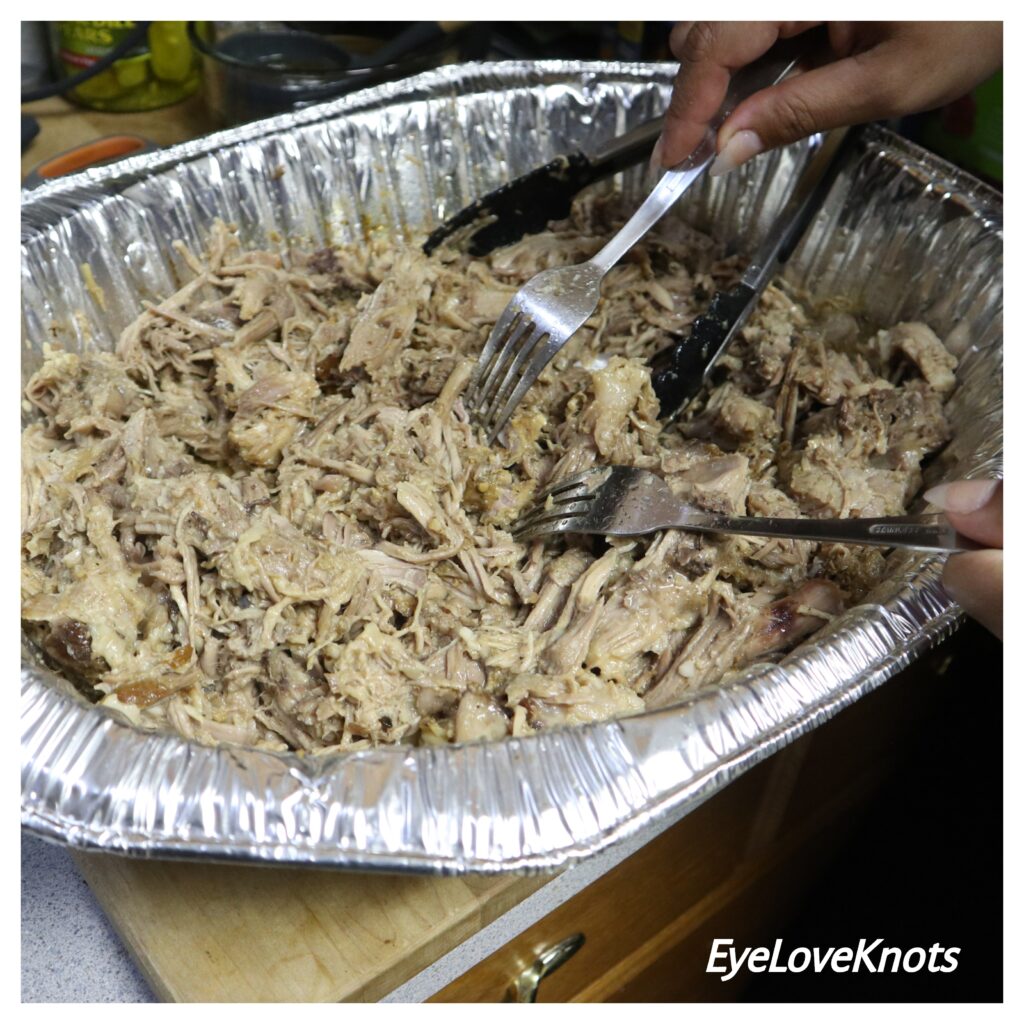 Pull apart with two forks, and ENJOY!
Let us know if you have ever tried this.
What's your favorite Cut of meat?
What Ethnic food do you prefer?
Chime in the Comments. We'd love to hear from you!
Happy New years to everyone! I can't wait to see what amazing things this year will bring.
Follow Me, @vee2390 on Instagram
Sunday and Wednesday Posts
Join the EyeLoveKnots Crafting Community on Facebook to share your creations, and see what others are up to!
Linked Up To…
What's for Dinner Sunday Link Up #234 – The Lazy Gastronome
Craft Schooling Sunday – Creative Jewish Mom
Creative Monday Link Up – Claire Justine
Handmade Monday #158 – Sum of their Stories
The Really Crafty Link Party #200 – Keeping it Real
Craftastic Monday Link Party – Sew Can Do
Happiness is Homemade Link Party #305 – Create with Cynthia
Little Cottage Link Party #34 – Love my Little Cottage
All About Home Link Party #22 – Common Ground
531st Inspire Me Tuesday – A Stroll Thru Life
Fabulous Party #302 – Lou Lou Girls
Talk of the Town #207 – My Repurposed Life
Tuesday Turn About #31 – My Wee Abode
Your Whims Wednesday #442 – My Girlish Whims
The Wednesday Link Party 330 – The stitchin' Mommy
To Grandma's House We Go Link Party 175 – Chas Crazy Creations
Waste Not Wednesday 188 – Faeries and Fauna
Pin Party #351 – The Pin Junkie
Thursday Favorite Things #422 – An Artful Mom
Creatively Crafty Link Party #206 – Life Beyond the Kitchen
Best of the Month – Calypso in the Country
Home Matters Linky Party #265 – Modern on Monticello
Handmade & Otherwise Weekly Link Up Week 32 – Petals, Pies & Otherwise
Create, Bake, Grow & Gather Link Party #402 – Shabby Art Boutique
Traffic Jam Weekend #217 – My Bijou Life
Snickerdoodle Create Bake Make Link Party 318 – EyeLoveKnots