This is a crochet pattern review of the Daydream Shawl by TL Yarn Crafts.
This post contains affiliate links for LoveCrafts and WeCrochet. If you make a purchase by clicking on them, I make a small commission at no extra cost to you. Thanks for your support!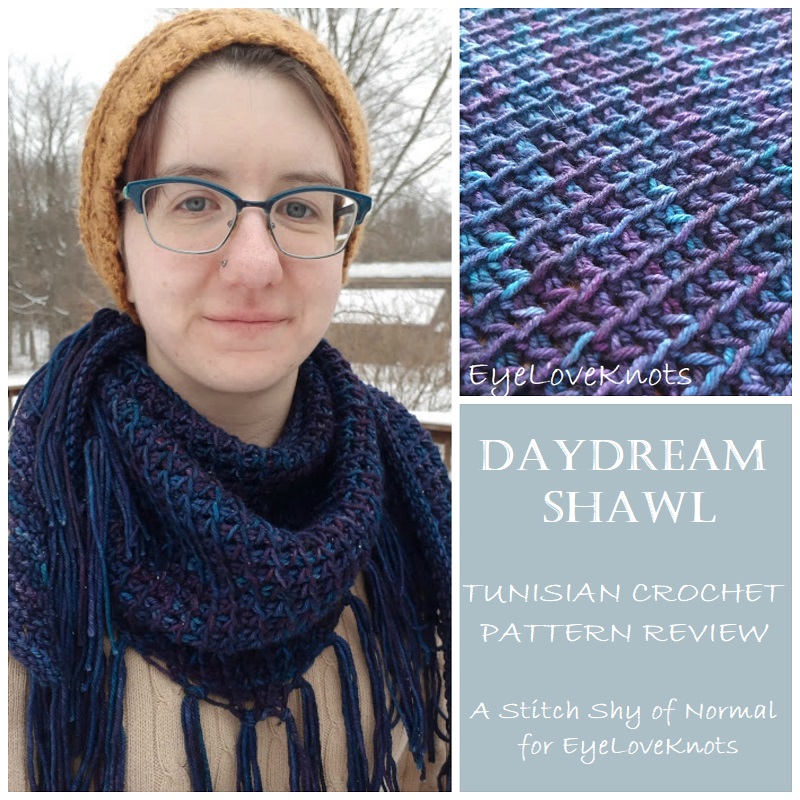 Hi! My name is Abby, AKA A Stitch Shy of Normal. Check me out on Instagram to see my obsession with all things crochet!
When I was approached about doing pattern reviews for this blog, I knew I wanted my first one to be something special. I wanted to do a pattern that I had admired for a long time but needed a reason to try. So I went to my Ravelry favorites list and immediately saw this Daydream Shawl pattern from Toni of TL Yarn Crafts. I'm not usually a shawl person (making or wearing them), but I love to challenge myself now and then, so I had bookmarked it a while ago. I decided this was the perfect excuse!
I excitedly went to the page to see what materials I needed, and momentarily got scared. It was a Tunisian pattern. Could I handle that? I had never actually finished a Tunisian project before, although I've started two scarves before that are now in my "someday I'll get back to these" pile. But then I realized that this was a great challenge for myself! My first time doing a review like this, using a pattern by a designer I love and admire, and tackling my first full Tunisian project start to finish.
Materials:
About 2 and a quarter skeins of Malabrigo Rios in the colorway "Whales Road", which is about 480 yards.
Tunisian hook in size L/8mm (I used Knitter's Pride brand), and a cord of 40″ (also Knitter's Pride)
Yarn needle for weaving in ends
Daydream Shawl pattern from TL Yarn Crafts, available for free on her site or for purchase if desired!
Material Notes:
I chose Rios because I wanted to "treat myself" for this project and visited my local yarn store to pick something special. I have used Rios once before and adored the result. I chose this colorway because I didn't want to go too bright and colorful, which would overwhelm the stitch texture, but I also wanted some variation in color so it didn't feel boring to me.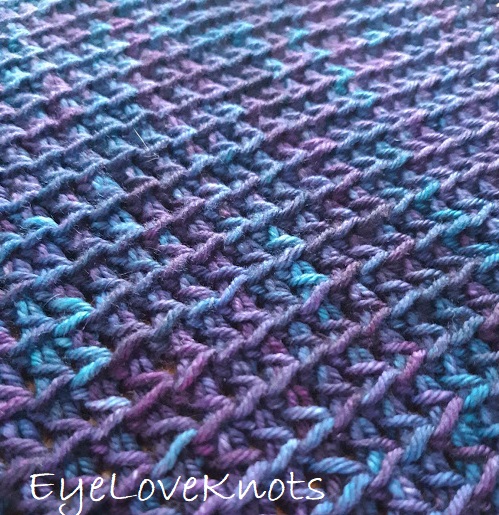 Toni had used Lion Brand Heartland and mentions using "just over" three balls. This would be 753 yards plus some small amount so something close to 800. I purchased 4 skeins of Rios for this reason, as that would be 840 yards, but I ended up with almost 2 full skeins extra!
My yardage ended up being significantly less for two reasons–I stopped my shawl 4 rows earlier than the pattern as I was happy with the size and felt it would block significantly larger. I also only did fringe on every other stitch while she did it in every stitch. This was a preference, I didn't want the fringe to be overwhelming.
Time Spent:
Roughly 10 hours, including adding fringe.
Measurements:
Toni's original in the pattern was 66″ wingspan and 20.5″ deep, after steam blocking.
Mine ended up a bit smaller, about 62″ wingspan and 18″ deep, also after steam blocking.
This was because as I stated, I stopped a few rows earlier than she did because I expected the piece to block fairly large and I didn't want it too big. As it turns out, my blocking wasn't quite as effective as I thought and I ended up a little smaller than hers, but I am satisfied with the size!
Gauge:
I did not measure gauge for this project because being new to Tunisian, I didn't know how to make a swatch properly. I also realized that because this shawl is created in an increasing triangle, I could simply increase until I was happy with the size, so the gauge wasn't vital in my opinion. I would recommend checking gauge if you know how to do so.
Pattern Notes:
My main struggle with this project was actually getting it started! Like I said, I'm fairly new to Tunisian, so I am not experienced enough to fix mistakes. I kept getting 3-4 rows in and messing up an increase or missing a stitch, so I would frog it and start again. I think it was maybe my fifth or sixth attempt when it finally clicked and I was able to keep going! But once I got it, I didn't have any more significant issues.
The biggest tip I figured out is that with this project, you need to count every single row. I ended up writing out the rows and the stitch count needed for each on a piece of notebook paper, and crossing each one off as I completed it. I also realized that each row increases by 4–one increase at the start of the row and three at the end–so I could do the first increase and then simply count the stitches across until I was six stitches short of the total needed. If I wasn't at the last three stitches of the previous row here (which you can see as a straight bar, a slanted yarn over, and the last straight bar), I knew I had done something wrong. This is how I caught mistakes a few times, and I did get confident enough in my Tunisian to be able to frog and re-do a single row at a time.
I had one small problem where the end of a row had a loop sticking out, so I had probably messed something up on my last increase. I only noticed this a few rows later, and this was near the end where each row had a stitch count of 120+, so I wasn't eager to frog back simply to fix that. I just took a length of yarn on my needle at the end and sort of secured that loop into the stitches nearby, and once I added fringe I couldn't see the issue anymore!
If I make this project again (which I plan to), I now know that it doesn't block quite as much as I expect. This is probably because I was using an iron instead of an actual steamer, but even with a steamer I don't think it would have increased as much as I wanted it to. Next time I will do the full 50 rows suggested.
All in all, this project was a wonderful introduction to Tunisian and it is explained very well. I got a lot of practice from the simple, repetitive pattern which likely helped me with my Tunisian crochet skills. It was very easy to customize to my own size, and I could even see doing a smaller version for a little triangle scarf!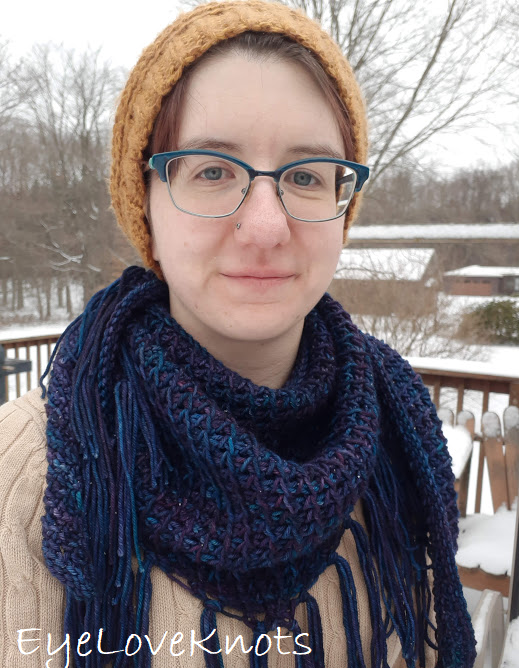 Join the EyeLoveKnots Crafting Community on Facebook to share your creations, and see what others are up to!
Linked Up To…
Craft Schooling Sunday – Creative Jewish Mom
Unlimited Monthly Link Party 10 – Grammy's Grid
Happiness is Homemade Link Party #313 – Create with Cynthia
Handmade Monday #166 – Sum of their Stories
Ginx Woolly Linx Party March – Ginx Craft
Creative Mondays Link Up – Claire Justine
The Really Crafty Link Party #208 – Keeping it Real
Craftastic Monday Link Party – Sew Can Do
Little Cottage Link Party #42 – Love my Little Cottage
Weekday Wear Link Up – Away from the Blue