This is a crochet pattern review on the Easy Summer Tee from Yay for Yarn.
This post contains affiliate links for LoveCrafts. If you make a purchase by clicking on them, I make a small commission at no extra cost to you. Thanks for your support!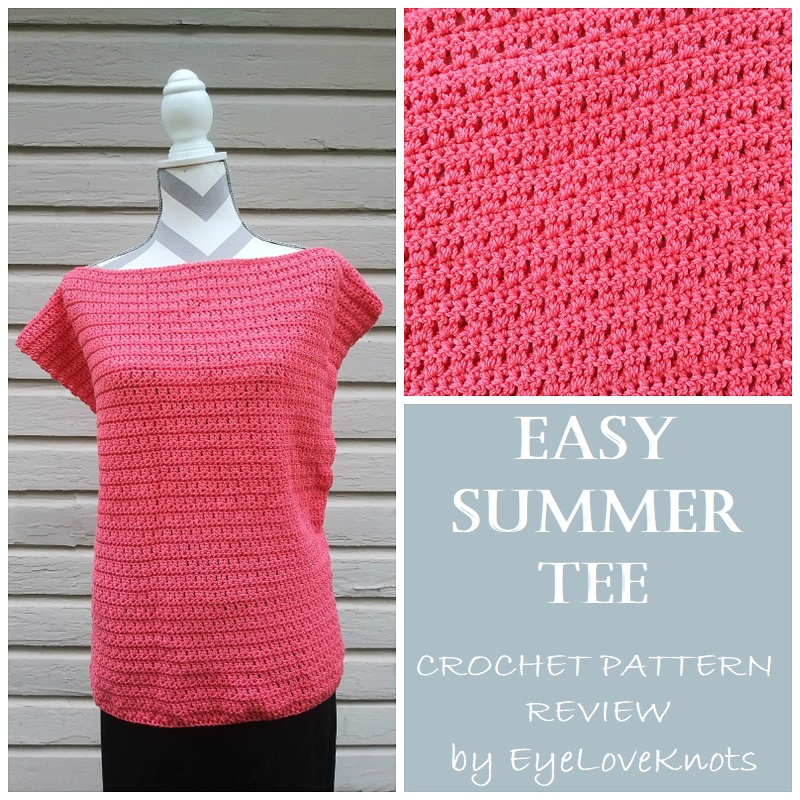 I received a custom order in my EyeLoveKnots Etsy Shop for the Easy Summer Tee from Yay for Yarn.
The request was to fit a 48″ bust (which is normally a 2X). I looked at the pattern sizes/measurements, and asked if she wanted a more fitted top or a little oversized – this would be the difference between working the XL size and the 2X size from the pattern, and she choose the more fitted, XL size.
I also doubled checked length. The size XL suggests a 22.75″ length top, but a regular top for a 2X is 24″ (as per the Craft Yarn Council), but she was okay with the given length. If you wanted it longer or shorter, you would simply work more or less repeats.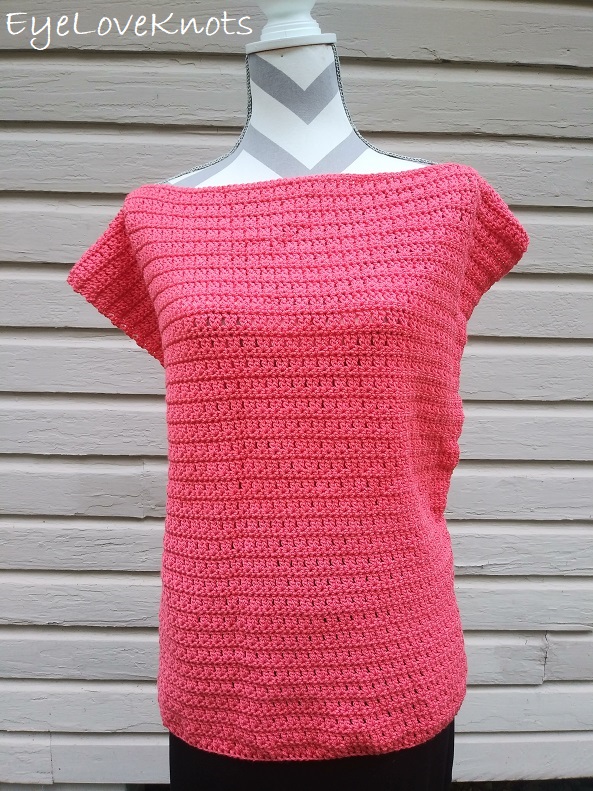 We also discussed yarn options. She specifically wanted the ZZ Twist yarn in the Coral colorway from the original pattern, so this is what I used. If I had been making this top for myself to wear in warm weather, I would go with Berroco's Modern Cotton – my number one cotton blend choice for garments and accessories ESPECIALLY for warm weather. It is so soft, cool, and machine washes and dries beautifully!
Materials:
1,107 Yards (or 4.5 Skeins) of Lion Brand's ZZ Twist in Coral [More yards than pattern recommends]
I9/5.5mm Crochet Hook
Easy Summer Tee, Free Crochet Pattern from Yay for Yarn
Material Notes:
For the XL size, the pattern says you will need 984 yards, or 4 skeins. I happened to have an extra skein on hand from when I work a sample before, but I ended up needing 4.5 skeins.
Time Spent:
Working the size XL, this top took me about 13.5 hours to complete.
Measurements:
Mine: 23.5″ Wide by 22.75″ (even after gauge met)
Original Pattern, Size XL: 24″ Wide by 22.75″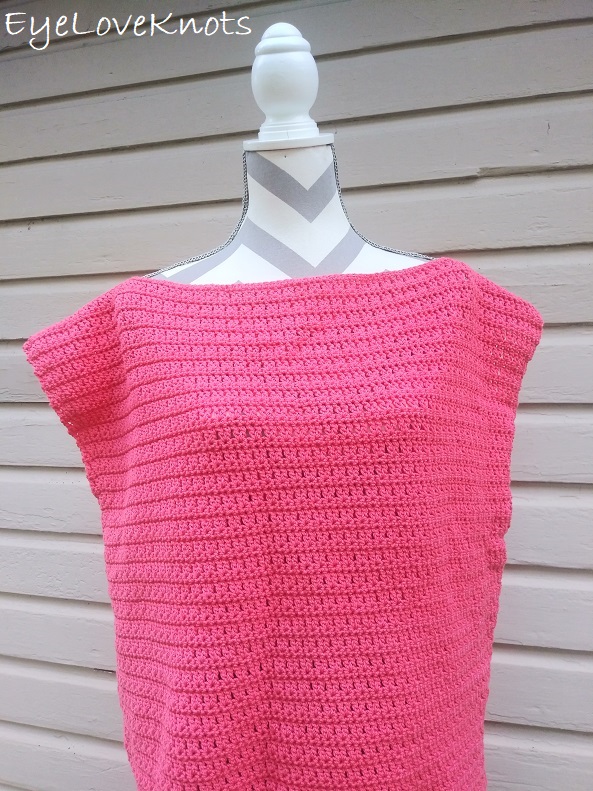 Pattern Notes:
First, I'd like to talk about blocking and the finished measurements.
This pattern is dependent on blocking to achieve the final measurements provided in the pattern, so you probably could get away with the original four skeins recommended in the pattern, and get the 24″ wide panel width IF you block your piece.
When you block acrylic yarn with steam, it is called "killing the yarn". It is permanent. Acrylic yarn is essentially plastic, and by heating it with steam, you are melting the fibers together, and by doing it, this removes any elasticity that the piece will have.
In the case of this top, it's designed to have 4″ of positive ease, meaning that the finished top is designed to be 4″ larger than the given bust size. When you are picking your size, IF you plan on blocking your finished piece, than take this into consideration because if you size down (like I like to do) expecting the piece to stretch to fit – it won't.
I did not block my finished piece (and never planned on doing so), but my panel measured 23.5″ wide, which fits a 48″ bust perfectly. If it had measured too short (or large), I would have adjusted the foundation chain.
Next, I'd like to touch on the awful slant that this stitch pattern produces.
In the pattern, this is mentioned: "Due to the natural tendency of this stitch pattern, the rectangles may tend to slant a little to one side. As long as you worked your rows correctly, this is not a problem. Blocking can help correct that natural slant."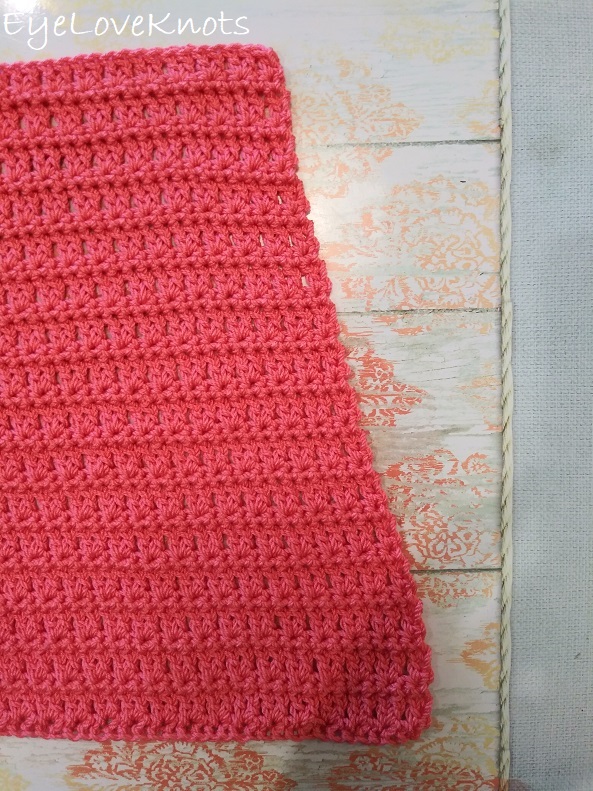 The slant is not "a little to one side" – it is drastic! And only fixable by blocking. I thought when I joined the panels to assemble the finished top that it would correct it – not the case! But it's more subtle. And I expect when worn, it'll stretch out and not really be noticeable.
I tried several ways to counter this slant, and what I ended up doing was alternating between starting Row 3 as a SC2tog (single crochet 2 stitches together) and 2 single crochet in the 1st stitch (working the first stitch as normal in the second way).
When working a Row 2 repeat into a row that has a SC2tog, work the last 3 stitches without skipping in between.
In working in this manner, it leaves the sides a little uneven, but it eases the slant, and when you join, you won't even notice!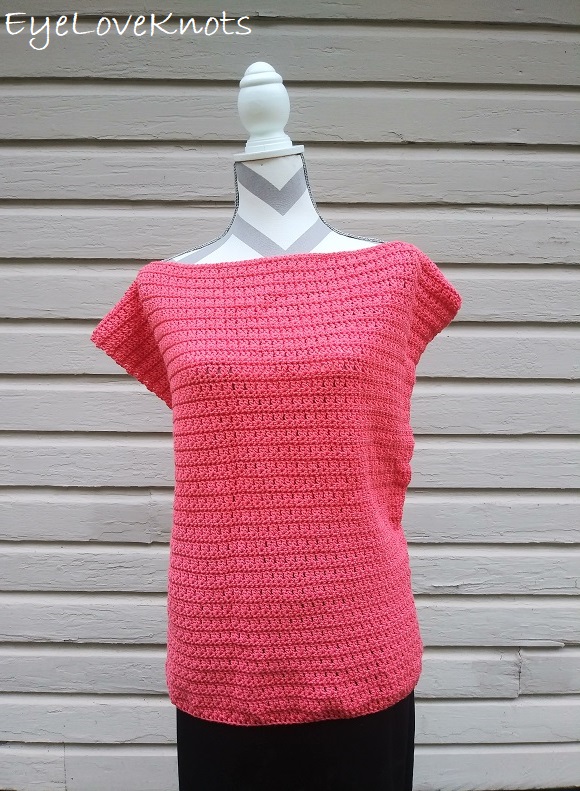 If you are a beginner, this top is totally doable! The stitch pattern is super easy to work and memorize. Don't get upset by the slant. It may make you feel like you're putting stitches in the wrong place or missing them, but you aren't doing anything wrong – it is the nature of the stitch pattern! Keep in mind, you will need to either block your finished panels (before assembly), or modify it following my instructions, OTHERWISE, the finished top will most likely pull when worn.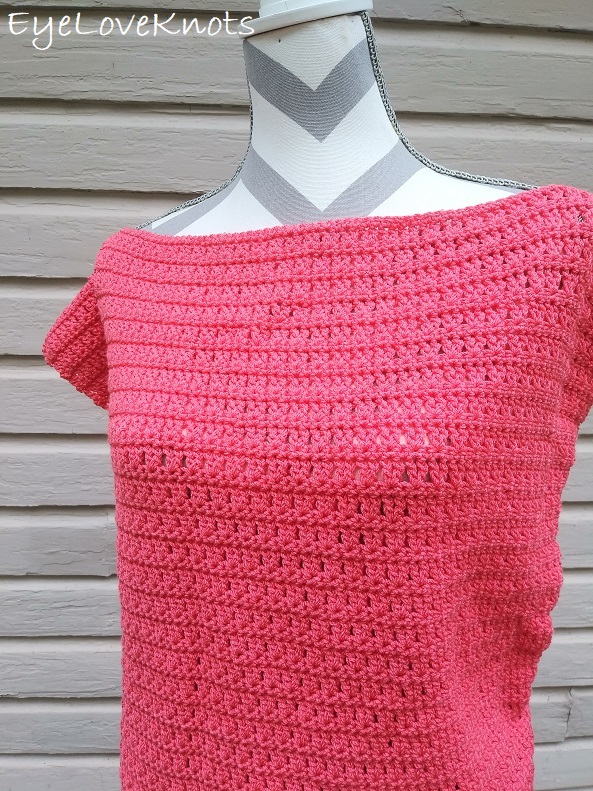 If you love to DIY: Join the EyeLoveKnots Crochet & DIY Community on Facebook to share your creations, and see what others are up to!
If you love Fashion & Lifestyle: Join the Pretty Nails & Fun Fashion with EyeLoveKnots Facebook group to share, and see what others are up to!
Linked Up To…
Unlimited Monthly Link Party 15 – Grammy's Grid
Happiness is Homemade Link Party #334 – Create with Cynthia
Craft Schooling Sunday – Creative Jewish Mom
Craftastic Monday Link Party – Sew Can Do
Ginx Woolly Linx Party August – Ginx Craft
The Really Crafty Link Party #229 – Keeping it Real
Handmade Monday #187 – Sum of their Stories
The Hearth and Soul Link Party – April, the 21st Century Housewife
Fabulous Party #331 – Lou Lou Girls
Linky Ladies Party #190 – The Purple Poncho
Party in Your PJs #320 – The Apple Street Cottage
{Wow Me} Wednesday #366 – Ginger Snap Crafts
Hookin' on Hump Day #220 – Moogly
Your Whims Wednesday #471 – My Girlish Whims
The Wednesday Link Party #359 – The Stitchin' Mommy
Scrappy Stitchers Link Party #66 – Stitches n Scraps
Thursday Favorite Things #451 – An Artful Mom
Creatively Crafty Link Party #235 – Life Beyond the Kitchen
Artsy-Fartsy Party #304 – Artsy Fartsy Mama
Creative Compulsions Linky Party #71 – My Bijou Life
Pin Party #380 – The Pin Junkie
Traffic Jam Weekend Linky Party #244 – My Bijou Life
Friday Favorites – Busy Being Jennifer