This is a crochet pattern review of the classic Granny Poncho pattern by Jean Leinhauser published through Leisure Arts. Review done by A Stitch Shy of Normal for EyeLoveKnots.
This post contains affiliate links for Leisure Arts and WeCrochet. If you make a purchase by clicking on them, I make a small commission at no extra cost to you. Thanks for your support!
Find the crochet pattern review below, or purchase the pattern on the Leisure Arts website by clicking here.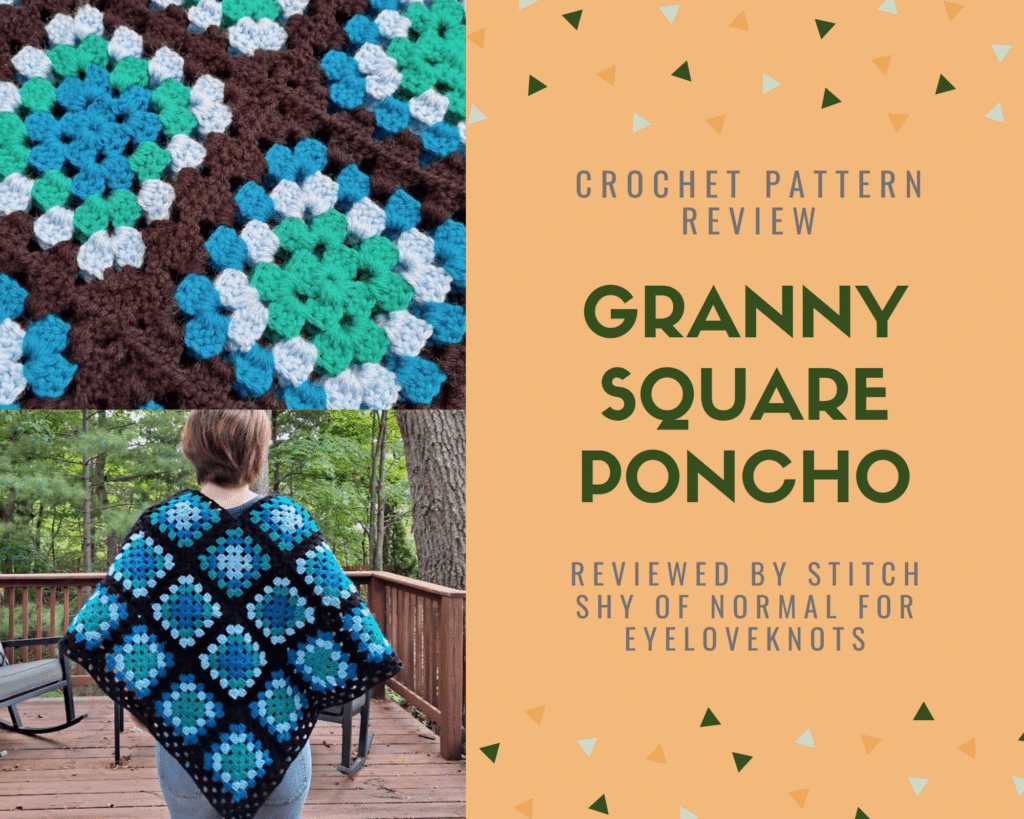 Visit with me on Instagram @astitchshyofnormal for all kinds of awesome crochet makes and inspiration.
The classic granny square is timeless for a reason. Well, probably several reasons. They're easy to learn, don't take too much yarn, and can be combined in so many different ways to make just about anything! There's a reason they've stuck around as long as they have. That's why I wasn't surprised to find that when Leisure Arts put their first 50 pattern books on sale in digital format to celebrate their 50th anniversary, many of the first ones were based around granny squares!
I couldn't resist these books–many of them had something like 4 or 5 patterns around a theme, at 50 cents each for a nice printable version! I think I bought about 6 of these leaflets. I'll try not to spam only these classic patterns in my upcoming reviews, but I might go back to it now and then for fun. I really appreciated going back in time and working from a classic pattern! This book in particular was called "A Gaggle of Grannies" which is probably my favorite thing ever. According to the corner of the front page of this leaflet, it's only their second one published! (The first, which I also bought, seems to be a combination of knit and crochet to make cute crop tops. I loved it but the patterns were a little over my head for this review and I'll have to revisit them!)
Did it take a bit of work to figure out? Definitely. I'm not sure if yarn has changed that much in thickness over 50 years (which wouldn't surprise me considering I've seen it change in only a decade) or if my tension was just that different from the original designer. It's probably up to a combination of several factors. But that's the beauty of granny square patterns–as long as you work with the same basic idea, you still get a granny square in the end, and the pattern is more in the color striping and what you do with the squares. I still ended up with a very classic retro poncho, and I enjoyed the journey along the way!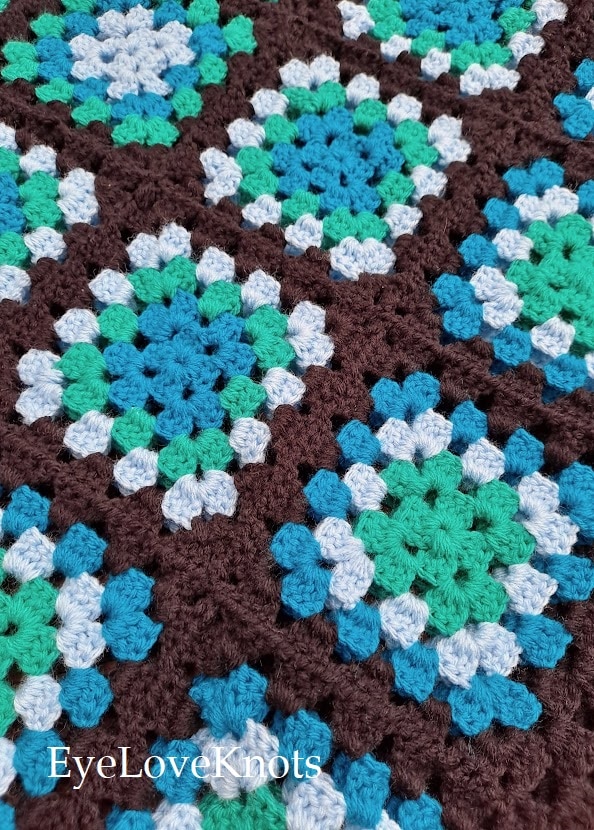 Materials I Used to Make my Poncho:
Big Twist Value yarn in "Cornflower Blue", "Sapphire", "Teal", and "Black". (I used just over half a skein of the three colors, and about a skein and a quarter of the black.)
G7/4.5 mm and H8/5 mm crochet hooks – I like Clover Amour Ergonomic Hooks
Scissors and a yarn needle for assembly
The digital pattern "A Gaggle of Grannies" available on the Leisure Arts site
Material Notes:
This was where I ran into the most issues, to be honest. However, I fully expected that to be the case considering this pattern is about 50 years old. I knew basic worsted yarn would have changed in that time period–I've seen (felt) just something like Red Heart Super Saver drastically change since I learned to crochet less than ten years ago, and I'd expect the gauge to be totally different! This pattern was written using probably a similar basic worsted yarn, and I knew if I felt what the designer had used versus what I grabbed from the shelf today, the yarn would be very different to the touch. So I went into this knowing I would be experimenting a little bit, and I'll walk you through my journey here.
The yarn that the pattern calls for says "knitting worsted", and that specific phrase caught me by surprise. From what I looked up, Red Heart used to have a yarn called exactly that, but I assume this pattern is saying that because that's what the basic worsted or medium yarn weight used to be called. (Feel free to correct me in the comments if you know the real history here, I would love to learn!) I took this to mean I could use pretty much any worsted yarn as long as I got the right square size, so I went with the classic and durable Big Twist Value line from Joann. I like this yarn, especially for home goods, as it comes in a lot of gorgeous colors in nice large skeins. It also holds up well to wear and tear (I like to use it for pillows in particular). So I was drawn to it for this poncho because I could find a cute mix and match color scheme and get the 4 colors needed without spending too much!
I ran into another struggle with the yardage needed. Actually, it didn't give a yardage needed, and that was the issue. The pattern instructions said I would need 4 ounces of the border color (the outside of each square and then edging for the whole poncho) and 2 or 3 ounces of each color. However, because I was expecting gauge to have changed over the decades, I had no idea how this would affect my yarn. 4 ounces of a (likely) thinner yarn from back then is probably more yardage than what I could get with 4 ounces today! Again, I'm speaking from my own experience and basic research and might be wrong here. So I bought a skein each of this yarn because they're 6 ounces each. Should be plenty, right? Actually, I even ended up needing a second skein of the black (the border color). So I probably used something like 7-8 ounces instead of the listed 4! Each inner color, I used right around half of the skein, give or take. So for those I would say no more than 4 ounces each, but that's still nearly double what was listed for at least one color. I find that incredibly interesting! I wonder if our current yarn is actually that much more fluffy, that you need nearly double the weight to get about the same yardage.
I did end up changing my hook size as well. I'll get into the changes I made to the square pattern itself later on in the actual pattern notes, but trust me when I say I tried many different combinations of techniques here. I tried the pattern as written with their suggested hook–too small. Up a hook size–too large. Their suggested hook size but change the stitches–still too small! I finally settled on the right combination for me, having changed both the hook size and the actual granny square stitch pattern. That's what I mean when I say this was a journey! The pattern lists a G/4mm hook, and I ended up only going up one step to a 4.5mm and using my 5mm only for the outside border…which honestly was just because I briefly lost my 4.5mm hook. But hey, it worked out!
Time Spent:
Each square took me no more than 20 minutes or so, plus a little longer to weave in the ends. They're quick little squares. The adult size uses 30 total squares, so by that calculation the squares themselves took me about 10 hours. I would call this one maybe 12 hours in total, considering all the steps around sewing the squares together and then adding a couple rows of edging.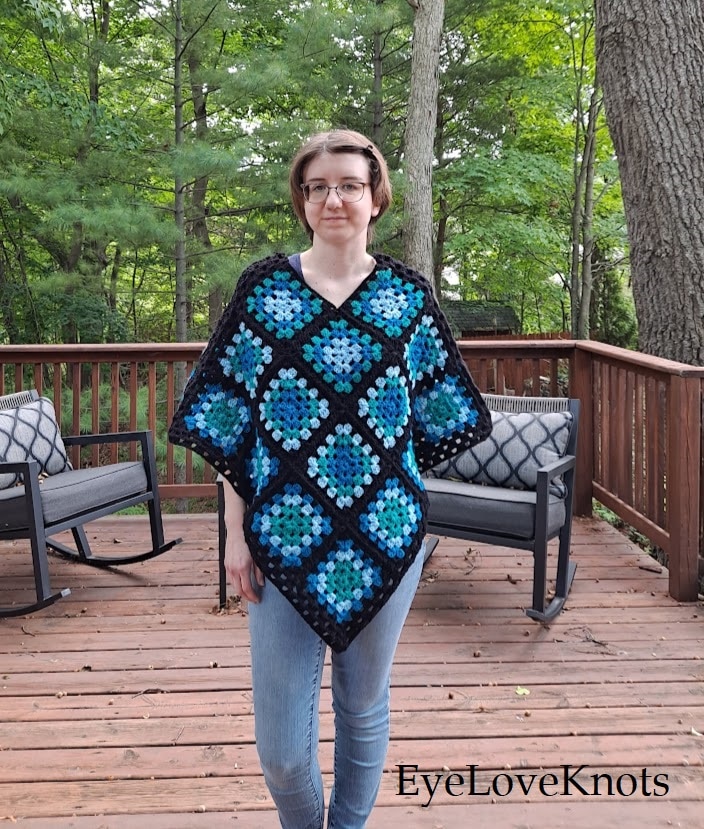 Gauge:
I'll keep this brief since I discussed this both in the material notes previously and I'll go into more detail later in the pattern notes. Gauge was a struggle here.
The pattern only says that you need each square to measure 6.5″ across. I used this as the only rule when I was figuring everything out, because as long as I got that right I would be in the clear! I'll skip over the back and forth work I took to get there with my first squares measuring anywhere from 5 to 7 inches across.
In the end, my finished poncho has squares that measure right around 6.25″ across, and I did not do any sort of blocking or steaming. I took this as close enough, figuring if I did choose to block the squares I would get it just about right at 6.5″ but if not, that would only be a couple inches of difference across the whole thing.
Measurements:
The pattern does not list any finished dimensions but I can give you my measurements if that helps as a reference. Just remember that I did modify the pattern quite a bit so your results will probably be different.
Laying my poncho flat and measuring from the widest points, I get 36″ across. From the bottom of the V-neck to the bottom lowest point, I have 26″. I generally wear a XS or S in current clothing and this poncho fits me nicely with plenty of extra room! (The pattern does not give any size guideline and only has one adult size with a few child sizes available.)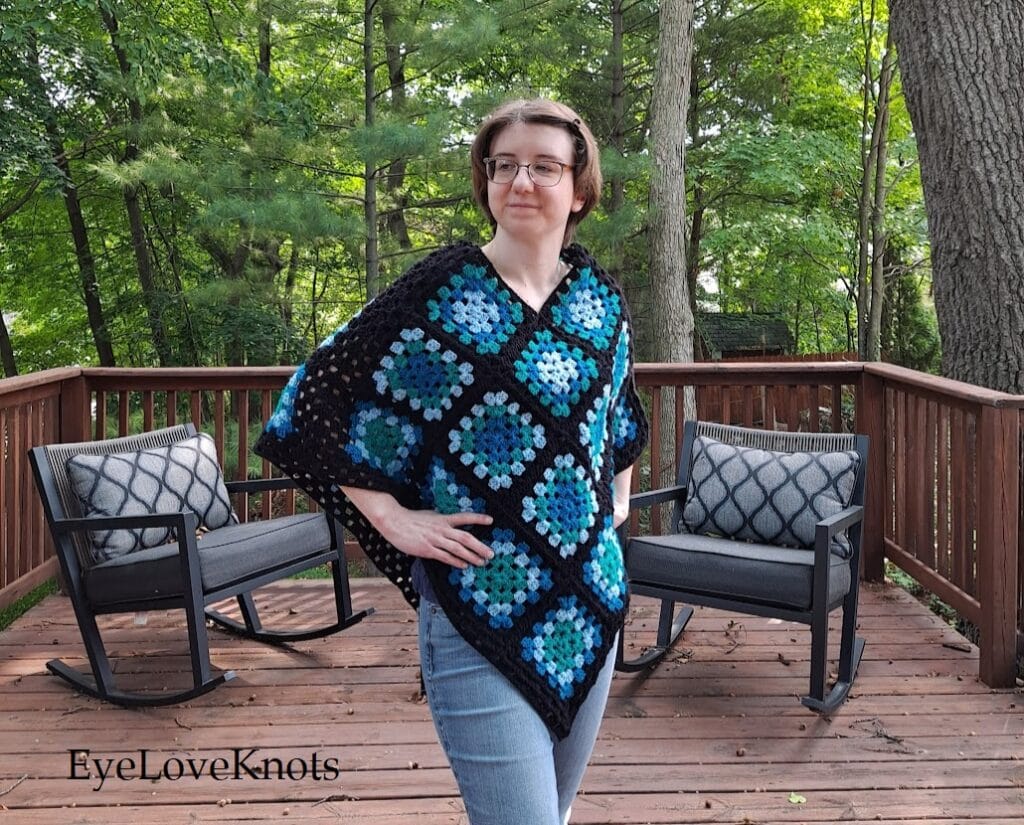 Pattern Notes:
Just like I went through in the materials information, this one was a trip. The pattern gives you a basic granny square pattern with 4 listed rounds, and then each project tells you how many squares to make and how many rounds they should be.
The original pattern is what you would think of in a granny square, but it uses triple crochet stitches instead of double! I found this very interesting as I would have assumed double crochet was the default in these squares. I haven't made all that many granny squares in my lifetime, though. I did honestly try it as written several times with a few different hook sizes–it was too small with a 4mm, too big with 4.5 and also wasn't really laying flat with either of these. The chain spaces were kind of ruffling for me.
I then realized that the real spirit of a granny square pattern lies in the color combination and the square layout, and as long as what I made was still a granny square, I had some freedom to play around! So I changed the stitch pattern to be a double crochet instead of triple. This now ended up being too small with the written hook size, but pretty close to perfect with 4.5mm. I realized this was as close as I was going to get, and forged onward. The modifications I made can be summed up as double crochet instead of triple, and only chaining 2 instead of 3 between each cluster (although I kept it as 3 in the corners).
This probably seems odd to some people, that you might say I technically didn't follow the pattern at all if I changed both the hook size and the actual stitches! But I feel that a granny square is a tool or a stitch technique in itself, and this wasn't that different from saying I use a different knitting method from other people, or have my own preferred way of where I put my hook in the third loop of a half double crochet. If I had followed the stitches exactly as written, I would have had to make a major modification like leaving off a row of the squares! Either way, I had to make a significant change and I made the one that left the colors and square layout intact. If you get this to work exactly as written, that's awesome and I bow to you. I'll give that another shot one day with a different smaller yarn for sure!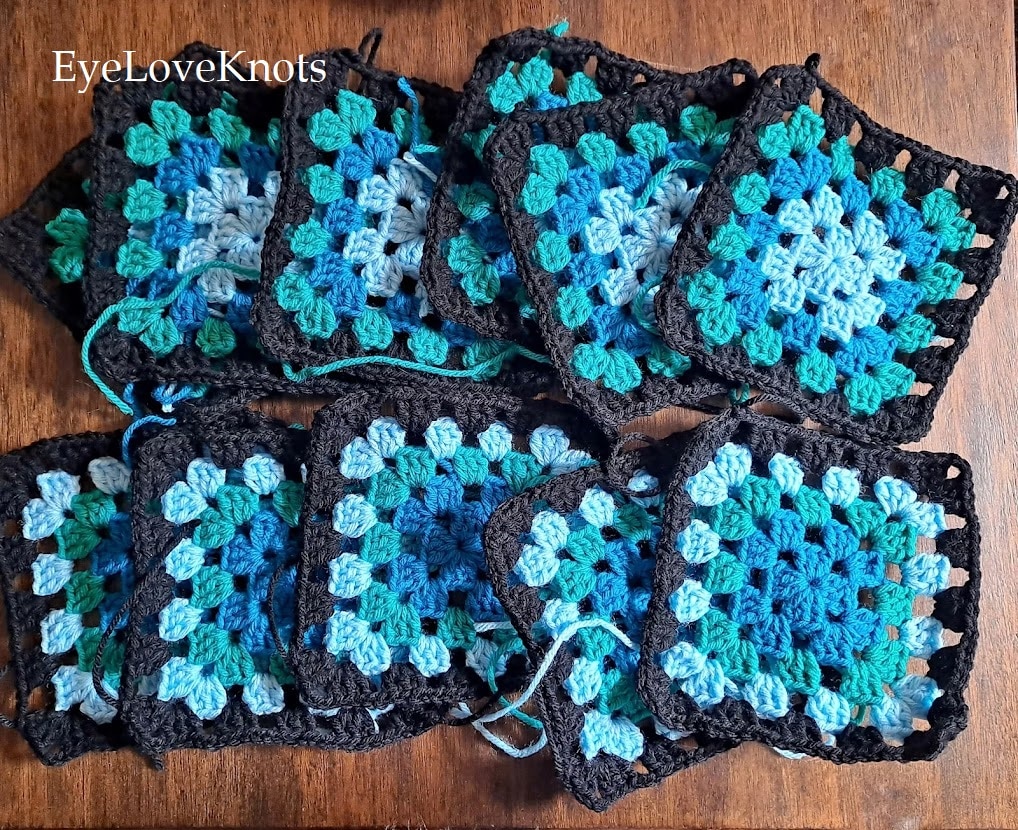 Aside from my adventures before getting started, this pattern was tons of fun. The color layouts were easy to understand once I "translated" their colors to mine. Rather than saying to use colors A, B, C, etc. they just say to join with yellow or lime green for the next round. I just wrote my own reference on the side of my printed pattern that for me "yellow = light blue" and so on. It helped immensely.
The assembly was pretty straightforward, albeit vaguely written. It just says to sew "through tops of stitches" and not the preferred method, things like that. However I realize this is just leaving it up to personal preference. These were actual printed booklets originally, so I understand why they would have wanted to keep things brief to fit it all on a few sheets of paper. I chose to do whip stitch for joining my squares and it worked perfectly fine! I connected my squares individually into long strips, then sewed those strips together. You do this for the front and back in the same way and then attach the shoulder section of the two panels together, again in whatever method you prefer!
The edging was only a little confusing at times. I followed these instructions with the same modifications I had done in my squares, in order to keep it the same. The weirdest part wasn't even that weird in context–you start the second row of edging by chaining 6 (which works as the starting stitch and the first chain space). But then at the end of this row, rather than chaining 3 and doing a stitch at the end, you just chain 6 again and attach with a slip stitch at the corner. I found that odd, but I did what it said! I guess it keeps it even for the shoulder assembly. I trust the designer, because it worked and the shoulder is seamless once finished.
I will definitely have to look up the many, many other patterns this designer (Jean Leinhauser) published through Leisure Arts because this was so much fun. Once I got my square pattern and hook figured out, the whole project flew by and I loved the process! I think my colors ended up being a gorgeous combo that pops just the right amount but still looks cute enough that I can wear it regularly. My yarn worked great, again once I got it figured out. I might see if I have a thinner worsted in my stash and test if the granny square pattern they have works better that way, and then maybe I'll try one of the other projects in this same booklet! I think this pattern is absolutely worth checking out, especially when I only paid 50 cents for four patterns in this one alone! I see why so many people use granny squares in everything, they're fun and it feels satisfying to make your item block by block.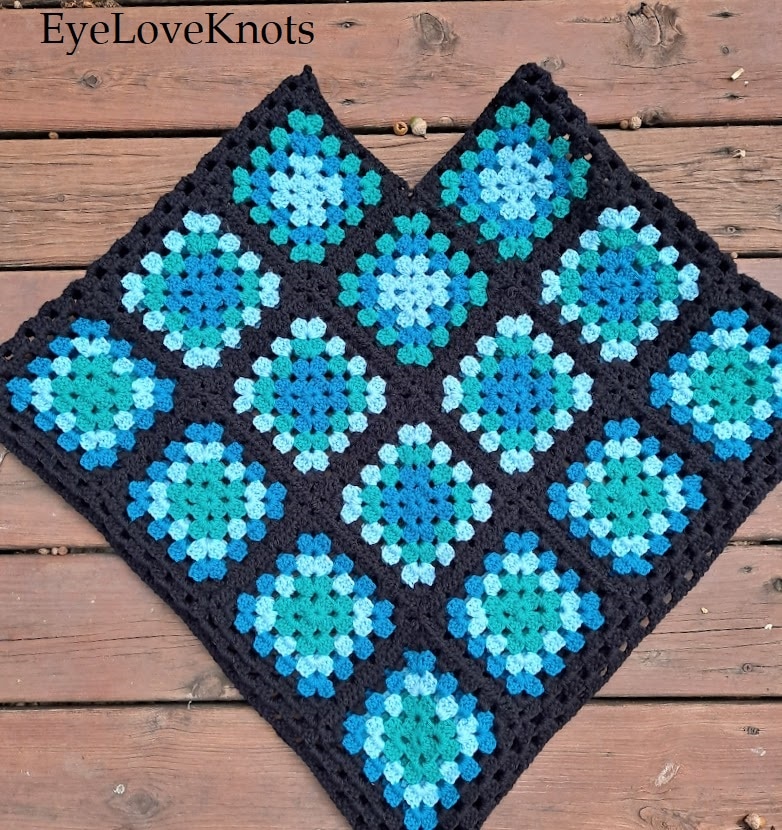 Do you enjoy granny squares in your crochet? Are they a staple of your craft like they are for so many people?
Don't forget to visit with me on Instagram @astitchshyofnormal for all kinds of awesome crochet makes and inspiration.
Join one of our awesome Facebook groups to share your creations, and see what others are up to!
– EyeLoveKnots Crochet & DIY Community
– DIY Home On Rockwood Lane
– Alexandra Lane Lifestyle
Linked Up To…
Ginx Woolly Linx Party September – Ginx Craft
Linky Ladies #216 – The Purple Poncho
The Loop Scoop #22 – Moogly Blog
Creatively Crafty Link Party #295 – Life Beyond the Kitchen
Weekday Wear – Away from the Blue
Turning Heads Linkup – Elegantly Dressed and Stylish
Confident Twosday Linkup – I do deClaire
Style on the Daily Linkup – Straight A Style
Chic and Stylish Link Up – Mummabstylish
Thursday Fashion Files Link Up #325 – Curly Crafty Mom
Neverending Style Link Up – The Grey Brunette
Fancy Friday Linkup – Nancy's Fashion Style
Style Link Up – Lizzie in Lace
Fashion 'Fits Linkup' – Lucy Bertoldi
Hearth and Soul Link Party – April, the 21st Century Housewife
Handmade Monday #247 – Sum of their Stories
The Really Crafty Link Party #283 – Keeping it Real
Link-Up Potpourri #11 – My Bijou Life
Craftastic Monday Link Up – Sew Can Do
Happiness is Homemade #394 – Decor Craft Design
You're the Star Blog Hop September – Decor Craft Design
Unlimited Link Party 34 – Grammy's Grid
Craft Schooling Sunday – Creative Jewish Mom
607th Inspire Me Tuesday – A Stroll Thru Life
Fabulous Party 391 – Lou Lou Girls
Spread the Kindness Link Up #242 – Shelbee on the Edge
Party in Your PJs #378 – The Apple Street Cottage
{Wow Me} Wednesday #524 – Ginger Snap Crafts
The Wednesday Link Party 418 – Oombawka Design Crochet
Wonderful Wednesday – Oh My Heartsie Girl
Encouraging Hearts and Home Blog Hop – Scratch Made Food
Create, Bake, Grow & Gather Party #488 – Shabby Art Boutique
Grace at Home No. 440 – Imparting Grace
Traffic Jam Weekend Link Party #296 – My Bijou Life
Link Your Stuff – Annemarie's Haakblog
A Morning Cup of Joe – The Cottage Market
Saturday Sparks Link Party 442 – Pieced Pastimes