This is a crochet pattern review of the Country Grace Pullover pattern from designer Tammy Hildebrand for Annie's Signature Designs. It's an easy, lacy women's top perfect for Spring or Summer.
This post contains affiliate links for Annie's Catalog, Lion Brand Yarns and WeCrochet. If you make a purchase by clicking on them, I make a small commission at no extra cost to you. Thanks for your support!
Find the crochet pattern review below, or click here to purchase the pattern from Annie's Catalog!
I always look forward to the release of the seasonal Annie's Signature Designs from Annie's Catalog. This Country Grace Pullover is from their 2022 Spring Collection, and it's number 1 on my Top 5 Favorites. I had tons of Lion Brand Coboo Yarn in my stash, and couldn't wait to get started on this top. It's perfect for Spring and Summer, though living in Florida, it's going to be perfect here year round.
This is an easy crochet pattern worked in single crochets, chains and a shell stitch pattern similar to that of the classic granny stitch. I would say a confident beginner comfortable working in the round could definitely tackle this top – just make sure to take gauge, and try on as you go.
Materials I Used to Crochet the Country Grace Pullover:
What Yarn Should I Use to Crochet the Country Grace Pullover?
The original pattern uses Lion Brand Coboo Yarn as well. I went with this yarn because I had a ton in my stash already, but it's also a great, soft, lightweight yarn that wears pretty well and has great drape. Living in Florida, I am always looking for lightweight yarns that are suitable for warm weather, and I think Lion Brand Coboo is a great option. An alternative to it is Berroco Modern Cotton DK, which I've ordered from LoveCrafts in the past as well as my local yarn shop, Four Purls.
These yarns are cotton blends. Cotton happens to be more relaxed. If you wanted to use an acrylic (like Lion Brand Mandala) or wool (like WeCrochet Swish DK), you may want to go up a size or it will come out more fitted.
How Long Does it Take to Crochet the Country Grace Pullover?
I worked up the Small size over several seatings for a total of just under 10 hours.
Gauge:
The gauge is written in pattern: 4 repeats of shell + chain 1 = 4″ wide and two repeats of 3 shell rows + 1 single crochet row = 4.5″ tall.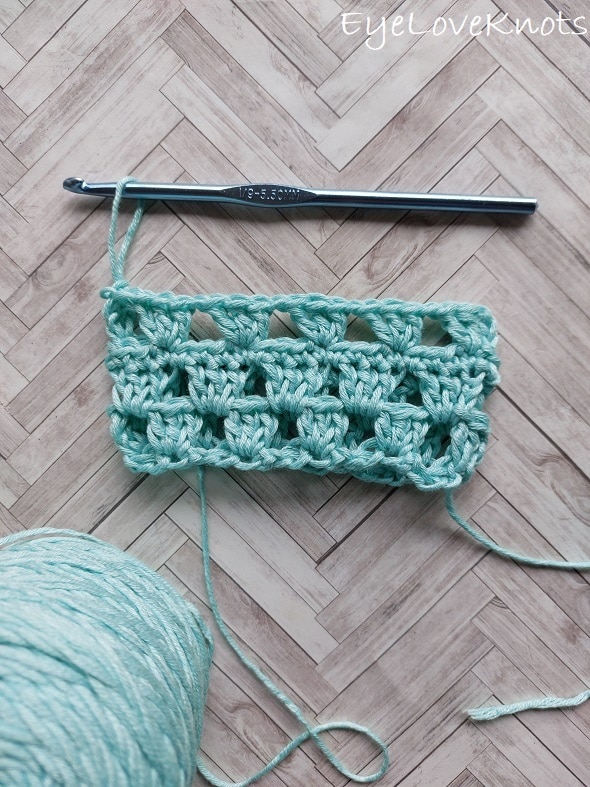 Before I began my top, I worked up small sample to check my gauge. I started with a chain of 40, slip stitched joined, worked in pattern of shell + skip 3 stitches for several rows, and then checked my gauge. I did have to do gauge twice before I met it with the I9/5.5mm crochet hook. I know gauge is annoying, but it's essential for items where the finished size matters, and for garments, it definitely matters.
How Do I Choose My Size for the Country Grace Pullover?
There are two factors to consider when picking a size for a crocheted garment, like this Country Grace Pullover: 1.) The yarn; 2.) The fit that you like. I like fitted tops, and I know that this yarn will stretch 6+ inches.
My bust size is 42″. Looking at the pattern, I could see that the finished bust measurement for the size Small was 38″. Even though I knew there would still be 2″ of ease on this top, I knew it would be a comfortable top, especially for a top that would be over a tank top or bathing suit.
As mentioned in the materials section, a synthetic yarn would naturally make for a more fitted top so that is also something to take into consideration when picking your size.
My Top's Measurements – All Measured With Top Laying Flat:
20 7/8″ in length from top of shoulder down
20.25″ wide across body (not including bust)
9.5″ tall armhole measured across shell pattern, not ribbed opening
8.5″ wide neckline from shoulder to shoulder
Pattern Notes: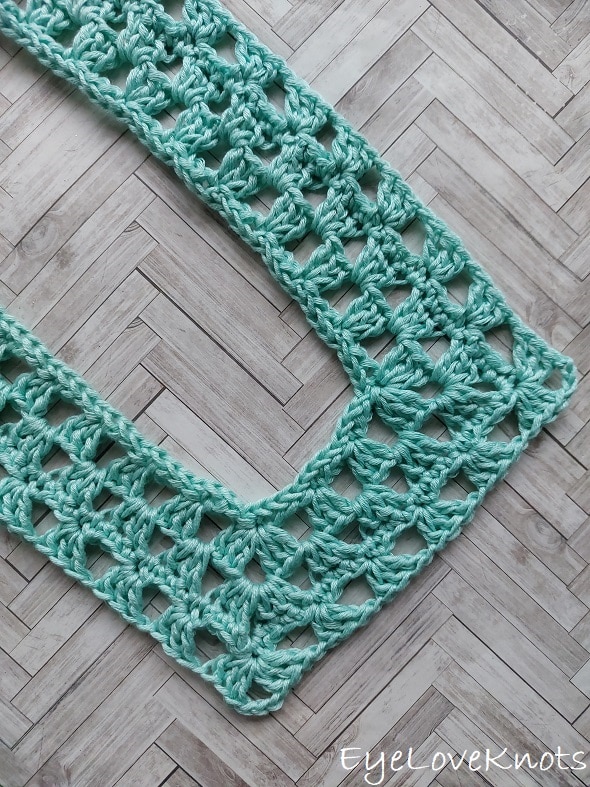 I started with a foundation single crochet out of habit. When I make garments, I like to start with one because it has more stretch then a traditional chain. With an oversized neckline, I saw at the end that this was a mistake, and I would definitely recommend going with the foundation chain as written in the pattern.
Rather than fastening off, and restarting with each row, I slipped stitched over after slip stitching, and began the next row in the next chain space. Now, I worked my entire top is one solid color. Had I added in stripes of other colors, I would have fastened off at the end of the row, and reattached the new color in the next chain space.
When it came to sewing up the sides, I slipped stitched the layers together instead, this way, I could easily take it apart if I needed to adjust it, which I'm glad I did because I did end up having to take the top apart later on.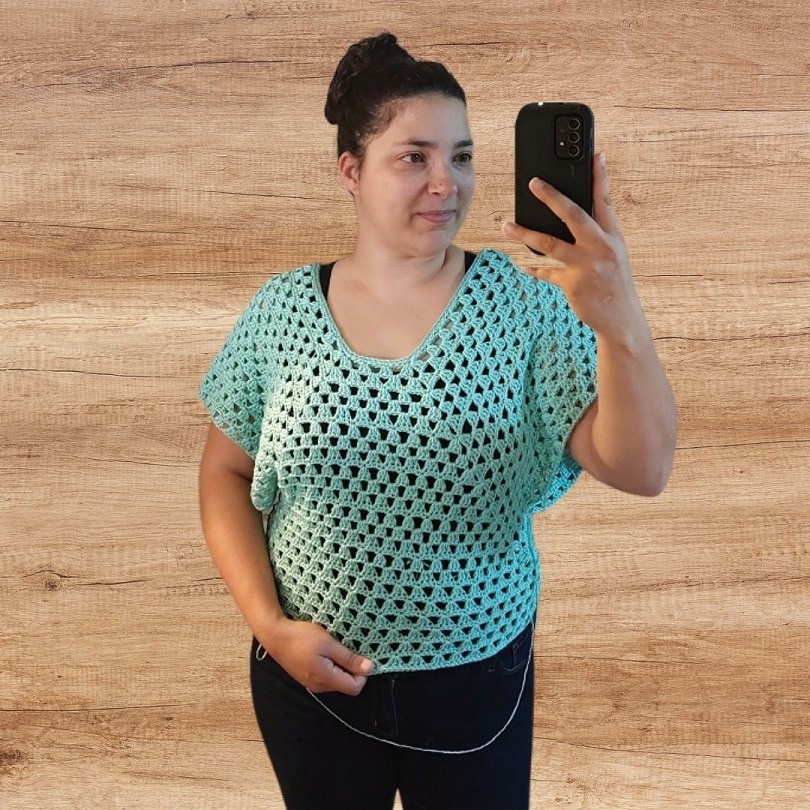 I worked the pattern as written. This photo is prior to the sleeves being added, and I'm testing the fit. I highly recommend this step. It's so much easier to adjust as you go, then trying to do it later, not to mention less frogging.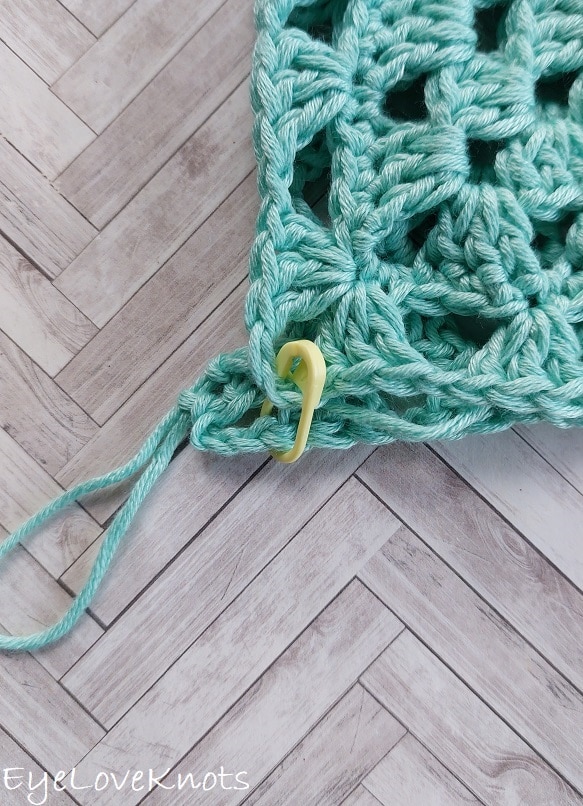 I had not realized before, the extra fabric around the underarm, as seen in the photo above on the left side. When I put the top on, I noticed it, and did not like how the fabric fell, especially being right around my boob. I went back to the photo of the original top, and I noticed it's designed like that – no problem. I counter this, I sewed the sides up further. First, I placed stitch markers under my armholes where I wanted them to be, then I took off the top, frogged up to the point of seaming the sides, and reworked it slip stitching through both layers up to the stitch markers, then I went back and worked the rest of the body.
Another thing I realized when I tried on the top was how open the neckline was, and this is why I previously mentioned that I should not have worked a foundation single crochet, but rather just a foundation chain as written in the pattern. I kept the top on for a while so I could see how it stretched over the shoulders, and I found it stretched so much, it could potentially fall off my shoulders while wearing, and I don't like tops like that…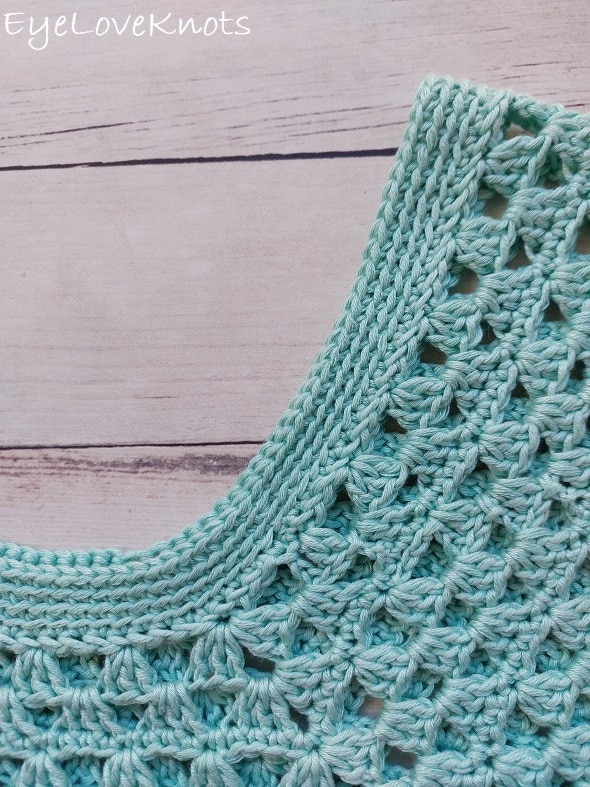 The solution: single crochet edging around the neckline! I don't know what sparked working into the back loop only, but the ridging came out perfect, and just fell in love. I worked four rounds.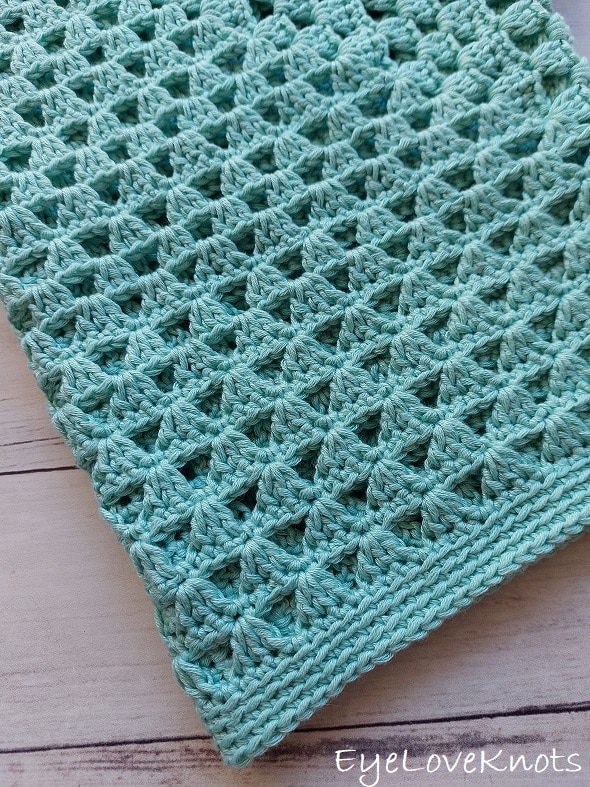 I felt like the edging needed to continue on throughout the top so I continued with it around the bottom edging…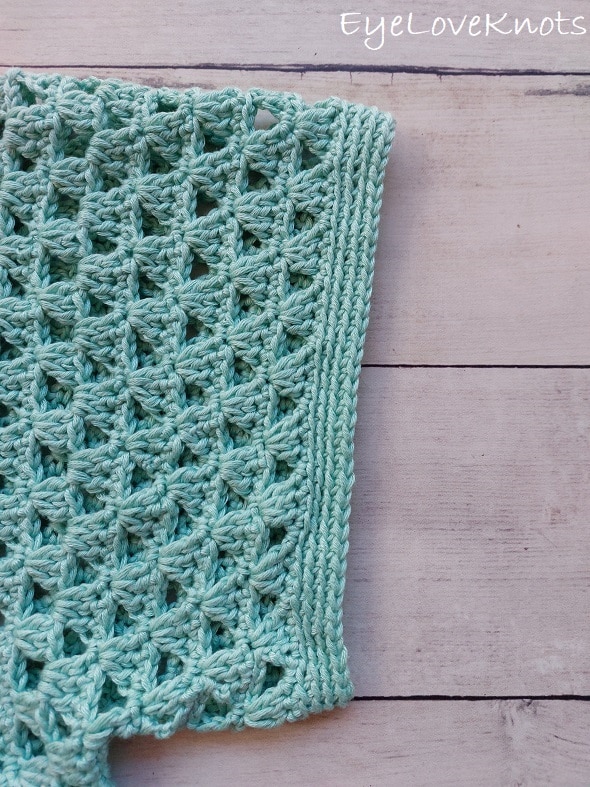 … and also on the sleeves. While we have the sleeves here, I also cut them short compared to the pattern. I was limited on yarn since I was working with yarn from my stash so I just worked with what I had, which ended up being 8 rows before the single crochet edging, but I ended up really liking this length!
It's so easy to adjust the sleeves by working less or more rows to your liking. You can also easily adjust the body by working in the same manner.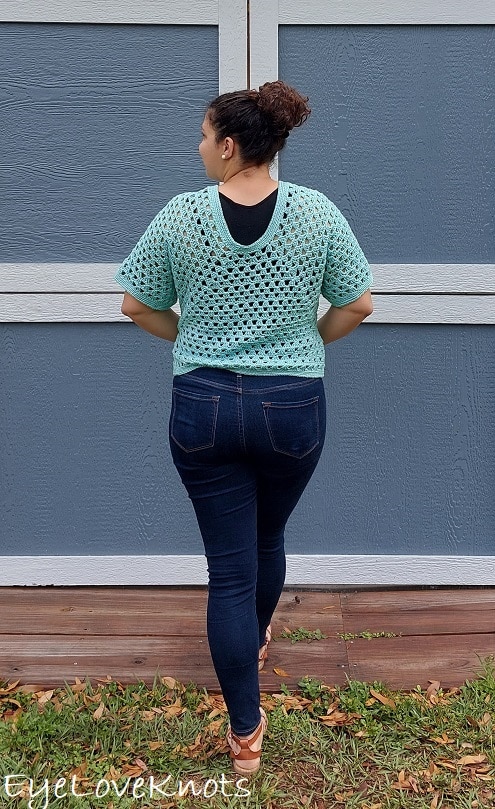 Here is a look at the back.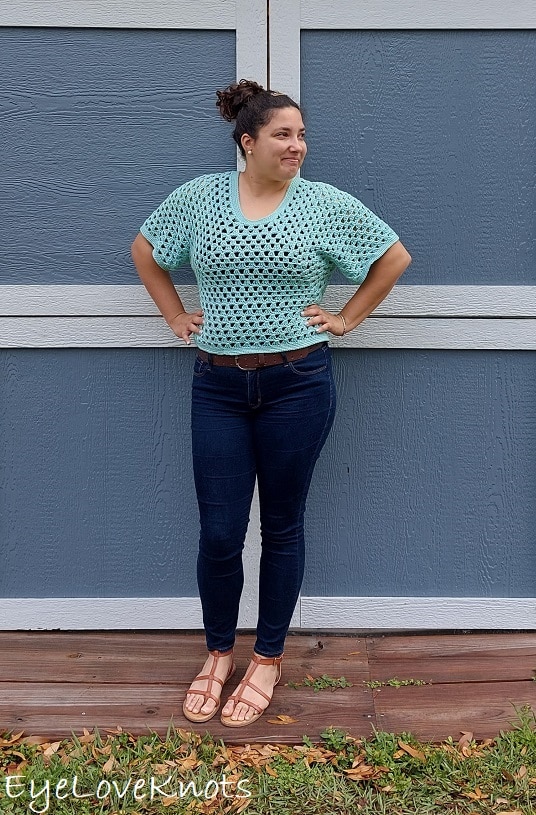 Overall, I'm quite pleased with my new Country Grace Pullover. It was an easy crochet pattern to follow worked in a stitch pattern similar to the classic granny stitch, and easy to adjust to fit just the way I wanted. This is an excellent Spring and Summer top, though living in Florida, I will enjoy it all year long.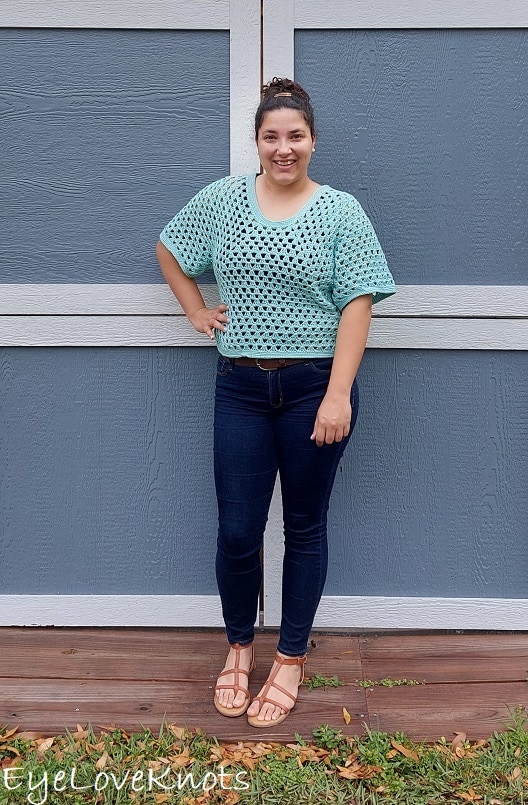 Join one of our awesome Facebook groups to share your creations, and see what others are up to!
– EyeLoveKnots Crochet & DIY Community
– DIY Home On Rockwood Lane
– Alexandra Lane Lifestyle
Linked Up To…
Craftastic Monday Link Party – Sew Can Do
The Loop Scoop #34 – Moogly Blog
The Wednesday Link Party 444 – Oombawka Design Crochet
Creatively Crafty Link Party #321 – Try It – Like It – Create It
Inspirations Link Party #1 – Pieced Pastimes
Handmade Monday #272 – Sum of their Stories
The Really Crafty Link Party #309 – Keeping it Real
Link-up Potpourri #37 – My Bijou Life
Happiness is Homemade Link Party #420 – Decor Craft Design
You're the Star Blog Hop – Decor Craft Design
Hello Monday – Pink Lady
Anything Goes Linky 325 – My Random Musings
Share the Wealth #15 – My Big Fat Menopausal Life
Weekday Wear Linkup – Away from the Blue
Style on the Daily – Straight A Style
Wonderful Wednesday – Oh My Heartsie Girl
Link Up – It This Mutton
631st Inspire Me Tuesday – A Stroll Thru Life
Fabulous Party 417 – Lou Lou Girls
Link-Up – Scribbling Boomer
The Happy Now Blog Link-Up #314 – JENerally Informed
Turning Heads Tuesday – Elegantly Dressed and Stylish
Confident Twosday – I do deClaire
Style with a Smile Link Up – Style Splash
Spread the Kindness Link Up #268 – Shelbee on the Edge
Thursday Favorite Things #534 – An Artful Mom
Encouraging Hearts & Home Blog Hop – My Slices of Life
Grace at Home No. 462 – Imparting Grace
Linky Party #264 – Karin's Kottage
Thursday Fashion Files Link Up – Doused in Pink
Chic and Stylish Link Up – Mummabstylish
Traffic Jam Weekend Link Party #317 – My Bijou Life
Create, Bake, Grow & Gather Party #513 – Shabby Art Boutique
Funtastic Friday Link Party #371 – Simply Beautiful by Angela
A Morning Cup of Joe – The Cottage Market
Fancy Friday Linkup – Nancy's Fashion Style
Style Link Up – Lizzie in Lace
Link Up on the Edge #289 – Shelbee on the Edge
Linky Ladies Party #224 – The Purple Poncho