This is a crochet pattern review of the Tie Front Top pattern from designer Joy of Motion Crochet. Review done by A Stitch Shy of Normal for EyeLoveKnots.
This post contains affiliate links for WeCrochet and Lion Brand Yarn. If you make a purchase by clicking on them, I make a small commission at no extra cost to you. Thanks for your support!
Find the crochet pattern review below, or click here to purchase the crochet pattern kit with yarn from Lion Brand.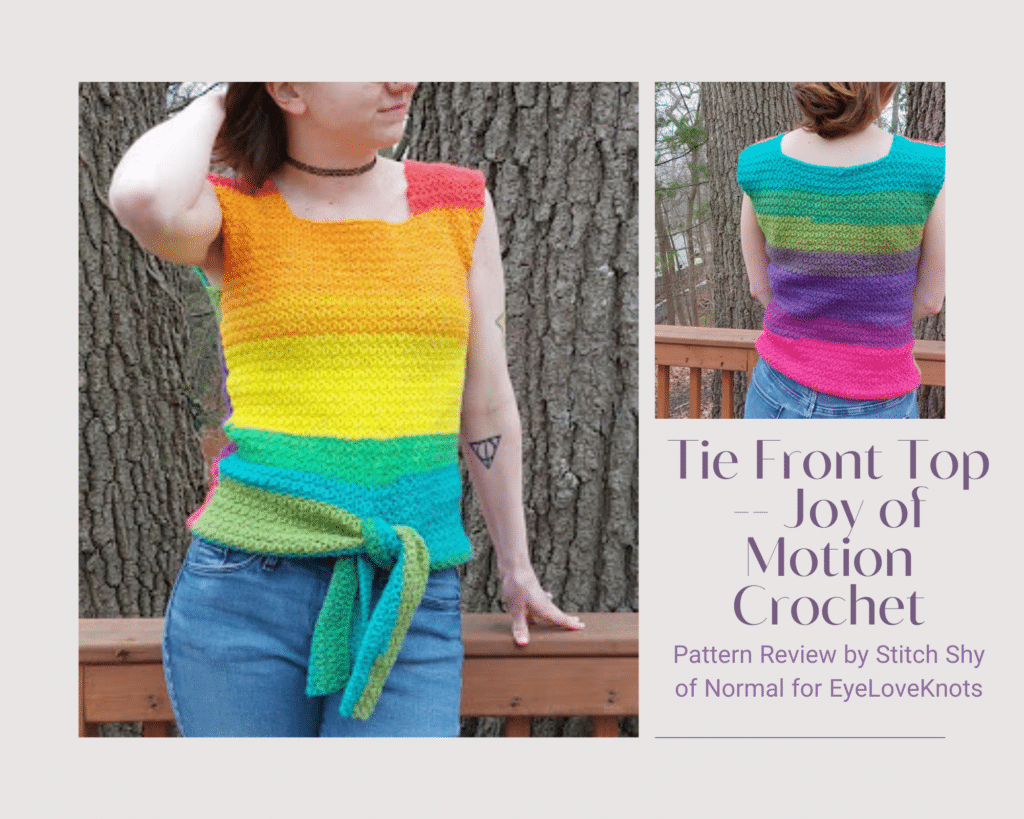 Visit with me on Instagram @astitchshyofnormal for all kinds of awesome crochet makes and inspiration.
Materials I Used to Make My Top:
Material Notes:
The designer actually recommends Lion Brand Mandala Sequins, which I couldn't find in my local store at the time and I really wanted to start this top ASAP. So I looked at the other options because the Mandala line seems to be growing! I considered the sparkly version but thought it might be a little rough on my skin. I have very sensitive skin so I imagined having that sparkle thread in a top that would be rubbing on my skin directly and decided against it. I ended up going with the regular line but in a bright rainbow! Turns out these yarns actually are a little different. The Sequins variety is a 100g cake with 295 yards, and the regular line is 150g and 590 yards. If you do the math on that, Sequins is about 2.95 yd/gram, and the regular Mandala is 3.9 yd/gram. This is more different than I expected, I didn't realize Sequins would be that much thicker! But I was able to compensate for that very easily because this pattern lists the intended dimensions of each part. So I could just work the stitches and rows to the size it was supposed to turn out, as long as I kept careful notes!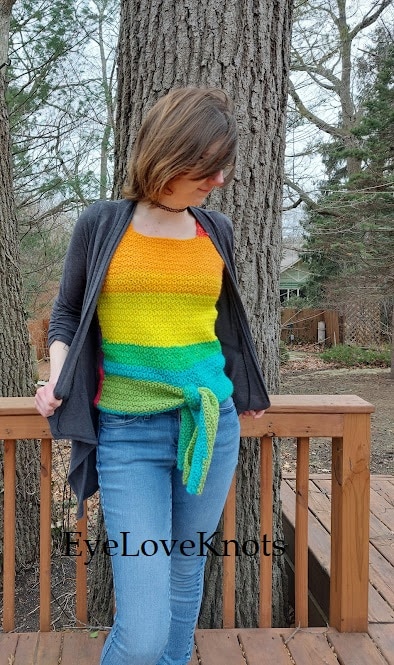 My colors are…a lot. I know. But I kind of love it. Don't let that scare you away from this pattern! Lion Brand Mandala has so many calmer colorways, and so does their Sequins line. They also have a Sparkles variety, and a Baby line…there are tons of options. You could also use pretty much any DK yarn that comes in a solid color. Or as others have done in the past, you can cut the Mandala cake into individual colors and choose your own order for how they work up! I knew when grabbing this colorway off the shelf that it would be a statement piece, and I like that.
Would I use this yarn again in this pattern? Yeah, probably. I would like to try another version like the Sparkles though. Or maybe another DK yarn in something tweed or speckled. I think there are plenty of options here, and the pattern itself was very quick and easy so you could quickly stitch up a couple of these to have some options! This would make such a cute top for a vacation.
Time Spent:
This worked up quicker than I expected! It definitely helps that the basic construction is two rectangles with a little bit of neck shaping. I estimated it being approximately 12 to 14 hours, which is really reasonable for a top in my opinion. Keep in mind that I did make pretty much the smallest listed size (I chose to kind of go between XS and S), and my gauge ended up different so that affected my stitch and row counts as well. Different sizes with different yarns will, of course, change that. But it's on the shorter side time-wise for a top.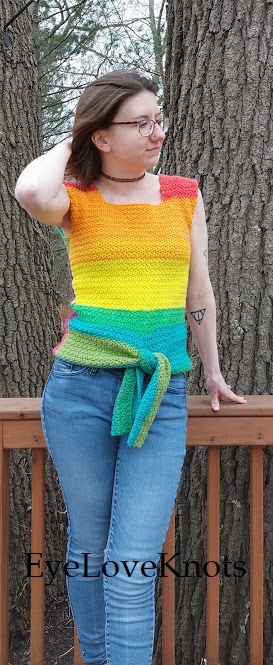 Gauge:
The listed pattern gauge is 4″ being 16 stitches by 17 rows.
To be honest, I did not swatch before I started this. The pattern does recommend doing so, but I was in love with the colorway and decided from the start that I was going to use the listed dimensions, regardless of gauge. And I was happy with my stitch drape so I kept with the same hook size as well.
My gauge ended up being 18 stitches by 16 rows, so that's definitely in the ballpark! I see why it mostly worked out for me.
Measurements:
I looked at the listed dimensions and chose to make a modified size between XS and S. The XS would have been a little tight on me, but I didn't want to size all the way up to Small and have it be too loose. I basically used this as a create-your-own size template.
So using my in-between measurements, I got a top that's about 16.5″ wide laying flat (or 33″ around), and 23″ long top to bottom.
This is actually a little shorter than the listed size, because XS or S would have been 24-25 inches long. I have a short torso and I held it up against myself until I liked the length! My size also did end up more on the XS size when totally unstretched, but this stitch pattern allows for a good amount of stretch.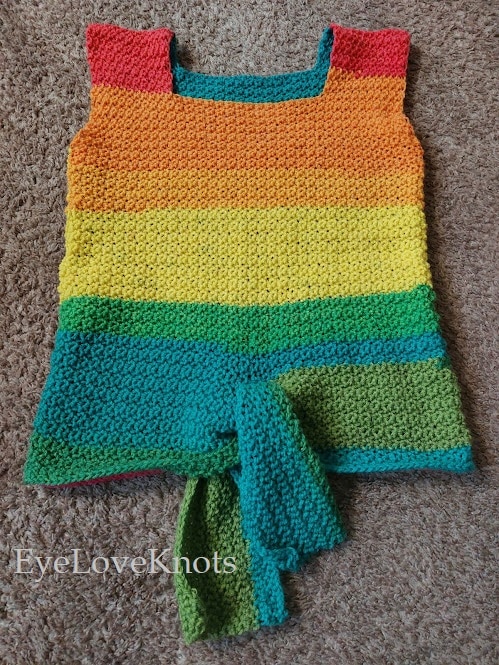 Pattern Notes:
This top is just so adorable. That's my favorite part. Obviously part of that is my colors, I love how this colorway worked out. I ended up with the front being more of what you'd expect for a rainbow, and then the back having all the pinks and purples! I didn't do any of that on purpose by altering my cakes, I just had my first cake end on the pink so I chose my next one (out of the four I bought) to start on pink. That was the extent of intentional choices here, the rest of it was luck and fate.
I did make one change to the pattern influenced by color, though. The designer has one last step that I chose not to do, which is adding an edge to the neck and arm openings. I'm sure it would look absolutely gorgeous if you were using a more coordinated colorway, and it does in their pattern pictures–the sample top used a beautiful colorway of pinks and neutrals, and the edging blends in wonderfully. But my neck opening includes red, orange, and blue. My armholes have those same colors plus green. There's no one color from the cakes that I could choose that would really "go" with all of those shades, and I initially tried but did not like the look. I tried on the top without the edging and was very pleased with the look, so I personally skipped the edging step.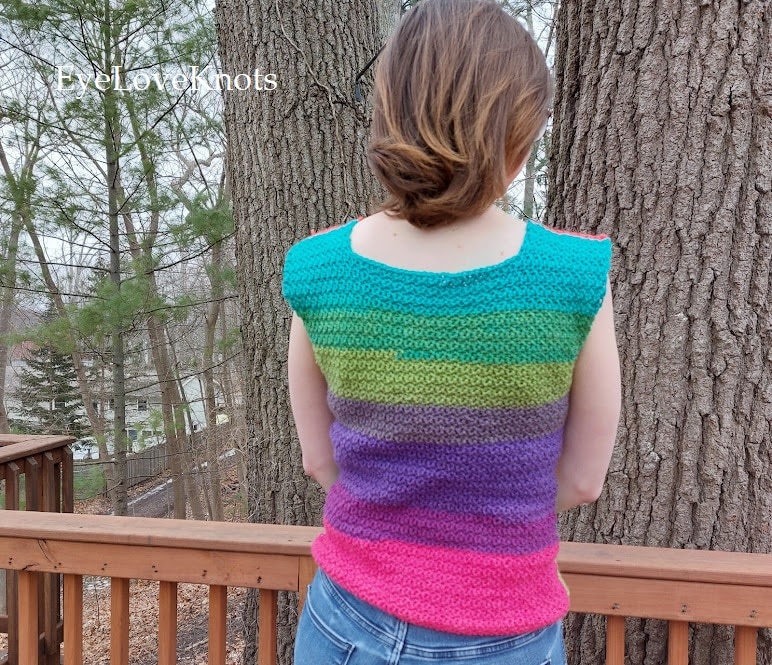 This pattern is so simple! The stitching is basic and once you get going, the biggest challenge is making sure you keep the right count. A few times, I found myself missing a stitch and had to frog a couple of rows to fix it. But that got better as I got farther into the top, I just took some time to get my hands used to the pattern. Even the neck "shaping" is really simple. I would say this pattern is approachable for pretty much any skill level, even a basic beginner can probably make their way through it with enough time and patience.
There isn't any real shaping in this pattern in terms of a snug flattering fit. It is flattering in my opinion, but I just want to clarify that so you don't expect it to have a waist shape or anything of the sort. It's a basic rectangle and doesn't look like much laying flat. But then you put it on and the simple stitch pattern just hugs you and stretches the perfect amount! It's so comfy and feels weightless, and looks so cute! I might have made this in barely-spring, but I can see this being the cutest summer top ever. Can't you just picture this with some shorts and sandals? Of course, I'm not going to attempt that right now when it's 35 degrees out, but I will in a couple of months!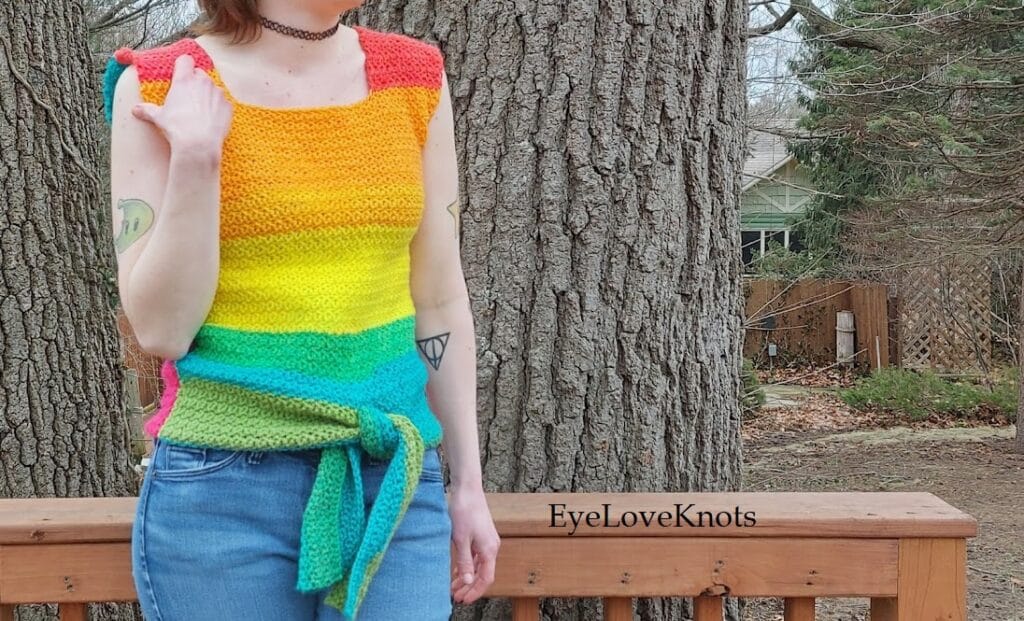 I don't have much for notes on how the pattern itself could be improved. I think the designer is really onto something here. It's so basic but the overall look just works out beautifully. If I have to be picky, the ties could be a little longer and skinnier, just so there's more to tie and they would hang down more. But on the other hand, I'm not sure how much they will stretch out over time and I also wouldn't want the ties to stretch out and drag down the front of the top. So I'll trust the designer's wisdom here. But if I make a second one, I might just work my ties a couple inches longer to see how that works. For science, of course.
My overall thoughts on this pattern are pure joy. It was fun to work up, easy to understand, and very simple to modify to my gauge and my body. The tie idea is creative and definitely something I've seen in store-bought tops, but I never would have considered emulating that in crochet! DK yarn was a great choice, and this top feels like a cloud. I am going to rock this thing with some cute summer outfits!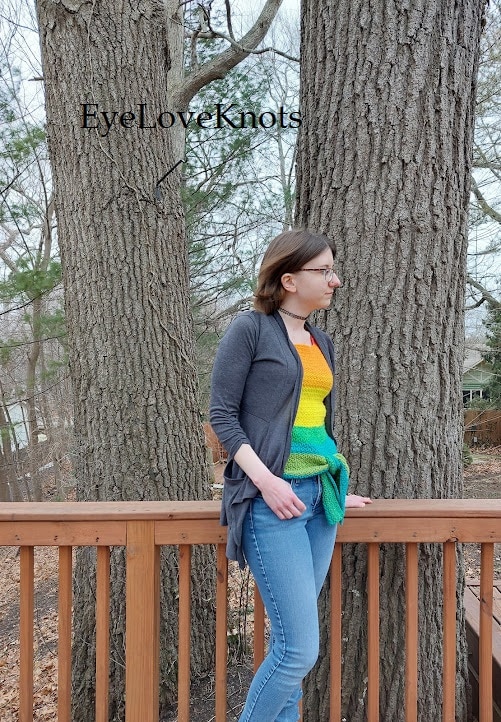 Don't forget to visit with me on Instagram @astitchshyofnormal for all kinds of awesome crochet makes and inspiration.
Join one of our awesome Facebook groups to share your creations, and see what others are up to!
– EyeLoveKnots Crochet & DIY Community
– DIY Home On Rockwood Lane
– Alexandra Lane Lifestyle
Linked Up To…
Linky Ladies Party #222 – The Purple Poncho
The Loop Scoop #34 – Moogly Blog
Weekday Wear Link Up – Away from the Blue
Turning Heads Tuesday – Elegantly Dressed and Stylish
Confident Twosday Linkup – I do deClaire
Style with a Smile – Style Splash
Wow on Wednesday Link-Up – Is This Mutton
Top of the World Style Linkup No. 351 – High Latitude Style
Thursday Fashion Files Linkup – Doused in Pink
Chic and Stylish Link Up – Mummabstylish
Link Up on the Edge #288 – Shelbee on the Edge
Style Link Up – Lizzie in Lace
Fancy Friday Linkup – Nancy's Fashion Style
Neverending Style Link-up – The Grey Brunette
Handmade Monday #271 – Sum of their Stories
Craftastic Monday – Sew Can Do
Craft Schooling Sunday – Creative Jewish Mom
Happiness is Homemade Link Party #419 – Decor Craft Design
You're the Star Blog Hop – Decor Craft Design
Share the Wealth Link Up #15 – Big Fat Menopausal Life
The Really Crafty Link Party #308 – Keeping it Real
Link-Up Potpourri #36 – My Bijou Life
Hello Monday – Pink Lady
Anything Goes Linky #324 – My Random Musings
630th Inspire Me Tuesday – A Stroll Thru Life
Fabulous Party 416 – Lou Lou Girls
Link-Up – Scribbling Boomer
The Happy Now Blog Link-Up #313 – JENerally Informed
Spread the Kindness Link Up #267 – Shelbee on the Edge
Team Creative Crafts Link Party #86 – Artsy-Fartsy Mama
The Wednesday Link Party 443 – Oombawka Design Crochet
Wonderful Wednesday – Oh My Heartsie Girl
Wonderful Wednesday Blog Hop – My Life Abundant
Thursday Favorite Things #533 – An Artful Mom
Creatively Crafty Link Party #320 – Try It – Like It – Create It
Encouraging Hearts & Home Blog Hop – My Slices of Life
Grace at Home No. 461 – Imparting Grace
Karins Kottage Linky Party #263 – Karins Kottage
Traffic Jam Weekend Link Party #316 – My Bijou Life
Create, Bake, Grow & Gather Party #512 – Shabby Art Boutique
Funtastic Friday Link Party #370 – Simply Beautiful by Angela
Morning Cup of Joe – The Cottage Market
Saturday Sparks Link Party 507 – Pieced Pastimes
Songful Style Link Up – The Grey Brunette