This is a crochet pattern review of the Mini Mandala Shoulder Bag pattern from designer Lena Skvagerson for Annie's Signature Designs. Review done by A Stitch Shy of Normal for EyeLoveKnots.
This post contains affiliate links for Annie's Catalog, WeCrochet and Lion Brand Yarns. If you make a purchase by clicking on them, I make a small commission at no extra cost to you. Thanks for your support!
Find the crochet pattern review below, or click here to purchase the pattern from Annie's Catalog!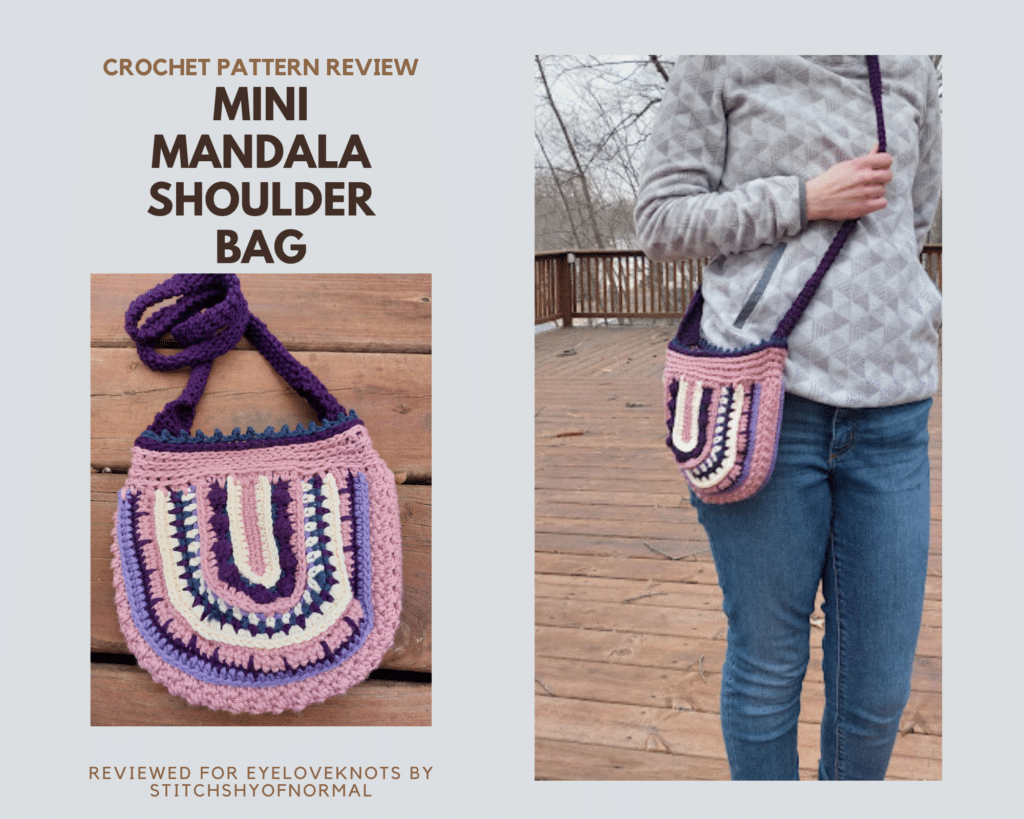 Visit with me on Instagram @astitchshyofnormal for all kinds of awesome crochet makes and inspiration.
Materials I Used to Make My Bag:
Material Notes:
The recommended yarn is Lion Brand 24/7 Cotton, which I've used before and enjoyed. I didn't have any of this yarn and I really wanted to use this as a stash-busting project. The colors in the designer's picture called out for a stash dive to me! I searched my stash of cotton yarns and chose this selection because they mostly coordinated with each other but not too much (I eliminated a lighter blue instead of the pink because that looked just a little too calm). I recommend something like this, keeping it largely in one color family (warm or cool) with a neutral or two. I didn't intentionally match them to any colors in the pattern, I just grabbed them at each color change and then made a note to myself like "Denim = my pink shade" or something.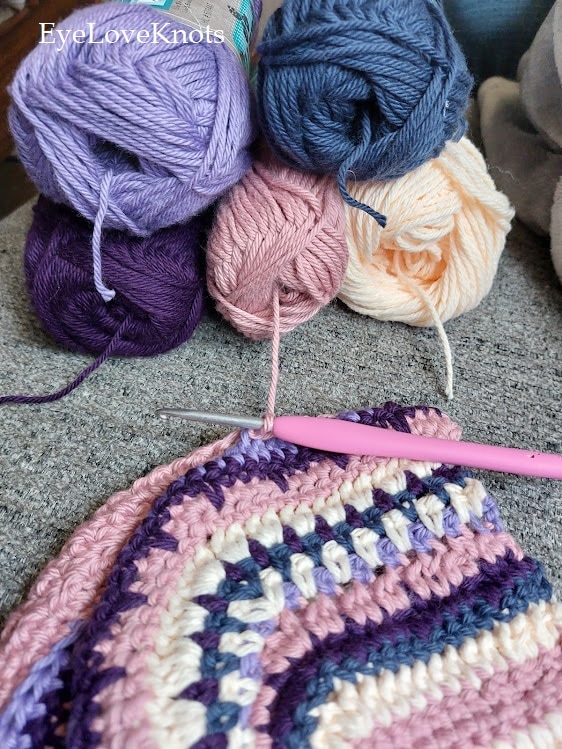 I think my yarn choice worked out pretty well! It might not have been perfect in terms of gauge, but it worked with the hook and exact size in something like a bag is not super important. You want to be within a reasonable range, sure, but any medium weight cotton should work fine. Most brands also have fun options to mix it up a little bit like something with bamboo or recycled polyester mixed in, giving the same durability and/or sustainable sourcing from different fiber options!
Would I do this again with this same yarn? I certainly wouldn't mind that but I'd actually really like to try it with the intended 24/7 Cotton. This yarn was a little bit thicker which I think made some of the stitching not quite as neat looking as the original picture. It's gorgeous in my version too, but I know the Lion Brand cotton has such beautiful stitch definition and I think that really lent itself to this design. Plus 24/7 Cotton is lovely, from the few times I've used it, so I want to play around with those color combinations!
Time Spent:
5-6 or so hours is my best estimate. It took me basically two days of picking it up on and off, so it was a very quick make! It took me a while to pick my colors from my stash but that doesn't count, of course.

Gauge:
The pattern gauge suggests 18 stitches = 4 inches. What stitches, you might ask? I'm not quite sure either. Because you often work this bag in half double crochet, that's what I would guess? So that's what I'm using for comparison.
My half double sections usually have 16 to 18 stitches by my measurement, so I think that means I got pretty close, if I'm measuring the right stitches! The slight variation could be either my yarn, my stitching, or of course both.
Measurements:
The dimensions listed suggest the bag should be 7″ wide and 7″ long, so a nice small cell phone and wallet bag.
Mine came out 7.5″ wide and 8″ long, with a little extra space but not too far off! Again, this is probably due to my cotton being thicker. The Sugar 'n Cream especially is a thick medium cotton.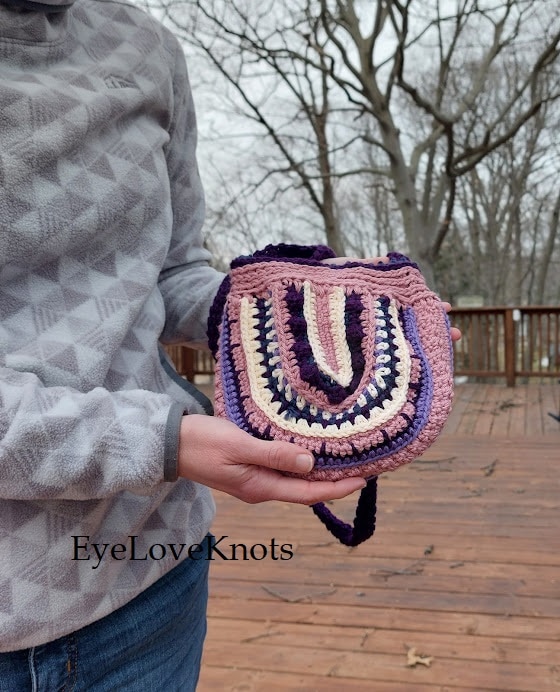 Pattern Notes:
I chose to work both of the panels at the same time, and I really felt that made it go much faster! Because you're cutting the yarn after (almost) every row and rejoining with a new color, it was very simple to just work it twice. It made it easier to keep count, and if I noticed I had made a mistake somewhere, it was easy to remember that and avoid doing it on the other panel. Technically I suppose it doesn't actually make anything go any quicker, but I feel that it definitely simplified things for me. I avoided second-sock (second-panel?) syndrome too, by finishing both only a few minutes apart!
My biggest confusion in this pattern is something that's clearly stated, but I wanted it to be a little more obvious. In the first few rows, it's not clear that you're rejoining at the same edge each time and working every row with the right side facing. It says (RS) at the beginning of each row, and there's no instructions to turn at the end, but I would really want the pattern notes to say something like "for rows 1 through whatever, you will be cutting the yarn and then going back to the first stitch of the row to join the next color". That clunky phrasing is why I'm not publishing patterns for Annie's Catalog, but you get the picture. I wanted it a little more in-your-face. But I figured it out.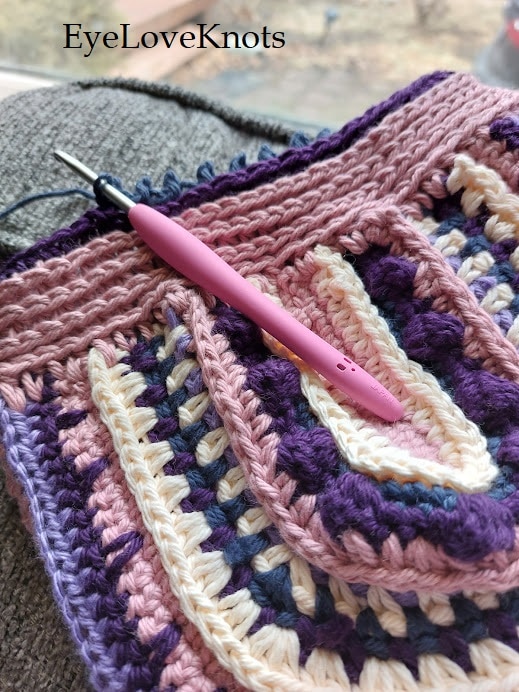 Pay attention because there's one point where you DON'T change colors. I know, I totally missed it too. I definitely cut the pink and had to go back and sheepishly rejoin it. To both panels. That's the downside of my technique working them simultaneously, too. If you make a mistake, sometimes you make it twice. But in this case it was just another couple of ends to weave in, no harm done.
Be careful not to miss the first stitches in the row! Because you join with a single or half-double crochet, rather than slip-stitching and chaining to start, these stitches have a different shape to them. They can be easy to miss when you're working the next row. Just count carefully each time. I had to frog rows many times in this one, but because it's so fast it was never that big of a deal.
I can say this from experience, and especially now that I've measured my finished bag–if you think yours is really wide and you're confused because the pattern picture looks more tall, just be patient. The top section really pulls it all together and adds that height. Yes, mine was still a touch wider than theirs, but not by much. It's not as oddly wide as it seems like it's going to be when you're working it up.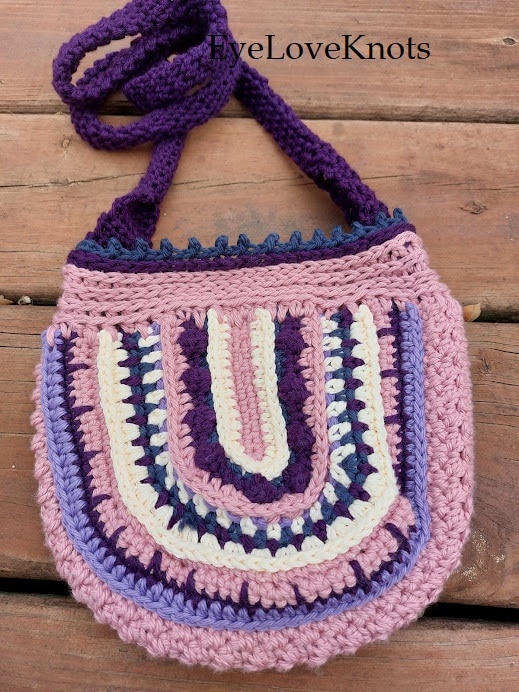 I chose a different color for my strap just because–it's supposed to be the equivalent of my pink yarn, but I was kind of running low on that partial skein and I also just had done enough with the pink, I wanted a deeper color for the strap. I chose my dark purple because I love purple and I thought it would be a nice pop. The downside here (that I should have expected but didn't consider) is that you sew these straps on from the inside. So I could see purple stitches from the outside of the bag, which is honestly fine. This thing is kind of a chaotic bag anyway. The alternative would have been to use the pink to sew, because it would match the outside, but then there would be pink stitches visible inside the bag. None of this is an issue if you follow the directions and use the same color, though.
This strap, by the way, is super interesting. If you've made a lot of bags before you might not be surprised by it, but if I was doing it right you work into the back loop of a single crochet tube…but you're working from the wrong side, so from the outside it just looks solid! I don't know if what I did was correct but if it wasn't the intention, it's really cool. I think you do the back loop technique because it makes the strap stretchier and more flexible, or at least that's what it seems like to me. I will definitely do this again for future purse straps!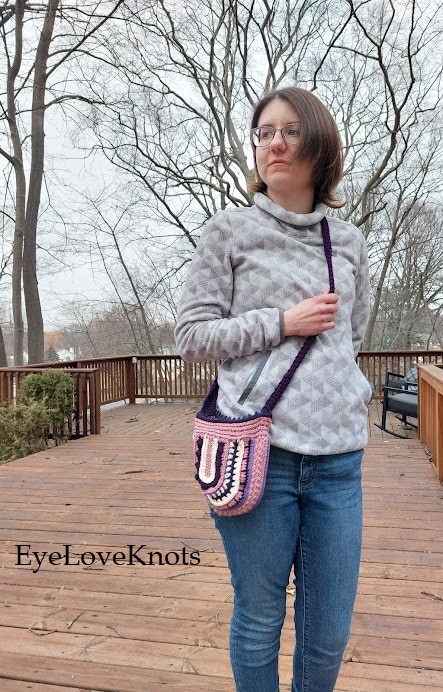 I did not put a button on, I might do so in the future but I don't have a fitting one right now, just nothing feels right from my button stash. So I'll keep an eye out for a suitably adorable button/toggle, and just use it as an open bag in the meantime!
What color combinations would you want to make this in? It could look great done in a rainbow color order, or alternating just two or three colors for something like a sports team! Or red, white, and blue for the 4th! There are so many options and I'd love to hear what you come up with.
Don't forget to visit with me on Instagram @astitchshyofnormal for all kinds of awesome crochet makes and inspiration.
Join one of our awesome Facebook groups to share your creations, and see what others are up to!
– EyeLoveKnots Crochet & DIY Community
– DIY Home On Rockwood Lane
– Alexandra Lane Lifestyle
Linked Up To…
Linky Ladies Party #222 – The Purple Poncho
The Loop Scoop #34 – Moogly Blog
Weekday Wear Link Up – Away from the Blue
Turning Heads Tuesday – Elegantly Dressed and Stylish
Confident Twosday Linkup – I do deClaire
Style with a Smile – Style Splash
Wow on Wednesday Link-Up – Is This Mutton
Top of the World Style Linkup No. 351 – High Latitude Style
Thursday Fashion Files Linkup – Doused in Pink
Chic and Stylish Link Up – Mummabstylish
Link Up on the Edge #288 – Shelbee on the Edge
Style Link Up – Lizzie in Lace
Fancy Friday Linkup – Nancy's Fashion Style
Neverending Style Link-up – The Grey Brunette
Handmade Monday #271 – Sum of their Stories
Craftastic Monday – Sew Can Do
Craft Schooling Sunday – Creative Jewish Mom
Happiness is Homemade Link Party #419 – Decor Craft Design
You're the Star Blog Hop – Decor Craft Design
Share the Wealth Link Up #15 – Big Fat Menopausal Life
The Really Crafty Link Party #308 – Keeping it Real
Link-Up Potpourri #36 – My Bijou Life
Hello Monday – Pink Lady
Anything Goes Linky #324 – My Random Musings
630th Inspire Me Tuesday – A Stroll Thru Life
Fabulous Party 416 – Lou Lou Girls
Link-Up – Scribbling Boomer
The Happy Now Blog Link-Up #313 – JENerally Informed
Spread the Kindness Link Up #267 – Shelbee on the Edge
Team Creative Crafts Link Party #86 – Artsy-Fartsy Mama
The Wednesday Link Party 443 – Oombawka Design Crochet
Wonderful Wednesday – Oh My Heartsie Girl
Wonderful Wednesday Blog Hop – My Life Abundant
Thursday Favorite Things #533 – An Artful Mom
Creatively Crafty Link Party #320 – Try It – Like It – Create It
Encouraging Hearts & Home Blog Hop – My Slices of Life
Grace at Home No. 461 – Imparting Grace
Karins Kottage Linky Party #263 – Karins Kottage
Traffic Jam Weekend Link Party #316 – My Bijou Life
Create, Bake, Grow & Gather Party #512 – Shabby Art Boutique
Funtastic Friday Link Party #370 – Simply Beautiful by Angela
Morning Cup of Joe – The Cottage Market
Saturday Sparks Link Party 507 – Pieced Pastimes