This is a crochet pattern review of the Twister Poncho pattern from designer Laura Gebhart, published through Annie's Catalog. Review done by A Stitch Shy of Normal for EyeLoveKnots.
This post contains affiliate links for Annie's Catalog, Lion Brand and WeCrochet. If you make a purchase by clicking on them, I make a small commission at no extra cost to you. Thanks for your support!
Find the crochet pattern review below, or click here to find the pattern on the Annie's website!
In a hurry? Pin for Later.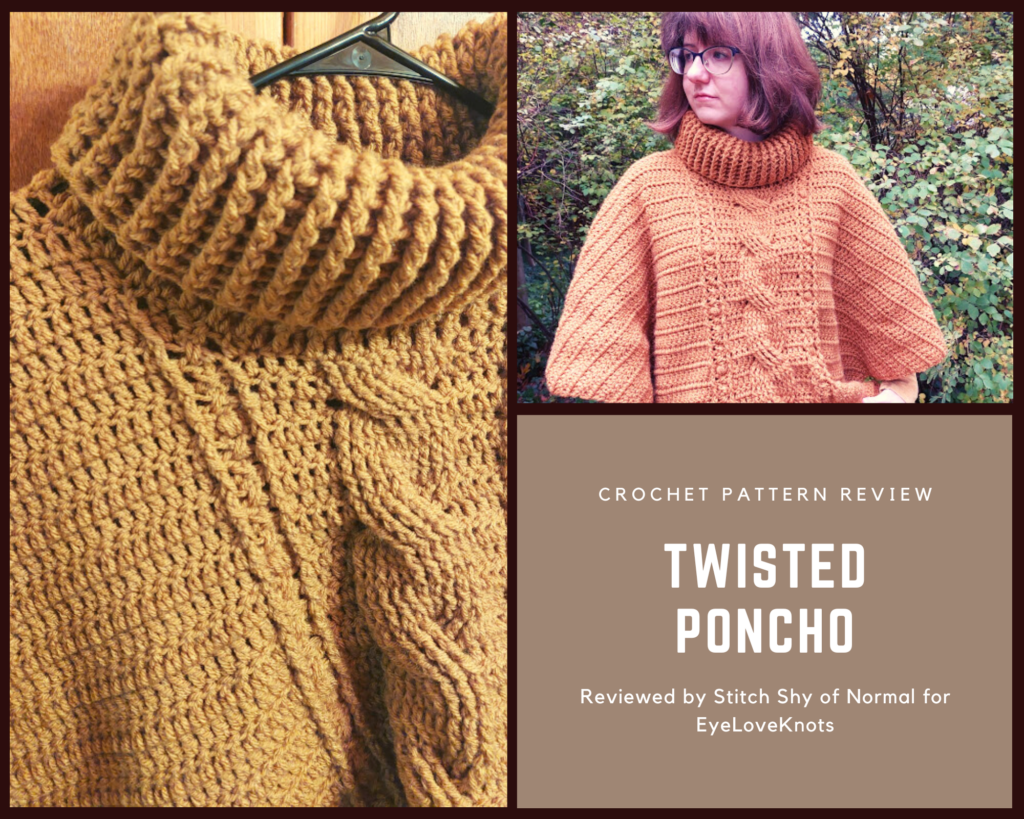 Visit with me on Instagram @astitchshyofnormal for all kinds of awesome crochet makes and inspiration!
Fall is my jam. That's it, that's the whole review.
No but really, if you know me at all you know my obsession with this season. I literally had a countdown going on my work whiteboard for the first "official" day of fall. And I was absolutely over the moon with joy when that was also the first day that the temperature here dropped below 60-ish, and it's only gone above that a few times in the month since. I'm so happy.
Fall means baking, and pumpkins, and interesting tea and coffee concoctions inspired by so many delicious things. Seriously, why is it only when the weather gets cold that coffee places decide it's time for a latte inspired by things like caramel brulee or tiramisu? I would happily drink those options year-round. But I'm getting a little off topic here. It's also the time of year to pull out the box in my basement brimming with hats, scarves, cowls, sweaters, and all sorts of cozy things. I want to just jump inside that box and snuggle up for a nap. Each year, the percentage of the box that I made myself grows just a little bit. It started with entirely store-bought items (before I knew crochet) and now I'd say it's about 50-50.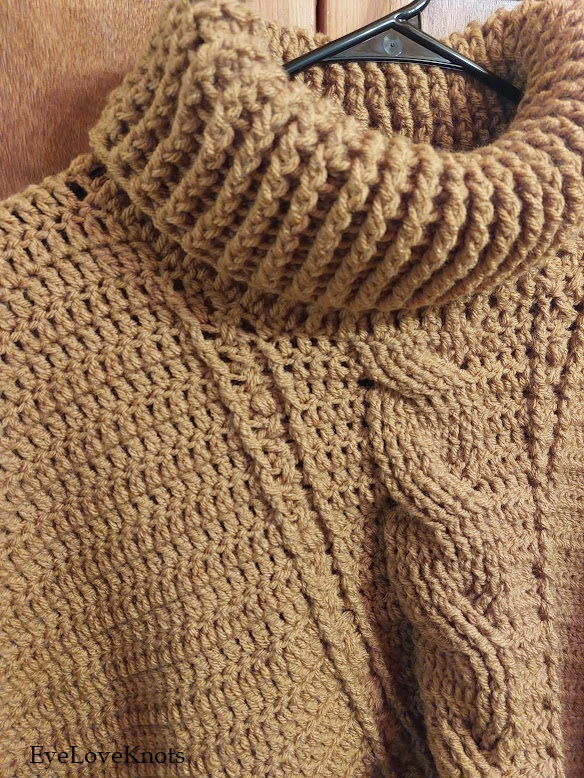 This poncho just sang to me when I spotted it on the Annie's Catalog website. It's cabled, looks super cozy, and it just radiates fall vibes. I started daydreaming about wearing this piece to go out apple-picking or walk around our town square with a steaming cider drink in my hands…I haven't done either of those things with this poncho yet but I finished it pretty close to this deadline (long story)! I'll get use out of it soon enough.
What Materials Do I Need to Crochet a Poncho?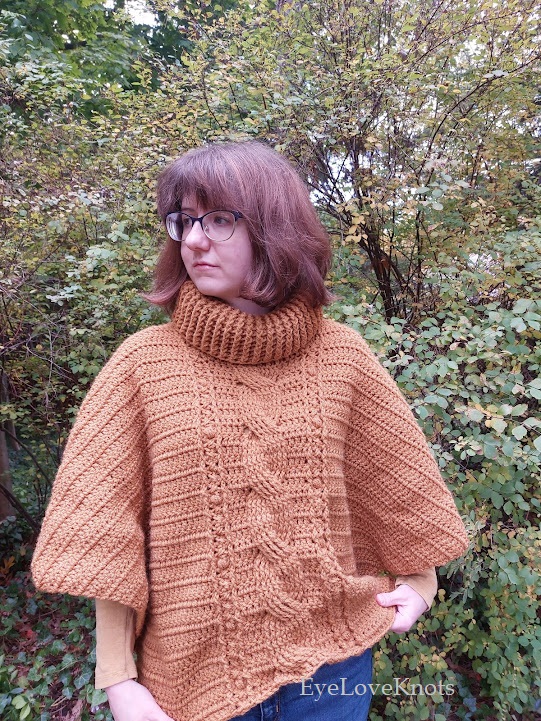 Material Notes:
Just one thing to get out of the way–I honestly don't know if Vanna's Choice yarn is discontinued. The internet seems to be unsure as well. My Joann store no longer carries it except for whatever is left in the clearance area (which is where I bought it for this project, all 8 they had left!). The Joann website seems to still have it in some colors, but doesn't carry it in stores anymore? (I might be wrong on that.) The Lion Brand website isn't saying anything about anything being clearanced or discontinued though. So it might just be leaving Joann stores? If so, I'm really sad because I adore this yarn and have used it for years. I realize I can buy it online but that's not quite the same.
I love the thickness that this yarn gave to the gorgeous cabling. The suggested yarn from the pattern is actually Red Heart Super Saver Brushed, which is a medium weight yarn but has a thicker lofty sort of feel. I have bought this yarn before and I've been kind of playing around with it, but I did not decide to buy it for this project because I just didn't want that feeling of the yarn for the entire poncho. That's just my preference, but I wanted it to be more of a typical yarn feeling. I also wanted to be able to toss this into the washing machine if needed and I don't know how that yarn would hold up in that case.
In addition to being durable and comfy, this yarn provided great stretch! This poncho looks like it would be heavy but once on the body it feels bouncy and lightweight. Part of this is probably the cable pattern, which generally gathers the fabric together a little and can be stretched back out through steaming and blocking. I did do this to my poncho even though I initially thought I could get away without it–however, the poncho was barely reaching the top of my jeans and looked pretty bunched up. A pattern like this begs for a good steaming or blocking. I just quickly steamed it with my handheld one, lightly pulling on the bottom and the side edges to stretch it out a little bit.
Would I use this yarn again in this pattern? Definitely yes. I love the stitch definition, it's very warm and cozy, and the colors would all work great. This line comes in so many gorgeous neutrals and deep jewel tones, there's a reason it's always been a go-to for me. It's not the cheapest at regular price–for the amount I needed it would have been $45, but I bought it on clearance WITH a coupon for clearance items so I paid about $25 instead! (And if they had the yardage I needed in the store that day it would have been about $30, still pretty good.) But if you're smart about when you buy from Joann, and you strategically use coupons, it can get more affordable.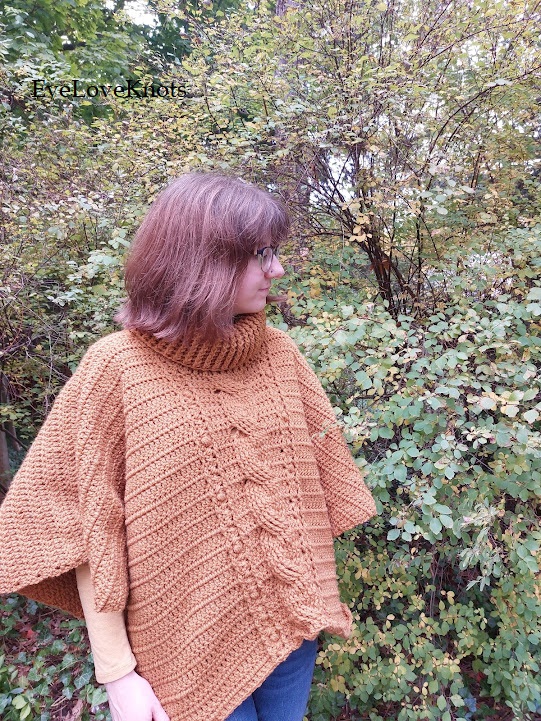 How Long Does it Take to Crochet a Poncho?
I would estimate this took me about 18 hours overall. It was on the longer side due to the cabling pattern in the middle, in my opinion. This pattern toes the line between mindless stitching and having to actively think the whole time, so it doesn't go as quickly as I think it would in a solid stitch pattern.
Gauge:
The gauge is written with the main poncho pattern, and using the J hook.
4 inches is supposed to be equal to 10 double crochet or 6 rows.
On my finished project, 4 inches equals 12 stitches and 7 rows. So my stitches ended up a little smaller and you'll see that this did affect my sizing.
Note–while I'm not sure if this affects anything, my gauge is after steaming my finished project. The pattern does not mention whether or not this was done to their sample and if the measurements and gauge are affected.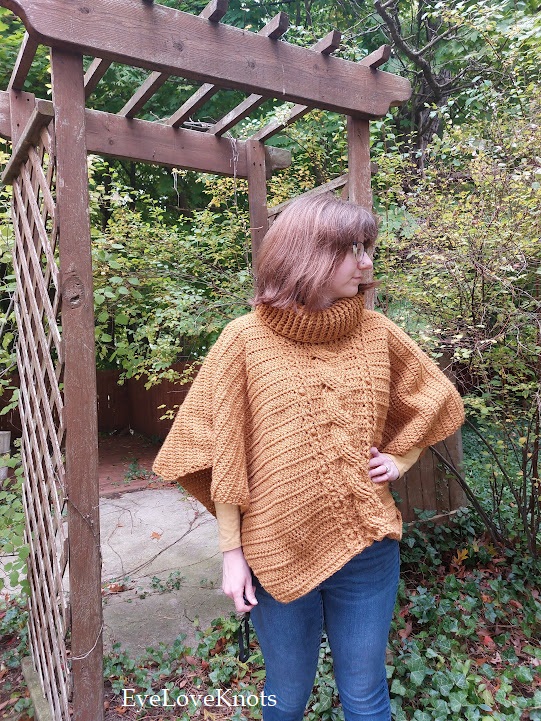 Measurements:
The only sizing options for this pattern are Small-Large being one and XL-2X being the other. I made the smaller of the two sizes. The given dimensions laying flat are 26 inches for length, and 48 inches width.
Mine came out as 24″ long, and 44″ wide. This would certainly make sense with my gauge being just a couple stitches or rows off from theirs. However, I like how this fits on my body and it worked out for me given that I wear clothing on the smaller side of their listed size range, so a couple inches lost was actually a bonus for me. Just be careful to check your gauge with your chosen yarn if you make this as well.
Pattern Notes:
This pattern is not as scary as it might look. The cable looks large and intricate, but it's actually a simple 6-row repeat (and a couple of those rows are repeats of others so there's maybe 3-4 different stitch repeats you end up doing.) The shaping of the poncho itself is done with repetitive increasing and decreasing, nothing weird or confusing there. And even the collar is quite simple to do. Just to note, though, there's an edging that it says to do around the outside of the poncho and I did not do this as I was running low on yarn. So I suppose I should say that it would require 10 skeins but I did only use 9.
Although the content of the rows is repetitive (in a good way), you're always doing something in this pattern. There's a cable with different stitches to work on, or you're often increasing or decreasing. This pattern doesn't get boring, and I love that! You get to make constant progress and see it take shape as you work. The front and back are simple panels that you seam together, and then you add the collar on top. So although the panels take time, putting it together and then adding on the collar was quick!
You might have guessed this from my discussions of the yarn, but this pattern uses more than you expect! I think it's the cabling. Those patterns usually use up a bunch of yardage. I had bought the original 8 skeins on clearance thinking that would be plenty, and then had to put this project on pause for about a week and a half while I searched for this color somewhere online to order and wait for it to ship. I got it on Friday and finished this on Saturday, before taking pictures and writing this up on Sunday. I like to live my life on the edge. And then when I went to start the edging, as I mentioned, I didn't have enough yarn left. So I should have ordered an extra two!
This thing is warm! Trust me on this. It was about 50 degrees when I took these pictures, and I wore a long-sleeve shirt underneath because I expected to be chilly. I was overheating in this thing, and I took it off the second I got inside! This is a winter poncho for me. I'll be leaving it on the shelf until it's below freezing outside and then give it a shot, it's probably appropriate for that sort of weather. Would it have been the same with the suggested Red Heart Brushed? I have no idea but I might have to make something else with that yarn one day to see how the warmth compares.
If you're curious what the difficulty level of this pattern is, I would call it kind of advanced beginner/early intermediate. If you're trying to get comfortable with cables it would work as a great practice project. You really need to keep the stitching a consistent size to avoid the cable bunching up too much so it would be nice to do it throughout the whole project like this–you'd be so experienced at cabling when you finished! But if you really don't like/feel comfy with post stitching yet, you probably want to wait on this one until it's approachable for you.
What's your favorite thing about fall? Something to wear, eat, do, drink, anything you like! I'd love to hear from other autumn-aficionados!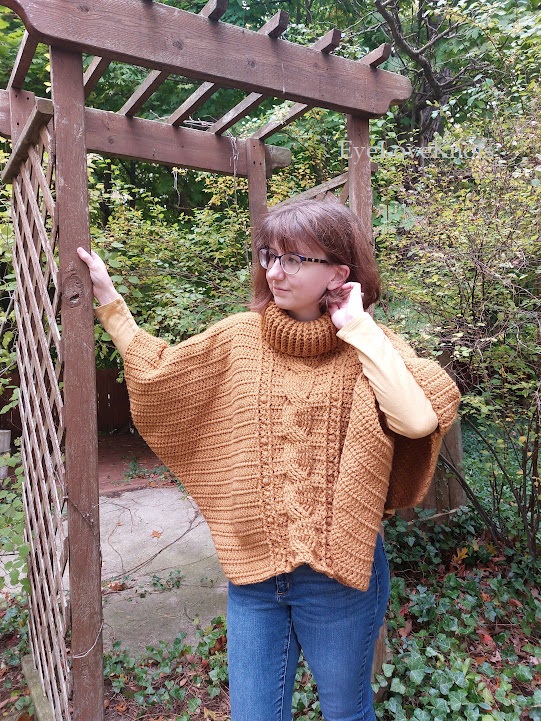 Don't forget to visit with me on Instagram @astitchshyofnormal for all kinds of awesome crochet makes and inspiration.
Join one of our awesome Facebook groups to share your creations, and see what others are up to!
– Yarn Crafts & Coffee Community
– DIY Home On Rockwood Lane
– Alexandra Lane Lifestyle
Linked Up To…
Craftastic Monday Link Party – Sew Can Do
Weekday Wear Link Up – Away from the Blue
Saturday Sparks Link Party 537 – Pieced Pastimes
Craft Schooling Sunday – Creative Jewish Mom
Sundays on Silverado #116 – The House on Silverado
Handmade Monday #299 – Sum of their Stories
The Really Crafty Link Party #336 – Keeping it Real
Happiness is Homemade Link Party – Decor Craft Design
You're the Star Blog Hop – Decor Craft Design
Hello Monday – Pink Lady
Anything Goes Linky 351 – My Random Musings
A Morning Cup of Joe – The Cottage Market
Pink Saturday – How Sweet the Sound
660th Inspire Me Tuesday – A Stroll Thru Life
Fabulous Party 448 – Lou Lou Girls
The Happy Now Blog Link Up #345 – JENerally Informed
Wonderful Wednesday – Oh My Heartsie Girl
Wonderful Wednesday Blog Hop – My Life Abundant
The Wednesday Link Party #320 – To Grandma's House We Go
Thursday Favorite Things #565 – An Artful Mom
Encouraging Hearts and Home Blog Hop – My Slices of Life
Linky Party November – Karins Kottage
Create, Bake, Grow & Gather Party #544 – Shabby Art Boutique
Funtastic Friday Link Party #409 – Simply Beautiful by Angela
Talent Sharing Tuesday – Scribbling Boomer
The Wednesday Link Party 475 – Oombawka Design Crochet
Team Creative Crafts Link Party #118 – Artsy-Fartsy Mama
Grace at Home No. 486 – Imparting Grace
Linky Ladies Party #230 – The Purple Poncho
The Loop Scoop 49 – Moogly Blog
Creatively Crafty Link Party #352 – Try It – Like It – Create It
Crafty Creators Link Party #41 – Life as a LEO Wife
Turning Heads Tuesday – Elegantly Dressed and Stylish
Confident Twosday Linkup – I do deClaire
Spread the Kindness Link Up #299 – Shelbee on the Edge
Wow on Wednesday – Is This Mutton?
Style on the Daily – Straight A Style
Thursday Fashion Files Linkup – Doused in Pink
Chic and Stylish Link Up – Mummabstylish
Neverending Style Link-Up – The Grey Brunette
Fancy Friday – Nancy's Fashion Style
Link Up on the Edge #320 – Shelbee on the Edge
Share the Wealth Link Up #30 – Big Fat Menopausal Life
The Sunday Showcase – Chez Mireille