This is a review of the First Words with Cute Crochet Friends book by Lauren Espy of A Menagerie of Stitches. Review done by Candace of T&C Crafters for EyeLoveKnots.
We received this book for free in exchange for sharing a review, and all thoughts are 100% our own. This post contains affiliate links for Amazon. If you make a purchase by clicking on them, I make a small commission at no extra cost to you. Thanks for your support!
Find the book review below, or click here to purchase the book from Amazon!
Short on time? Pin this for later.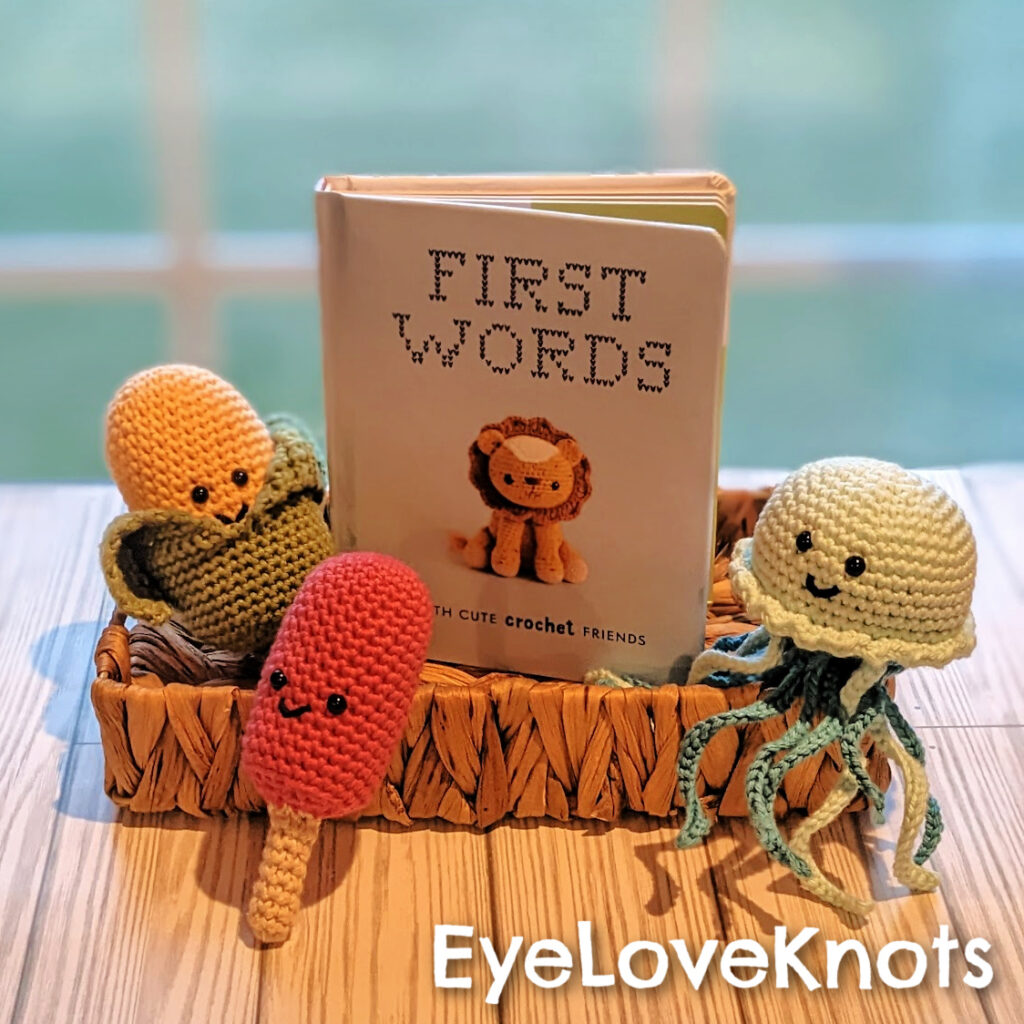 Visit with me on Facebook and Instagram for all kinds of awesome crochet makes and inspiration.
A few months back, Alexandra was contacted about doing a review of Lauren Espy's newest book – First Words with Cute Crochet Friends. She asked me if I would be interested in reviewing it with my two-year-old daughter, and of course I said yes!
I am absolutely in love with how cute this little book is, and my daughter absolutely loves it! Not only does it help to teach my daughter new words to increase her vocabulary, but it does so in a way that encourages her love for crafts and yarn! She has been so excited to look through this book and identify each word that she sees, but most of all, she is excited to have a crochet book like her mama!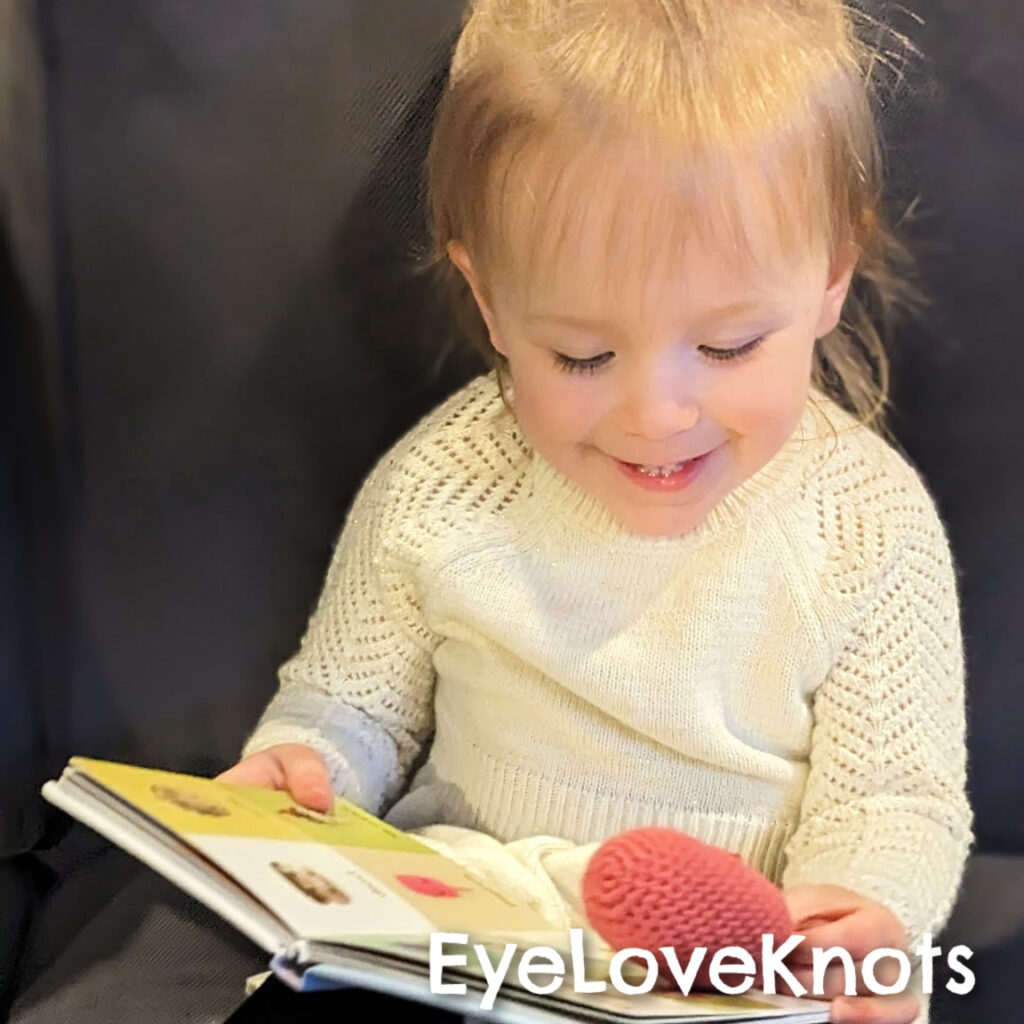 All About First Words with Cute Crochet Friends by Lauren Espy
The First Words with Cute Crochet Friends book is a padded board book that features first words for infants and toddlers to learn paired with amigurumi crochet pictures. What's amazing about this book by Lauren Espy is that every single amigurumi in the book was handmade and photographed by the author. This book features 22 pages with 87 different words. Even more impressively, there is a total of 115 amigurumi featured throughout the book since multiples are featured for several words!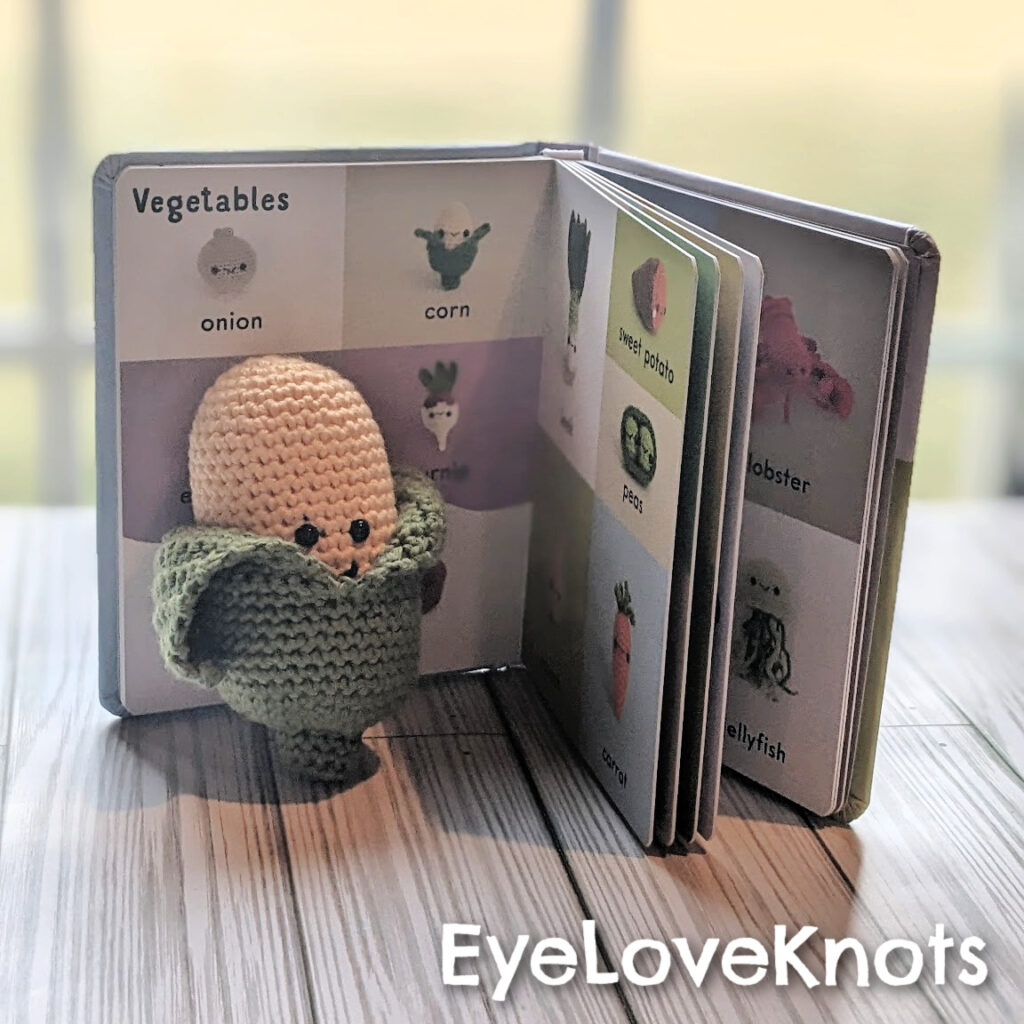 Within the book, words are grouped into sections so you can focus on one topic at a time or overview all the words in the book. The sections include:
The Great Outdoors
Fruits & Veggies
Pets
On the Farm
Under the Sea
Safari Animals
Forest Friends
Holiday Fun
This book is a small board book that measures 5 inches by 6 inches. All the pictures in the book are in full color with a calming yet friendly color scheme. It was published by Blue Star Press in September of 2022, and is distributed by Penguin Random House Publishing Services.
Why Read a First Words Book with Crochet Friends?
Pictures are crucial for a child's development in reading. Books with pictures can provide young children with a context for the words they are learning, which helps them to not only expand their vocabulary, but become familiar with what they are seeing later on when the book is closed. In this article from The Conversation, you can read all about a study that shows that babies learn more from looking at pictures of real objects over cartoon illustrations. In this book, all the pictures are actual photographs of handmade items that show the features of real items.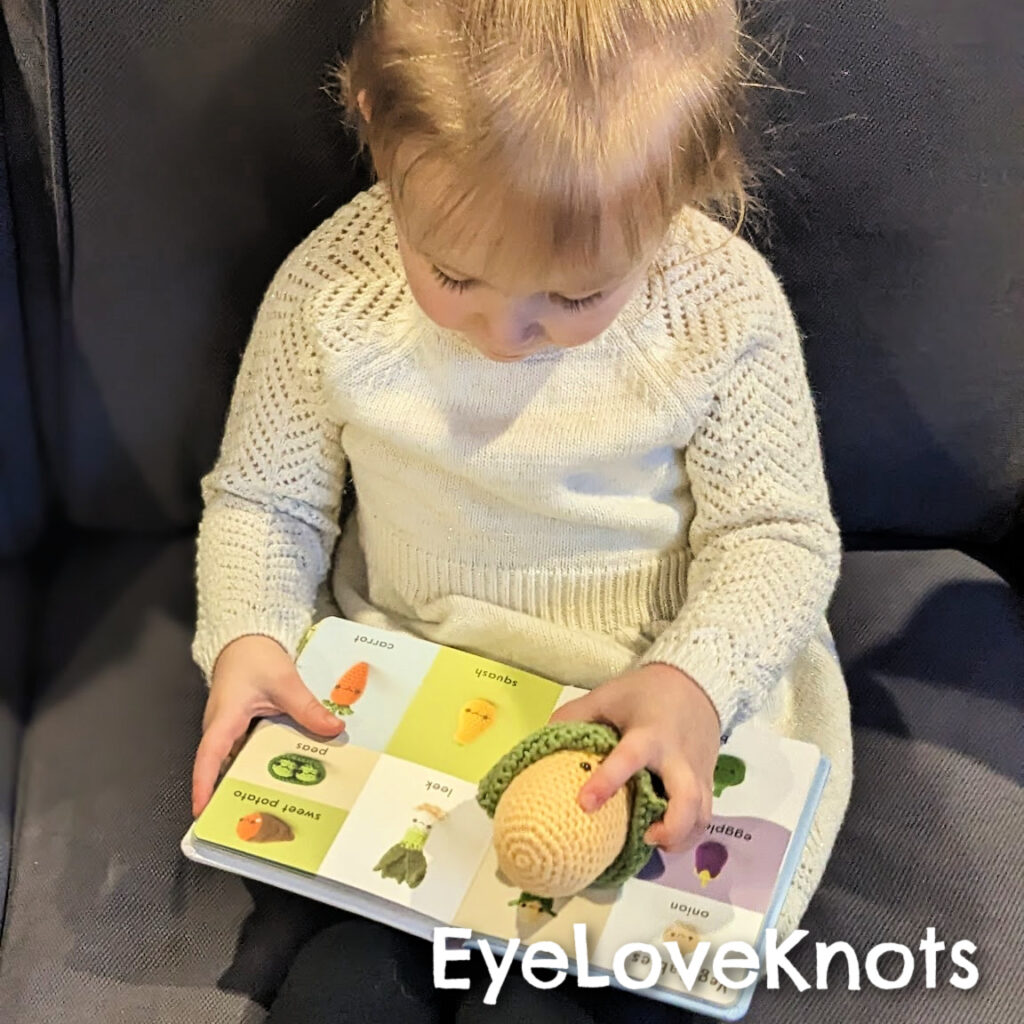 The pictures in this book also provide happy facial features on each of the objects it is portraying. By making each item look friendly and happy, the crocheted objects in this book help babies to make positive connections to everyday items, including fruits, vegetables, and animals. I know that my daughter was absolutely ecstatic to see a picture of a happy carrot in the book, which made her ask for carrots in her snacks!
About the Author:
Lauren Espy is the blogger behind A Menagerie of Stitches. She is a self-taught crocheter and a published author of three books of amigurumi patterns, plus this new children's book. In addition to her books, she also has a myriad of other patterns available on her website. She focuses on amigurumi, which makes her the perfect designer for this adorable book! If you want to follow along with the author, you can find her on Instagram and Facebook!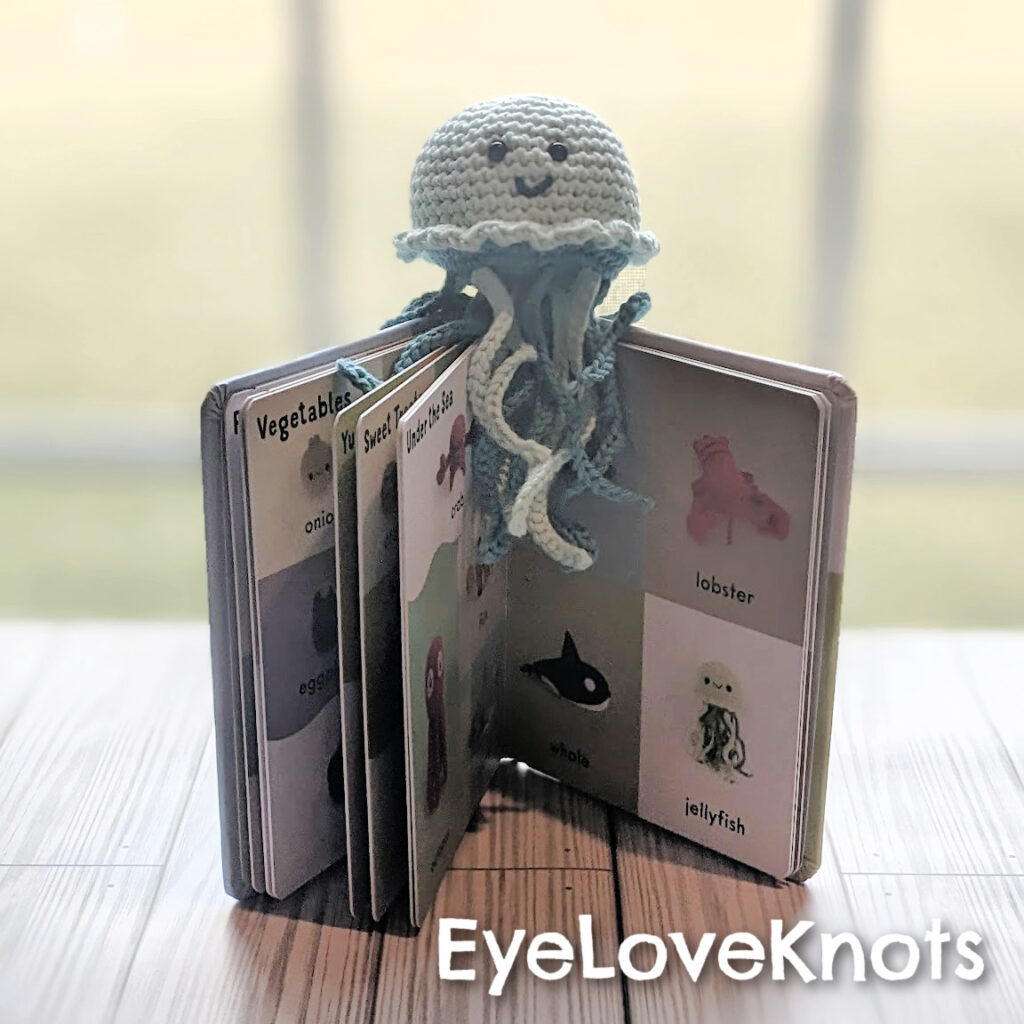 Crochet Some Friends to Pair with the Book
When I introduced this book to my daughter, I wanted to also provide her with some real-life amigurumi that were featured in book. I already owned copies of some of Lauren Espy's other books, Whimsical Stitches and Crochet Cafe, so I worked up three of the patterns that I thought my daughter would enjoy that were also in the book.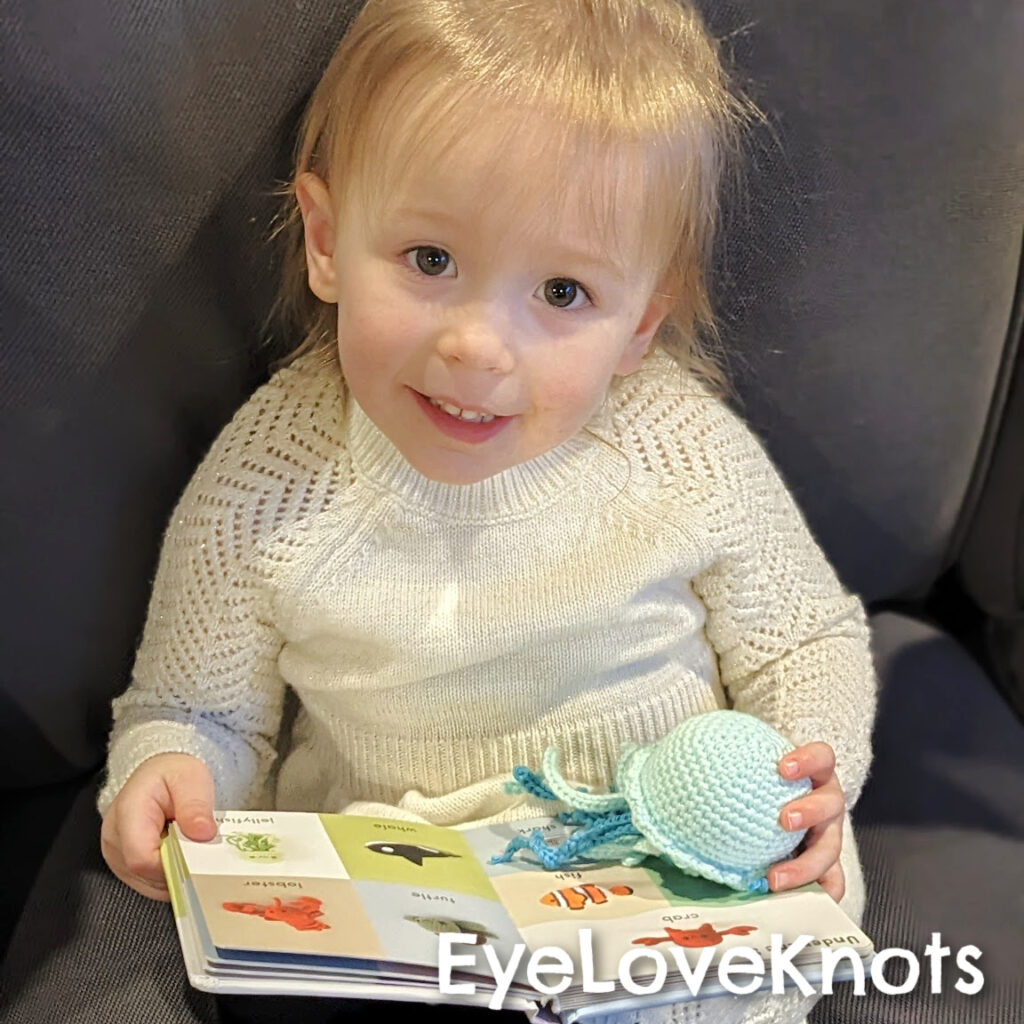 I found the pattern for the jellyfish in Whimsical Stitches. In the book, the original light green and dark green version is pictured, but I decided to go with two shades of blue instead. Despite the color difference, she was immediately able to make the connection between the two items and was so excited to see the jellyfish in the book while she was holding it in her hand.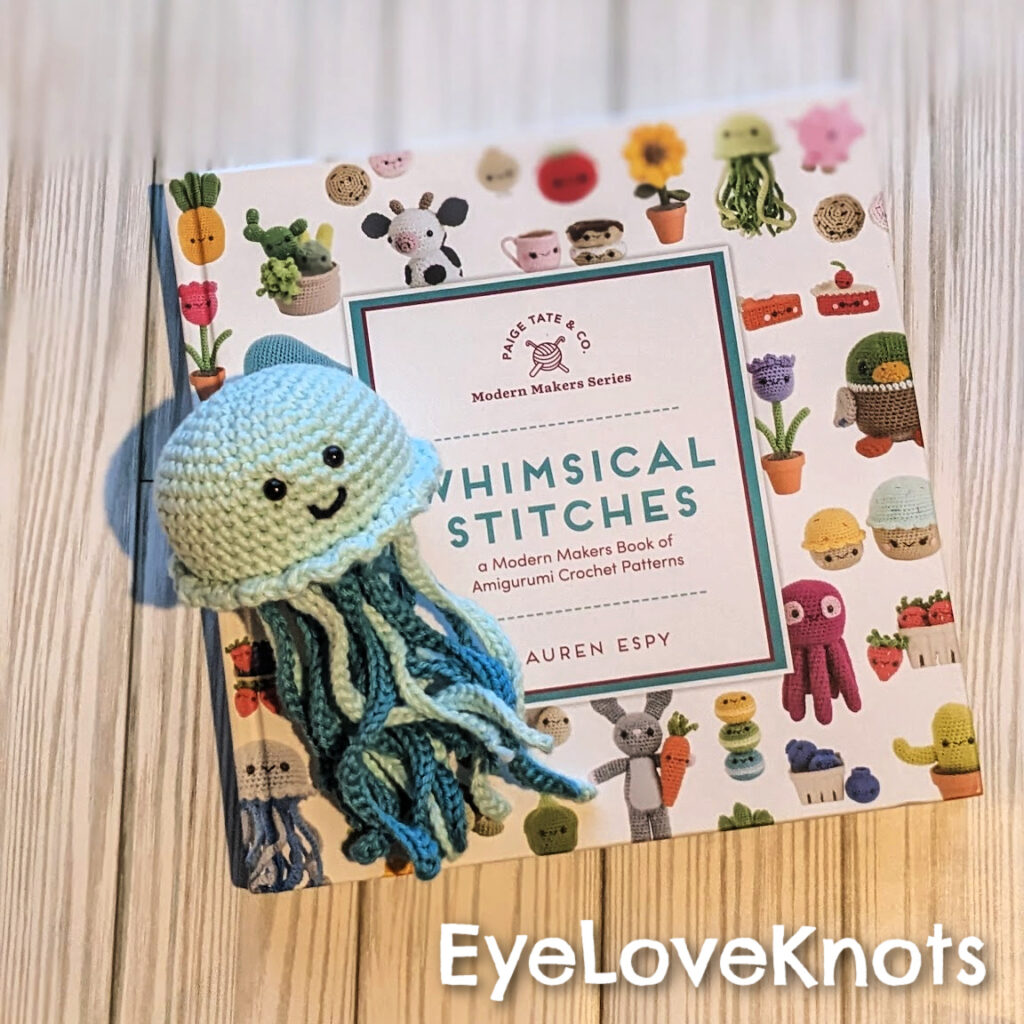 The Crochet Cafe book features a myriad of food patterns that would allow you to create all the featured food items in the book. I chose to go with the corn and the Popsicle as my daughter really loves both of these foods. She loved that the corn can be removed from his husk so she can pretend to eat it off the cob. When we got to the picture of the Popsicle, she recognized that the one I made for her was the same flavor as the one in the book!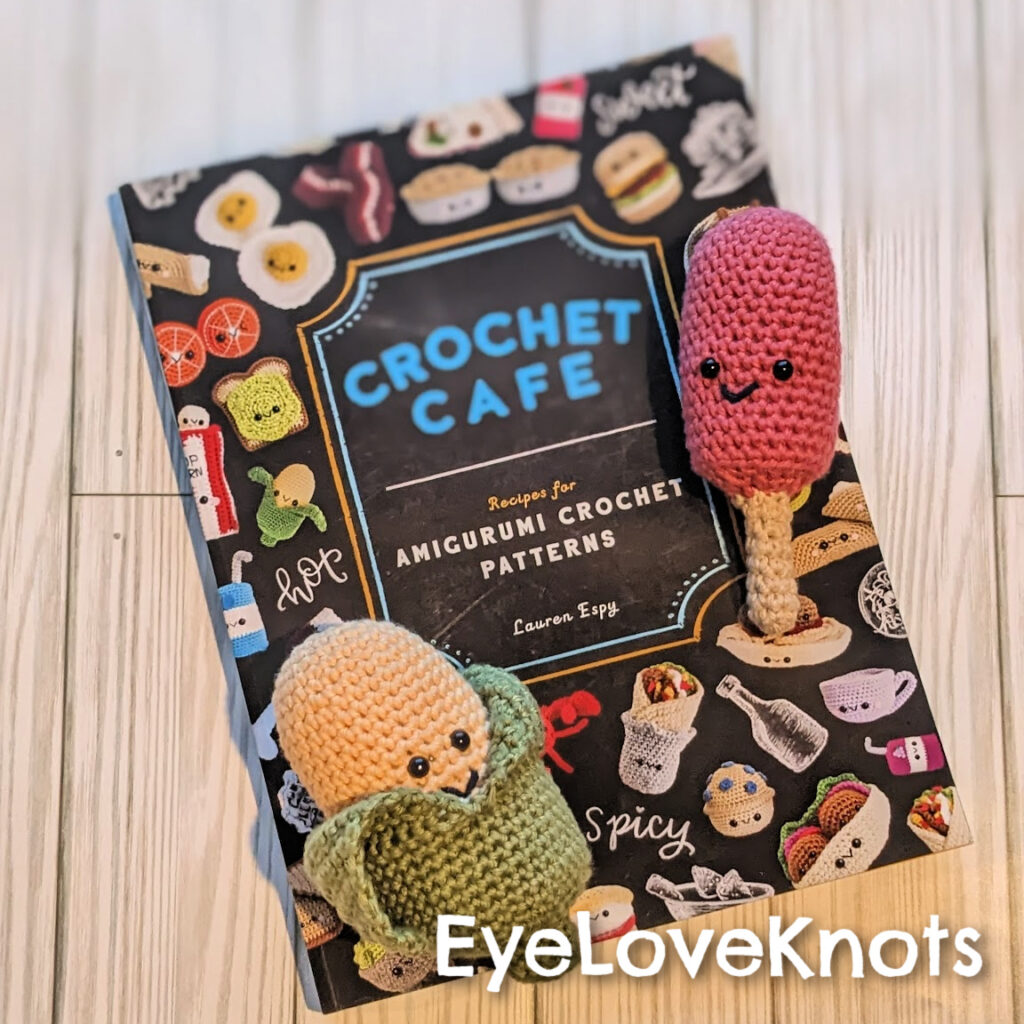 If you crochet, I definitely recommend you make up some of these adorable patterns to pair with the book. I think it makes the book extra special for the child receiving it, and helps them engage even more in what they are learning. You can find most of the patterns within Lauren Espy's books, Whimsical Stitches, Crochet Cafe, and Animal Amigurumi Adventures.
I know that a set of crocheted animals and this adorable book are my new go-to baby presents!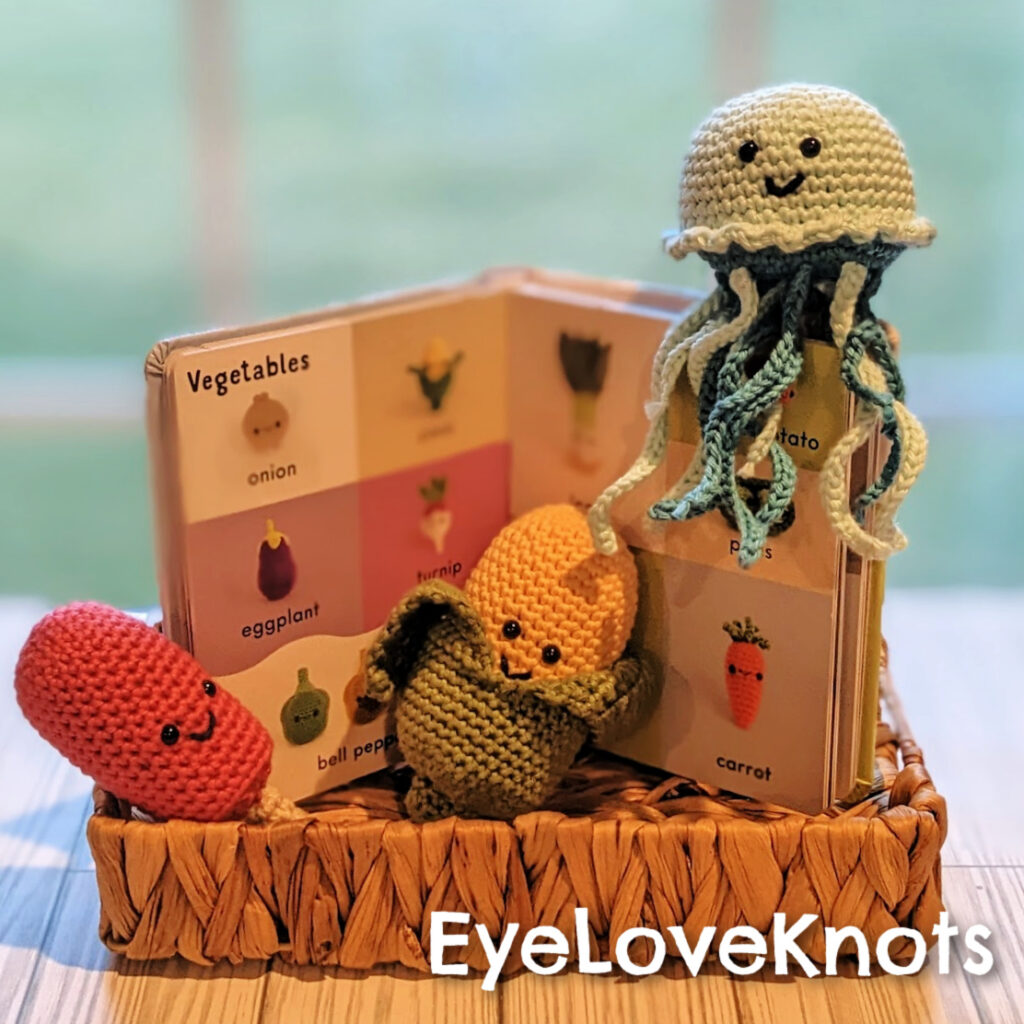 Another Book You May Enjoy:
If you love the concept behind First Words with Cute Crochet Friends, then you'll be excited to know that there is another book in the series. Blue Star Press has also published a similar book entitled First Words with Cute Quilted Friends. How cute would it be to pair some adorable handmade animals with these two books for your next baby gift?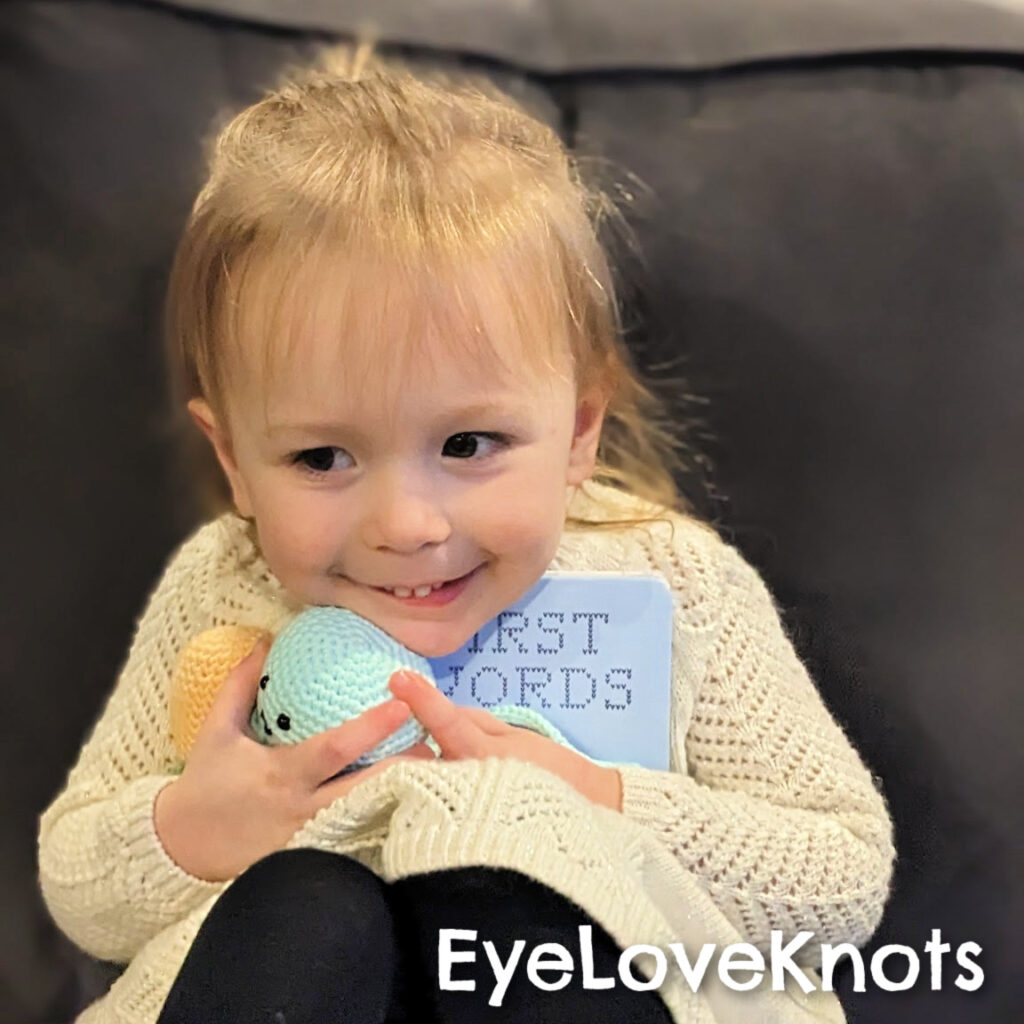 Don't forget to visit with me on Instagram for all kinds of awesome crochet makes and inspiration.
Join one of our awesome Facebook groups to share your creations, and see what others are up to!
– Yarn Crafts & Coffee Community
– DIY Home On Rockwood Lane
– Alexandra Lane Lifestyle
Linked Up To…
Home Matters Linky Party #423 – Modern on Monticello
Anything Goes Linky 367 – My Random Musings
Hello Monday – Pink Lady
Happiness is Homemade – Decor Craft Design
Craftastic Monday Link Party – Sew Can Do
The Really Crafty Link Party #354 – Keeping it Real
Handmade Monday #316 – Sum of their Stories
Sundays on Silverado #134 – The House on Silverado
Craft Schooling Sunday – Creative Jewish Mom
674th Inspire Me Tuesday – A Stroll Thru Life
Fabulous Party 465 – Lou Lou Girls
Talent Sharing Tuesday Link Up – Scribbling Boomer
The Happy Now Blog Link Up #362 – JENerally Informed
Wednesday Link Party 493 – Oombawka Design Crochet
Team Creative Crafts Link Party #136 – Artsy-Fartsy Mama
Wonderful Wednesday Blog Hop – My Life Abundant
Wednesday Link Party #338 – Grandma's House We Go
Creatively Crafty Link Party #371 – Try It – Like It – Create It
Encouraging Hearts and Home Blog Hop – My Slices of Life
Grace at Home No. 500 – Imparting Grace
Linky Party – Karins Kottage
Crafty Creators Link Party #59 – Life as a LEO Wife
Funtastic Friday – Simply Beautiful by Angela
A Morning Cup of Joe – The Cottage Market
Saturday Sparks Link Party 558 – Pieced Pastimes
Pink Saturday – How Sweet the Sound