This is a review of the Crochet Easy Romantic and Feminine Scrunchie pattern designed by Selina Veronique. Review done by Jessica Munroe for EyeLoveKnots.
This post contains affiliate links for Etsy. If you make a purchase by clicking on them, I make a small commission at no extra cost to you. Thanks for your support!
Find the crochet pattern review below or click here to pick up a copy of the pattern on Etsy!
In a hurry? Pin this for later when you have more time.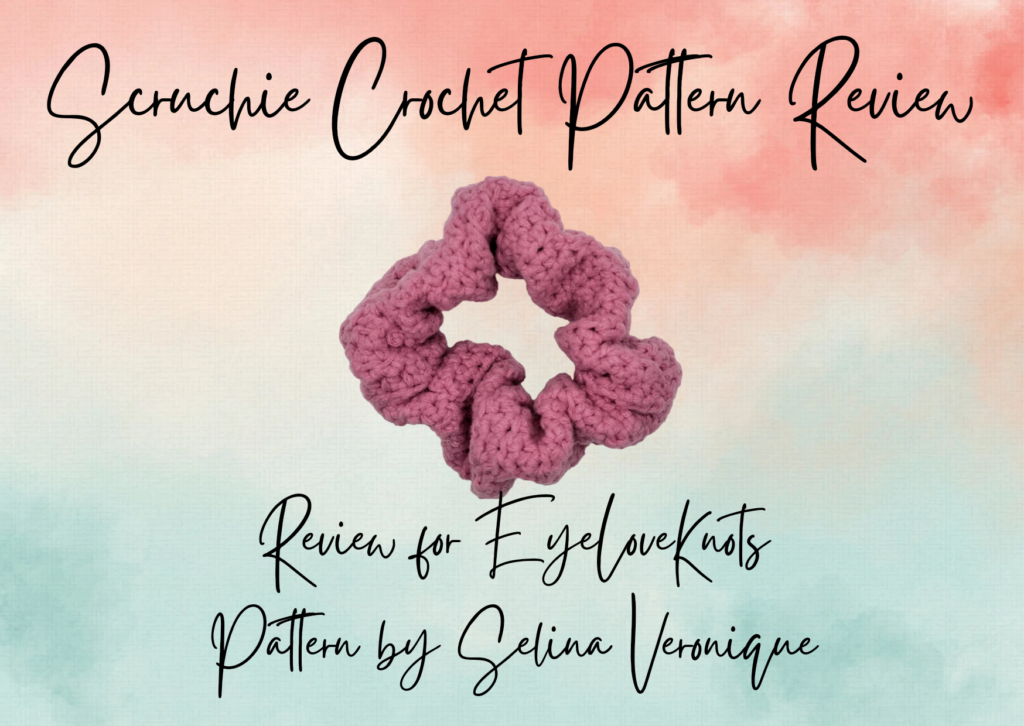 It's me, Jessica with Nice and Knotty.
Visit with me on Facebook or Instagram for all kinds of awesome crochet makes and inspiration.
As you may know, scrunchies are cool again. They are everywhere. My 8-year-old daughter has been into scrunchies lately and even requested some as a gift for her recent birthday. So, I thought I'd make her one in her favorite color. I love how it turned out and best of all, so did she! It is such a simple pattern, but it looks very feminine and delicate because of the yarn type.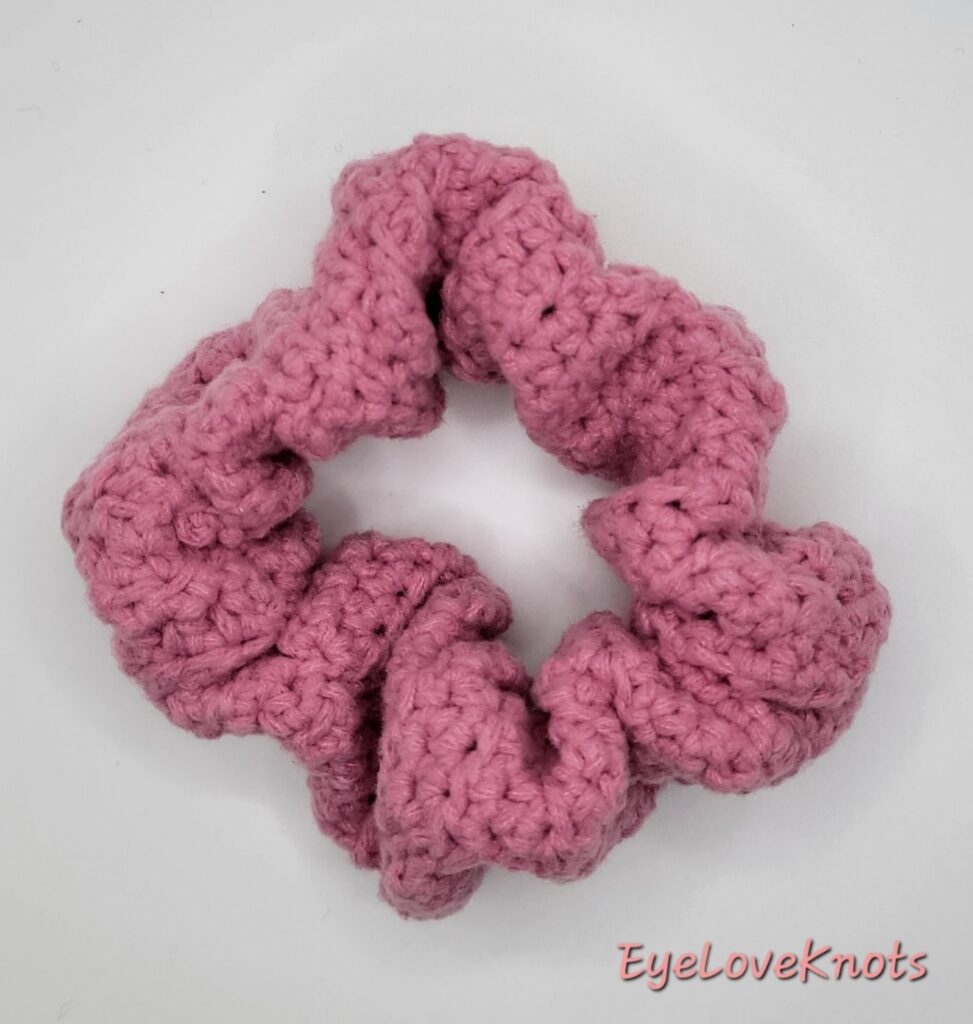 WHAT MATERIALS DO I NEED TO CROCHET a SCRUNCHIE?
MATERIAL NOTES:
This was my first time using the Lion Brand Feels Like Butta yarn and I have to say, I LOVE it! It is so soft! It's very easy to work with and even though it's so soft, it's not so much that I felt like it wasn't strong enough to hold up to the task. I think you could use other yarns, but I think the yarn needs to be soft otherwise it will look and feel a little harsh.
Additionally, I must admit that I used a little longer strand of elastic because I wanted the scrunchie to have a little more room since my daughter has thick hair.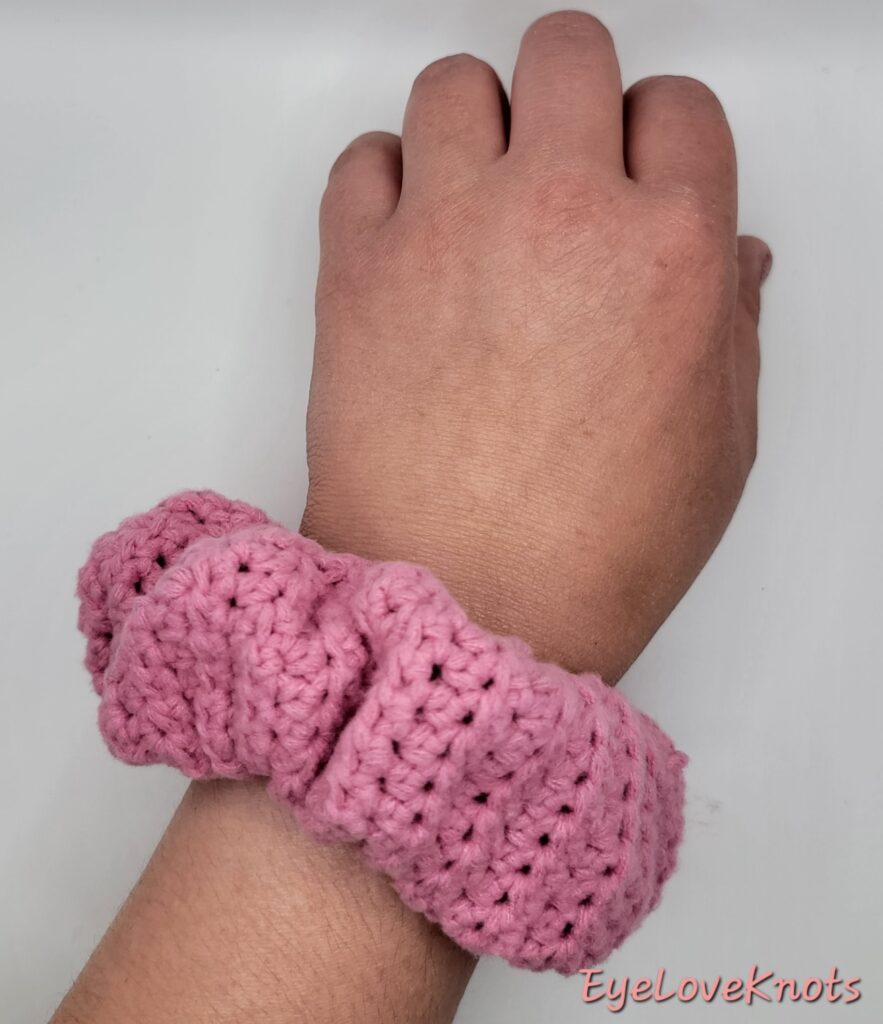 HOW LONG DOES IT TAKE TO CROCHET a SCRUNCHIE?
The scrunchie took me about an hour and a half to complete. It is a very simple stitch and works up very quickly! It would be very easy to make up a whole bunch of these scrunchies in an assortment of colors!
MEASUREMENTS:
The measurement for the scrunchie is 4 inches across by 16.5 inches long before sewing the ends together to form the circle for the scrunchie.
GAUGE:
There is no gauge given for this pattern. My personal gauge is a length of 16.5 inches prior to sewing the ends together.
PATTERN NOTES:
This scrunchie was so fast and easy to make! The pattern is well written, and it even includes a link to the video for it. However, I didn't need to use the video tutorial since the written version was done so well.
I want to make a bunch in all kinds of colors! I think they would make great little gifts (or stocking stuffers for the upcoming Christmas season!) or even a way to customize matching your hairpieces to an outfit. Scrunchies have definitely made a comeback so don't fight it and whip up a few of these yourself! 😊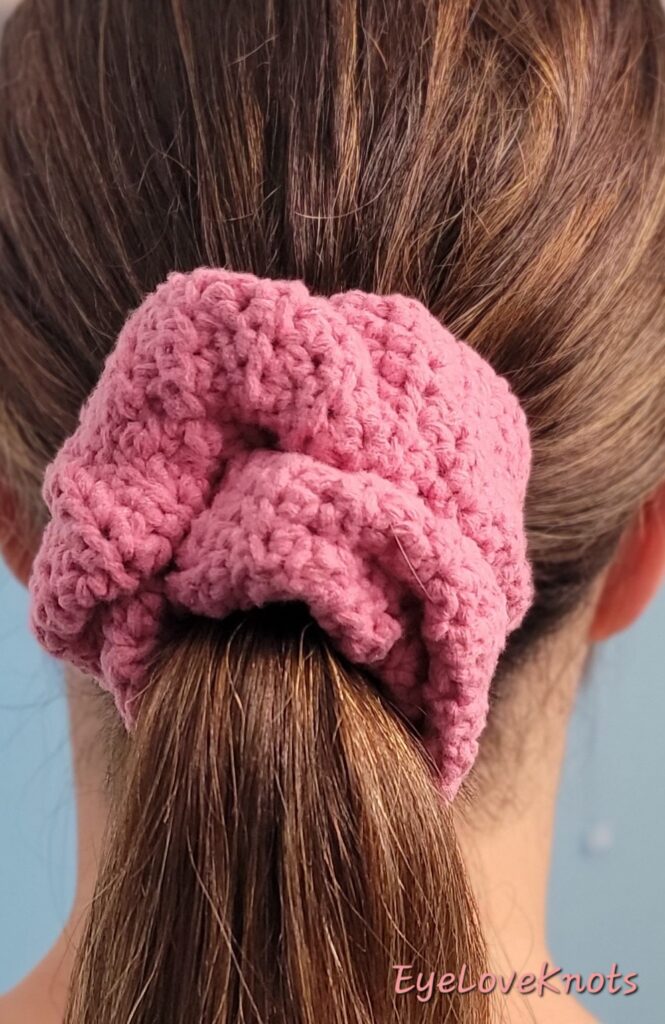 Don't forget to visit with me on Facebook for all kinds of awesome crochet makes and inspiration.
Join one of our awesome Facebook groups to share your creations, and see what others are up to!
– Yarn Crafts & Coffee Community
– DIY Home On Rockwood Lane
– Alexandra Lane Lifestyle
Linked Up To…