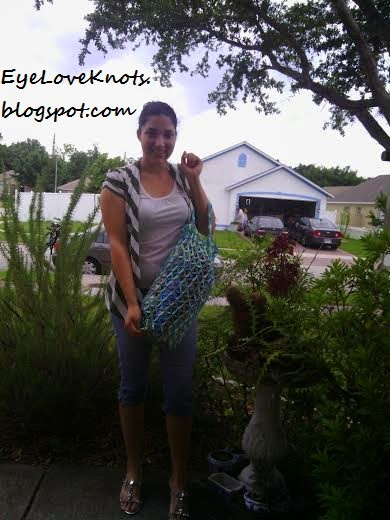 The June 2014 challenge posed by Mikey of The Crochet Crowd is the Lacy Market Bag from Red Heart Yarns. Deadline to enter is June 30th, so you still have plenty of time to enter!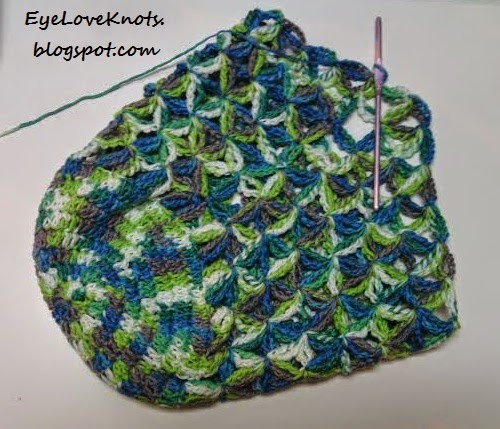 This is my OOPS! photo.  I was
taking a photo to show a friend and
noticed just to the left of my hook, I
had missed the very last cross-over
stitch ON THE LAST 3 ROWS!!!
I took a big sigh and then pulled all
my work out to fix it. OH NO!

The instructions look as Mikey says, "long and daunting" and I'll add the slightly confusing to follow. While I don't read diagrams, I will say they probably would have been helpful in this pattern to link the instructions to a mental image, but Mikey did a GREAT job interpreting it for us in his How to Crochet a Market Bag video.

About a month ago, I received the Crochet Crowd newsletter. In it, it mentioned the new challenge would require 3 balls of Red Heart's Luster Sheen Yarn. I immediately jumped online to check out the yarn as it wasn't one I had previously looked into or added to my Yarn Reviews page. I discovered it was only available online. Though many sites I regularly visit have the yarn available (many out of stock) it wasn't in my budget to order 3 balls at $4.50 a ball plus shipping (since none of my local craft stores carry in store).
I decided to take a trip to Joann's and see what I could find in a weight category of 2 and within my budget.
UPDATE! WHILE BROWSING RED HEART'S DISCONTINUED YARNS PAGE, I NOTICED THE LUSTER SHEEN YARN HAS MADE IT ON THERE. 07.08.14. 

After searching through the aisles without having any luck, I turned to a personal favorite – Deborah Norville's Serenity Garden. At $4 a ball, I only put one ball in my basket. On my way to the check out line, I saw a side aisle full of cotton yarns I hadn't seen before. On it, I found the yarn I chose to use for this challenge – Cotton Fair Multi in Cloud Gazing by Premier Yarns. It is 52% Cotton, 48% Acrylic, soft and available in many BEAUTIFUL color combinations. It is a 3.5 oz ball and only $4!

To complete the market bag, I used one ball and a tad bit of a second. (With one ball I was able to complete the double crochet's through to one handle.)
This yarn was really nice to work with and I've been wanting to work on some summer scarves so the leftover yarn won't be sitting around very long.
If you only follow the repeat 11-23 times, you will have enough to do one bag, and add extra support in centers of the handles. (And still qualify for the challenge!)

If I were to make another one of these bags (which I plan to), I'd add a longer handle or possibly even a drawstring type handle.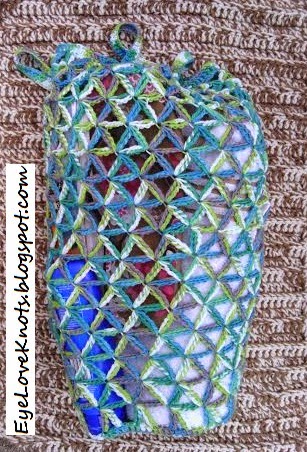 This challenge couldn't have come at a better time – a friend, Jenny, is going on vacation and as soon as I found out the challenge, I knew it would make a great gift.
*After completing it, I tested it out with a rolled up towel, a pair of flip flops, a tube of sunscreen and two magazines. The bag stretches out nicely and the handle holds up well.
**Snacks, sunglass and/or a new crocheted sun hat (to name a few) would also make nice additions to this summer gift!

Timewise, it took approximately half an hour to complete the bottom circle and then roughly 13 minutes per row plus another 30-45 minutes to add the handles and weave in my ends for a total of about 5 hours – WOW! While it seems like a while, it really felt like it worked up pretty quickly.

Each row measures 1″ tall so any added or omitted rows will change the final length in 1″ intervals.
You can easily make this bag wider if you'd like by increasing your beginning circles.

As I was working on the bag, I also was thinking how neat it would look as a hat. A bag is basically an oversized hat.

Overall, I think this was a GREAT challenge! The lacy pattern is perfect for inspiration on hats and scarves for the Spring and Summer. I think with some chunky yarn, this pattern would also make a nice blanket. It also builds my confidence in the ease of making a market.

Looking forward to the upcoming Stitch-cation Afghan Challenge.