I've been brainstorming on Fall and Halloween crafting ideas lately. I decided first on the list would be a candy corn baby cocoon.


I have been looking at Kara's patterns in her Petals to Picots Etsy shop for some time now and decided spur of the moment last night (being two weeks ago!) that I would buy her Newborn Bunting & Hat set so I could work on it today at work. I loved the look of the granny square pattern from first glance – came to find out they are clusters! Still cute!


This pattern is really easy to follow especially with row stitch counts to help reassure my interpretation of the pattern.


Materials:
– 5mm Hook (I later changed to a 5.5mm to better meet the gauge)
– Worsted Weight Yarn – I used Hobby Lobby's I Love This Yarn in Yellow, Orange and White
– Newborn Bunting & Hat Pattern (for purchase)


Time Spent:
I was able to complete the bunting in about three and a half hours, and the hat in about half an hour.


Measurements:
According to pattern, the cocoon is supposed to measure 15.5″ long, 9″ wide, 18″ in circumference, and hat to measure 12″ in circumference and 5″ tall.
*Using the 5mm hook, my cocoon measured 8.5″ x 13″ – probably would be good for a preemie.
**08/14 UPDATE: I made a light pink baby girl cocoon for a co-worked of mine and used a 5.5mm hook. The finished crown measured 5.5″ across equaling 17.27″.


Pattern Notes: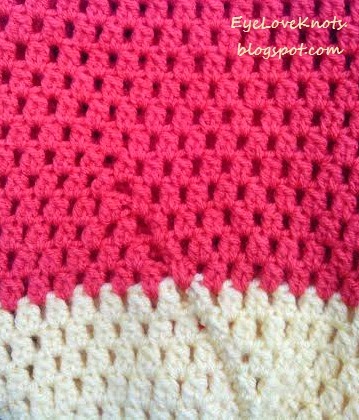 To make this set look like a candy corn, I worked the first 10 rounds in Yellow, the next 14 in Orange and the remaining rounds plus the hat in white.


I also worked my rounds a little different to avoid the seam – I did try the first section of it as the pattern is written. See photo to the left – bottom half as written in pattern, top half is my method found below.
**To avoid the seam, I changed the foundation round to a CH 1 in the beginning, then worked six 2dc-cl, CH 1 and joined (not the cluster join!) to the first CH. To begin the next round, I slip stitched over to the CH sp and started again with a CH 1.

**08/14 UPDATE: When I made the light pink baby girl cocoon and used the 5.5mm hook, I left out the Round 5 increase (otherwise the cocoon would have come out too big).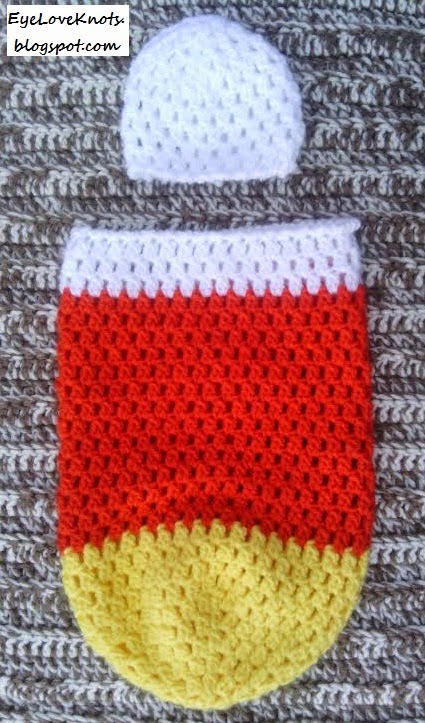 One thing I really enjoyed about this pattern, was learning how to start a flat circle in the round using the cluster stitch. Now I can use this to make hats and bags in multiple sizes! How exciting!


This set is so precious! It would make a great photo prop for Halloween as well as a great gift for a new mommy and baby!
After baby is too big, it also works well for dolls!

Linking Up To…
August Sharing Time Week 4 – Raising Memories
6 Fun DIY Paint Projects & Inspiration Monday – Scattered Thoughts of a Crafty Mom
Creative Collection Link Party – Blooming Homestead / The Cards We Drew
Wonderful Wednesday Blog Hop #87 – Day 2 Day Supermom
Serenity Saturday #147 – Serenity You
Do Not Fear Share Your Creativity #126 – It's Overflowing
Yarn Fanatic Party #3 – The Philosopher's Wife
Hookin on Hump Day #77 – My Merry Messy Life / Moogly
The Sunday Showcase Party #256 – By Stephanie Lynn
Your Whims Wednesday #177 – My Girlish Whims
Awesome Things Tuesday #26 – Krafting Kreations