A few weeks ago, I wrote up a post on a Candy Corn Newborn Bunting and Hat using this same pattern from Kara at Petals to Picots. The following post is on some adjustments I made on my second one – a light pink set for a co-worker of mine.


This pattern is really easy to follow once you get going and as I was working up this second one, I kept thinking up different things I could make with the same basic pattern – those to come soon!


Materials:
   – 5.5mm hook
   -Worsted Weight Yarn – I used I Love This Yarn in Pink (it's light)
        *I probably used about 175 yards – half of the skein
   – Tapestry Needle for Weaving in Ends
   – Newborn Bunting and Hat Pattern – Paid Pattern!


Time Spent:
   I was able to complete the cocoon in roughly three and a half hours, and the hat in half an hour for a total of four hours.


Measurements:
   According to pattern, the cocoon is supposed to measure 15.5″ long, 9″ wide, 18″ in circumference, and hat to measure 12″ in circumference and 5″ tall.
*Using the 5.5mm hook, my cocoon measured 8.5″ wide, 15.5″ long and almost 17.5″ in circumference (my finished crown measured 5.5″ across), and the hat came out to 4.5″ from top to bottom edge and 12.5″ in circumference (finished crown measured 4″ across). 
**The Candy Corn Cocoon came out to be 8.5″ wide by 13″ long. Perhaps, this would be better suited for a preemie.


Pattern Notes: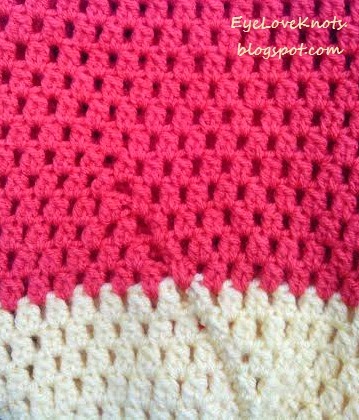 When I worked the joining as written in
the pattern, I got the visible seam on
the bottom of this cocoon. I switched to
my method as described under the
Pattern Notes, which you can see in the
top half of this picture.

   I worked my rounds a little different to avoid the seam. To do this, I changed the foundation round to a CH 1 in the beginning, then worked six 2dc-cl, CH 1 and joined (not the cluster join!) to the first CH. To begin the next round, I slip stitched over to the CH sp and started again with a CH 1.


   Cocoon:
   To get close to the 18″ circumference, I omitted the increase of Round 5 (otherwise, it would have come out too big).
   To extend the length to 15.5″, I added two rounds to the repeat found before the reverse single crochet round.
   To make a cleaner edge, I replaced the reverse single crochet round with two rounds of regular single crochets.


   Hat:
   For the hat, I wanted to make it 4.5″ in height for a 0-3 month baby. After completing Round 8, it measured at 4.25″ – Perfect!
   I also replaced the reverse single crochets on the edge of the hat with two rounds of regular single crochets.


As mentioned above, I am going to be giving this set as a gift to a co-worker of mine. I'm also going to be making a set for my sister in law, Bree of Briana Lugo Photography, to use in her shoots.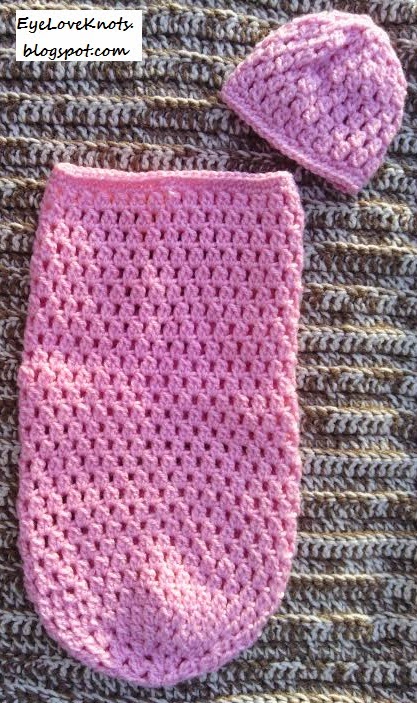 This set makes a great baby shower gift, as well as the perfect item to donate to charity. It's also suitable for dolls once baby grows out of it!


Outside of the actual bunting and hat set, you could shorten the length and make it into a hat, widen it to make it into a bag, double the strand and turn it into a basket, and more! You are only limited by your imagination.

Linking Up To…
August Sharing Time Week 4 – Raising Memories
6 Fun DIY Paint Projects & Inspiration Monday – Scattered Thoughts of a Crafty Mom
Creative Collection Link Party – Blooming Homestead / The Cards We Drew
Wonderful Wednesday Blog Hop #87 – Day 2 Day Supermom
Serenity Saturday #147 – Serenity You
Do Not Fear Share Your Creativity #126 – It's Overflowing
Yarn Fanatic Party #3 – The Philosopher's Wife
Hookin on Hump Day #77 – My Merry Messy Life / Moogly
The Sunday Showcase Party #256 – By Stephanie Lynn
Your Whims Wednesday #177 – My Girlish Whims
Awesome Things Tuesday #26 – Krafting Kreations
Lou Lou Girls Fabulous Party #21 – Lou Lou Girls
The Creative Exchange #16 – The Happy Scraps
The Handmade Hangout #11 – Too Much Time On My Hands
Inspire Me Wednesday #35 – Seven Thirty Three
231st Inspire Me Tuesday – A Stroll Thru Life
10 Simple DIY Projects, I'm Lovin It – Tidy Mom
Kitchen Fun and Craft Friday #28 – Kitchen Fun with My 3 Sons
Submarine Sunday #99 – Navy Wifey Peters Aboard the USS Crafty