This scarf was named after a very good friend of mine, Melodie. She is planning a trip where she will be in the snow, and so I worked up this scarf to help keep her warm.

Materials:
     – 220 yards of Chunky/Bulky (5) Yarn – I used just under 3 skeins of Deborah Norville's Serenity Chunky Sequins Yarn in the Ruby Slippers colorway
     – L11/8mm Crochet Hook
     – Tapestry Needle for Weaving in Ends – I like to use a #18, or #20

Yarn Review: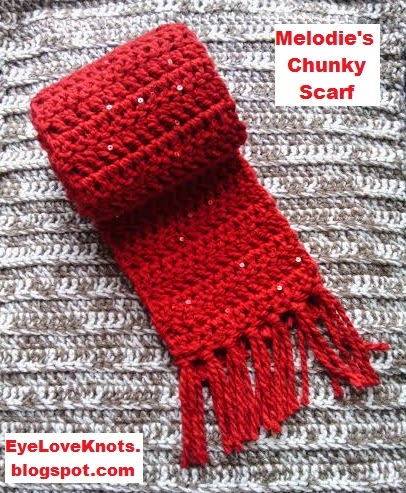 Here's a great view of the sequins.

     This is my first time using Deborah Norville's Serenity Chunky Sequins Yarn. I absolutely love working with the regular Serenity Chunky Yarn as it is soft, easy to work with and comes in beautiful colors. The Sequins version is no exception. Similar to the regular Serenity Chunky Yarn, it is a soft, acrylic yarn of a bulky/chunky weight. It comes in 6 beautiful colors, all wrapped in a thin thread of sequins. This subtle use of sequins makes your piece shine in the light.
     I will caution you on pulling out your stitches, and weaving in your ends. The sequins thread can pose some issues in the successful completion of these tasks. In the beginning of the making of this scarf, I went a little too big and tried to pull out my stitches to redo, but I ended up getting caught on a sequin and had to cut my yarn. Luckily, I wasn't too far in the project.
     I would also advise against machine washing any project made from this yarn, even though it can be.

Time Spent:
     I was able to work up this scarf in about an hour and 45 minutes.

Measurements:
     6″ wide by 60″ in length; with Fringe: 6″ wide by 70″ in length

Gauge:
Using Serenity Chunky Yarn & an L11/8mm Hook – 3″ x 3″:
     Chain 9, DC in the 4th chain and in each chain across. (7 DC)
     R2 – 4: Chain 2, turn. DC in the 2nd chain and in each chain across.
     Fasten Off.

Abbreviations: 
     DC – Double Crochet

Pattern:
Chain 16, DC in 4th chain and in each chain across. (14 DC)

R2 – 84: Chain 2, turn. DC in the 2nd stitch and in each stitch across.

Fasten Off, and Weave in Ends. Then proceed to Fringe, if desired.

Fringe:
I cut 28 11″ strands – 2 strands per tassel, 7 tassels per end. I placed one tassel in every other stitch. 
You can cut these longer, or cut more of them depending on the thickness of fringe you desire. I only had 3 skeins of yarn to use, and I didn't want to run out so I only cut these 28. It ended up working out perfectly for whom I was gifting this scarf, but you'll have enough yarn leftover to cut more or longer strands if you want to.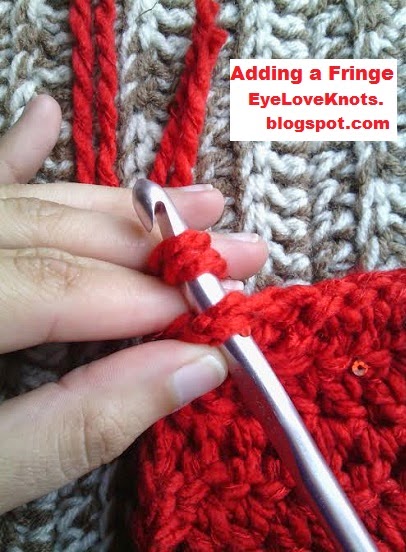 Hold the strands together &
pinch in the center – 
in this
case, I am using 2 strands.

With the wrong piece of the
work facing you, insert
your hook.
Use it to pull the center
of the strands through.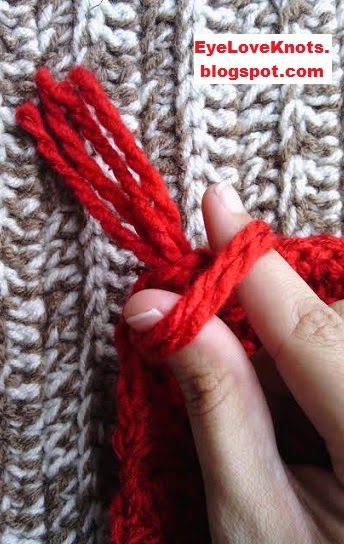 Pull the loop big enough
to stick your thumb and
index fingers through,
so you can pull the tail
pieces through.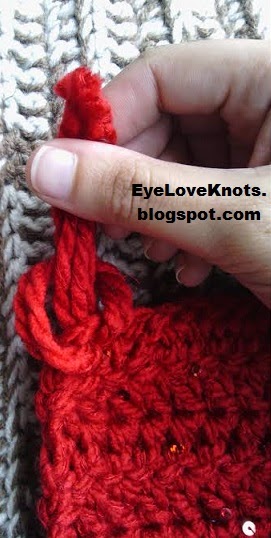 Pull gently to
secure knot.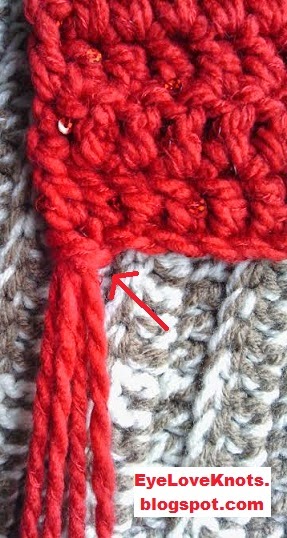 This is the front view
of your tassel.
The knot look should
be facing you on the
right side of the piece.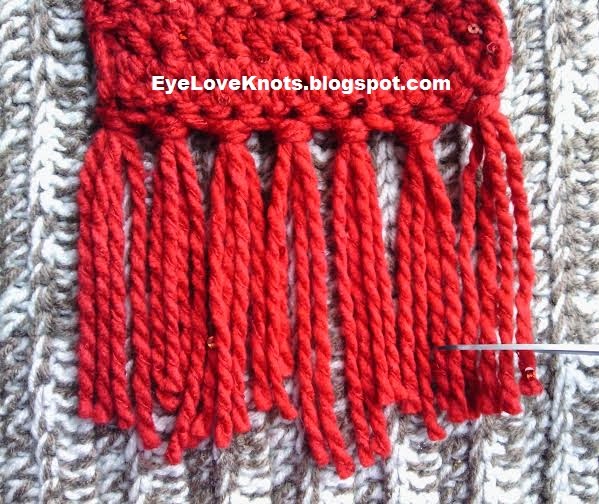 Cut your tail ends evenly.

*This is Day 4 of my 14 Day Valentines Craft Challenge. Make sure to tune back in every day for the next 10 days to receive your inspiration! Don't forget to subscribe, or follow me on Bloglovin'!
**My 14 Days of Valentine's Inspired Crafts Linky Party is now live. Please come link up your projects, recipes, stories, decor ideas, etc!
Please feel free to make and sell your own Chunky Adult Scarves using this pattern, but please DO NOT claim this pattern as your own nor should you sell my pattern, and DO NOT re-publish my photos as your own. DO NOT copy and paste my pattern anywhere, link to it instead.

Join the EyeLoveKnots Crafting Community to share your creations, and see what other's are up to! 

Don't miss out on new crochet patterns, reviews, jewelry tutorials and more! Subscribe to EyeLoveKnots by using the box on the right side toolbar, or follow me via Bloglovin! You can also find me sharing on the EyeLoveKnots Facebook page, and @EyeLoveKnots on Twitter!


Linked Up To…
Show and Tell Link Party – Flamingo Toes
12 Fabulous DIY Projects to Try & Monday Funday – Club Chica Circle
Motivational Monday – Burlap and Babies / Curly Crafty Mom
Take Charge of Life, Share Your Creativity Link Party No. 150 – It's Overflowing
Pin Junkie Pin Party #105 – The Pin Junkie
On Display Thursday Link Party (No. 31) – Average but Inspired
The Party Bunch Linky Party – The Idea Room / Thirty Handmade Days