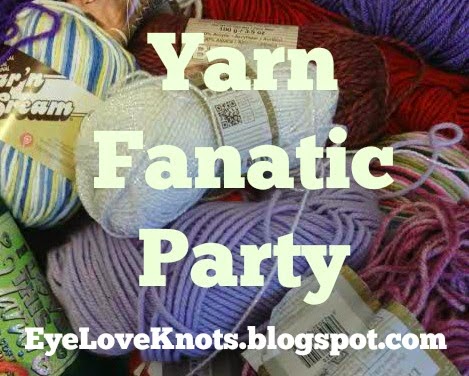 Welcome to the 45th Yarn Fanatic Link Party, and my 28th as co-host, alongside Rachel from The Philosopher's Wife.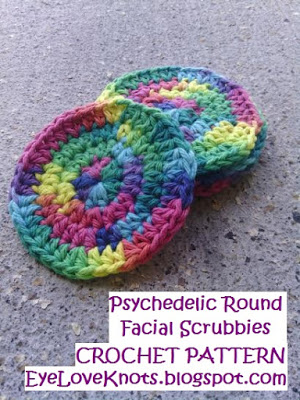 Have you tried facial scrubbies? I just LOVE using them, and they are great to use in so many different ways like as make up removers, coasters, and dish scrubbies to name a few.
Most Clicked: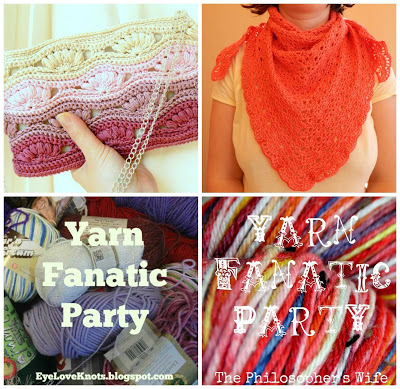 Crochet Clutch

from Little Crochet. This is such a neat idea for a clutch! With link to pattern included, I want to make one in EVERY color scheme! I love the story behind creating this clutch. It really makes me get into the project itself, and feel the need to get the clutch just right to fit with the need to match a particular outfit. I am sure many of us can relate, as we have all been there at some point –

I'd love to hear your stories 🙂

. Lovely little accessory!
Crochet Shawl II

from Silvia's CRAFTS. This is such a BEAUTIFUL shawl! I love triangle shaped shawls. Pair that with the lovely coral color and this really makes such a beautiful garment/accessory for wearing out anywhere. You can pair with this a nice tee and some jeans (as shown), or put it over a dress to cover your shoulders and add a little pop to the ensemble. Link to pattern is included for us. And what about that "Egyptian Perle" used? That is very intriguing to me especially since Silvia mentioned that it was perfect for hot weather (which is what we experience year round here in the Sunshine State).

Has anyone else used Egyptian Perle before?

EyeLoveKnots Yarn Favorites: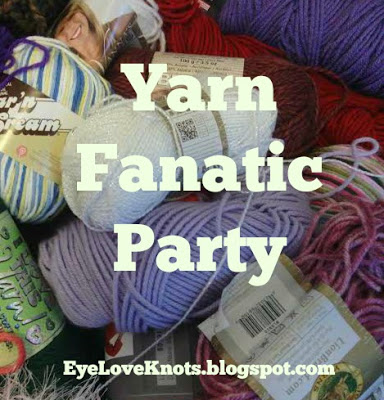 This week I seem to have so many favorites that I can't seem to fit them all in a small collection here. I wish I could feature them all (and I just might so don't tempt me 😉 ), but I have decided to leave you with the link to our

Yarn Fanatic Party #44

and encourage you to go back and revisit some of the awesome and inspirational projects that were shared with us. AND be on the look out because I will be sharing some project round up's combining all the Yarn Fanatic Parties I have been apart of so far. Your projects, patterns and stories are what make this a great event to be part of each week, and I am SO inspired by them all! Please continue to share your work and encouragment and support for others.


Are you a pattern designer – Crochet, knit, plastic canvas, embroidery, latch hook, pom pom crafts, and other yarny crafts… Or do you design yarn related graphics, shirts, buttons, printables, tote bags? Maybe you are a yarn dyer? Or perhaps you have a really large yarn stash and you are looking to do a de-stashing of them? We are in need of giveaway sponsors for the Yarn Fanatic Party! If you are interested in teaming up with Rachel of The Philosopher's Wife and I to sponsor a giveaway at one of our parties, PLEASE send Rachel an email!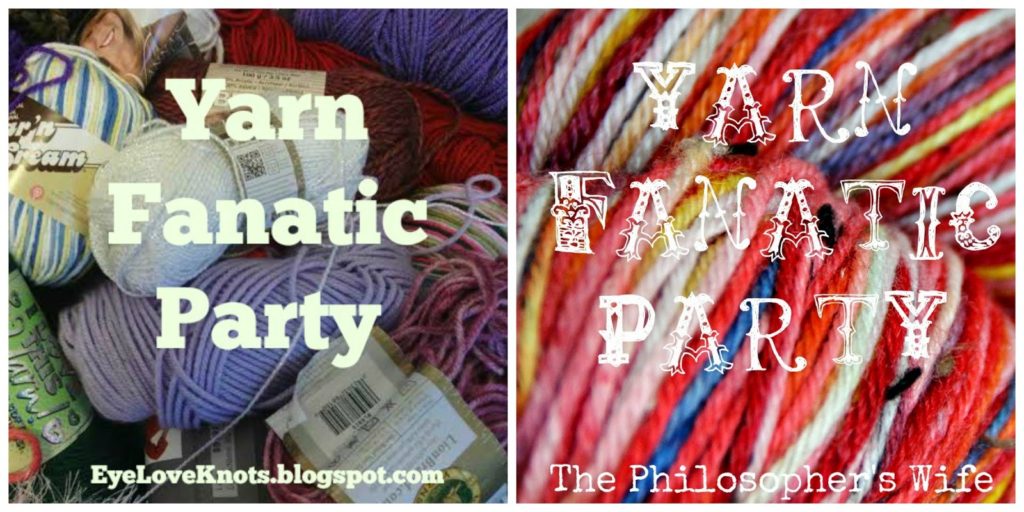 Join the Party!
The Yarn Fanatic Party will begin every Monday afternoon, and run through Sunday night. You have all week and weekend to post your fantastic yarn related projects!
Please share projects that are family friendly, and YARN RELATED; ie Crochet, Knit, with an extension to include Cross Stitch, Needlepoint on Plastic Canvas and Embroidery.
Also make sure you are linking up to your blog post, and just just your blog's home page.
*Become a Follower of the blog where you linked up. Following both is also greatly appreciated!
Alexandra of EyeLoveKnots
Rachel of The Philosopher's Wife
*Check out the other Great Projects that have been linked up!
*Spread the comment love!
Features will be chosen weekly. By linking up, you give us permission to feature your item.
*If you don't have a blog, you can still share with us by creating a Free

Flickr

Account – powered by Yahoo.
Add your projects there, and then come back here with the link for the project.
*Link ups cannot be to Etsy listings or Ravelry pages where patterns are sold. You can link to blog posts, Flickr or Facebook pages, Pins, etc that are directed towards it, but can't directly link to it.
To be clearer though, Raverly pages of finished projects are okay to share. Sorry for the inconvenience! That's per InLinkz guidelines. Thanks!