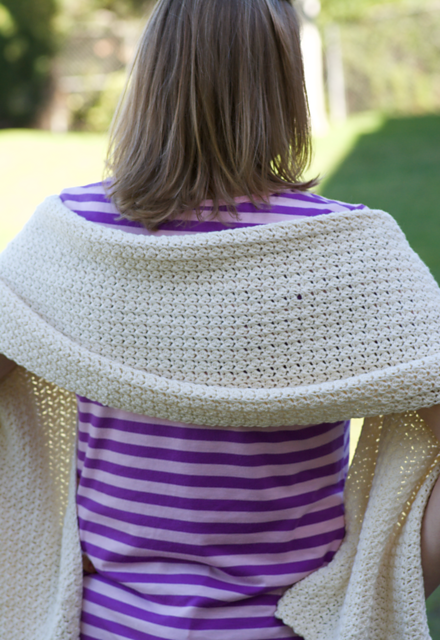 Photo Courtesy of Emily Truman for Happily Hooked Magazine.
My Rectangle Shawl can be found in March 2018, Issue 48 of Happily Hooked Magazine. This issues theme was "Go Green" to include designs featuring earth friendly yarns, or showcasing gorgeous green hues, or eco-friendly products.

If you don't already subscribe to Happily Hooked Magazine, it's a great monthly crochet magazine that focuses on a theme – like this month being "green". Use this link to subscribe now – this contains an affiliate link, meaning if you subscribe using it, I will earn a small commission at no extra cost to you!

Originally, I designed this rectangle shawl for another magazine, which was going to feature shawls, but I didn't finish it in time to propose before the issue filled up, so I proposed it to Emily, editor of Happily Hooked Magazine, with the idea of remaking it in Baby Bee's Sweet Delight Baby Sage colorway. She loved the shawl, and offered to send me some earth friendly yarn to try out. 
This was my first time using Knit Picks Simply Cotton Sport Yarn, or any Knit Picks yarn for that matter. It was really fun to try out. I am a huge fan of the look of cotton yarn and projects produced with them, though I will admit, I am not as big a fan of the fiber characteristics, and feel, and therefore, stray from most cotton yarns that do not contain a secondary fiber (like acrylic, nylon, wool, etc). Though not a favorite, this yarn is soft, and a good economic option. I am intrigued on how well it will hold up to dying, and washing. I might suggest it be used for projects like coasters, placemats, doilies, or a table runner – something that will lay flat, so it doesn't grow.

To complete your own Rectangle Shawl, you will need eight skeins (or 1,312 yards) of sport weight #2 yarn – I used Knit Picks Simply Cotton Sport Yarn, and an H8/5mm crochet hook. Alternatively to the Artiste brand, I met gauge with Baby Bee's Sweet Delight from Hobby Lobby.

Issue 48 Also Features…

These Crochet Patterns:
     – Leafy Boughs Shawl by Heather Gibbs
     – Bandana Cowl by Natalia Johnson
     – Button Up Cup Cozy by Elizabeth Glenday
     – Mop Cover by Elizabeth Glenday
     – Islander Top by Michele Costa
     – Puffy Dishcloth Trio by Emily Truman
     – Blue Whale Baby Blanket by Mary Lanni
     – Sweet Pea Beanie by Ashley Leither
     – Conan's Cardigan by Lee Sartori
     – AND! A Bonus Pattern – the Seed Stitch Scarf by Kathryn Vercillo

These Articles:
     – Knit Picks Comfy Fingering Yarn Review
     – Stitch of the Month: Seed Stitch
     – Wool and the Gang Tina Tape Yarn Review
A couple of my favorites include the Leafy Boughs Shawl (top) by Heather Gibbs, and the Islander Top (bottom) by Michele Costa!
Hop on over to the Happily Hooked Magazine to subscribe (affiliate link), and get the current issue – March 2018, Issue 48, Go Green.

Share your version of this project on Ravelry – Rectangle Shawl. Check out the EyeLoveKnots Ravelry page to keep track of all your EyeLoveKnots favorites in your que, and share your WIPS and finished projects!

Don't miss out on new crochet patterns, reviews, jewelry tutorials and more! Subscribe to EyeLoveKnots by using the box on the right side toolbar, or follow me via Bloglovin!