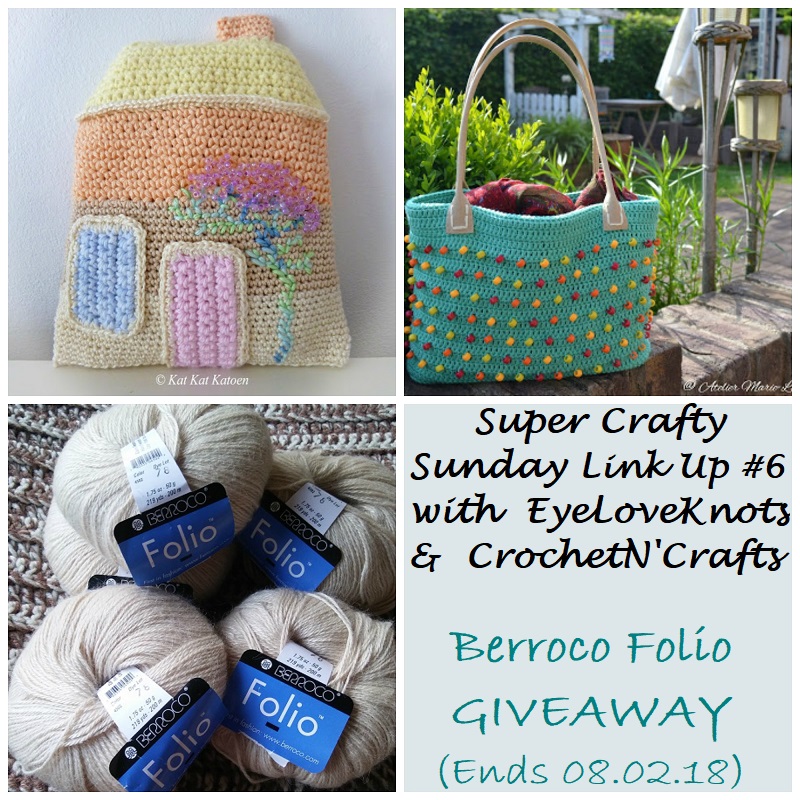 Welcome to the 6th Super Crafty Sunday Link Up!
I was a sad to see that we had a very small amount of participation last month. I am not sure if it was the changing algorithms on Facebook and Pinterest, maybe related to all the changes online with the GDPR, or the fact that the giveaway was a pair of earrings instead of something yarn related… I appreciate those of you who are partying with us, and would appreciate some shares of the party too!
Also, I know that summer time slows for many makers, so I decided rather than taking the summer off as some bloggers to, that we would run our party and giveaway for two months.
Since last month's party, here's what I've been up to: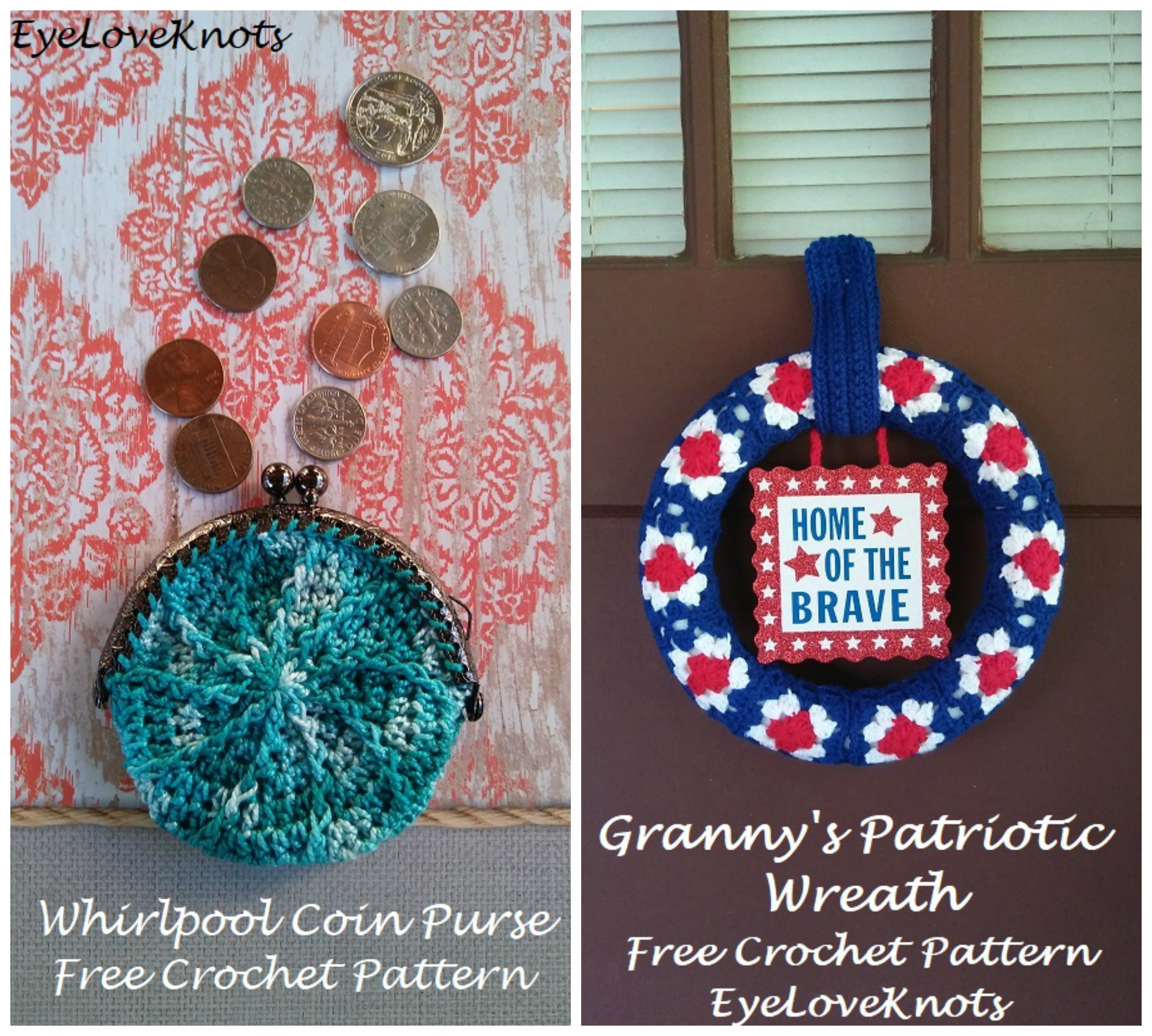 Left: Whirlpool Coin Purse (Free Crochet Pattern); Right: Granny' Patriotic Wreath (Free Crochet Pattern)
This Month's Most Clicked Projects: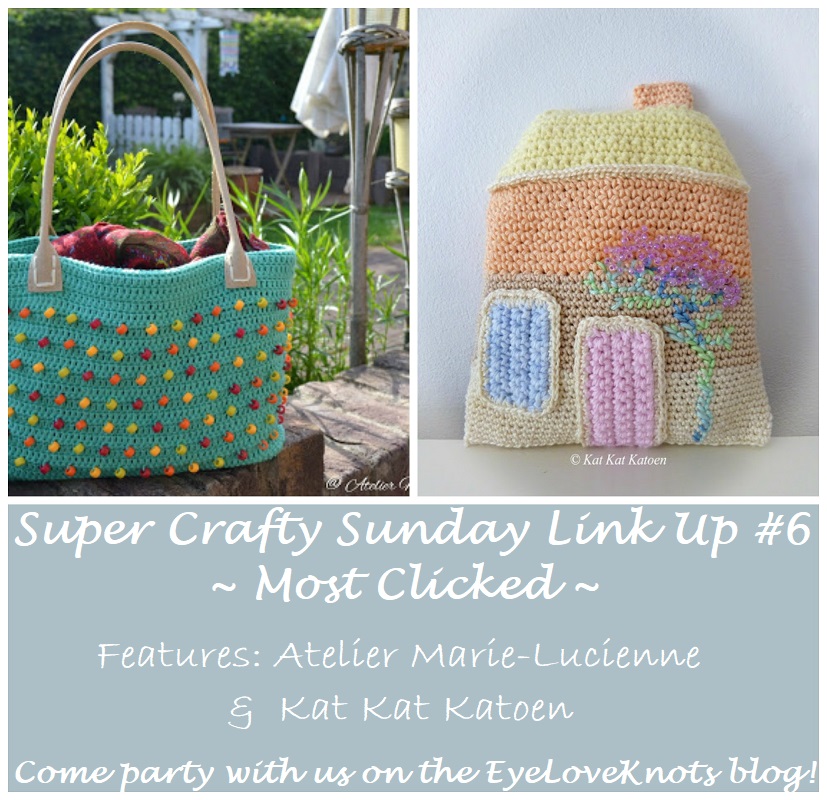 Left: Summer Beads Bag from Atelier Marie-Lucienne – Free Crochet Pattern. When I saw this bag floating around on Instagram, and then again on Facebook, it had me hooked. The warm bead colors, paired with the fun turquoise colorway – this screams Summer, and it also screams, "Alexandra, please make me!" I have some pony beads in my stash, that I've been meaning to put up for sale in my eBay shop, but perhaps I will use them up instead. Keep in mind if you try this pattern that the terms are UK, so you'll need to replace "dc" with "sc", and "tr" with "dc".
Right: Another Little House… from Kat Kat Katoen – Crochet Inspiration. This little house (and the Green House) remind me so much of the current fairy garden trend, and I love it! Such a fun little idea, and so much creativity here. See there are beads for the leaves on the tree? What a fun way to embellish, and use up some beads from your stash – I know I have a ton that would be perfect for something like this. Imagine a little home to match the seasons, or holidays, or just a bunch of fun colored houses. So many possibilities.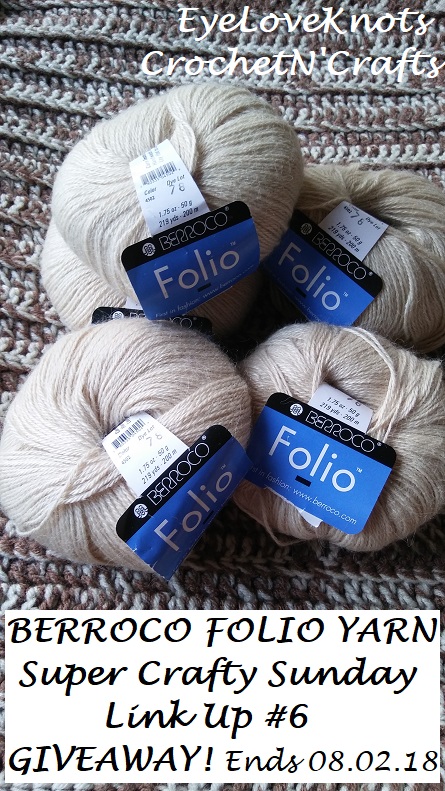 This Summer's Giveaway is sponsored by me, Alexandra of EyeLoveKnots. This giveaway lasts for two months – remember you can come back every day and re-enter the giveaway. One winner will receive five skeins of Berroco's Folio Yarn in the Orr colorway. Folio yarn is a lightweight (#3) yarn comprised of 65% alpaca, and 35% viscose. Each ball contains 219 yards, so with five, you will have plenty for up to a shawl.
If you don't want to wait to win, and would like to purchase some Folio Yarn, please consider using my affiliate link, where I earn a small commission if you make a purchase at no extra cost for you! Visit LoveCrochet to purchase some Berroco's Folio Yarn.
Must be 18 years or older to enter. Open to all countries. Void where prohibited. Winner has 48 hours to respond to email notification, or another winner will be chosen. Alexandra of EyeLoveKnots is responsible for prize fulfillment.
Join the Party!
The Super Crafty Sunday Link Up is hosted by EyeLoveKnots, and CrochetN'Crafts, so when you link up to one of the blogs, it will show up on both! Double the exposure, woo hoo! It will go live on the first Sunday of the month, and end the Thursday prior to the next month's party starting. Post times will vary, but you will be able to link up from midnight EST through midnight EST on the indicated dates – check the top of the Rafflecopter for more details.
Please share projects, recipes, and other posts that are family friends, and not spammy. Feel free to reshare previously shared links, and links to giveaways and other link ups. Please make sure to link to a specific post, and not your blogs home page.
If you don't have a blog, you can still share with us several ways. You can create a free Flickr account (powered by Yahoo), upload your photos there, and share the link with us, or you can share links from Instagram, Twitter, and Pinterest – just make sure it's your own work please.
Link ups CANNOT be to Etsy/Crafty listings or Ravelry pages where patterns are sold, but you can share a link that is directed to it like from Pinterest. You CAN share Ravelry pages of finished projects. Sorry for the inconvenience! That's per InLinkz guidelines. Thanks!
You are voluntarily submitted your photos, links and email address (if desired) through InLinkz to link up with us, and by linking up, you give us permission to feature your item on either of our blogs and/or social media outlets. Features may be chosen at the discretion of each host.