This post contains affiliate links for Annie's and LoveCrochet. If you make a purchase by clicking on them, I make a small commission at no extra cost to you. Thanks for your support!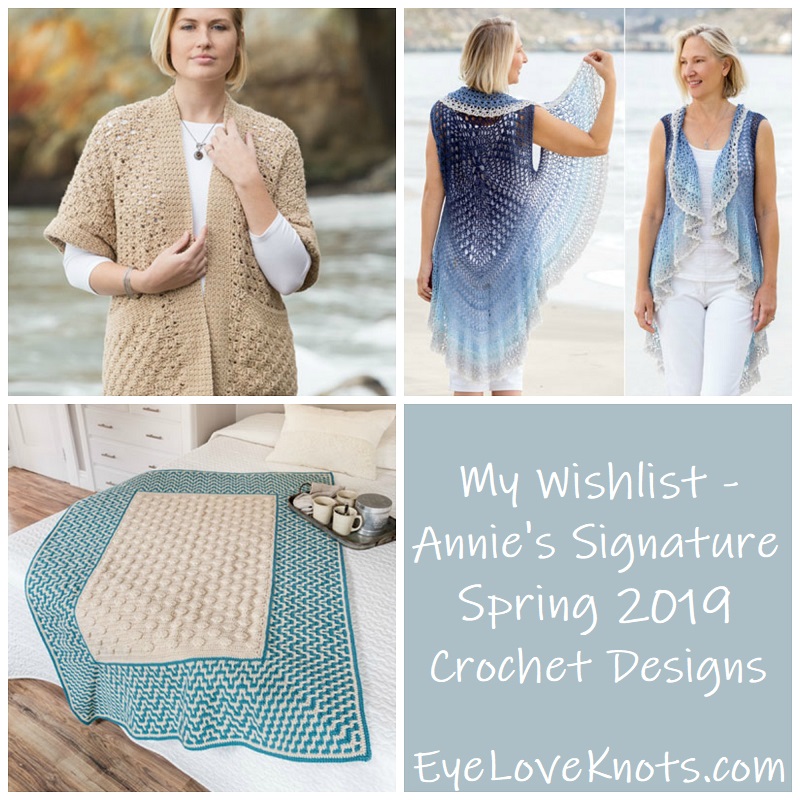 Annie's Signature Designs shared their 2019 Spring Crochet Designs earlier in the week. Have you seen them yet? Oh man, are you in for a treat!
22 beautiful spring-inspired (and a little summer I feel too) fashion garments, and home decor pieces filled with this years Pantone Color – Living Coral. Paired with it, blues, and neutrals – colors you can also find in this years color selection.
I had a tough time narrowing down my list this time, but now I have it ready to share with you! I am going to start with my top 3 designs, and go from there.
Don't forget to leave me a comment letting me know what your top 3 is!
My Top 3: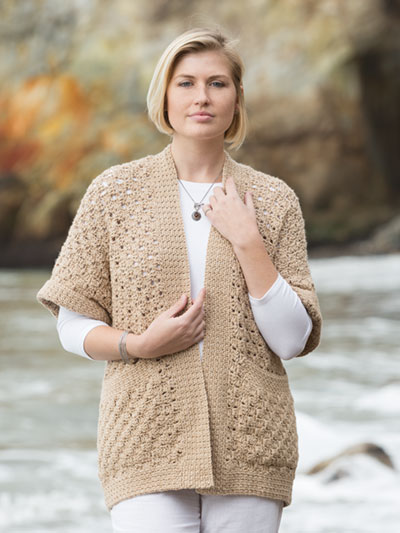 This is the Corner-to-Corner Cardi, designed by Jenny King, and it is number one on my list. I have this pattern, and am working on it with some Berroco's Vintage Yarn that was sitting in my stash. Crochet pattern review coming soon! Available in sizes S through 3X.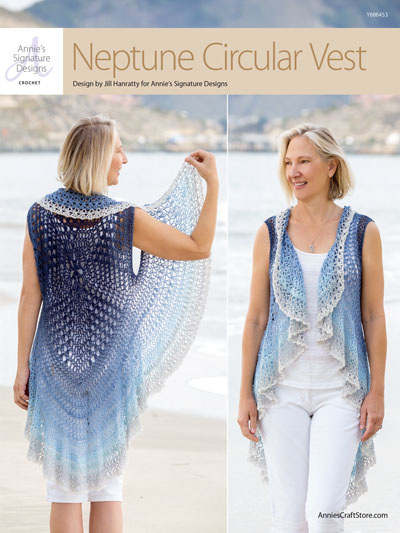 Next on my list is Neptune's Circular Vest, designed by Jill Hanratty. I love the waterfall look from the front, and the beachy colors are perfect paired with the summer look, and fiber. This vest was originally worked in Scheepjes Whirl, a fingering weight cake yarn (so only two ends to weave in!), but this particular yarn is $25 a cake!
Red Heart's It's a Wrap is also a fingering weight yarn with the same yardage and fibers, and is only $9.99 a cake, so I will be ordering one of these cakes to work up one of these beauties. Pattern available in sizes S through 2X.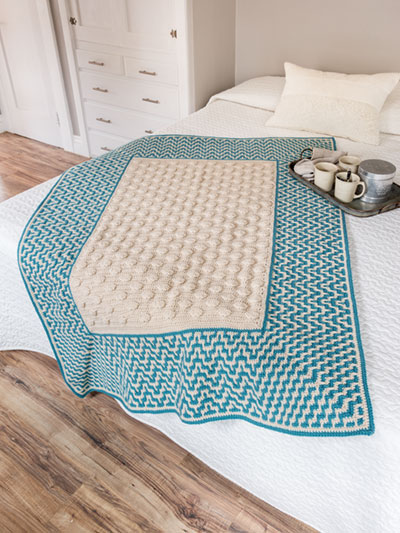 Third on my list is the Seaside Afghan, designed by Margret Willson. This afghan is just gorgeous! It is so full of color, patterns and texture, so designed and executed excellently! This afghan is a typical throw size, and with it, requires several balls of yarn, so I will have to save up a little to make this one.
I usually use Hobby Lobby's I Love This Yarn for afghans, but I am looking forward to trying the recommended Plymouth Yarn Encore Worsted.
I want to make a rug, but I can't decide…
Both of these rugs are made in Bernat's Home Dec yarn. This yarn line doesn't seem to come in that many color options, so I was thinking maybe Hoooked Ribbon XL? They are both quite an investment in materials, so I really need to narrow it down, and save up.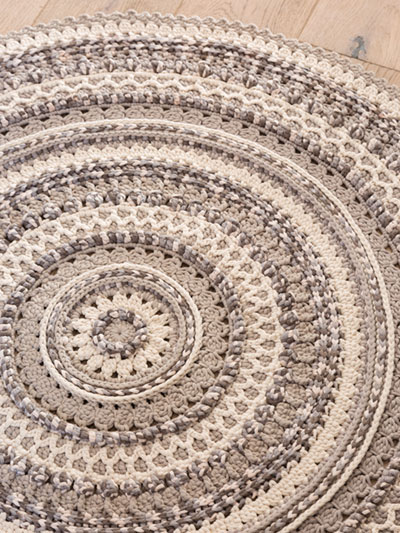 This is the Pebble Beach Mandala Rug, designed by Priscilla Hewitt. It is worked in beautiful neutral colorways, but any color combination would look wonderful. For my home, I think grays, cream, maybe some black…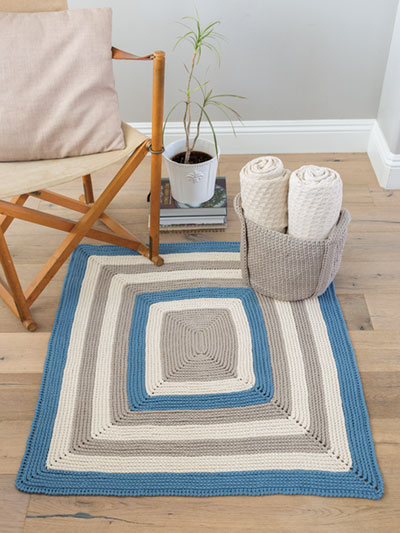 This one is the Farmhouse Duo, designed by Lee Sartori. Patterns for both the rug, and basket are included, and what a perfect combo! Imagine this rug in the bathroom, with the basket on top of a shelf holding towels or as a waste basket. You could even work similar baskets in smaller sizes, and use them for washcloths, cotton balls, make up, etc.
New summer top? Yes please!
These tops are hugely oversized, with the smallest size measuring up to a usual Large size, so if you don't like this fit, you could always find the multiple, and work less stitches and/or go down a hook size.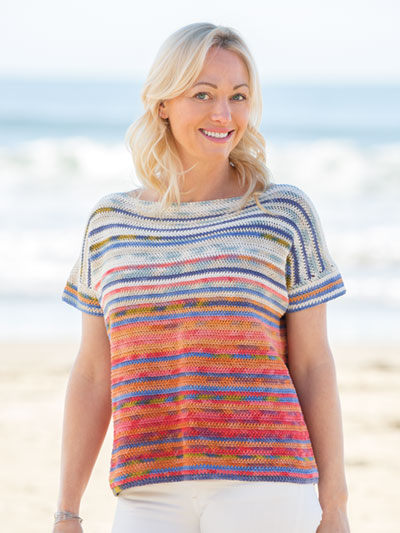 This is the Sea Stripe Tee, designed by Britt Schmiesing. I am in love with the style, and colors of this top! I can see it paired with some shorts, and cute sandals! Don't forget your jute purse. Available in sizes XS to 3X.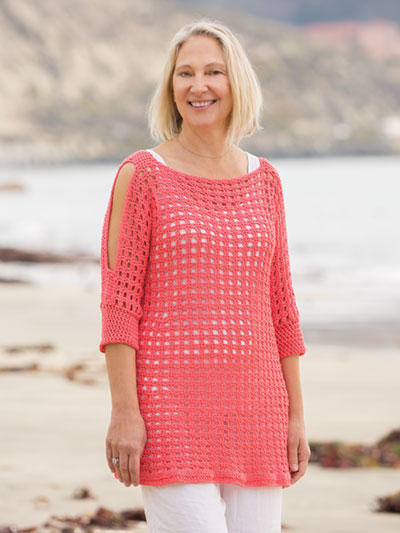 This is the Stella Rose Tee, designed by Lena Skvagerson. This coral is right on trend, as it is the Pantone Color of the Year – Living Coral! The sleeves of this top are definitely the star with the tank top fit, open sleeves, and generous cuffs that fall just below elbows. Loving this one! Available in sizes S to 2X.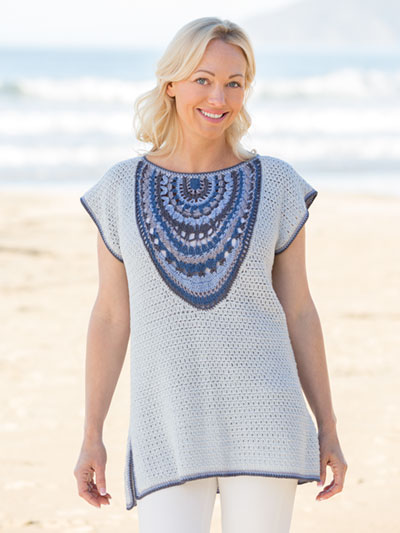 This is the Abalone Mandala Tunic, designed by Lisa Gentry. All I can say is WOW, look at that mandala! It's almost like wearing a really big statement necklace. What a neat top! I think this would look even cuter with an added hoodie – that's just what I envision. Available in sizes S to 3X.
This top, and the next, are worked Premier Yarn's Bamboo Fair, a cotton/bamboo blend. I have no experience working with this yarn, though bamboo sounds so lovely! I am interested to try this yarn, but fiber wise, bamboo and cotton each have a lot of stretch, and weight, so maybe Sirdar Snuggly Baby Bamboo DK would be a better option? Not sure.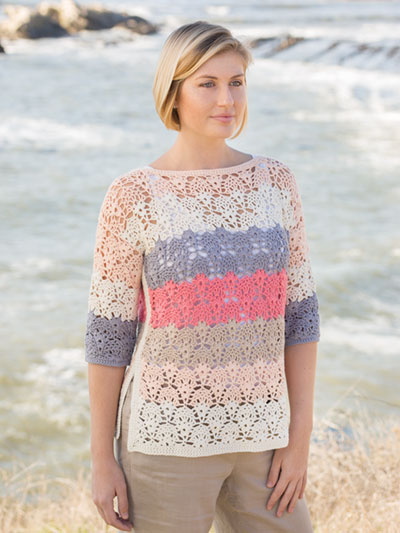 This is the Gemstone Tee, designed by Robyn Chachula, and I think it's just stunning! Beautiful lacy pattern, beautiful colors, love the sleeve length, and check out that side split! I wanted this to be in my top 3, but being that I am not familiar with the yarn, I decided to hold off a little bit on it. I really want to see how it wears as originally intended, plus, I have really been into trying new yarns lately – I want to find the best! Available in sizes XS to 2X.
Hemp Yarn? Really neat designs!
These are really cool designs, but with everything else on my list, I am not sure if I will get to ordering the yarn for them (though I would like to!) Still, definitely check them out! You can substitute the yarn for other fibers, however, I am not sure how hemp behaves, so I don't have any to recommend.
I also found that the recommended Paton's Hempster yarn doesn't come in that many color options, but you could check out a comparable Elsebeth Lavold Hempathy – 47 shades available.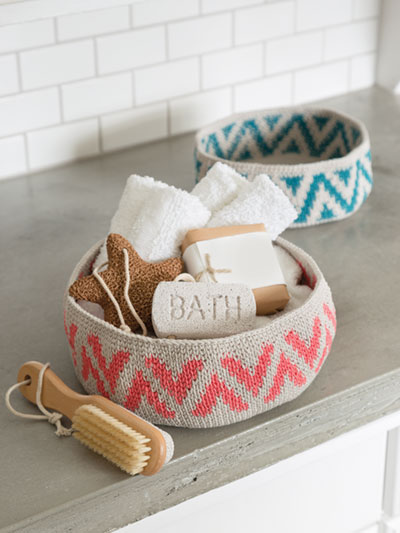 These are the Ziggie Baskets, designed by Maria Isabel. They are trendy, cute, sturdy, and a good tapestry project. This is another good one to find the multiple of, and work matching baskets in different sizes. Oohh, and what about as a gift basket?!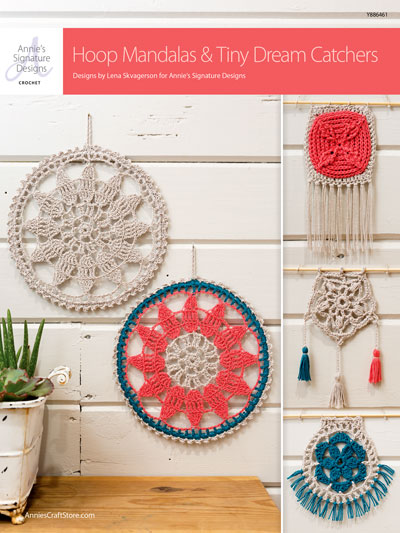 These are the Hoop Mandalas & Tiny Dream Catchers, designed by Lena Skvagerson. These are right on trend, and are such cute boho wall art pieces, as well as, great inspiration for using afghan squares and motifs.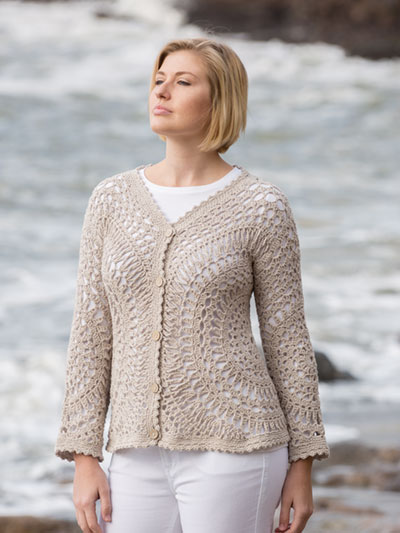 Lastly, I have the Golden Circles Cardigan, designed by Juliette Bezold. This is another design that I wanted to add to the top of my list because WOW! Look how intricate that design is, and simply stunning in this refreshing colorway! What an incredible design. Available in sizes S to 2X.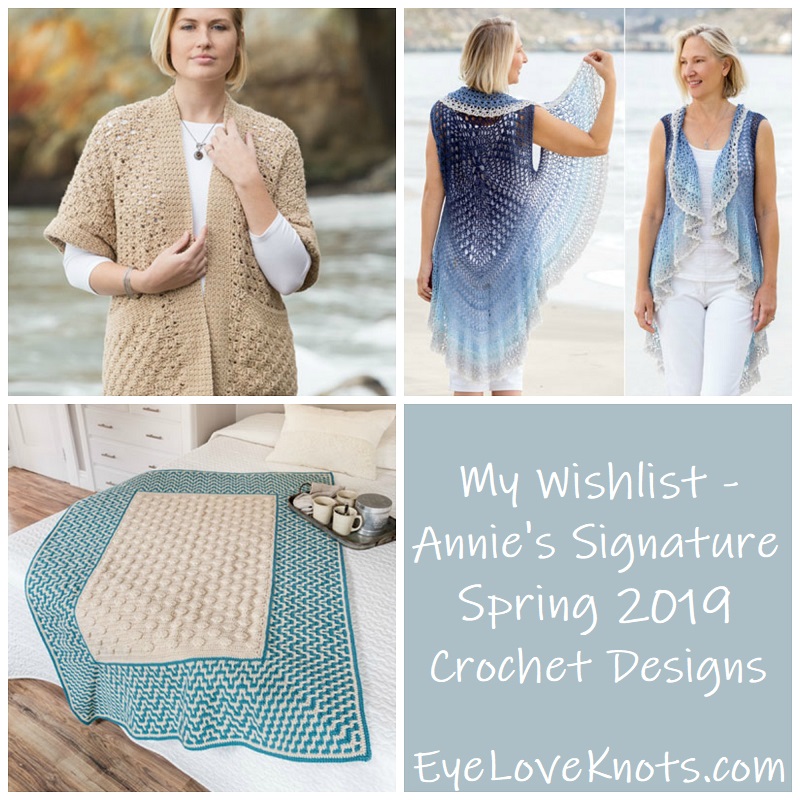 Which design has caught your eye? Tell me your top 3 choices!
Join the EyeLoveKnots Crafting Community on Facebook to share your creations, and see what others are up to!
Linked Up To…