Thanksgiving Recipe and Craft Finds including a quick and easy peanut butter fudge recipe, clay and crochet jewelry DIY, printable grateful placemats, free turkey basket crochet pattern, and turkey embroidery pattern.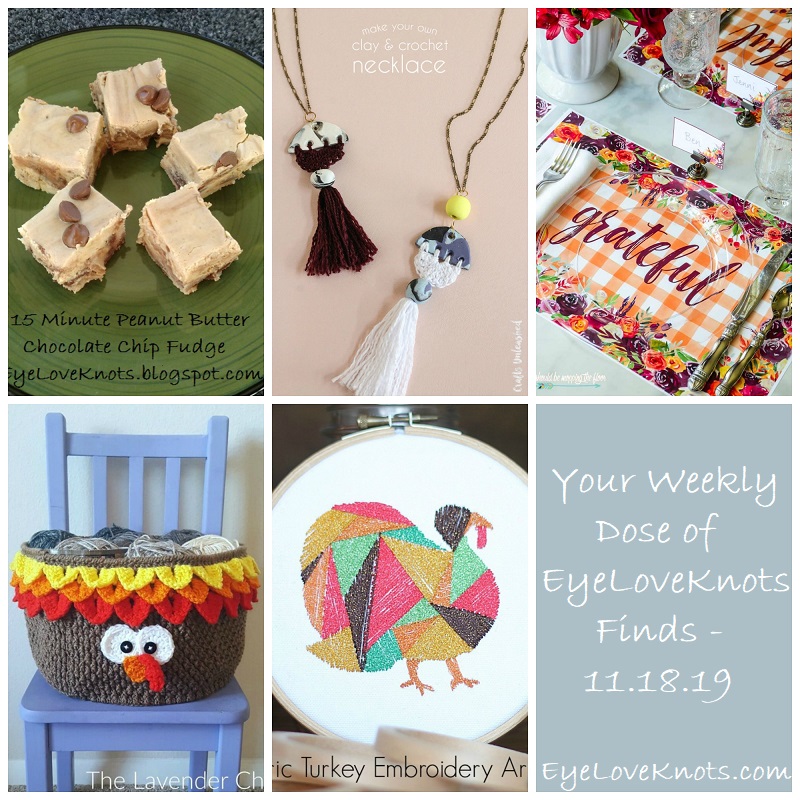 This week, I wanted to share some Thanksgiving Finds with you! Next week, we will start with Christmas 🙂
I always love to share awesome patterns, tutorials, and finds with ya! If you would like to see a review on any of them, feel free to drop me a line!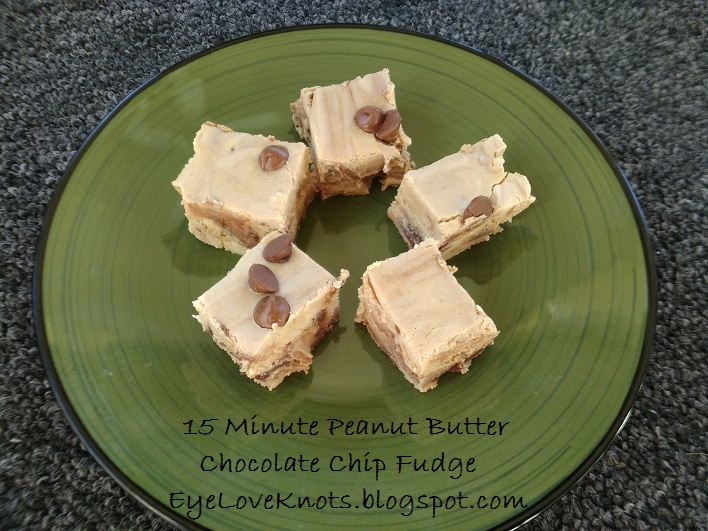 This recipe is one of my own. I created to share at Thanksgiving 2016, and did so with the use of my microwave and without the use of condensed milk. What does that equal? A quick and easy fudge recipe that will disappear before your eyes (maybe even before you put it out for your guests, hehe).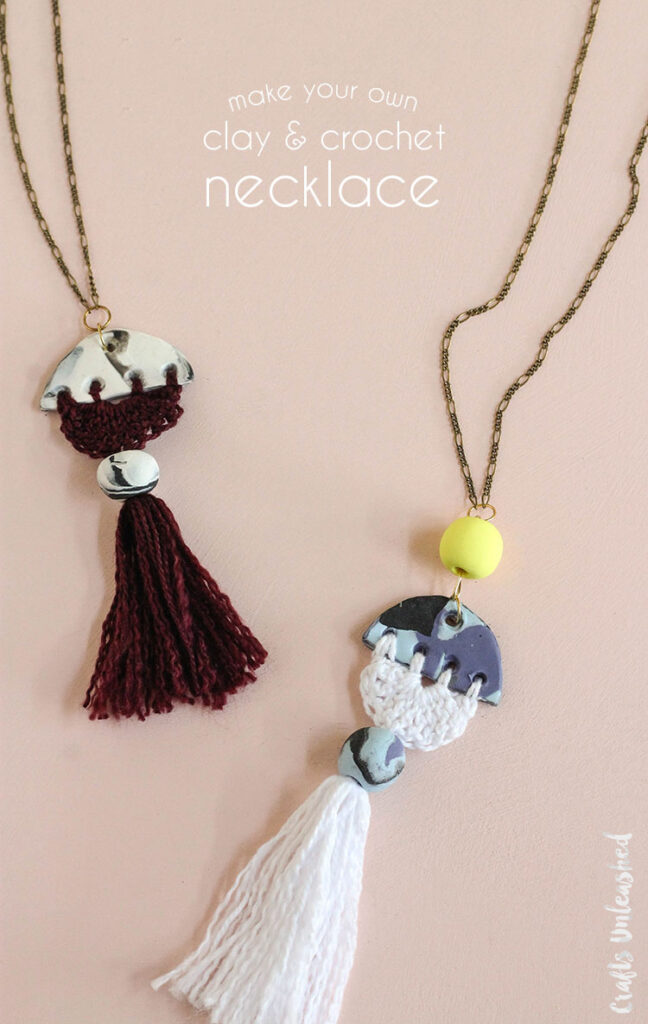 This is such a fun, unique necklace! While they are marbled, a solid color would also look great, and match with many more outfits, however! Using such small amounts of clay, and floss, you could easily work up a bunch of different color combinations.
I will admit that clay projects intimidate me, but this DIY has a photo tutorial showing every step of the way, including how to marble the clay, cut the circles, make the beads, where to work the crochet stitches and how to make and attach the tassel.
Aside from these clay and crochet necklaces, you could also use the clay portion as a base for strung pair of chandelier earrings, or use the full circle as a necklace pendant or for a pair of dangle or stud earrings, or just make a bunch of clay beads to string up later! Lots of great techniques here to use in future projects.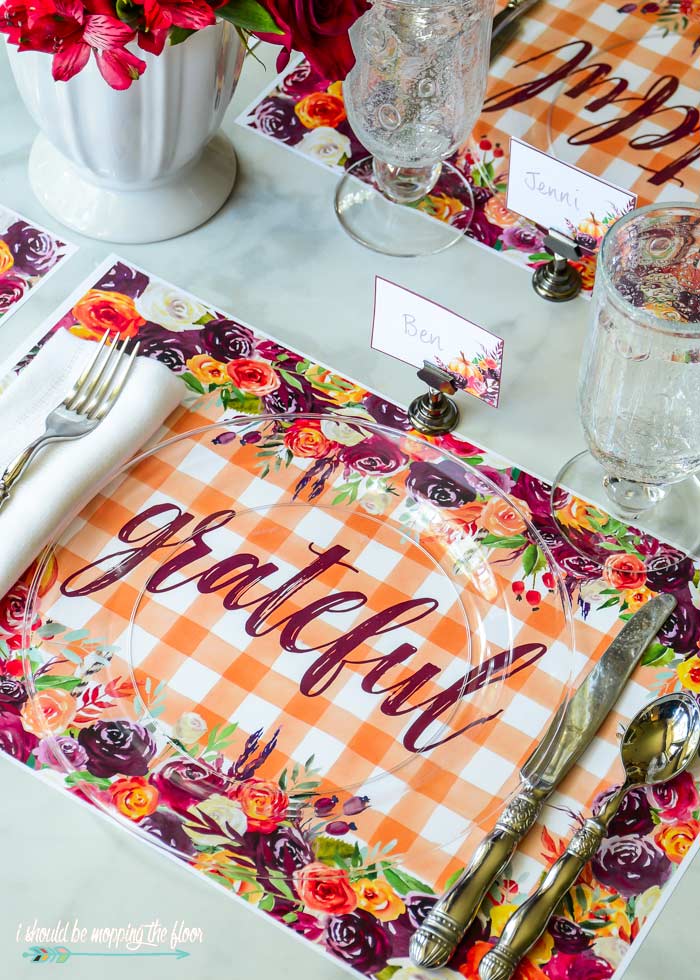 Kristi shared this placemat last month, and I was instantly in love! It's very simple – just printed on a piece of legal sized paper, but look at that beautiful print! Gorgeous warm colored Fall florals, paired with a matching plaid background, and that clear plate! I love the idea of making your own placemats, and the idea of using a clear plate to be able to enjoy it even more is genius. Don't forget the matching Placecards (Free Printable).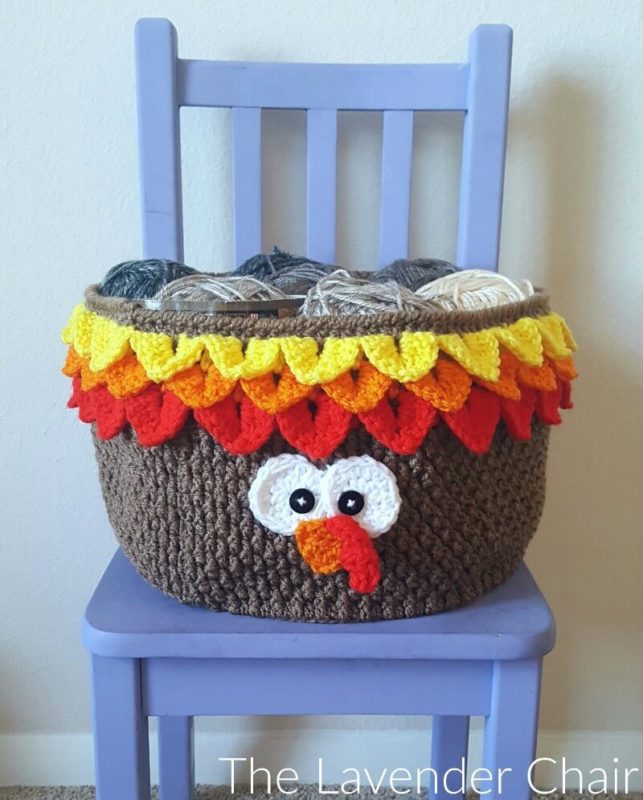 Yarny Find – Turkey Yarn Basket (Free Crochet Pattern) from The Lavender Chair:
There are several things I really like about this basket. I think the texture on the basket is gorgeous, and the addition of the turkey feathers and face are just adorable! This would be a great piece to use as centerpiece – how about with some white poinsettia's?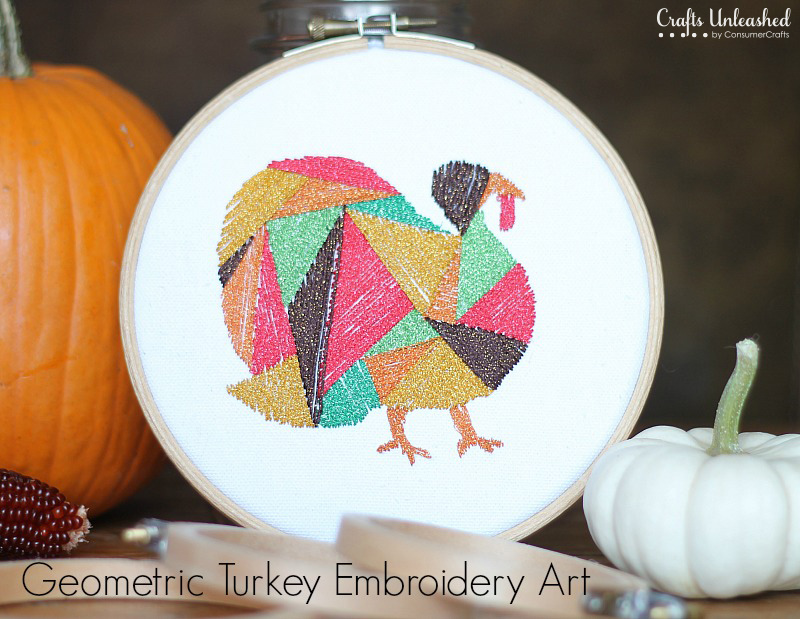 Stitching Find – Geometric Turkey Embroidery Art (Inspiration with Photos) from Crafts Unleashed:
Though we still have Halloween this coming week, I thinking it's time to start thinking of Thanksgiving! This Geometric Turkey Embroidery Art piece is so fun, and on trend.
Plastic canvas crafting was my first love more than 10 years ago. I have worked similar pieces on the plastic canvas, but never attempted an embroidery project like this on canvas. I will admit, it's always been intimidating to me, and if you're like me, don't fret! There is a photo tutorial explaining how to apply your design, and the basic idea of the stitch. Nancy makes it look so easy! Can't wait to get myself a water soluble marker, and work on my own geometric embroidery design.
There isn't a pattern attached to this link, so you will need to freehand your own turkey. I would assume you could print an image and trace if the canvas is light enough to see through, or cut out a turkey image, trace the outline and fill in the details yourself.
Join the EyeLoveKnots Crafting Community on Facebook to share your creations, and see what others are up to!