This is a crochet pattern review of the Harvest Moon Pocket Shawl pattern from designer Crochet With Carrie. Review done by A Stitch Shy of Normal for EyeLoveKnots.
This post contains affiliate links for WeCrochet. If you make a purchase by clicking on them, I make a small commission at no extra cost to you. Thanks for your support!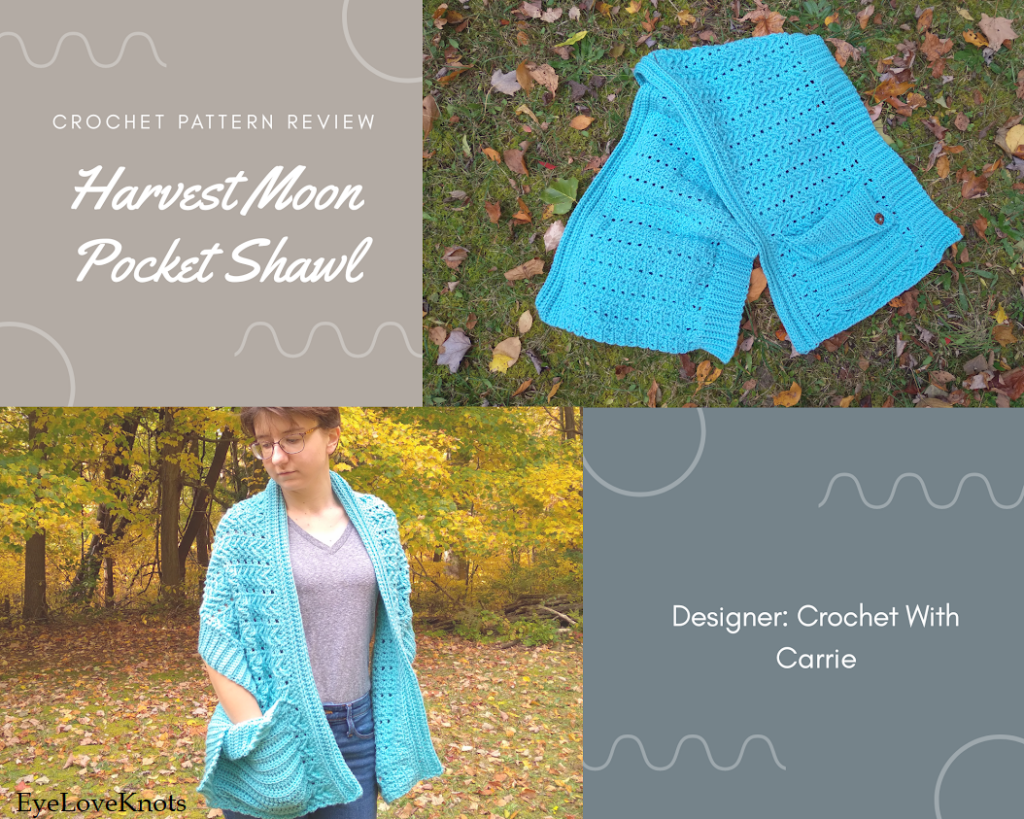 Visit with me on Instagram @astitchshyofnormal for all kinds of awesome crochet makes and inspiration.
If you've been on Ravelry or Instagram or any crafty social media recently, you've heard about pocket shawls. They are absolutely the trendy item this fall, and for good reason. They're adorable, quite comfy and warm, and most of the designs are just a simple rectangle that you can jazz up with various stitch textures. It's easy to see why designers (and customers!) are enjoying them.
I had not yet tried one of these, for some reason. No, that's not quite right, I had bought one pattern and then got maybe 20 rows into the ribbing for the edge before I decided I wanted to use that yarn for a different project and abandoned my shawl. I'm not proud of it but it was a gorgeous shade of purple and I really wanted to use that color for this other thing…anyway, I'm getting off topic. When I sat down to go through Ravelry and pick my pattern for this month's review, I knew it had to be a pocket shawl, to avenge my previous attempt and finally see what all the hype is about!
This pattern, the Harvest Moon Pocket Shawl, stood out for a couple of reasons. One–it's a free pattern! Obviously that gave it major points. Two–it was a very interesting texture, and you guys know how I feel about texture. So the moment I saw the designer's pattern pics I was in love, and started planning my yarn choice. She made hers in a gorgeous rust/brownish orange sort of shade, the sort of color that embodies fall, but I wanted to do something a little different. Before I entered the yarn aisle I was planning on something like an emerald green or maybe a gold, but once I saw this bright aqua shade, I knew what I had to do. It's not a fall shade and I kind of like that! It'll stand out all winter long for sure.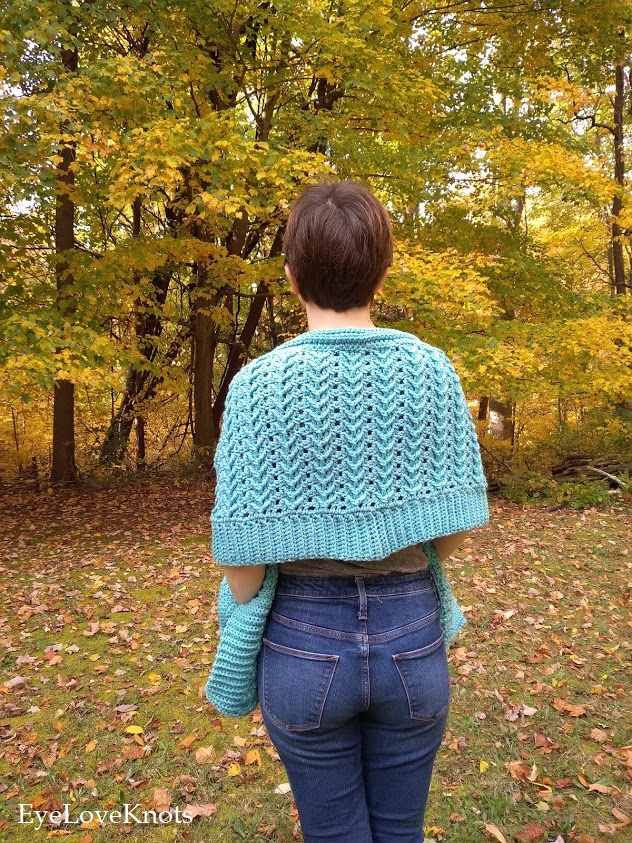 Materials I Used:
Material Notes:
Red Heart With Love is slightly on the thicker side for worsted, which I thought would be a great choice because the designer mentions using Vanna's Choice, which is also a thicker worsted. I got close in my gauge, but my ribbing must have stretched more, as I reached the correct length at fewer rows than she suggested. This isn't a problem at all, the pattern is very simple to customize sizing and she walks you through doing so.
Her yardage suggestion is 1020 yards of the Vanna's Choice, and I used approximately 925-950. This makes sense considering I altered my stitch and row counts a little, and left off the fringe. 3 skeins of the RH With Love should be plenty for most people unless you're increasing the size.
As far as the finished result with this yarn, it was a wonderful choice. It's thick and cozy without being too heavy. The wrap feels comfortable on my shoulders and hangs nicely, but isn't stifling. I have yet to wear this on a seriously cold day, but it was nice to wear in the chilly fall weather for pictures.
The pockets are written to be nice and deep, I could fit my whole hand inside easily and if I was just throwing this on for a quick errand I could see it being great to hold my phone and a smaller wallet. And I just love the extra touch in the pocket having the fun slanted ribbing — she could have easily done a basic straight pocket, but this adds such a casual and comfy look!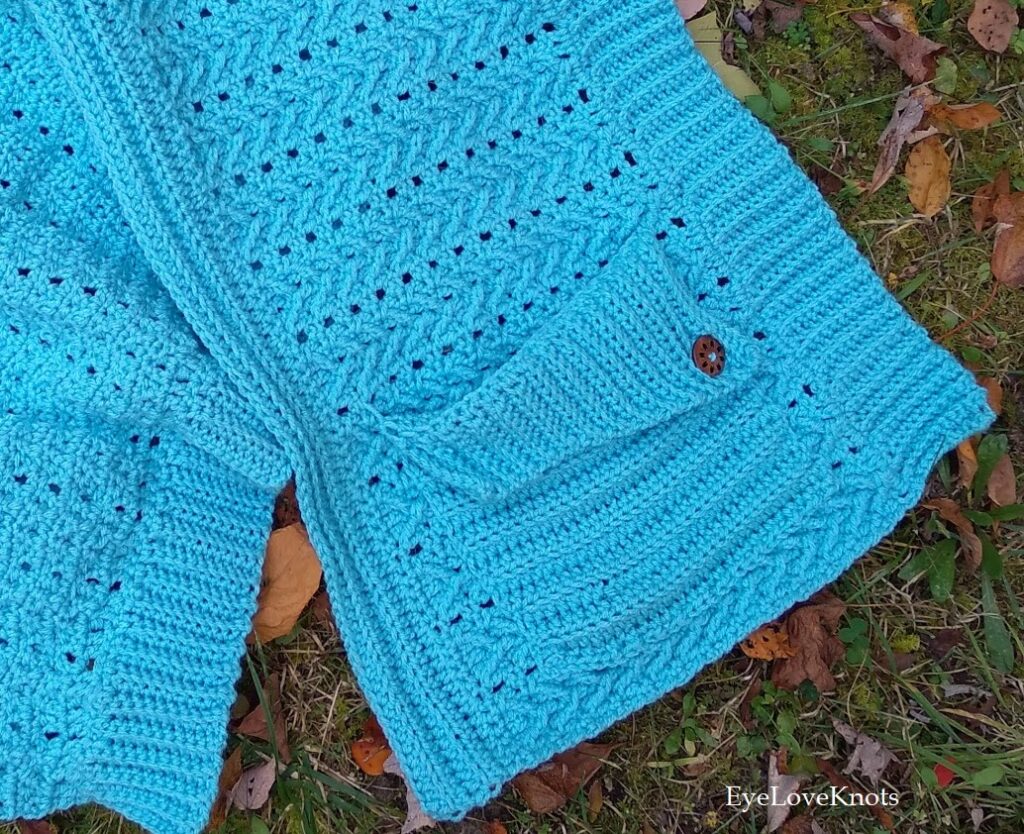 Time Spent:
About 12 hours, most of that being the ribbing. Once you're through that part it's pretty smooth sailing.
Measurements:
The designer lists hers as being 56″ x 16″, although I was slightly confused by her description because that was what she wrote in the beginning and mentioned in the video tutorial, but then the pattern mentions to continue the texture section until it's 18 inches wide.
I chose to interpret this as customizable dimensions, so I used those as a guideline and tried it on throughout the process until I felt it was the right size for me!
My finished shawl, unstretched and unblocked (I'm not sure if I will be blocking this as it doesn't seem necessary) is about 58″ long and 15″ wide. I did modify some stitch/row counts:
Pattern lists 193 rows of ribbing to start, I hit 56(ish) inches at 175 rows and stopped there, using this as my stitch count for the remainder.
She suggests 10 total rows of the HDC edging (or even more if desired) at the end, and I only did 6 rows as that was already plenty.
My pockets are only 18 rows of the HDC, instead of the listed 20, because that fit with the size of my shawl itself.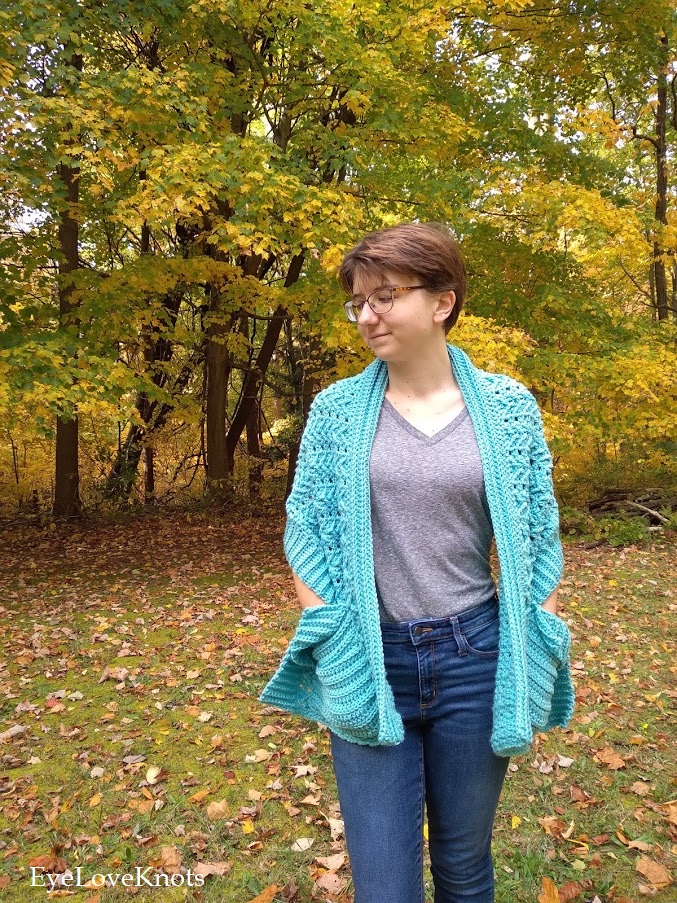 For size context, I am 5'4″ and usually wear a size Small in most brands.
Gauge Info:
The pattern does not list gauge, but if you'd like to compare to my results, in the main texture (the post-stitches that look like V's), 4 inches wide is 2 of those V-repeats and the chain stitch following, and 4 inches high is 5 rows of that same section.
Pattern Notes:
My biggest struggle with this pattern was the first few rows of the main shawl. The ribbing is simple and that's how you decide the finished size, so that part didn't cause me any problems aside from boredom (I get impatient with ribbing!). Once you get into the actual texture, however, it does get a bit overwhelming.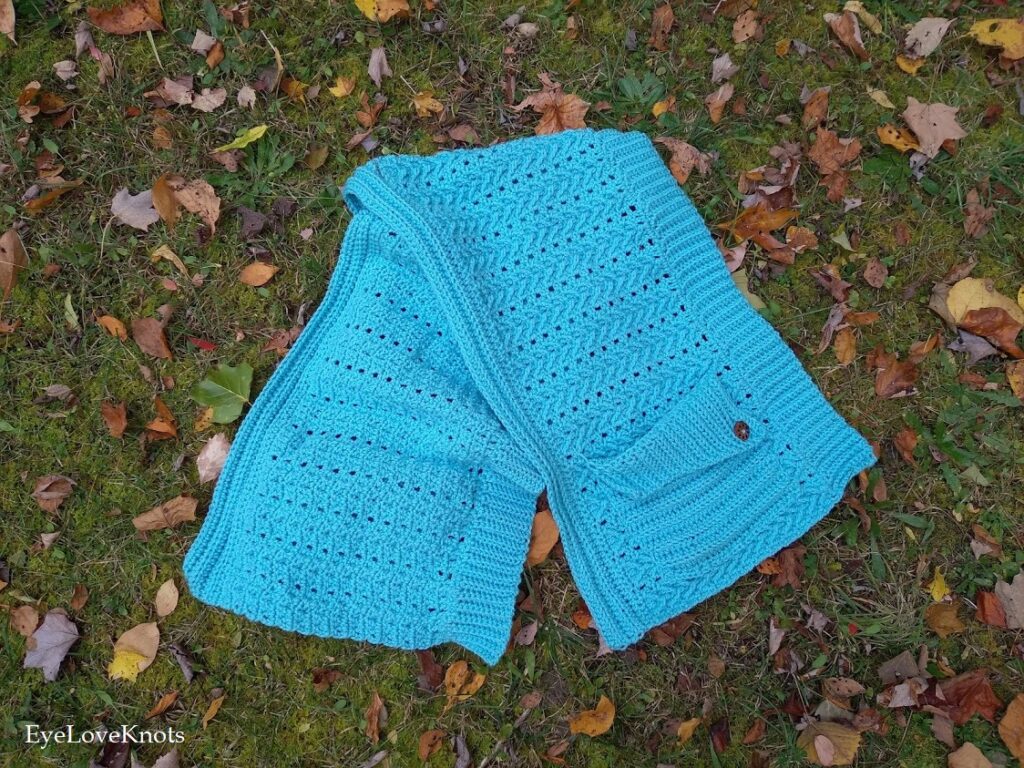 What helped me most was looking at the pictures the designer includes, showing you where your stitches should fall and how they fit together. And trust me, once you get through the first repeat of the textured post stitch row, the rest is mindless. It's all just repeating the same two rows from there, and once you've done it a couple of times, you don't even need to look at the pattern anymore (or at least I didn't). And again, the size is very easy to customize, you just keep repeating those rows until you're satisfied with the width!
I would consider this pattern difficulty to be suitable for someone leaning towards intermediate skill level. You need to be quite comfortable with not only post stitches, but "decreasing" using post stitches (I say it that way because you're not actually decreasing stitch count but it is the same technique). It would be a little scary for a beginner. However, if you're a beginner who wants a challenging project to force you to get comfy with post stitches, this might be a good fit!
All in all, this was a very rewarding project and I am glad I chose it. It took some time, but a large portion of that time was the ribbing at the beginning! Once the main texture started, I could zone out with some coffee and a good movie and just let the shawl emerge.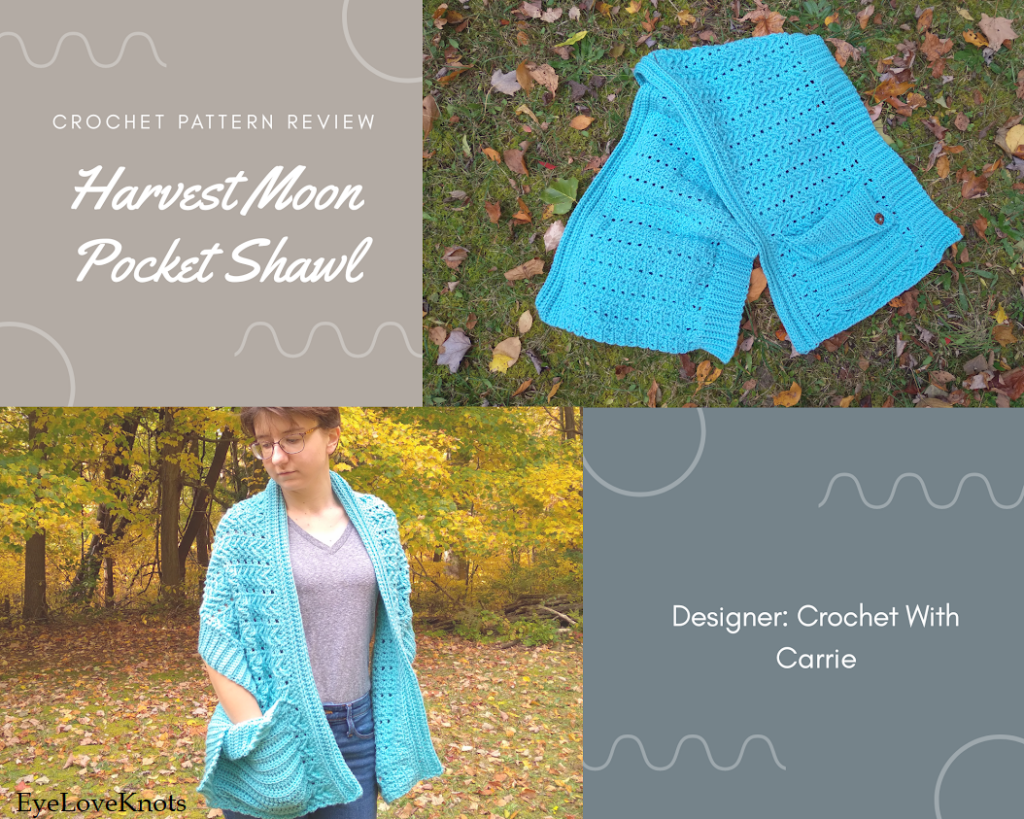 Don't forget to visit with me on Instagram @astitchshyofnormal for all kinds of awesome crochet makes and inspiration.
If you love to DIY: Join the EyeLoveKnots Crochet & DIY Community on Facebook to share your creations, and see what others are up to!
If you love Fashion: Join the Alexandra Lane Lifestyle Facebook group to share, and see what others are up to!
Linked Up To…
Weekday Wear Link Up – Away from the Blue
Turning Heads Linkup – Elegantly Dressed and Stylish
Confident Twosday – I do deClaire
Style Six Link Up – The Queen in Between
Style on the Daily Weekly Link Up – Straight A Style
Hearth and Soul Link Party – April, the 21st Century Housewife
Handmade Monday #198 – Sum of their Stories
The Really Crafty Link Party #237 – Keeping it Real
Ginx Woolly Linx Party October – Ginx Craft
Craftastic Monday Link Party – Sew Can Do
Craft Schooling Sunday – Creative Jewish Mom
Unlimited Monthly Link Party 17 – Grammy's Grid
You're the Star October Blog Hop – B4 and Afters
563rd Inspire Me Tuesday – A Stroll Thru Life
Fabulous Party #342 – Lou Lou Girls
Linky Ladies Party #196 – The Purple Poncho
Party in Your PJs #331 – The Apple Street Cottage
Hookin' on Hump Day #22 – Moogly Blog
Your Whims Wednesday #481 – My Girlish Whims
Thursday Favorite Things #463 – An Artful Mom
Creatively Crafty Link Party #247 – Life Beyond the Kitchen
Artsy-Fartsy Party #316 – Artsy-Fartsy Mama
Encouraging Hearts & Home Blog Hop – Apron Strings and Other Things
Thursday Fashion Files Link Up #281 – Curly Crafty Mom
Trendy Thursday LinkUP – Thirty Minus One
chicandstylish #linkup – Mummbastylish
Pin Party #392 – The Pin Junkie
Traffic Jam Weekend Linky Party #256 – My Bijou Life
Friday Favorites – Busy Being Jennifer
Home Matters Linky Party #306 – Modern on Monticello
Create, Bake, Grow & Gather Party #443 – Shabby Art Boutique
Style Link Up – Lizzie in Lace
Fancy Friday Linkup – Nancy's Fashion Style
Scrapality Saturday Party 312 – Scrapality
Embracing Home and Family Linky Party #14 – The Everyday Farmhouse
A Morning Cup of Joe Linky Party – The Cottage Market
Link Your Stuff – Annemarie's Haakblog
Snickerdoodle Create Bake Make Link Party 359 – EyeLoveKnots
Over the Moon 255 – Marilyn's Treats
Happiness is Homemade Link Party #353 – Decor Craft Design
You're the Star Blog Hop – Decor Craft Design